What is missing from Windows Phone 8? About 20 Xbox games that no longer work.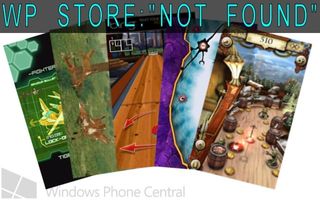 Yesterday's delisting of Turn N Run – literally the night before our review went live, and only six days after the game's release – highlights a large and ongoing problem in the world of Xbox Windows Phone games. Since the debut of Windows Phone 8, incompatibility with the new OS has been discovered among a number of Xbox WP7 titles. Each of these games has been completely delisted from the web version of the Windows Phone Store, and either partially or fully removed from Store searches on actual Windows Phones.
Read on to learn what games have been affected so far, and how Microsoft may be mishandling the Windows Phone 8 incompatibility issues in more ways than one.
Missing games from Windows Phone 8
First, let's look at the list of Windows Phone 7 games that aren't compatible with Windows Phone 8. As stated earlier, every single title's Windows Phone Store page is was offline:
Big Buck Hunter Pro - Review
Contract Killer
Dodonpachi Maximum - Review
Fable Coin Golf - Review
Full House Poker - Review
Ghostscape - Review - (Update 6)
Glow Artisan - Review
The Harvest - Review
Hasta La Muerte
KenKen (Update 2)
Need for Speed: Undercover (Update 10)
OMG: Our Manic Game - Review
Orbital - Review
The Oregon Trail - Review
Pac-Man Kart Rally - Review
Pool Pro Online 3 - Review
Sid Meier's Pirates
Splinter Cell Conviction - Review
Tentacles - Review
Zombie Attack 2: Second Wave - Review
After this article's publication, this list has alternately grown and shrunk over time.
Games whose Windows Phone 8 compatibility has been restored
We added this section to the article after its publication in order to make tracking newly compatible games easier. See the full update list at the bottom of this article.
Babel Rising 3D - Update 12
Chaos Rings - Update 11
Crimson Dragon: Side Story - Review - Update 3
Feed Me Oil - Update 7
Fruit Ninja (WP7 version) - Update 13
The Harvest - Update 13
Parking Mania (Nokia Exclusive) - Updates 4 and 7
Risk (Nokia Exclusive) - Update 4
Spy Mouse (Nokia Exclusive) - Update 5
Turn N Run - Review - Update 6
Shuffle Party - Review - Update 8
iBomber Defense (Nokia exclusive) - Update 9
Trivial Pursuit
Shoot 1Up (Update 1)
Only partially gone
Follow the store link pages for the above games and you'll encounter this message.
Many of us have been operating under the assumption that these games have been completely pulled from the Windows Phone Store. As it turns out, that's not quite true. Yes, their webpages on the Store are gone, prompting us to believe the games were taken down as well. But most or all of these games can still be downloaded by searching for them directly from a Windows Phone 7 handset. On WP8 devices, they do not appear in searches.
This method of preventing incompatible software purchases by WP8 users is pretty obviously flawed. As I said, removing the actual webpages makes the games appear to be completely gone. You might guess the reason Microsoft does that is because the Windows Phone Store's website lacks the ability to differentiate between titles that are compatible with one device and not another. But that's not the case at all.
The few existing Windows Phone 8-specific games like Angry Birds Star Wars have their own dedicated Store pages, despite the fact that they can't be used by WP7 handsets. Even before WP8 came along, Nokia games like Mirror's Edge have been viewable on the Store. They can't actually be purchased from the website, but at least everyone can tell the games exist at a glance. Clearly Microsoft could opt to use one of these existing solutions for WP7-specific games, if they weren't trying to sweep their existence under the rug.
Not many gamers will be sad to see bug-laden Contract Killer steer clear of WP8
How this affects developers
We contacted the developers of the semi-delisted games to find out what they knew about their titles' WP8 incompatibility and Windows Phone Store status. Here's where things get a bit upsetting. In all but two cases, the developers had not been made aware of their games' Store pages getting taken down. Of that large group, one developer knew their game was incompatible with WP8 and was already working on a fix, but the partial delisting still came as a surprise to them.
A few anonymous quotes from affected developers:
"WOW! We had no idea about this... we'll have to give MS a shout ourselves, but in the meantime, you might as well ask them yourself too ;)
Yeah, nobody from there gave us any sort of heads up that *I'm* aware of... maybe it's just a temporary issue? Maybe they're phasing out all WP7 only content?"
"Unfortunately, we do not know anything about it, and Microsoft did not alert us. We can only guess that it is indeed associated with Microsoft's attempt to clean away all the apps are not compatible with the WP8."
"In regards to WP7 games being pulled, I had no idea that was happening. We hadn't heard anything from the guys at Microsoft that handle [the publishing of our game], so we've sent them an email asking for details. I would like to get it back onto the store, but we'll see what our guys at Microsoft say."
"We had not been notified that this would be pulled. We will investigate and see what we can do."
Pulling a game's Store page without notifying the developers may show a lack of courtesy, but that's not the big issue. The real problem is that because these developers did not know their games don't work on WP8, they could not begin the process of developing patches to correct those mistakes. Yes, several of them were eager to do so after we gave them the heads up, but that's really Microsoft's job as the Windows Phone Store owner, not ours.
Whoever made the decision to partially delist these games without telling the people who made those games seems not to care about whether those games get updated to run on Windows Phone 8 or not. Ouch. Considering the large number of affected games, getting them up and running again should be a priority for both Microsoft and the developers.
Lumia 820, 822, and 920 owners can't play Nokia exclusives Risk, Spy Mouse, or Trivial Pursuit
Bringing the games back
In most cases, the developers weren't comfortable discussing the actual technical reasons for their titles' incompatibility with Windows Phone 8. Generally, the games simply crash at start-up or soon after when launched from a WP8 device. One developer did get a little more detailed, explaining that XNA works differently across WP7 and WP8, despite both platforms relying on ARM processors. This difference in underlying XNA architecture seems to be the main cause of these compatibility issues.
That said, the vast majority of Xbox WP7 games work just fine with WP8. In fact, some hardware-intensive games like Plants vs. Zombies actually load much faster than they ever did on WP7. So the transition to WP8 actually boosts performance at times. I'm also expecting Big Buck Hunter Pro's nigh-impossible Dove Hunt minigame to work properly when it gets patched with WP8 support.
We asked Microsoft about the incompatibility and partial delistings for this story, and this is what they said:
Microsoft's handling of the WP8 incompatibility issues may not be highly encouraging, but the problem will certainly ease up over time as new Xbox WP7 releases fade away in favor of exclusively-WP8 games. Also, some affected WP7 games will simply be patched and return to the Store as normal.
Of the 25 games listed so far, we expect about a third or half of them to get updated for Windows Phone 8 in the coming months. Some of the developers we spoke with have already identified the reasons for incompatibility and started working on fixes. However, several of the older titles will probably remain WP7-exclusive due to their developers' lack of resources or continued interest in the WP8 platform.
Update log
Update 1: The Oregon Trail is now WP8 compatible, while Shoot 1UP has been partially delisted due to incompatibility.
Update 2: Babel Rising 3D briefly returned to WP8 but it still crashed on launch and was soon pulled. KenKen was partially delisted despite running just fine on WP8.
Update 3: Crimson Dragon: Side Story is now compatible.
Update 4: Risk is now WP8 compatible, while iBomber Defense and Parking Mania have been partially delisted.
Update 5: Spy Mouse becomes WP8 compatible.
Update 6: Turn N Run becomes WP8 compatible, but Ghostscape gets partially delisted.
Update 7: Parking Mania and Feed me Oil gain compatibility.
Update 8: Shuffle Party gains compatibility.
Update 9: iBomber Defense returns to WP8, but still suffers from crashes.
Update 10: Need for Speed: Undercover gets delisted from WP8.
Update 11: Chaos Rings becomes available on WP8.
Update 12: Babel Rising 3D gets a WP8 version.
Update 13: The Harvest and Fruit Ninja (WP7) return to the Store. The Harvest still had video playback problems.
Get the Windows Central Newsletter
All the latest news, reviews, and guides for Windows and Xbox diehards.
Paul Acevedo is the Games Editor at Windows Central. A lifelong gamer, he has written about videogames for over 15 years and reviewed over 350 games for our site. Follow him on Twitter @PaulRAcevedo. Don't hate. Appreciate!