The Oregon Trail returns to Windows Phone 8 just as Shoot 1UP leaves [Updated]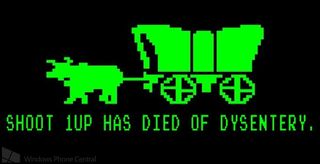 Windows Phone 8 hasn't exactly been kind to the mobile lineup of Xbox games. To say nothing of the disheartening scarcity of WP8-specific games, more than 20 Xbox WP7 games simply aren't available on WP8 due to incompatibility. In my opinion, Microsoft has handled these incompatibility issues quite poorly.
Still, in my original article about the mass delisting of WP8-incompatible games, I did predict that some of those games would eventually be patched and become available for WP8. Over the weekend we saw a semi-incompatible game BulletAsylum (which hadn't actually been partially delisted like other affected titles) get patched to work properly on WP8. And now the first game from the 'delisted' list has appeared on WP8 as well: The Oregon Trail HD from Gameloft.
The Oregon Trail is an edutainment title, focusing on the emigrant trail used by thousands of American settlers to travel from the Missouri River to Oregon during the 1800s. It features a lively cartoonish art style and several minigames to make the simulation and learning more fun. Plus you get to die of dysentery (opens in new tab)! Check out our review for more gameplay details. Oregon Trail's Achievements are mostly easy, but the 'Gold Digger' Achievement is semi-glitched. Make sure you follow the instructions in this Achievement Guide to unlock it.
The trail to WP8
Now, you might've expected The Oregon Trail's WP8 compatibility to come from an actual title update. This would've given the developers a chance to patch that problem Achievement, as they could fix two birds with one stone. Instead, the game was fixed on the back-end with no change in version number. Perhaps that's how future WP8-incompatible games will be handled when they finally jump to WP8 as well. Also, The Oregon Trail's WP Store page has returned as expected.
Update: A few months later, Oregon trail is no longer available for WP8. Again.
The Oregon Trail costs a hefty $4.99 in the US and £3.99 in the UK. Aspiring emigrants can get it here on the Marketplace.
Shoot 1UP gets semi-delisted
Now, the availability of another missing Xbox WP7 game on WP8 is always good news, even if it's a slightly overpriced and buggy title. But sadly, the number of WP8-incompatible Xbox titles remains the same: 25. We may have gained The Oregon Trail, but we lost a cheaper and arguably more compelling title… Shoot 1UP from Mommy's Best Games.
Windows Phone Central actually discovered Shoot 1UP's WP8 issues shortly after the launch of Windows Phone 8 and reported them to the game's developer. At first glance, the game seemed to run fine, which probably explains why it took a while for the game to get delisted from WP8 devices and have its page pulled from the WP Store website. However, after beating the third level's boss, the game crashes, making it impossible to continue playing.
It's a shame to see Shoot 1UP have these troubles. Not only is the game's creator Nathan Fouts a genuinely nice guy, but Shoot 1UP is my personal favorite shoot-em-up on Windows Phone. It boasts the unique ability for players to control up to 30 ships at once, not to mention a distinctive and surreal art style. Just as importantly to a busy Games Editor and family dude, it's actually possible for normal human beings to complete the game without dedicating their lives to mastering it. See our full review for more details.
Thankfully, Mommy's Best Games is already hard at work getting Shoot 1UP to run properly on WP8. With any luck, it will return to the WP Store website and WP8 in the near future.
Update: Shoot1UP has been updated and is now fully WP8 compatible.
Paul Acevedo is the Games Editor at Windows Central. A lifelong gamer, he has written about videogames for over 15 years and reviewed over 350 games for our site. Follow him on Twitter @PaulRAcevedo. Don't hate. Appreciate!
Why are these games so expensive?

It's windows phone. They tend to price most games high.

From the way this was titled, thought WP was losing another title permanently, lol. Glad to know it's a temporary thing.

Yup, I think WPCentral should change it. I think it was just a mistake on there part to make it sound like that. Of all the sites I check out for technews I can say that WPCentral is one of the few that doesn't do the link bait, that is why I think it was just a genuine mistake on there part.

Good to see it'll get fixed. I hope many other currently missing games will be fixed too. Like DoDonPachi Maximum, which has received 2 updates in the meantime but still won't run on WP8. Or Big Buck Hunter Pro, which I purchased 1 day before I got my Lumia 920 and was never really able to play it since then. :/

Any word when we'll get back Tenticles...

No specific word on that title, but since Microsoft now owns the developer, it's quite likely to come back within the next month or two.

I love the picture. I literally LOLed.

Thanks man! That's the reason I put both subjects into a single post instead of breaking them up into two articles; the opportunity to combine them in a single image was too good to pass up.

Bummer. I hope we get these fixed soon.
On xbox.com the windows phone section mentions titles that will be released beginning this holiday. I am guessing that would begin next week. Asphalt 7 perhaps? I am looking forward to N.O.V.A.
http://www.xbox.com/en-CA/Live/Mobile/windows-phone-8-games

Why is the wp7 versions still so expensive? :'(

Shoot 1UP, is not expensive.

All I want is dodonpachi maximum back :( Be sure to write an article the moment that happens :) Also cave could send some more games our way- espgaluda is one of my favorites.

As a WP fan since the original samsung focus, I'm sad to see WP8 gaming starting out like this - I thought maybe things were finally going to change for WP gamers but now no D.O.W. and not even a new release this week. Where is Infinity Blade (1/2)? How about Tiny Wings? How about the 9 million other gameloft games (like that action RPG/zelda clone and the uncharted clone?). Tentacles doesn't work on WP8, The Harvest doesn't work, Fable Coin Golf, etc.. - I was saving The Harvest and Tentacles until I got my Lumia so that I wouldn't loose my save progress. Bleh - I sure hope things pick up in 2013.

mush, istunt2, geodefense swarm, kinectimals, doodlejump, will be on sale for the holidays. Today perhaps?

MS are just handling this like crap! Why are they hurting the ecosystem like this! There are many great apps on wp7 that do not work on wp8!!!!!!

Yeah def just a mistake. And actually if you know anything at all about windows phone games and the situation, you know games are always coming and leaving. Presumably temporary, but it will vary based on the game. Some developers closed down or have moved on and won't patch their games. Wp8 has been out 90 days and only a few games.of the 30 or so have been fixed. Wouldn't get any hopes up for most of them to return.

Oregon Trail desperately needs a price drop. Even though I'm still almost a year away from getting a WP8, MS really needs to get these incompatibility issues cleared up.

Shoot 1up is still broken. Nokia Lumia 620 :(
Windows Central Newsletter
Get the best of Windows Central in in your inbox, every day!
Thank you for signing up to Windows Central. You will receive a verification email shortly.
There was a problem. Please refresh the page and try again.