Nokia exclusives: Picnic Wars now available, Spy Mouse debuts on Windows Phone 8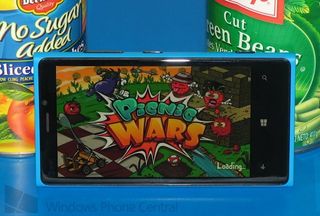 You might have noticed that yesterday's editorial/news piece about the extended Xbox release drought Windows Phone is currently experiencing made no mention of Nokia exclusives. After all, those exclusives don't do people who own non-Nokia devices any good. Not one Nokia Xbox game has become available for all Windows Phone devices so far, even six months after the debut of Mirror's Edge.
Still, in times of release famine, Nokia really does seem to come through for its customers. First they published iBomber Defense back in December, and now they've surprised us with another new Xbox game. Picnic Wars from Chillingo is now available for all Lumia devices running Windows Phone 7 or 8. As if that news wasn't good enough, Nokia exclusive Spy Mouse is now available on Windows Phone 8 devices.
Food fight
Picnic Wars tells the silly tale of two armies of anthropomorphic food waging battle against each other. The game consists of two campaigns with 32 levels a piece, though the second campaign takes place on the same levels with different units, so we might not consider that 64 levels.
Nokia's latest exclusive plays just a little bit like Angry Birds and Wreckateer in that the player's objective is to destroy an army of stationary enemies by launching objects at them. Still, the actual gameplay more closely resembles the action and strategy genres than a physics puzzler. You'll command between 1-5 catapults simultaneously, adjusting their positions and firing shots at a rapid pace.
The enemies actually fight back and can destroy your catapults, so dodging comes into play as well. There is some resource management as players choose between more costly types of ammo and strive to collect new ammo and upgrade points by hitting specific targets.
One thing Picnic Wars has going for it is a vibrant and cute art style. The food fighters display a lot of personality in both the cinematics and their sprite forms. The actual sound effects and voices grate my nerves like cheese, but don't really spoil the fun.
Picnic Wars costs $2.99, just like all Nokia Xbox exclusives. You can view its Store page here, but it must be purchased from a Lumia phone.
Secret agent… Mouse
Spy Mouse originally debuted on November 20th, at which time it could not be purchased for Windows Phone 8 devices. Less than two months later, the version 2 update provides full compatibility with Microsoft's latest mobile OS. This means that only three Nokia exclusives remain incompatible with Windows Phone 8: Trivial Pursuit, Parking Mania, and iBomber Defense (the latter two got pulled within the last week).
The game's developer Firemint is best known for popularizing the line-drawing genre with Flight Control. In Spy Mouse, they've utilized that line drawing tech to make a stealth game. Players control the titular mouse by drawing a path around each level. He'll need to grab cheese and reach the level exit without being nabbed by patrolling cats.
Each level has three optional goals such as not being spotted, drawing only one continuous path, and finishing within a certain time limit. Completing every level with those goals completed will net some tasty Achievements.
Spy Mouse costs $2.99. You can view its Store page here, but it must be purchased from a Lumia phone.
Bright future for Nokia customers
Clearly, Nokia's commitment to funding the development of games for its Windows Phones continues to pay off. In fact, Nokia is doing exactly what Microsoft seems to have dropped the ball on – investing in games and apps in order to attract new customers and keep existing customers contented. We're still waiting on several exclusive heavy hitters like Dead Space, FIFA, and Madden. With so many EA exclusives released so far, it's only a matter of time until those more technically intensive games show up as well.
Thanks to Mark Tepper for the tips!
Windows Central Newsletter
Get the best of Windows Central in in your inbox, every day!
Paul Acevedo is the Games Editor at Windows Central. A lifelong gamer, he has written about videogames for over 15 years and reviewed over 350 games for our site. Follow him on Twitter @PaulRAcevedo. Don't hate. Appreciate!
Two questions Paul. Any word from Microsoft on Xbox games yet? And is there any hint as to when the exclusive EA titles from Nokia will become available to the rest of us? I assume they can't keep them forever.

Making some headway with Microsoft but we're still running into difficulty finding exactly the right person to talk to - something that's held us up off and on for years. My latest contact seems like a nice guy and he might come through with the right person to interview soon. We're also trying to get an answer from Nokia about how long the game exclusivity lasts. Will definitely post about it whenever we find out.

Thanks Paul. I had just assumed we would see 3 months on each title. I'm just surprised that EA is ok with the exclusivity. They own the games, so they are the ones missing out on the revenue.

EA's partnership with Nokia goes beyond Windows Phone, they provide dozens of free games for the Asha series of Nokia as well. I think whatever deal they made with Nokia, is worth more than what they could make in revenue from other WP users.

I think they make enough with Nokia Exclusivity + Lumia users that they can ignore the remaining.

Hmm. I hadn't realized the EA partnership ran so deep. I wonder if we will ever see those titles at all then. There may not be any incentive for them to release the games to everyone.

Wow. I wonder if this is Nokia's way of getting revenge because they ended up not being Microsoft's flag bearing phone. Of course that would be childish and detrimental but companies have been acting that way recently. Look at google and their maps issue; look at apple and their constant litigation.

I doubt it. These Lumia-exclusive games were announced early last year, well before this whole signature/flagship device debacle.

a sale is just 2.99, compare to an exclusivity which brings a handful of million right after the contract sealed is nothing

Does anyone know a contact email from Firemint and EA Games?? I want to ask them to make their games here in Brazil.
It is sad to see that most of these games support the Brazilian Portuguese, but that none of them were published here.
This is the same case of GameHouse. I sent an email to them asking if they could publish the games here and they told me that they had no game for Windows Phone!! I do not understand anything!

Nokia is the publisher on these exclusives, so you'll want to try talking to them.

I'm not talking about Nokia exclusives, but these: http://www.windowsphone.com/en-US/store/publishers?publisherId=Electronic+Arts&appId=c2845c3c-102b-4c63-980f-3acc0b058f42

Ah... We had an EA PR person's email address once, but she was beyond useless. Never got one straight answer out of her. Will let you know if I ever discover a better one.

You're welcome Paul. ;) Gotta say that Spy Mouse crashed once for me so far within 15 minutes of testing it. I hope it won't get pulled again.
Seems the XBL draught on MS's site will come to an end too. As far as I have seen Skulls of the Shogun is supposed to be released on January 30th for WP 7 and 8. This could of course mean another 2 weeks without a new XBL game though.

Both unavailable in Lithuania, well, that sucks

This is off subject, but where is ZTE in this WP8 race?

If you have a windows phone 8 you can change your region on your phone and download any game from any region. You just need a PayPal account to pay for it, credit card will not work.

I'll have to take a look at Picnic Wars when my wife gets home with her Lumia.

Skulls of the Shogun will be out on windows phone on 30th January 2013 but no word on if it will include a WP8 compatible version http://skullsoftheshogun.com/

Gave with one hand and took with another....can't find Mirror's Edge in the Nokia collection of my 920

Never mind, it's just been moved to the Xbox section that's all

Downloading now! It looks fun, but so did Spy Mouse (which I uninstalled). If the trial is good, I may purchase it; but I really need to work on getting off of the 2nd level of GeoDefense Swarm:)

How do you turn the sound off on Picnic Wars? I don't see a setting for that

Both games are surprisingly fun. I actually purchased both titles this evening. Show your support folks!

Agreed! Also, your username is way too cool. Proud Supergrafx owner here. :)

now let's hope Nokia won't dump WP8 and jump ship to Android, now that they are doing better

you wont see nokia on android.there is bigger chance to made another os than do that

Unfortunately, it seems like one of the achievements (Bumper Harvest) is glitched in Picnic Wars :(


Dang, I hope not. Let's wait and see whether other users report the same thing.

Last achievement I need. Hopefully I'm just overlooking something. Still has yet to be obtained by someone on TA.

Many games are not compatible in my region. It make dissapointed by windows store :(
Windows Central Newsletter
Thank you for signing up to Windows Central. You will receive a verification email shortly.
There was a problem. Please refresh the page and try again.