Mirror's Edge released exclusively on Xbox Live for Lumia Windows Phones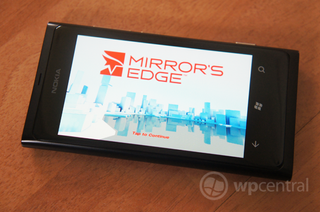 Mirror's Edge exclusive for Nokia Lumia Windows Phones
The Windows Phone Xbox Live title Mirror's Edge, from EA Games, is a 2D platformer with interesting gameplay taken from the 2010 console version. The player takes on the role of Faith and has to help her avoid corrupt authorities by performing a number of acrobatic stunts to bypass obstacles and other elements.
But before we continue with this excitement, be sure to note that Mirror's Edge is exclusive for Nokia Lumia Windows Phones for the time being.
The graphics are impressive for mobile gaming and the menu system is intuitive (and actually works) compared to some titles available for Windows Phone. On starting the game, the player is somewhat humorlessly greeted by a loading screen with scrolling text that is similar to the lore display in Star Wars films.
The actual gameplay is as you'd expect should you have played the console version. But for those who haven't had the luxury, the controls are natural and easy to grasp, but to master the timing is challenging to begin with. A number of achievements are available to give more incentive to play, and it'll definitely provide much motivation for those mobile achievement hunters.
The music is up-beat and energising, which is what you need when being chased by a helicopter with armed personnel firing live rounds at your rear-end. As well as single player mode, players can also play 'Speed Run', which puts Xbox Live users up against one another to score the fastest times.
You can download Mirror's Edge from the Marketplace (Nokia Lumia Windows Phones only), which will set you back £2.29 ($2.99 USD). A free trial is available, but is restricted to two levels. [Edit: Marketplace links and QR code are now fixed, sorry!]
Update: Check out our quick hands on and first impressions with video.
Thanks to everyone who tipped us!
Windows Central Newsletter
Get the best of Windows Central in your inbox, every day!
Rich Edmonds was formerly a Senior Editor of PC hardware at Windows Central, covering everything related to PC components and NAS. He's been involved in technology for more than a decade and knows a thing or two about the magic inside a PC chassis. You can follow him on Twitter at @RichEdmonds.
Oh great news! I've been waiting so long for this game, might give it a try!

Gonna try it out right now!

Download app link takes you to last.fm in the marketplace...

Same here, even when using my 800

Umm the QR code takes me to last.fm app.

Seems like a very good game....I have onyl tried the trial, but will probably be purchasing th full game by this evening. Good stuff.

There's the F***ing idiots at Nokia at it again, trying to get everything exclusive to them. No care in the world, still where would they be if MS didn't give them a contract.

I know, those scumbags pushed HTC and Samsung out of the way to get this exclusive deal, oh wait.....

No Nokia just got the exclusive with Microsoft's cash. It's not a equal playing field. HTC, Samsung etc. are on a capitalist system. Supply and demand. Nokia is Microsoft's bastard child now. Therefore Microsoft is pumping cash to Nokia. Then Nokia will give some of Microsoft's money to devs to get a competitive advantage by getting exclusive apps.
I guess Nokia and Microsoft feels Nokia can't stand toe to toe on hardware so the have to undercut the others with back room deals.
I bet the same deal will come up again when Microsoft pounces on RIM when BB10 flops.

F**k HTC, Samsung, etc. None of them have done nothing to push Windows Phone forward the way Nokia is. These exclusitiies are timed, usually only 2 months, so relax.

You're an idiot. Nokia is the only OEM that cares about WP. Samsung and HTC could've did the same thing, but they didn't. Get smart, kid.

You're absolutely right. Nokia has been pumping out apps left and right while the others are happy focusing their efforts elsewhere. For those of you who can, get a Nokia device and the complaining about Nokia's exclusive apps will end.

Samsung and HTC dont care about WP, they just make devices so they dont get on Microsoft's bad side. Nokia is the only company that cares about WP. From now on I am only buying Nokia WP devices.

Nokia were the only OEM that was PAID to care. Did Samsung and HTC get $250M from Microsoft? No.

If HTC and Samsung would have put the same effort as Nokia when WP7 first came out everyone would have benefitted. Alas they didn't and lost out, stop whining and get a clue.

Zune just took $2.99 from me. I love this game.... very addictive.

I know this is not the forum, but why am I restriced to download this over wifi only? I have 10GB/month so no problem. What is the roof and why is it there? I'm on the countryside right now and no wifi but the databars are full on "h".

Everything bigger than 21mb must be downloaded over wifi. Silly I know. Not sure whom am MS that thought it was a good idea. Battery saver. It should be up to us, really...

That was a copy and paste from the iphone, on which WP was secretly based. :D

Except for podcast. You can force those to download ota.

Thanks for the reply Danne...eller är det Janne?

Så lite så! Det är Danne, aldrig någon som kallar mig för Janne det är bara ett slang på mitt efternamn ;)

Jag laddar ner nu. Körde internetdelning på flickvännens telefon och snor bandvidd därifrån. Hon märker aldrig det ändå. Löjligt att man ska behöva göra så. :)

How come no one is telling these guys to speak English? I knew it was racially motivated

Well, at least they are not insulting a person or making disparaging remarks in their comments (unlike some people who like to cuss people out in a language other than English).

It isn't just Microsoft!! The carrier limits how much data u can download over cellular. I've seen this on an iPhone too.

That must be your provider restriction, I downloaded via 3g..

The Marketplace link and QR code take me to Last.fm. Can you guys fix it please?

Just searched for it in the Marketplace on my Lumia and found it. But please fix the links for everyone else.

This is so damn aggravating! I feel like a 3rd class user with my Focus S! WTF!

Everyone else gets a decent camera and no bugs, L900 owners get a shitty camera, bugs galore and exclusive games. Sounds like a fair trade. :)


If you guys are bored get Gun Bros, keep you occupied for ages while you wait for this to be available to everyone.


Gun Bros!

Gun Bros isn't working on Nokias.

My L900's camera is better than my Focus S', my Lumia's keyboard sound works, is usable when plugged in charging, it doesn't make a popping noise when switching tracks, and no, I don't have the "common" 900 bugs.

Ill take my Lumia 900 over my buggy Focus S anyday. Notone update from Sammy for any of the bugs yet Nokia steps it up admits it and pushes out a fix.
BTW. DId anyone see any commercials for the Focus S, Focus 2 or any Samsung phone? I see a dozen a night for the precious Galaxy S 3.

You've been very pressed lately

I have HTC Radar, HD7, DVP and Lumia 900 and non of the pictures from these phones comes close to that of the Lumia 900. Frankly Nokia could have done better than what we have now but the Lumia 900 camera is not as crappy as it's been exaggerated.

We've known Nokia would get timed-exclusive games for a really long time now... It'll become available to everyone eventually.

Good news for Nokia peeps, bad news for me. I guess the counting game begins until I can buy this game for myself. 1 day... 2 days..

When these apps come across for Nokia phones only at first it's because Nokia has worked with the developer to get them to even build an app for a WP. So part of the agreement I am sure is that Nokia phones get access to the app first. Think of it this way. You wouldn't have anything to complain about at all because the app wouldn't even be coming to Windows Phone, at least not for a while yet.

Nokia can only do this with Microsoft's cash. HTC, Samsung etc. aren't getting cash from Microsoft to do these backroom deals.
I guess Nokia doesn't feel they can win a hardware battle with HTC, Samsung etc.

Can you read?
This game wouldn't even come to WP if it wasn't for Nokia. I don't care if it's MS cash or not.
Nokia helped the Developers and gave them an incentive to port this to Windows Phone. It's only fair if they get the exclusivity for a while.
Samsung and HTC could do this too, but they don't because they don't care for the platform. They just recycle their Android hardware to squeez out as much money with as little work as possible.
So stop the bitching, without Nokia Mirrors Edge wouldn't come to Windows Phone for you to bitch about.

To be fair, it seems a bit odd to attribute the arrival of these games to Nokia when you admit that it's MS' cash they're using to bring them over. So wouldn't that mean this is merely MS paying for these games to come exclusively to Nokia phones?

Buying this to support Nokia.

Fock Nokia, I'm gettin' sick of seeing HTC and other companies being left behind because of Nokia. A collegue from work bought Lumia 800 just to brag to me, for having a HTC 7 Pro. Guess what. Joke's on him.

You mean you are tired of HTC and others get left behind by HTC and others. Simple mistake, we understand.

Blame HTC and others then. It's not Nokia's fault. Nokia cares about WP and their customers that's why they do this.

This game is setting of my L900's capacitive buttons like crazy. Looks like I might have purchased too. POS hardware is getting on my nerves. This and GPS seems to be taking longer and longer to connect.

I have a lumia and I really hope they only have a short exclusive period as this hurts WP as well as people will see that to get the bust out of the OS they should get a Nokia but they might not want to and go to another OS

Dear Samsung and HTC, thanks for doing nothing while Nokia has done everything to make sure their customers have the best experience on their phones. Thanks Nokia for making us jealous that we bought "other options." HTC Titan for sale as of today on eBay.lol

Now this is bull sh!@t. Talk about fragmentation.

If it wasn't for Nokia this game would not even be available on WP. They have teamed up with EA. It's only fair that Nokia gets is exclusively for a while because of that. Blame the others for not doing anything for the platform.

I do realize that. And I am planning on getting a Nokia, I just love this game. And want it now!! :D

Yes it's fun! Bought it as soon as I had played the first level.

NOW EVERYONE BEFORE U GET UPSET THAT NOKIA HAS IT AND SAMSUNG R HTC DONT JUST REMEMBER NOKIA IS COMPETING WITH SAMSUNG, APPLE, HTC, AND EVERYONE ELS SO ITS NOT ABOUT WELL ITS WINDOWS WELL ITS A DOG EAT DOG WORLD AND IM HOLDING A NOKIA FLAG

That's true. But no need to shout!

Honestly this just creates don't competitive edge for OEMs choosing to make WPs. It isn't like a permanent exclusivity, its only like 30-60 days. If you want first dibs you go Nokia, if you don't mind waiting a little longer anyone else will do, especial if the hardware is more important to you. I can't see how this introduces fragmentation when others still get it. This is how OEMs stay unique but consistent. Anyways, think this might be my 2nd purchase and my first Xbox live game to buy. Tried the trial, and it plays really wel along with great visuals.

Yet again I feel left out. Its already restrictive(app-wise) to choose WP but now you need Nokia WP or you seem to miss out on even more. Its an ecosystem not an OEMsystem.

samsung owners get free rubic cube :) , lol
w/e illg et in 2-3 months when it gets release to all phones and at half price!! lol
just a way to force us to save $$ ;) Thanks Nokia :)


Thank god for a marketplace changer... I'll try it on my Trophy later :)

I was thinking of that myself but not sure if it'll work as a lot of OEMs seem to be locking down their apps now. I'll try it now and let you know if I have any luck.

I don't get why people are complaining, this type of exclusivity war already happens elsewhere; just look at the 360 & PS3 as an example where Microsoft pays to have timed content on its systems because it believes it'll pay off. I digress. This is a port of the iPhone/iPod Touch version in case anyone here didn't know already. Still a good game though so looking forward to getting it on my Samsung.

This is a bit different than console exclusivity. A better example would be if Xbox 360s were made by OEMs, each capable of playing the exact same games. One day, Nokia arrives late to the party, and using MS' money, secures on disk DRM that doesn't allow you to play certain games on non-Nokia Xbox 360s until 30/60 days after release, of which this includes some high profile releases that gamers had been clamoring for for quite some time now.

Many people are talking about Nokia using MS money but let me say here that the partnership between and MS is mutually beneficial. With this lackadaisical attitude of HTC and Samsung towards WP, the platform probably would have been dead by now. Thank Nokia for salvaging WP, and for those who don't know Bing search and all the Bing services are powered by Navteg which is a subsidiary of Nokia.

Honestly I disagree. Take a multiplatform title such as GTA IV; DLC was coming to both 360 and PS3, but Microsoft paid Rockstar to have time the timed exclusivity on the 360 just like Nokia have paid EA to have time exclusivity for Mirror's Edge and the others. And so what if Nokia is a bit late to the party? They still carried out the same practise as others have.

TO THOSE WITH DEV UNLOCKED PHONES: I can confirm that switching your marketplace to Nokia will allow you to download and play Mirror's Edge on non-Nokia devices. I have just tested this on my Samsung Omnia 7.

Thanks, I was getting an error but, I will cancel and attempt re-download...

Getting the error on a Verizon Trophy... anyone with one have any luck right off the start ?

What error are you getting? It might just be a marketplace error as opposed to being a problem with the app. I've been having that a lot lately the last few days.

This is kind of dumb because the game would get more sells with all phones

Android doesn't even have this game. This is great for Nokia devices.

Downloaded the trial version. I'm hooked. I'm buying. Thank you Nokia.

Seriously, wouldnt they sell more apps had they released it to all wp devices? I mean, in 2 or 3 months time, who knows if we might have WP8 already. Then no point of making it exclusive then now is there?

Hello, this is day 1 stuff, it was announced years ago they would get time limited exclusivity.