Two Xbox games from Chillingo earn their Windows Phone 8 compatibility at last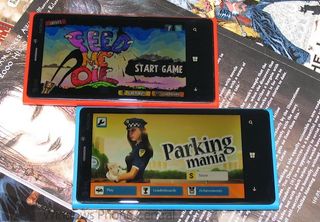 After today's disappointing news of another week without a new Xbox game for Windows Phone, our gaming readers could probably use some cheering up. Well, I'm pleased to share some win-win information with you now. Not one, but two partially delisted Xbox games for Windows Phone have just become Windows Phone 8 compatible: Feed Me Oil and Parking Mania, both from Chillingo.
That brings the list of incompatible games down to 23, the lowest it has been since Microsoft's new mobile OS debuted. Hopefully it continues to shrink in the months ahead!
Crude physics
The first newly-compatible title, Feed Me Oil originated back on May 8, 2012. It precedes the start of Nokia's exclusivity agreement with Electronic Arts and thus is available to all Windows Phone users. Best of all, it only costs a dollar!
Feed Me Oil is a physics puzzle game that closely resembles Enigmo. The player's job is to get a bunch of dropping oil into the mouths of various beautifully-drawn gigantic creatures. You'll use a variety of gadgets to do so. Each one affects the oil in different ways, such as pushing, pulling, and otherwise directing its flow to the (hopefully) intended destination.
While the gameplay may be somewhat familiar to puzzle fans, Feed Me Oil's creative art design (complete with cute intro) is far more appealing than many puzzlers' sterile settings. The Windows phone version features several exclusive levels, making the low price tag even more of a bargain. Like many games of this type, the game's Achievements can be rendered quite easy via guides, making it a quick completion for GamerScore aficionados.
Grab Feed Me Oil here at the Windows Phone Store.
Driving for dummies
The second title to gain compatibility today is the much more recently released Parking Mania, which came out on November 9th last year. While this one was initially available for purchase on Windows Phone 8 devices, it suffered from unavoidable crashing (no pun intended) on specific levels and got pulled just over a week ago around January 8th. In record time between partial delisting and relisting, Parking Mania has now been updated to version 1.1. We have it on good authority that the game no longer crashes on previously problematic levels, so woot!
Parking Mania is something of a puzzle/driving game in which players must carefully steer one or more vehicles from one destination to another. Levels usually end when all of the cars have been parked in the designated spaces. Complicating matters are extremely tight spaces, occasionally large and unwieldy vehicles to drive, road traffic, and of course: tilt controls. Parking Mania offers a tense but reasonably challenging experience across its 80 levels, providing much more enjoyment than you might expect from a game about parking.
Parking Mania costs $2.99, just like all Nokia exclusive Xbox Windows Phone games. You can view its Windows Phone Store page here, but the game must be purchased from a Nokia Lumia phone. We'll have a full review soon!
Thanks to readers Mark Tepper and J88NY R for the tips!
Paul Acevedo is the Games Editor at Windows Central. A lifelong gamer, he has written about videogames for over 15 years and reviewed over 350 games for our site. Follow him on Twitter @PaulRAcevedo. Don't hate. Appreciate!
At least Nokia cares about us :(

Indeed. Thanks Nokia and Chillingo! Paul, how long does Nokia have exclusivity before the rest of wp8 users get access?

Good question! We're waiting on some interview questions to come back around early February and then we'll finally know just that.

Awesome thanks. Reason I ask is quite a few games are exclusive to Nokia and it seems once they are able to be released the number of fully available Xbox games will go up dramatically. I am not an Xbox player but I know having more games and a more unified platform will attract users and more devs.

Also, do you know when Viber HD will be available to us Lumia WP8 users?

Someone, please, have some contact of Chillingo? I really want to ask them to publish their games here in Brazil.

Finally...I can download two more games I already own.

I always enjoyed Feed Me Oil and never did wrap up all the achievements. Now I just need a few more games to be updated (Ghostscape, Splinter Cell) and I will be a happy guy.

Feed Me Oil is actually a really awesome game, and I don't usually care for physics puzzlers like that.

Glad Feed Me Oil is back, but I already bought it lol.

Picked up Feed Me Oil. Love the art style. Thanks for the heads-up Paul.

:/ these nokia exclusives are really starting to piss me off, nokia isn't the only company who has windows phones :/

Exactly. Why doesn't MS release these games? Apart from WP OS, I've seen little or no support from Microsoft app wise.

Make sure you let Microsoft know that. We talk about what you can do in yesterday's big article about the lack of Xbox WP releases.

Nothing is new - now we must wait each week for WP7 games (( And in the second half of the year Microsoft will present 12-13 WP8 games, thats all my next phone will be Android !!!!

I really wonder if it will be that many. Who cares about Microsoft games anyway? I'd be more interested what other publishers do regarding WP. Want to be first to get great games? I'd go for iPhone instead of Android.


Lost all my progress twice in Parking Mania. Does this update fix this issue? Hope so, its a brilliant game otherwise.. (Nokia 710)

At least there's some decent news this week.

Completed first 5 levels of parking mania again earlier and progress has already been wiped! Unbelievable. Does this happen to anyone else? (Nokia 710)

Any word on whether this release / update to parking wars fixes the crashing and destruction of save files that is a widely known issue??

As we say in the article, it definitely fixes the crashing. But according to comments here, save file loss seems to remain. :(
Windows Central Newsletter
Get the best of Windows Central in in your inbox, every day!
Thank you for signing up to Windows Central. You will receive a verification email shortly.
There was a problem. Please refresh the page and try again.