Windows Phone Xbox Live Review: Shuffle Party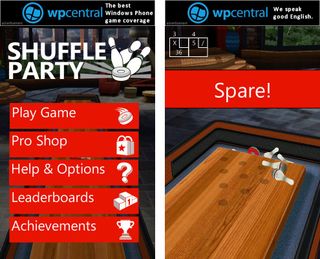 Shuffle Party is the latest free Xbox Live game developed by Babaroga and published by Microsoft Studios. Unlike its predecessors Minesweeper and Sudoku, Shuffle Party even had the good manners to release simultaneously worldwide. Whereas the other two games are cerebral logic puzzlers with sizable learning curves, Babaroga's latest offering is a far more accessible sports game. The sport? Why, shuffleboard and bowling, of course.
Before Shuffle Party came along, I knew next to nothing about shuffleboard except that people like to play it on cruise ships. Now, thanks to the magic of Wikipedia, I can report that the game dates back hundreds of years. King Henry VIII of England used to play it, and he forbade commoners from doing so. That gels well with its popularity on cruise ships, a method of travel that many common folk can't afford. But Shuffle Party is actually based around table shuffleboard, a much more accessible game. Sure, nice shuffleboard tables sell for hundreds or thousands of dollars, but you can also get dinky ones for far less.
Table shuffleboard consists of seven rounds of play. During each round, players get four pucks to slide down the table. The far end of the table contains the scoring zone, which is broken down into three sections. You get more points for pucks that stop in the farthest and smallest section, but it's a risky place to shoot for. Slide too hard and the puck will fall into the gutter; then you won't get any points for it. Pucks can knock each other off the table, and scoring isn't tallied until the end of the round. Fairly simple, right?
Shuffle Party presents an accurate recreation of the tabletop game on the go. Controls are entirely touch-based. Before sliding the puck, you can aim by moving it left or right, as well as rotating the table. Once it's lined up, slide your finger forward to send the puck on its merry way. The strength of your swipe indicates how far the puck goes, and is also displayed as a meter after the fact. That's my only real complaint about Shuffle Party – it's too hard to control shot strength. The puck seems to move either a lot or very little. If the game had the option of controlling strength with a golf-like meter instead of swipes, it would be so much easier to manage your strength.
Pitch-perfect shot strength isn't a huge deal when you're just playing to have fun. I'm happy to report that none of Shuffle Party's game variants disappoints in fun factor:
Bowling: Instead of a scoring zone, ten pins are set up at the end of the table in standard bowling fashion. Knocking them all down in one go nets you a strike; two tries a spare. Bowling doesn't have any customization options; you just try to reach the highest possible score over the course of ten frames. Bowling works great with the game engine. Since mobile Xbox Live doesn't have a real bowling game yet, this is the next best thing.
Challenge: This creative mode consists of 33 puzzle-like challenges. In each challenge, players have four pucks to try to slide into the three scoring zones: 5, 10, and 15. But unlike regular shuffleboard, the scoring zones vary greatly in size and location. An assortment of obstacles like stationary blocks, sliding blocks, and ramps can aid or hinder your attempts. You can also pick up coins, adding slightly to your score.
After you've made your shots, you earn a star rating based on how many pucks made it into scoring zones. Get 45 or more points and you'll win 3 stars, the highest rating. Challenge mode is fun but some challenges can be frustratingly difficult; 2-2 gave me the most trouble. Even if you know just what shots you need to make, pulling them off can take lots of retries thanks to the poor shot strength control.
Shuffleboard: Works exactly as I described earlier. Not bad, but a bit less fun than Bowling and Challenges. Like Bowling, it could have used a 'Retry' option instead of forcing players to exit to the Main Menu when they screw up.
Pass and Play: Multiplayer table shuffleboard in which two players pass the phone back and forth between turns. On top of going for score, players can try to land their pucks in spots where they won't be knocked away, as well as knocking off the opponent's pucks. Multiplayer really brings the traditional shuffleboard game to life. Like bowling, a little rule customization and online play would make it even better.
Every game needs an overall objective to keep the players coming back. In Shuffle Party, the goal is to buy all the goods from the Pro Shop. It sells seven different sets of pucks, pins, tables, and frames. You can mix and match these components, using a hamburger puck on a pirate-themed table if that's your thing. Earning enough money to buy everything will take several hours of shufflin', unless you cheat of course.
While Minesweeper and Sudoku are highly functional games, I doubt anyone would call them pretty. By following the Metro design principles too religiously, they ended up with a very sterile appearance. Shuffle Party easily bests its predecessors with a slick 3D graphics engine. Not only do the pins, pucks, and tables look great, they're also situated in a spacious and well-rendered office setting. As you line up your shots, you get a great view of the Chicago skyline (where Babaroga's main office is located). Between shots, the camera reverses to show your Xbox Live avatar's reactions. There's even a statue of Baba Roga herself in the background.
Achievements
Since Shuffle Party doesn't cost money, its ten Achievements are worth 50 GamerScore instead of 200. Each single player mode has several Achievements, the hardest of which is definitely getting 3 stars in every Challenge. The Achievement for purchasing all shop items will take most players quite a while too.
Overall Impression
Shuffle Party is an excellent free game. Not only does it fill a hole in the Xbox Live lineup – bowling, but it packs several worthwhile variants on top of that. The sharp graphics and Avatar integration further elevate it above indie offerings. While the controls could definitely use some polishing, they don't scuff up the game too badly. Whether you like bowling, shuffleboard, or just want some free GamerScore, this is one party you'll definitely want to attend.
Shuffle Party is free and supported by advertisements. Collect it here on the Marketplace.
Get the Windows Central Newsletter
All the latest news, reviews, and guides for Windows and Xbox diehards.
Paul Acevedo is the Games Editor at Windows Central. A lifelong gamer, he has written about videogames for over 15 years and reviewed over 350 games for our site. Follow him on Twitter @PaulRAcevedo. Don't hate. Appreciate!