Turn N Run returns to Windows Phone 8 just as Ghostscape departs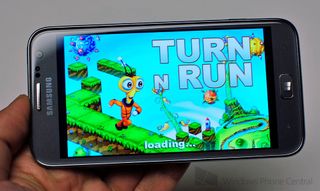 It's always a good news/bad news situation when it comes to Xbox game compatibility and Windows Phone 8. Nearly every time a game gains compatibility, another title is discovered with incompatibility issues and subsequently pulled (see this article for the full incompatibility list). That story repeats itself again today: Turn N Run from MaxNick has finally received its Windows Phone 8 compatibility patch. Ghostscape from Psionic Games however, is now restricted to Windows Phone 7 devices.
Turn n return
Turn N Run launched back in November, just after the debut of Windows Phone 8. It could initially be purchased from WP8 devices, but suffered from crashing issues. The developers actually knew about those issues before launch and had already begun creating an update to correct them. Two months later, the version 1.1 patch has brought the game back in fine working order.
Turn N Run is a puzzle game that combines the camera rotation mechanics of XBLA hit Fez with the laid-back puzzles and cuboid environments of ilomilo. The game is played from a 2D side-view perspective. But swiping anywhere on-screen allows you to rotate the camera at will. You can peer above and below the level to get an idea of its layout, but the main use of swiping is to make new pathways open to the alien. While one 2D perspective may be filled with gaps, rotating the view 90 degrees reveals a solid path for him to take.
Turn in Run is a harmless game with no real failure conditions and easy Achievements to boot. Check out our full review for more details. Get it for 99 cents here from the Windows Phone Store.
Ghost escapes
In an amazing cosmic coincidence, Ghostscape - the game Windows Phone 8 lost this week - came out almost exactly one year before Turn N Run, back in the innocent days of 2011. Based on a free Flash game, Ghostscape is the only adventure game available for Windows Phone.
Players enter a haunted house and discover the unpleasant fate that befell its former residents. Much like Turn N Run, it's impossible to die, making for an easy game on the whole. In fact, you can grab all of its Achievements in under an hour. Check out our review for more details.
Ghostscape didn't make much of an impression upon its release, mostly due to its brevity and $2.99 price. A price drop could still happen, but the possibility of the game returning to Windows Phone 8 looks slim. As with previous partial delistings, Microsoft neglected to inform the developers about the compatibility issue; they learned from us. Ghostscape came from a tiny development team of two, and it would be difficult for the creators to go back and work up another patch this far down the line.
Get Ghostscape here on the Windows Phone Store.
Brighter clouds ahead?
Perhaps Ghostscape's partial delisting is no huge loss given the content of the game and its lack of replay value – after all, anyone who purchased it on Windows Phone 7 has likely already completed the entire experience long ago. But Windows Phone 7 and especially 8 need a diversity of Xbox games in their lineup. Hopefully the incompatibility issues dry up and new releases start coming along regularly this year.
Paul Acevedo is the Games Editor at Windows Central. A lifelong gamer, he has written about videogames for over 15 years and reviewed over 350 games for our site. Follow him on Twitter @PaulRAcevedo. Don't hate. Appreciate!
Any word on a new Xbox Windows game tonight?

Hi Paul!
Do you have any contact email of these two studios? I would like to ask them to publish their games here in Brazil. Thank you.

http://maxnick.com/contacts/
http://www.psionicgames.com/?page_id=5

Weird, I have had my WP8 for almost a month now and I was never able to re-download Ghostscape.

Harmless is the perfect description for Turn N Run.

Crossing my fingers that you have something more exciting to write about in the near future Paul.

Agreed, I really hope we get more exciting news in the very near future!

"Ghostscape is the only adventure game available for Windows Phone."

I'm pretty sure that statement is a sign of a MAJOR problem with app growth on Windows Phone. The ONLY aventure game, and it's now gone? That just seems too crazy to be true.

if you guys are looking for a great game this week check out the Xbox Indie RPG Doom and Destiny! its fun stuff, keeps me going for days..hurry while its 100% free!
http://www.wp7connect.com/2013/01/14/exclusive-doom-destiny-creators-sit-down-for-in-depth-interview/

I'd like a list of all of these companies that have bailed on Windows Phone so that I can make sure that I never buy any of their stuff again.

Where did you get the ATIV S Paul?

That's actually Daniel's phone. All I've got right now are a Lumia 920 and a Focus.

SIGH! I am starting to think that MS is only allowing a certain number of games for wp8!!! How it is that when a game returns to wp8 another disappears!

Thanks for the infos. Purchased Turn N Run.
Windows Central Newsletter
Thank you for signing up to Windows Central. You will receive a verification email shortly.
There was a problem. Please refresh the page and try again.