Turn N Run debuts for WP7, doesn't run well on WP8 (for now)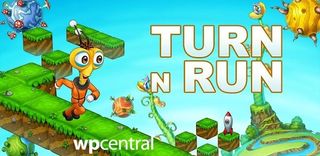 As we exclusively revealed over the weekend, this week's Xbox Windows Phone release is Turn N Run, from Russian developer MaxNick (makers of Spider Jack) and Chillingo/EA. The lighthearted puzzle game is now available on the Windows Phone Store. Turn N Run plays great and definitely has easy Achievements, but Windows Phone 8 gamers will have to wait to enjoy it...
Rotation on the go
Turn N Run is a puzzle game that combines the camera rotation mechanics of XBLA hit Fez with the laid-back puzzles and cuboid environments of ilomilo. The game is played from a 2D side-view perspective. But swiping anywhere on-screen allows you to rotate the camera at will. You can peer above and below the level to get an idea of its layout, but the main use of swiping is to make new pathways open to the alien. While one 2D perspective may be filled with gaps, rotating the view 90 degrees reveals a solid path for him to take.
While you can't die inTurn N Run, the game does increase in complexity as you progress through its 60 levels. The challenge comes not just from reaching the rocket which acts as each level's exit, but also in collecting all of a stage's crystals. You'll need them to unlock new planets, and also Achievements! As predicted though, Turn N Run is fairly easy overall and you can get the full 200 GamerScore in 3-4 hours, which should please hungry Achievement hunters.
Not ready for 920 and family
And now for some bad news: Turn N Run is not fully Windows Phone 8 compatible. You can buy it on any device, but it will crash on the Nokia Lumia 810, 820, 822 and 920 handsets. A reader tells us it runs fine on the HTC 8X, but we haven't tried this ourselves. MaxNick is already in the process of developing a WP8 compatibility update for the game. The developer estimates the update should take about a month to clear certification. Once it passes, Turn N Run will work fine on WP7 and WP8 devices.
Microsoft's decision to allow the publishing of a WP7-specific game (which yesterday's Spy Mouse and Trivial Pursuit may well be too) is curious because at present at least 22 Xbox Windows Phone games that are incompatible with WP8 have been delisted from the WP Store in most regions. Even Big Buck Hunter Pro got pulled only a week after its release for just that reason. Hopefully Turn N Run doesn't share the same fate. I see no reason that WP7-only games can't exist on the Store. After all, there will be plenty of WP8-exclusive games as time rolls on.
Price wars
We originally reported that Turn N Run would cost only a dollar, in keeping with its simplistic visuals and casual gameplay. Unfortunately, the game has launched at $2.99 instead of a dollar. The developer fully intended to sell it at 99 cents, so something has gone awry. Chillingo, Turn N Run's publisher may have opted for a higher price at the last minute, or maybe someone on Microsoft's end made a mistake. MaxNick is already investigating the discrepancy and will report their findings back to us soon.
Higher price or not, Turn N Run is still a pleasant little game full of deliciously easy Achievements. Windows Phone 7 users, grab it here on the Windows Phone Store.
Update: As it turns out, the pricing error came from Microsoft's end. The game should revert to 99 cents within the next day or so. Hold tight, gamers!
Update 2: Turn N Run now costs 99 cents as intended. Sweet!
Paul Acevedo is the Games Editor at Windows Central. A lifelong gamer, he has written about videogames for over 15 years and reviewed over 350 games for our site. Follow him on Twitter @PaulRAcevedo. Don't hate. Appreciate!
When will we get Temple Run?

Is temple run even a worthy XBLA game?

That's a shame about the price, I still probably will get it over the weekend regardless.

This s*** is getting stupid..now that i have the l920 i have to wait for game being release first on older windows version

Yep...windows experience is souring between this an Xbox Music/Video fiasco.

indeed, what a mess. Microsoft does 2 steps forward, one backward. gee. Plus, add to that Spotify and Photosynth that wen AWOL with the 7.5 - 8 update. what a mess.

This is a f**ked up ecosystem. Why do they keep making the new and old customers angry?...WP8 is supposed to run WP7 apps...this does not make any sense. FRAGMENTATION! Jump from the burning platform!

Every time there is a new OS there are issues to resolve. I would just try and be a little more patient. I'm glad they are attempting to make these apps WP7 and WP8 compatible.

You have been talking about leaving this platform for weeks. Just jump already, it's obviously not for you.

Why cant people like multiple platforms? People are always saying "just leave if you dont like it". I love android and like windows phone and own both platforms, zune is better then anything out there! But i prefer the feel of android, so he will leave when he is good n ready :D

There's a difference between appreciating multiple platforms and a constant bitching and moaning on one platform, in its own relevant forum.
I'm not even putting words in his mouth. If you say that you are going to leave this platform every time you post, for an extended period of time, you should probably go through with it and get on with your life.

This is most likely a game that has been in the making (porting) for a long time, specifically for WP7 and not WP8. It will probably be updated to work for WP8 devices in due time.

It will definitely be updated for WP8; I say as much in the article.

I just bought it. HTC 8X on T-Mobile. It runs just fine too. If anyone wants, I can post screen shots as proof that its running on my 8X.

Beat the entire game in 3 hours. Not worth $3 in my opinion, but the 99 cent tag is just right. Enjoyed it. The puzzles are engaging but never that difficult. I am fairly certain I got myself into a dead end position on multiple occasions on a few levels. Aka you literally can't move your guy on any of the angles in any direction. Had to restart the levels.

Has someone actually tried running this on a Lumia 920?

oh damn, it gets messier by the day. it shows on the market for the 920, i install it, it starts, level loads, then crashes.

Yeah it's crashing for me too....oh well. =/

Yes. Crashes loading all levels. No worky with 920.

Some guy said when WPC announced the game this was just like a Super Monkey Ball knock off... But, it has absolutely nothing in common. Why, oh why...?! Hate rumours with passion.

If you read the responses to that comment, everyone was disagreeing with him

And, I don't understand WPC saying those games are getting delisted. At my store they're all available, including that silly game of shooting Bambis.

Does anyone else hate that bug things face? Lol

Reminds me of the large scientist bug from the cartoon movie Monsters vs Aliens.

Its like Microsoft forgot everything they learned when they willed the Xbox to success. Halo vaulted the Xbox. How did that happen? They spent money and hired the right people to develop it in house. While one game on a phone won't do that, but many will. Start making actual GAMES for WP8 that will make people want the phone for that and dare I say what the Zune experience use to offer. Problem is l, those in charge at Microsoft now, would do all of this and then release it on iOS for free and the hive it to Windows Phone 4 weeks later and charge us $5.

What does any of that have to do with this game?

I take it as the person is saying this game(or other games) need to be given the same attention microsof gave Halo for Xbox that made both the successes they are instead of this fragmentation.

That's not really possible or a fair request, because Microsoft actually funded and produced Halo. Turn N Run comes from a small developer called MaxNick and Chillingo, not Microsoft. Also, the WP certification team (which Microsoft contracts to a cheap vendor) is pretty terrible, so we can't blame the devs for not finding issues that the cert team is supposed to find.

Like Spacedvest said, your comment has very little to do with Turn N Run. This is a third-party game, not a first party one. Nor is the iOS version free, nor does this one cost $5. Ahem...

Bought it, and played a few levels. It's quite good playability wise, Chilingo nailed what it takes for a game to be fun in a touch/mobile device. I think people who ask for fps' or control complex games probably just want it for looking at the screen for a few minutes and never play it again, because games with digital analogs and I numerous buttons are uncomfortable and flat out fail at being remotely fun.
Anyway, Turn N Run is some sort of Fez-light, and while the worlds and landscape could've been more colourful and lively, the game is a pleasure to play.

That's what I wanted to hear, thanks for writing that. I'm currently playing Contre Jour, I keep finding that Chillingo games are consistently well done.

I think it's a real shame that even Xbox games don't work absolutely well on wp8. m only gonna upgrade once these things are taken care of.

My 822 won't run iheartradio correctly so it's getting returned. I'll stick with my trophy until this gets sorted out. Will probably wait until the next phones get released.

A lot of those issues will be fixed in a matter of weeks, but I suppose it's true you can't count on an individual app getting fixed within a certain time period.

Damn, was excited to play this now, but will wait for the price drop before I pick it up. Sounds like the devs are really cool guys, and really proactive on the whole situation!

The game looks really cool!

Gonna get this for sure when it hits 0.99!

Might get once it works on the 920 and is $.99. Thanks for the infos.

Looking forward to playing this.

It's 99 Cents.
insidegames says thank you :-)
Windows Central Newsletter
Thank you for signing up to Windows Central. You will receive a verification email shortly.
There was a problem. Please refresh the page and try again.