Set the mood as Oni:Light Control brings Philips Hue with voice support to Windows Phone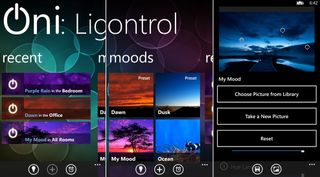 Before the holidays, Philips brought a new technology to market for those with disposable incomes and a knackering for ambient lighting. The Hue concept is simple (and reminds us of Philip's earlier attempts at lighting for TVs): the bulbs have variable range of color support via LEDs and they're network enabled, allowing you control the light level and color via your iPhone.
Sure, a set of three bulbs will set you back $280 (Amazon.com (opens in new tab)) but the effect is quite impressive, especially with the iOS support coming native to the system. But that's just the problem as those on other platforms were left in the cold.
Now a new company called Oni seems to be embracing Windows Phone by releasing their first (of a few) "lifestyle" apps. Oni: Light Control, now available for $3.99 on the Store, is a fully-featured light control system for Philips Hue. It even adds some features like voice control and the ability to pick colors from photos, allowing you to make custom templates for your home.
We're not going to lie: we have more important things at the moment to spend our money on instead of those Philips Hue bulbs (and presumably a new lighting system for our home). But while we laughed at the notion back in October, we're now considering for the future because…well, it's just darn awesome looking.
We also like Oni (www.oni.io). They seem like a serious software company prepared to bring high-quality apps to Windows Phone and Windows 8 (see 'Hub' for Kinect coming soon and two other "classified" apps in the works).
Look, what we're trying to say is forget the rent, mortgage payment, your kids lunch for the month, your car loan and go invest in Philips Hue's ambient lighting system for your home, crank up the disco music and grab this app so we keep Oni around. That and if you live the Glenn Quagmire life-style, you'll thank us later.
Pick up Oni: Light Control for $3.99 here in the Store with a free trial (Windows Phone 8 only). And you must watch the accompanying videos. Thanks, Hiiiiiiiii, for the tip
Update: You can actually buy the 3-pack Start kit of Philips Hue for $200 ($80 less) from Apple.com (opens in new tab).
Daniel Rubino is the Executive Editor of Windows Central, head reviewer, podcast co-host, and analyst. He has been covering Microsoft here since 2007, back when this site was called WMExperts (and later Windows Phone Central). His interests include Windows, Microsoft Surface, laptops, next-gen computing, and arguing with people on the internet.
I have to admit this is pretty cool. I have no need for this, but I have spent more on less.

Dev here. Glad you like the app! You can get the bulbs (a bit) cheaper, directly from Apple.com: http://store.apple.com/us/search?find=philips+hue

omg i want these bad!!!! there was a kickstarter program for another company that was making them for alot cheaper, but phillips def took the cake in releasing something similar faster. still the price tag is too much!! grr i want these lightbulbs!


Nice topic. I like reading this. Good design with great features. Another big innovation which offers great performances. - YOR Health

I didn't know about this, and I'm a Philips guy -- TV, home theater, blu-ray player ... all Philips. Living room stereo was Philips, but replaced it with a Surface and two Nokia Plays.

I want this.

I don't know why, but I must buy them.

I am famous guys, Hiiiiiiiii is me, guys, guys, are you looking?

Nothing to see here. Move along. Move along.

I want it. So Grandma will have to go without her medicine for a few weeks.....does she light up the room like this? No.

This is great, my sister just got these and has been complaining of lack of WP app. I might get some bulbs now too.

Does the 'O' look familiar? Hmmm. Oni is also an acronym used in Halo.

"forget the rent, mortgage payment, your kids lunch for the month, your car loan and go invest in Philips Hue's ambient lighting system for your home"
I'm not rich, I don't have a lot of money to spare after paying bills, but $280 wouldn't exactly break me down or make me miss a mortgage payment. Meanwhile, let's all go buy our $600 tablets and $400 unlocked smartphones and $300 gaming consoles. That $280, which you failed to mention, is for a starter kit for 3 bulbs.
Its expensive because its new tech, there's nothing silly or new about that.
Regular LED lightbulbs cost 3 times as much a little over a year ago... not only are they cheaper now, but the tech has vastly improved.
There is a trend towards a connected, integrated home and this is just a small example of it, one that has actually reached the consumer level, and you dismissed and lauged at it?

$280 for ambient lighting is a bit expensive and I'm hardly in the minority when it comes to that notion. I didn't dismiss it as a bad idea, just not necessarily practical for a lot of people. I'd also venture to say a tablet or phone is much more useful than "pretty lights" making their value much higher for everyday use. Go on the street and tell people you just spent $300 (taxes, shipping) for 3 light bulbs and watch their expression. I guarantee they *won't* respond with "Well, there is a trend towards a connected, integrated home and this is just a small example of it!", but instead will go Whuh/GTFO. I'm excited for this product. I'm excited for a connected household. But the price needs to come down to be more widely accepted.

I disagree, there are wireless bulbs that can be controlled via a smartphone app. So you would go around saying "I paid 200$ for 3 bulbs" Don't forget that there are people out there spending not hundreds but thousands of dollars on designer shoes made in china as well. If you really value house living and interior design, 200$ is not a crazy investment

$200 for 3 bulbs is a niche market at best. I really think there is a future for this technology but at the current price level this is only for the early adopters and those wealthy enough for frivilous devices like this. Hopefully the production costs of the bulbs will decrease over time so that it can get into the general market. Then, and only then, will this sort of product really take off. (IMO, of couse)

Don't forget that you will have to buy a replacement in a couple of years in case you live in hot climate

"Regular LED lightbulbs cost 3 times as much a little over a year ago... not only are they cheaper now, but the tech has vastly improved."
When I stated this, I mean that compared to the cost of the same LED bulbs now vs a year ago. I realized my statement could be misconstrued as me trying to claim that LED bulbs cost 3 times as much as the Phillips Hue and its not what I meant.

Yes!
I have been looking one of these manufacturers to get WP support and even better that it's Philip's as they are naturally easy to get here in Europe.

Yeah, little Barry White, little omni light gonna be a real good night for me an my lady, ya feel me. "and when I get that feeling I need sexual healing". . . Thank you omni light. . . I owe you one.

Setting the mode eh?lol But I could see how that would work.

Wow that is cool. Also their website links to the Apple Store where strangely the bulbs are only $200 compared to $280 on Amazon.
Their website says it's only for WP8.

I have a Phillips ambi-light tv, it does look cool the way the light colour changes depending on what is on the screen

Awesome, the platform needs more of these kind of developers.

Not sure if I'd buy this but it is so freaking cool!

this is for mancave a must :D

I think this app looks incredible and I'm glad to see more developers adding advanced functionality through the speech control. I won't be using this app because I can't afford/justify the cost because I've already invested so much money in my home automation control system. That being said, I would LOVE LOVE LOVE the developer to work on a control app for my Insteon SmartLinc.. especially with voice commands!!! Pleeeeease?!?

Did you mean "hankering" rather than "knackering"? Gave me a good laugh!

I have a huge house and I've swapped all my switches out for dimmers. These are pretty amazing bulbs considering its pretty much a one time investment. My question is, are these bulbs dimmable?

They are dimmable through the app, but not your dimmer switches. They will work with them, but the dimmer has to be turned up completly or the bulb won't light up at all. You can then control the brightnes (and hue, of course) through the app.

Goddamn! I'm a total sucker for ambient lighting. This makes me want to switch my currently standalone RGB Ledstripes under my glass desk for networked ones so badly.

The apple store is selling the start pack for $200 and free shipping. https://www.windowscentral.com/e?link=https2F2Fc%2F2...

effin cool. I see I need to upgrade my phone to be one of the cool kids though >_>

A new pair of glasses or these completely useless but incredibly cool toy. The unfortunately realities of being an adult making responsible financial decisions... wah!

I think I need some royalties for this =]
Windows Central Newsletter
Get the best of Windows Central in in your inbox, every day!
Thank you for signing up to Windows Central. You will receive a verification email shortly.
There was a problem. Please refresh the page and try again.