OpenTyrian, a punchy retro Sci-Fi shooter for Windows Phone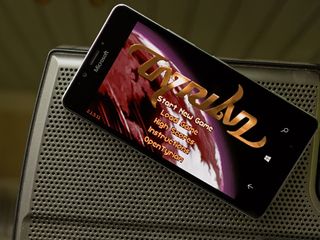 OpenTyrian is an arcade-styled vertical shooter that is an open source port of the original 1995 classic, Tyrian, from Epic MegaGames. Available for Windows Phone, the game delivers an intense, fast-paced Sci-Fi shooter that is reminiscent of games such as Impossible Shoota and Galaga.
The game's graphics have a retro feel with plenty of color and detail. Gaming controls for OpenTyrian are simply designed to help give you a chance at surviving the enemy onslaught. If you are a fan of arcade-style gaming or just are searching for a Windows Phone game to keep you on your toes, OpenTyrian is an entertaining title to have in your gaming library.
The backstory for OpenTyrian has you playing the role of a terraforming pilot named Trent Hawkins, who is employed to scout out habitable locations on newly formed planets. While exploring the planet Tyrian, Hawkins discovers a rival corporation wanting to terraform the same planet for a special mineral, Gravitium, that can be used to control gravity. It is up to Hawkins to defeat the rival corporation, MicroSol, collect data cubes on Gravitium and prevent the new element from being used for evil.
In practice, OpenTyrian is an overhead arcade shooter where you control a spaceship and battle enemy ships and ground forces. OpenTyrian's primary menu has options to start a new game, load a saved game, view your gaming high scores, read the game's instructions and view the gaming credits.
OpenTyrian has two gaming modes, full game or arcade, and three difficulty modes (easy, normal and hard). The full game mode is a story mode with multiple chapters and you manage your ship's upgrades independent of gameplay. The arcade mode also includes the same chapters but is played in arcade fashion with upgrades available during gameplay.
Each game mode has a secondary menu that includes an option to access the mode's settings. These settings include sound and music levels, an option to save the game and choosing your ship control type. OpenTyrian includes support to use the Windows Phone accelerometer to steer the ship or you can tap the screen to direct the ship's movement. Weapon's fire is automatic.
Here is a quick tip on using these secondary menus: The navigation labels (Play Next Level, Options, etc.) require you to double tap the label before the game transitions to that feature. The other menus require a single tap to launch the feature.
Gameplay is fast-paced with an aggressive onslaught of enemy ships and ground forces. The gaming screen has your ship's vital statistics running down the right side of the display and your score in the bottom left corner of the screen. Again, weapons fire is automatic, and you can turn off this feature by tapping the power button that is at the bottom the ship's vital statistics display. When turned off, to fire your weapon just tap the screen. Another quick tip, leave the autofire turned on to give yourself a fighting chance of survival.
There is also a secondary weapon available when your ship is upgraded that fires missiles ahead of your ship. Firing the secondary weapon requires you to tap with two fingers to launch the missiles.
The gameplay transition has you facing a host of enemy ships and ground troops that can be easily destroyed, then a few stronger enemy vessels come into play, all of which leads up to a boss ship that can be a beast to destroy.
Your ship is equipped with shields that will protect you from a few hits from enemy fire or collisions with enemy ships. A gauge is present on the ship's vital statistics panel to give you an idea on how much damage has been sustained and when the shields fail, you lose a life. OpenTyrian is somewhat generous with ship lives with plenty of opportunities to collect purple orbs during gameplay to add a gaming life to the mix.
When you first pick up OpenTyrian and give it a try, it is easy to get hooked on gameplay. There are some slight delays in loading menus and then you have the double-tap variations for navigating around the game that can be a little confusing. Just measuring OpenTyrian on gaming value alone, it is an enjoyable retro arcade game to spend a little time with.
Graphics are detailed and offer that Sci-fi battlefield look, gaming controls are simple and the action has a feverish pitch. OpenTyrian is a free title that is available for Windows Phone that provides you access to the first chapter of gameplay. Additional chapters are available through an in-app purchase of $1.99.
Download OpenTyrian for Windows Phone (opens in new tab)
George is the Reviews Editor at Windows Central, concentrating on Windows 10 PC and Mobile apps. He's been a supporter of the platform since the days of Windows CE and uses his current Windows 10 Mobile phone daily to keep up with life and enjoy a game during down time.
A Lannister always pays his debts.

LMAO, exactly the first thought that came to my mind :D

Now just need One Must Fall! :)

God, you just inspired me to look up if there actually is any open source OMF projects. Apparently there was, but it's been awhile since there was an update. http://www.openomf.org/

Hmmm.. Controls are... well.. troubling..

Seems kind of odd that there are in-app transactions for this game. Not odd in the sense that the dev wants to be profitable, but odd that it is Tyrian originally created by someone else...

This is not a retro looking game, this is actually a port of an old game

Tyrian name when inverted looks exactly the same in this logo.. Like Illuminati..

I still have the original DOS version. Great game. Wasted so much time playing it and loving every minute of it. I still load it up in DOSBOX once in a great while

Hi George! Had to create an account to leave my first comment on Windows Central. I remember playing Tyrian back in the mid-90s, experimenting with different upgrades and weapons, and it was so much fun. One of the best arcade shooters for DOS I've ever played. Imagine my excitement when I saw your article's title in my RSS feed. Already downloaded the game and am looking forward to having a trip down the memory lane, and possibly further beyond just that - into the open space in my new ship :) Thanks for putting it in the spotlight, and also for many other detailed games' reviews you do here. (For example, your review of The Last Door got me interested in the game and it turned out to be a real treat.) Please keep doing them! By the way, the developer who made this port of Tyrian for Windows ecosystem also has another excellent retro game port in the Store - it's called Tower Toppler: https://www.windowscentral.com/e?link=https%3A%2F%2Fclick.linksynergy.co... , maybe it will be a suitable candidate for one of your next articles ;) Cheers!
Windows Central Newsletter
Get the best of Windows Central in in your inbox, every day!
Thank you for signing up to Windows Central. You will receive a verification email shortly.
There was a problem. Please refresh the page and try again.