Opera browser coming as universal Windows 10 app later this year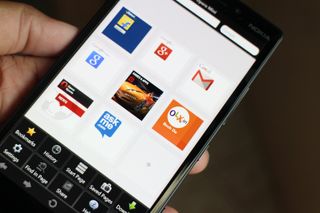 The Opera Mini web browser for Windows Phone has just ditched its "beta" label, and the Opera team apparently has plans to expand to Windows 10 as well.
When asked on its Opera Twitter account by a user if there was any news on Opera and Opera Mini being released for Windows 10 as a universal app, the reply from the team was:
There's no word on if the Opera browser will be available by the time Windows 10 reaches its official launch date of July 29.
Source: Opera (Twitter): Via: Reddit
Windows Central Newsletter
Get the best of Windows Central in in your inbox, every day!
Do you know how I can view facebook on opera mini as in internet explorer? It only always to me as zero facebook, I guess it releases to data savings, but no switch on settings to turn this off... Any help?

I expect most apps to follow this trend.

I second this. (looking at you firef*cx) though i do not use ff... But still great addition. And dolphin browser.. Its about time! Hahaha xD

If every app and game follows this trend.... That will be Key Advantage of Windows 10 running PC , Tablet & Phone...
.
.
.
And Microsoft will not make apps to Scroggle's Chromebook... Because that would kill their Brand

Microsoft can site low market share for the reasoning of not supporting chromebooks. Lol

Yeah! That would be soo cool, give mr Do All Evil Google a taste of their own medicine ;)

Am I missing anything by never using Opera?

Yes, it's the most popular alternative browser that last for generations of mobile OS, for a good reason, its server side compression is the fastest and lightest, it's as if you're panning and zooming a mere image, not a web page, which make it very popular in low end devices since Java and Symbian era. If I'm not mistaken, the full version has the same rendering engine as Chromium and Safari, you know how good they are.

Chomium and Safari don't even have the same rendering engine lol

Chrome (Google browser) engine is forked, however Opera is based on Chromium (open source browser) and sharing with it every base component including the browser engine. Both Chromium and Safari are having WebKit as a browser engine. So what's the loling about? :)

No - the desktop version has some nice features, but I found it would crash quite often and lose my tabs (I would have to rummage around in the files to recover them). Rendering isn't always great as most developers will test on Firefox/Chrome/Safari/IE but don't care about Opera as it has the lowest marketshare (because it sucks).

Of course not. If u have Internet explorer and Uc browser u are perfect.

If windows 10 mobile allows third party rendering engine that would be great

Then Start installing Antivirus , Antibiotics , Antigens & Antibodies to your Windowsphone just bcoz of 3rd party app rendering ENGINE

Slowly but surely they are all starting to realise the vision of ms. Long may this trend continue.

Toobad Firefox app got cancelled

We need to get this un-cancelled. Firefox is simply the best overall browser.

If all all Windows 10 tablets have a desktop, the what's the point of a universal Windows 10 Opera app? I mean yea, might as well if you're building for mobile but on tablets and desktops I suspect it might never get used.

I imagine downloading win32 apps via the store. So maybe... They're going in this direction....or just release universal app straightaway.. And win32 for legacy w7.

Or maybe, just maybe, their app will support continuum in that there are different UIs depending on the mode :)

Maybe I'm missing something, but in my experience, Opera does not often display pages correctly. I tried using this on my phone and the first 3 sites I went to looked like crap on Opera, but totally OK in the IE mobile browser. This website, and even the Google search that it uses just do not look good in Opera.

Yeah I its because devs probably aren't developing for it anymore just chrome/chromium proprietary code as it will reach bigger audience.

Huh? Don't Chrome and Opera both use Blink?

Next Google Chrome and Mozilla FireFox... On windows 10 mobile

Its not Doubt dude.... Its top most Impossibilities in the world

Edge will be there and even an updated IE 11. so only Firefox should make their way now. Ur right don't know about google and don't keep expectations from them.

they day that Google will release any universal app for windows, I, I.. well I wouldn't even know what I would to do. Good thing this wont happen too soon

I don't use opera but good for the platform

Will they be able to use blink on the phone with a universal app?

It's not that good tbh. IE is faster in my 520. But most of the time IE just f***ing crashes while loading a webpage! Is it the browser or my phone?

Even on 1020 IE crashes alot, and another browser is just IE wrapper.. So... Hope this situation will change in W10.

Yap. That's what I'm waiting for.

IE never crashes on my L925

Opera Mini Universal app or Opera Universal app ?

This is excellent news. Fire fox please learn

UX and UI has to been changed/improved. When I use opera, it feels I am using a java phone!

Better come strong Opera because SURFY ain't playing around on WP. Same goes for Edge.

Sadly UC Browser is the best browser on WP despite the baggage and privacy concerns that come with it. Largest feature set, better rending and multiple user agent strings. Surfy can't organize favorites, no desktop/app counterpart, can't even render Bing properly in some instances (search 2015 movies on Surfy and you'll see for yourself)

Damn Lego, I stand corrected. I had a whole lot of fonts in this response but I decided to do a quick spot check of UC Browser and not come out sounding like a fool. USB is massively different than I remember it. I need to look a little closer at UCB. Looks really good, And no slouch when it comes to speed. Thanks for pulling my coat Lego. I'm not crazy about the privacy stuff so I'll be sparring when it comes to using it.

Too bad the reviews on the store are still from the beta version. 2.5 out of 5 stars can mislead anyone.

I must assume that with all of the great news we've been getting on universal apps that the Windows Central app should/will become a universal app as well?

Would definitely like to see Edge vs. Opera comparison in the future, when both are released.

Go go gadget chrome skin!

Cool, try to learn few thigs from Opera Software, FireFox!

Do you know how I can view facebook on opera mini as in internet explorer? It only always to me as zero facebook, I guess it releases to data savings, but no switch on settings to turn this off... Any help??

Didn't know that OLX was a site in India too lol. Scammer central.

Why is your interface different?
Windows Central Newsletter
Thank you for signing up to Windows Central. You will receive a verification email shortly.
There was a problem. Please refresh the page and try again.