Opera Mini picks up another update to fix stability issues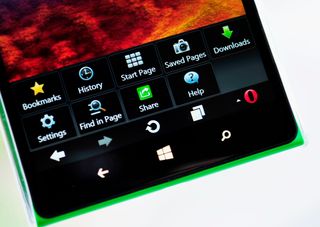 Opera Mini for Windows Phone has received another update to fix lingering stability issues. Today's update follws the stability update that was rolled out midweek to fix random crashes when loading websites.
We're not sure as to what's changed in version 0.9.0.3 aside from additional bug fixes, but it is great to see Opera taking a proactive stance on issuing updates to fix commonly occurring issues. The software vendor is also actively seeking feedback, so if you've got any suggestions on new features or improvements, let Opera know.
Do you guys see any changes in today's update other than usability fixes? Let us know in the comments.
Thanks everyone for sending this in!
Windows Central Newsletter
Get the best of Windows Central in your inbox, every day!
Harish Jonnalagadda is a Senior Editor overseeing Asia for Android Central, Windows Central's sister site. When not reviewing phones, he's testing PC hardware, including video cards, motherboards, gaming accessories, and keyboards.
It crashes again when it is close to open web site,this is bug update

It's smooth and perfectly fine for me I'm using a l920 cyan with DP

I hope this one actually fixes them doesn't make them worse.
EDIT: Yep. Works now.

But look at Opera Mini for iOS, making me don't wanna live in this stupid world of racist anymore!

I would normally let it go; but I have to ask, but how does a mobile web browser make the world racist?

Watch a video for Opera Mini on IOS and you'll get it.

Opera mini, nokia express > just express browser (not support jquery, ajax, css3 maybe) good n fast for browsing static pages not dynamic pages.. Use ie/uc browser for browsing dynamyc pages..

be patient,man. It's still beta version

This app doesn't even open and they keep using the word beta...Can I publish an app which doesn't work nd keep saying its in beta

Why in hell they use an outdated GUI with not modern support for HTML5 or CCS3. Even ie11 mobile is 1000 times better.

If you just read the comments...

Not 1000 times, but 999999 times!!!

No arguments there. The thing looks horrible but I think performance is more important. Once they perfect that, they can change the UI.

Agreed, first it needs to be usable and then they can work on a new UI.

Agree. Looking forward for this Opera Mini app ! :)

I think the UI is ok. IMO

We really need Opera mobile instead of Opera mini... Opera mini severely lacks HTML5 support (IE11 Mobile has over 350 points on html5test, while Opera Mini has only just over 50 points) and the design of Opera Mini is quite outdated compared to Opera Mobile.

Opera mobile? Not gonna happen

Now it finally loads! But after that, it just force closes :D

Yup. The app opens for me but crashes as soon as I try going to any website

Still broke on my Lumia 920

Works here but I don't see the so called speedy browsing experience. It's much slower in loading pages than IE.

Opera. What's wrong with IE?

Options for the sake of options or does mini do something better?

Great data savings, speed....light etc..

If you go to Google+ and click in anything in there, it will tell you to upgrade the browser because it's not longer supported.... Hahahahaha we are talking about Opera version 7.5... This is the version that they decided to offer... They must be drunk.

Your failure to research astounds! You must be drunk. Opera mini is designed as a browser for slow connections. Say you are in the middle of the woods with 5mb of data left. How do you do a search fast without wasting data or waiting dive minutes for the page to load? Simple. Opera mini. This is all easily available on the web. But I guess you can't be bothered to actually use that web browser of yours...

Actually IE has data saving mode too ranging from low, high to automatic.

Doesn't work again! You are crazy...

It's working now. Haven't seen any crashes anywhere. Lumia 820

Jeez.. Slow loading on 100/100...

Fine working on my Lumia 525

My hopes got up again. But no - it sadly continues to exit on start on my Lumia1020. Perhaps one day it will work!

If I was an Opera dev I would be crying by now from the frustration.

Who says they don't? Did you know tissues are standard gear on every developer's desk at Opera? :)

Still not working on my 1020 (WP DP 8.1).

.. Wach time i type in sth in search ots says no Server Connection lol

Lumia 925 by Windows Phone 8.1 Update doesn't work. It close at open.

Works fine for me now on my Ativ S...
And with awesome loading speed in comparison with the IE :D

No good. Working but with a few crashes before update.. Crashes big time after update. Uninstalled-reinstalled and voila! - won't open anymore:( using 1020 here, dp 8.1.1

Working perfectly some on my Lumia 1020 with WP8.1.1.

It doesn't open on Lumia 1320

Thank God now it starts :P

Thank God for d Opera devs, they are amazing:)

No, they are horrible, still doesn't work for me, simply put piece of crap...

Nothing I'd wrong with is to not use it so unless they fix it and fix this ugly UI for opera it is going to continue to have 1.5 store rating

Was fair on the last update. Has started crashing again

Works, but quite slow. Just tried to open WPCentral site and didn't like the result ...

still facebook showing blank page after login....

Still crashes when trying to load any page. Lumia 920.

Change UI... Its nt a java phone
Update- was working but after update it again start crashing..920... Dnt update

Now what better or worse?

I still prefer ic browser mainly ie 11 is doing great.

I can't open it, keeps showing connection error :/ + why we need this, we have uc browser, IE11 .
What make this app special, it's even has an ugly design!

already working but slow...

Wow! With this last update they actually made it to open! Nice!

Yep
faster with the force closing. I almost never complain or rant..................but this app.........hum . . . . . . . . . . . . . . . .. . . . . . . . . . . . . . . . . .. . . . . . . . . . . . . . . .. . . SUCKS BIGTIME

Nice browser, very fast!
Hebrew letters are written from left to right, PLEASE fix it soon

Still not working on Lumia 1520 (cyan 8.1 update 1 developer preview)

After this update I can open it but when I type a link it say's connection faild

Opens now (yay) but then force closes on loading anything

It's the old ui from my Nokia n82... lol
But it works! #1520

Works, but stupid ui. Uc browser is better..

Working perfectly on my Lumia 822 after the update. Great to have Opera mini for windows phone especially since am leaving in a country where internet data is very expensive.

http://www.windowsphone.com/s?appid=cbf5f827-aa0a-4670-8ba6-775676f275b0

Working fine, before it always kicked me out but honestly IE loads websites faster than Opera. Also, some mobile sites doesn't seem to fit properly in Opera whereas IE works just perfect.

Finally able to get in... Still crashed every now and then, probably due to low RAM? Anyway, it is faster, and loads G+ better than IE and UC for me, ironically taping on the adjusts treks me that my browser is no longer supported....

Still not working. Crashes when loading the app. Lumia 925

Ugly UI, absolutely nothing looked alike Windows Phone style. Horrible mobile version of the pages.

Back to square one... Updated & force close during opening!!! Rubbish!!!

Started up, browsed, crashed, browsed again. So it kind of works, but it won't open touch.facebook.com

This shit had 3 updates, but i never see working. Crashing on start. L925 - 8.1, gdr1 (pfd)

Worked with the last update for me for a bit and doesn't work now again with this update. Running the same device and OS version as you.

Now its working fine
Lumia 525 cyan

Uninstall install again for those still complaining

You can configure IE mobile to save data under settings and it will give faster page loads as well as full support unlike opera... No need of opera

I don't liked opera on windows phone. It lacks modern User interface, a perfect download manager, and does not match UC browser in features.

What's wrong with the Opera mini UI people!? It's kinda different and cool. The new UC Browser beta version may have cool looking UI but it suffers from accessibility...

Seems stable... Waiting for the crash..

Still doesn't get along with my Wi-Fi connection.

Now it crashes again and browsing / opening pages are very slow.

Opera mini, nokia express > just express browser (not support jquery, ajax, css3 maybe) good n fast for browsing static pages not dynamic pages.. Use ie/uc browser for browsing dynamyc pages.

At least after the update, the browser doesn't crash while loading webpages. Still, it needs massive improvement.

Too slow WP team ....have received the update almost 12 hrs from now.....anyways it fixed the crashing issue for me.....

open run and out ! cool huh ?

Personally, I don't see point of having this app...i love to have opera in windows phone... but not this one... this is terrible... it renders pages badly... most of the site doesn't load at all... you can't play videos on YouTube.... so what makes it better than IE, Maxthon and UC browser??

What my favourite about opera(even beta) is background downloading ( even in 2g network)i think they just utilizing privileges offered by 8.1 .hope uc does it soon,

yep not working lumia 1020

This thing crashes as soon as I launch the app.. Totally unusable even after three updates? Hogwash. I'm sick of devs givin WP users these types of poor quality apps and disguising it as a beta. Wasn't this app in private beta before? Its like they're not even trying. WP users deserve better than this.

Even they don't know how to test the apps......

App crashes every time I open a website !

Come on Opera! We and me personally have waited so long for this browser to be released on WP, but now you are bombarding us with useless beta updates! Yes I know it's still a beta, but ffs... Test it properly before release!

The force is not strong with this one!

The latesest update work for me. But some website loading no respond . Report feedback needed

I can't see "see more stories" on facebook. after loading white page coming

Does not even open in mine L925

They are working on this unlike instagram which hasn't seen an update since ages

Nope, doesn,t start. 1020.

Working fine for me now. I like it, it crashed on one site I was trying to get to. At first I couldn't open out but the update fixed that.i use opera on my comp so I'm happy they came to WP. Is there any way to import bookmarks into it?

Yep. Just log into the "Opera link" in settings page. Already done that and all my customised start page is loaded. Although the app still crashes out on every page and unusable.

Still doesn't work. I would like to support 3rd party browser development bug they are making out hard.

It opens on my phone, but some websites aren't shown properly, it's a mess

Should I just say that Opera teams are good, or say that they are mostly caring about the yearning plights of their fans and enthusiasts? If that is a question, as it is, I must certainly answer that 'they are the best timely team that gives update within spaces of nanoseconds just as the situation requires'! I must confess that I'm totally impressed for that!
Secondly, this last update did the work needed to stabilize the application. Right now, the force close issue has completely gone, and the font of the UI seems polished as against the blurry former update!
Overall, I'm indeed happy and glad that experts are following up windows to seemingly make its mobile platform work. Opera is one of them. Thank you, Opera!

I tweeted Dan Rubino yesterday about this update, been .0.9.0.3 since yesterday afternoon. Been enjoying it for like a day now. :P

All the same, you cannot have everything right on time! Some have to keep lag with time!

The UI is so olddd!!!!! Opera Mini in other platforms are far better. I already love UC Browser Preview!

The new download doesn't help at all. It's a worse upgrade beta app I have ever upgrade! Now I have tried several times after those realeses. Now it doesn't open at all. I use L925 8.1+ cyan + 1.

Dude, downloads store to the browser, From the download button in the opera menu is where you find and save downloaded files to the phone.

UI is just horrible, web pages go back to when I had a Lumia 800 or liked using the Nokia browser. lol

I reinstalled upon reading a new update. It is indeed working now. :D

Works great again.
#Lumia 521 PfD 8.1.1 Still this is old news, been available since yesterday afternoon the update.

Downloads are save to opera mini.....plz improve this opera mini..and option to save sd card

From Opera Mini you can save to phone, its a two step process.

It sucks at Godlike level. IE, UC and Surfy are superior in every single aspect.

Opera Mini is useless in today's smartphones, especially in WP where Internet Explorer performs fine. I would be interested in Firefox though, which I also use on the desktop. But I know it will never happen, since Mozilla stopped the development even for modern UI on Windows.

Has issues, make's my 920 freeze up. Uninstalled, the uc 4.0 beta seems to be the go!!

I don't know about you guys, but for me Opera Mini is working very good and smooth since version 1 (or it was 0.9.0.1, can't remember). It is Opera Mini, it's not Opera Mobile, don't get confused. I know many of you are knowing the difference between Opera Mini and Opera Mobile, but for those who don't know let me explain you a little bit: Opera Mini - As previously on Windows Mobile, and after on Android and iOS is working the same, with a bit of improvements. What Opera Mini usually does? When you click a link to open a web site (or short cut), Opera Mini doesn't do any rendering or whatsoever inside the app, but it sends that link to Opera Servers and then Opera Servers sees from what device you are sending that (resolution etc.) and compress that web site so you can get the most of that site but in compressed version, that means for now HTML5 is not an option, so don't expect that and compare it to IE10/11 which are fully integrated HTML5 browsers. That is how Opera Mini saves your data up to 40-50% and thats why installation package is just 3MB. In Opera Mini you cannot watch videos inside the app, it will trigger your onboard video player and play the videos (like from Youtube). That for now is not possible with Opera Mini for WP. That was the way back in the years with Windows Mobile. It lounched the video player (usually Windows Media Player) and you could watch the video. Opera Mobile - like previously on Windows mobile and later on Android, it does everything inside the app, rendering, flash, etc. That's why Opera Mobile is way bigger installation package than Opera Mini. It does not use the Opera Servers like Opera Mini does. Many of you maybe remembers the Opera Mini and Opera Mobile from the glory days of Windows Mobile era. You do remember when Opera Mini came out for Windows Mobile, it was a simple browser and not too many functions, but when it got up to version 5.1 it was the most used browser in the world, cuz was that good and that stable. The same story was with Opera Mobile, when it reached version 9.5 and 9.7, was so good and stable that many OEM's got it preloaded on their ROMs. Then version 10 came for Opera Mobile, it was the best mobile browser in the world. Stable, funcional, accurate, fast. For that OEM's also preloaded Opera Mobile on their ROM's Those two versions of Opera browsers wouldn't be that good if there wasn't the tremendous support of their users and the awesome dedication of the Opera team to bring you the best possible experience on your mobile device. Today's case is not any different than that. It's the same. They have been asking for your support big time. only that way they would be able to get Opera Mini for WP to work flawlessly. Instead of bitching and getting angry in the comments cuz some of the features or Opera Mini in general doesn't work on your device, why don't you use that time, go to their web site and give them a clean feedback? Like: this and this doesn't workin, Opera is crashing on start, Opera lacks this and that, but be sure to include your device model and what OS and firmware version you are using on your device. Making bad comments, whining or getting angry in the comments section won't help you neither will help others and especially Opera to get the browser better. It's a BETA for God's sake, relax a bit, it's not the end of the world and you are not paying anything to try it or use it. Be cool people.

You said it all, brother.

Well, I hope i did brother, thank you :) give it an upvote so people can see it :)

Please stop posting this crap again. always crash. Wasting my time

Finally working on Lumia 620 WP 8.1 black

It's finally working for me.

Why is anyone even bothering? I found the first release to be unusable, so this is no better.

In my 520 its not opening at all but after this update it opens

Won't open at all and never has despite updates

Opens just fine for me kiddo

I love WP, but right now this browser is crap! (it's f**k'd up even for a beta release).

Use your wiseness and head over their feedback page (the link is up there in the article) and tell them exactly what's so "f**k'd up", instead of getting angry here. I think that will be a better solution, don't you think? :)

It works now, if it doesn't for you, uninstall and then reinstall to internal memory.

It needs A LOT of updates. A lot!

hope they'll make transparent tiles soon

I tweeted opera.. They replied that.. It's just a thin client and it's just optimized by their server.. They don't manage to make the full client yet (I mean chromium engine yet) neither coast by opera..

Not working on my 928
Tried uninstall then reinstall. No luck.

It opens on Lumia 930 but when you press shortcut or put in a website it seems to fall asleep checked settings says network connected I am on WiFi when I do this thought I least would be able to open website after the last few updates

Crashes before loading open page, just like first version...

Still crashing.. Was better before the update

Still crashes on starting in lumia 920

Unlike UC browser, opera mini still loads pages even when multi tasking, wow!!

back to track again. I prefer Opera over IE. because faster,smother & best scrolling experience

Even Beta version shld work but the constant force closes really downgraded Opera. Lumia 925

I deleted the app. Will give it another try now.

I am was not able to see the app in the store.

4 updates later it actually works now :D Although, a bit choppy. I would rather like Opera Mobile instead of Opera Mini

Not a big deal with this browser, still waiting for some major updates or maybe another browser.

Opera doesn't load many sites correctly. IE11 should implement a few things that they already do on the desktop version.
- Opening tab - most frequent sites
- Pinned sites - use site logo and main color to design the live tile around.

IE on Windows Mobile 6.1 was rubbish
Opera on Windows Mobile 6.1 was the best.
IE has come leaps and bounds from those days, Opera hasn't changed much.

All versions crash on 8.1 DP

Agree... Tried uninstall & reinstall but futile...

Mine just opens and closes...that's all the input I have for now. From what I read here it sounds like I'm not missing much anyway.

It actually works now. So stop the hate comments

The app crashes on opening. Was working fine before this update.

Previous update I could open websites. Today's update I CANNOT OPEN a website, always crash.
.
Just now I uninstall and reinstall, It is gotten worst, Opera Mini beta now always crash on opening..
.
Nokia Lumia 920 8.1 Cyan

Showing blank page on Facebook login

Working fine on Lumia 720. Hope they improve UI soon.

Opera is doing great keeping up with updates for this beta

browser is good but the UI is the thing that needs opera to focus on, it still look the same as it did on Android 3 years ago. I love the UI of opera on iOS! Looking forward to future updates!

It doesn't open. Internet explorer rules.

I can't open any webpages and ya can't report a bug and I want the ability to remove the google and add Bing search. Lumia 920 8.1 cyan att.

Sorry, don't expect too much on that inclusion of Bing search option. Reason is that Opera is already Google's Bic*t for sometime now. Their servers are thru Google for some time now.

Yea figures. Even there one on my desktop wont do the switch to Bing even though it has an option for it.

People just talk .... Huh...all you need to do is click on google icon when the search bar is occupying the full toolbar ....you get a drop down list scroll down ...select manage search engines and then enter Bing specific url ...done ... People just go on and on and don't know anything blah....

Worked in the app. Thank you. Although I couldn't add one I changed eBay to Bing. But now Bing has the eBay icon lol. Better than nothing. Thanks.

Opera mini so far is horrible and barely usable. But it's nice to see it being updated fairly often. Hope it will get better soon

Last night mine started crashing on any website, it would start to load and then crash. Closed out all apps, rebooted the phone and same thing on any webpage I tried to go to it would just crash. Uninstalled Opera and reinstalled it and now it seems to be working fine again.


Downloaded a video,couldn't find it on files(official file manager app)???!!

Crashes every time I try to open the app. Lumia 920 with cyan and update 1 on dev preview. Tried restarting and uninstalling and reinstalling.

Crash problem is fixed ...but text is not transparent. Please do something about this

Where the hell are images saved?

Still crashing on L1020 after this update.

Its just a white screen app for me, its not working at all.

Mine still crashes after update

It crashes as soon as I try to load a URL. Even the ones on the main page, e.g. Google and Gmail. 920 8.1

Smh. Still cant open the app after installing :|. Running Cyan in a #L920

......still doesn't work on my HTC 8X.....

Does it actually start now? Crashing at startup is a pretty big bug.

Finally looks like it is working on my HTC 8s. Loads nice and quickly and I was able to surf a variety of sites with no problems. Rendering of web sites were ok as well.

After the latest update (0.9.0.3) opera mini is working fine in my Lumia 525 wp 8.1 cyan.

My waiting paid off Opera Mini I love it. Smooth scrolling, super fast rendering of pages and user friendly all the things I loved about Opera since they released Opera mini 4, many moons ago. Only thing I would ask to have is to have the choice between desktop versions or mobile versions of websites. Like the Internet explorer app has in WP8.1. Food for thought. My score 4.5 stars well done!!!

I want Opera Mobile and Firefox would be cool too but I can only dream. I do like IE on my 925 alot though.

Mine has never even opened. Mini crashes every single time! Lumia 1020

Crashes on Cyan 1020 w Dp

And i can't upload photos to Facebook using this browser. Any suggestions on how to go about it?

What kind of stability issues have the developers worked on??? It closes down every time I open it on my NL925 WP8.1. So irritating

every time I open my opera it will closes down please help

It crashes again.Opera mini for android=Opera crash for wp

Its crashing after update

Isn't open yet with my Nokia Lumia 1320
Uninstall for the third time....

I'm using Opera Mini for Windows Phone 7.6.8 ?

This sucks I don't think we need such an app we have already uc and surfy and ie

Opera stop fiddling with the app. Now I can open it. As it crashes on startup.

Doesn't work, just another busted pile of shit. There comes a poi t where devs have to start blaming themselves and not the platform.

After latest update also it crashes... WP store was better with out opera...

Well there is still room for lots of improvement.

Crashes again and again.. But at least it shows it's interface now..

Still crashes every time I try to launch it on my 1020. Have had it since day 1. It's never worked for me.

couldn't find downloaded pdf files in my mobile's phone storage & SD card too. I prefer document as well as other folder option for save destination suggested by Opera mini beta browser. Those files can't seen on computer too. What to do ??.