Opera updates its beta for Windows Phone, asks community for feedback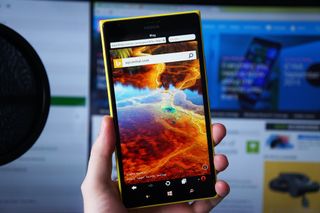 It was only yesterday when Opera threw up its Mini web browser for Windows Phone, opening up the beta program for the Windows Phone community. After covering the app itself and using it for some time, it's clear to see there's some work to do. The team behind the app have already released an update today and are actively encouraging everyone to provide feedback to help them work on bugs and improvements.
Update: it seems as though this update actually makes the app more unstable, according to comments received (and we've just confirmed the crash issue ourselves).
Opera's Espen has been navigating through the comments on our previous article, urging everyone to head over to the Opera forum to really help the team out with further details on suggestions and general feedback. We'd like to relay that request and ask everyone who's using the beta to provide feedback on the Opera community. Espen also notes the team are already working on patches and fixes (which could be what today's update addressed).
Thanks to everyone who tipped us!
Windows Central Newsletter
Get the best of Windows Central in your inbox, every day!
Rich Edmonds was formerly a Senior Editor of PC hardware at Windows Central, covering everything related to PC components and NAS. He's been involved in technology for more than a decade and knows a thing or two about the magic inside a PC chassis. You can follow him on Twitter at @RichEdmonds.
Keeps on crashing after the update!
Lumia 820 cyan

Yep, mine too. Switch back to ie11

im using UC browser 4.0 BETA since Opera doesnt open to me at all

Please don't just simply switch back. Go to the forums and let your voice be heard. Lets help them make this a great browser.


Mine has been crashing, when trying to load a website, and after the update the problem still continued

Sorry but works fine for me i mean no crashes..

Good to know. I wont be updating then

Screw all of you, use Cube 3D :P

Yea even for me.. Lumia 520

They probably forgot to remove the bug "
< loop; var= true; on start up>"
.... Hey, I know my coding sucks....

Yep, crashes on load for me.

After updating its not crashing on Lumia 920..

It looks quite smart, but a bit clunky at times. In the other news - please give us leaks on 1530 and 1030. Thanks!

They would if they had any!!

Ha! Aman raises an excellent point. There have been no rumours on these handsets, but people are expecting reports on them? Weird.

Keep crashing after the new update.

I can't use this. I'll stick with IE.

Well, at least IE it's great on Windows Phone...

"One problem happened on the release date of a beta app, I'm never using it again!!!" High horse, anyone?

after update still not opening... stucks on the loading screen or if i change my OS language to english it shutsdown in 2-3 secs after it opens the browser im using WP8.1 update 1 Dev preview with cyan on Nokia Lumia 1020

I open it, the loading wheel spins for a second then goes straight back to start screen on my 925

All it does is crash, it wont even open.

Nearly the last update this morning, the application crash and close alone when I want use web. we will must wait an other update... :-(

Keep crashing with in 2-3 sec ...

Crashing on my Lumia 1520 developer preview 8.1 update 1

Same here on same device with same OS...

The UI came already outdated. This is almost the browser application for Java and BlackBerry that has been updated for windows Phone. We want the Opera Browser! NOT MINI

we all should be happy that they even make opera mini than not at all

Agreed. I'm happy that the Opera team are developing for Windows Phone, at long last. It won't be long before the full Opera browser gets released, providing the Windows Phone community offers positive and constructive feedback to the Beta program.

The only rendering engine on Windows Phone is Trident and that's for security reasons, this is why the only version of Opera we'll get is Opera Mini.

No, there is no reason to be happy due to this piece of code.

I agree.... the worst browser to have on your windows phone :-(

HENCE WHY THEY ARE ASKING FOR FEEDBACK.

The worst? And the false "google chrome"???

I'm speaking about the legitimate browsers... not the fake ones. I haven't tried any of those and will never do. Check the scores of the browsers in html5test.com you should know how good your browser is.

My install has crashed from day one. I have yet to be able to use it at all.

"It was only yesterday when Opera THREW UP its Mini web browser"... Good choice of words. :)

Yup, sums it up perfectly.

Doesn't work with my Wi-Fi, but for some reason works fine with my 4G.

Crashes every time I open it

Crashes instantly on starting it. Lazy Developers. Do you expect such things from such a brand on iOS and Android? No? Then why only such a treatment to the most eligible platform which has a potential to outperform everything else out there?

It's a beta and they seem to be actively working on it so I wouldn't call them lazy... They seem to be listening to their users so you could go to their forums and submit feedback as they want to improve it.

Even if it is in BETA, it should start, at least. Have you ever seen a BETA app not been able to start?

See that's why im contented with what the windows phone app store could offer and not ask for official apps to come. Cause they would shitty at time. Better stick with ie11 or uc browser.

Do you even understand the word Beta ⁉ Research before you rant ‼

Even UCbrowser preview seems better and of course faster.

Internet explorer is the best on windows phone

It's still slow as a granny.....

Vs fast grannies. Eww lol >_

Crash crash crash n more crash

Worst update. Opera dumped their browser

Doesn't support Arabic at all

it crashes after update...and automatically closed..

On Nokia Lumia 1020 WP 8.1 it crashes and close just after a white start page .

It doesnt work on me too Lumia 1020 WP 8.1 Update 1

Already gave feedback on Boring UI ,crashes,wap browsing only,cant play youtube , etc

Nothing better then ie11, default browser.

Like all the folks above. Will not open. I just installed it.

It just crashes on my phone. Yesterday and after the update today, same thing. 1020 on 8.1 with Cyan, not on the Dev Preview (for now).

Yes crashing ... After the update .. Waiting for the update to come to fix this.

Cannot open anything, crashes alot.. And same dull UI. Although before the update it was working fine. Gave a review. Hope they fix it soon.

I didn't update yet. But crashing everytime I visit a website by entering url. Backend problem?

We don't want mini version.

Never worked for me before the update and still doesn't work.

Lumia icon. Crash upon load any webpage

Does not work on secured wifi network...

Using 7.6.8 on at&t Samsung ativ s neo. Opens fine, but when I try to go to website it closes/crashes

Oh wow can't wait to try it! Oh no won't even open >:( 820

Cant even get mine to open 1020

after update....its crashing immediately

Never will I install again, still looks like the 2007 opera for Windows Smartphone. I'm satisfied with IE11 excluding watching porn. Can't stream porn for shine reason. Device: Nokia Lumia 635

The app crashes when I'm on data (3G). Works fine with Wi-Fi but sometimes crashes too. I have a Lumia 1520 with 8.1. Tried to provide feedback on forums as advised but i don't have a login. Thanks!

Mine too. Lumia 625 and 720

I tried to report a bug, but the bug reporting page on their website didn't work. Oh the irony.

It doesn't open for me at all

I'am very happy to see opera in windows mobile, but that happiness is only for a limited time. Crashing a lot in my Lumia 525. Can't even open the browser

Getting force closed after update...

Crashes , I hit the delete button accidently. , can anyone give me the link of the feedback or how can I do it ?

I think they should not have released a public beta. Look at the stars...

So far it's awesome! Just as good as the Android version, maybe even better. Thanks creators

Just installed for the first time, crashes instantly. :/ Lumia 930

Crashing after today's update on my 720.

It's feels like surfing on uc browsers speed mode

cant find manual proxy settings (cant use it when my phone is connected to wifi via proxy even though ie and other apps work) and desktop mode. also need transparent tile and modern (metro) ui

Mine crashes when navigating almost ANYWHERE. Opera, P.S., I do appreciate that the UI does not have obvious gradients like the iOS version. By the way, I have a Lumia 822 with 8.1 Lumia Black Developer Preview (not GDR1) Also, there is a splash screen it appears, though it disappears quickly after out does show up. I have only seen it when I try to scroll up really fast on the loading screen. It says something like Opera Mini with a red line underneath.

Are there ny real advantages over IE?

Easier to make Google searches

Ah ok, I haven't used google for over two years now.

And it doesn't have to reload previous page when hitting back, it's instant.

Ie is pretty much instantaneous when you swipe back to the previous page.

Crashing everywhere...
-520

Still doesn't load . I've tried maybe 6-7 times since yesterday i am not trying again

Crashes on open... 1020 (Cyan + DP8.1 - Update 1)

Immediately crash everytime I open it. Nokia Lumia 920, WP8.1 Cyan
.
I downloaded Opera Mini beta yesterday and it keep crashing since yesterday. Today's update did not help at all.
.
Thank you for reading and replying :)

close itself aftr update ???

App crashed before update

Works fine for me! No crash at startup on my lumia 525 WP 8 Black | Bangladesh

guys, better ucbrowser or ucbrowser preview?

This is kewl... (kind of saying coool) love it in my lumia 620 ...didn't check downloading.. But still love it , makes me feel like great pc... And want chrome (which is less to hope... But still we can hope for it) and official Mozilla Firefox

Everyone saying the app is crashing at launch, but it's working perfect for me lol. I hate the design of the browser tho..

Agree with you that part about app design.

Before Update It was working. Now It is crushing evrywhere.

Shifted to UC Browser 4.0 BETA since Opera is crashing after update

Strange though that I can't find it in the store when I search for Opera or even just "browser". The link above works though.

Qualquer site que eu tente abrir, ele fecha sem mensagem de erro. Lumia 930

Filipe, write here in English.

Yes it is keep on crashing.a true beta software from opera.

Dear Opera developers, please stick with Modern UI. This app isn't using Windows Phone principles. This release is crashing on my devices too.

just installed, just crashed, back to good old IE

When I start it the spinner in the top left just circles indefinately. Eventually a "Connection Failed" box comes up with an "Exit" button on it. Text says "Unable to connect. Please review your network settings". Pressing Exit just freezes the app. My OpenDNS here blocks proxies, so it could be related to that since I have a vague memory that Opera always proxies all your web browsing.

Where can i set Bing as Search Engine?

Before update working fine- After update crashing and even closing automatically all time. Even while downloading files are not directly saving in either phone memory or sd card . The icon needs Transparent tile. The UI must be in metro/modern UI - So that it becomes more look and feel WP web browser and user friendly too.

"It was literally yesterday when Opera threw up its Mini web browser for Windows Phone" "Literally" regurgitated it into the Store. Thanks for that nice image, Rich, appreciate it.

Whenever i download any image or song....i cannot find it anywhere in the phone...please tell me where can i get the downloaded files...as i choose any location and save it in the location but i can't find it....i tried using pocket file manager also but didn't find...I am using WP8..

Check in picture> saved pictures folder (in either phone storage/sd card) For songs check music folder
For videos check video folder
For Document files check document folder For softwares/apps - I can't say bcoz I myself not able to trace its lication

I tried Yesterday and didnt worked on Nokia Lumia 1020. I did the update today and still didnt worked also on my Nokia Lumia 1020. I am waiting for the next update tommorow... P.S. Please build Opera Mobile Version which is better with more commands and try to use all 555 HTML5 commands Please.

Was it an upgrade or downgrade

The problem with starting is most often because of the phone language. Switch to English and try again.

Mine is in English US by default and after a reinstall it crashes on startup. To bad Windows Phone can't downgrade packages, unlike Linux. Yes, I know that WP is actually Windows NT, but that would be nice to do that on the user side.

Works on my 1520, the only problem is the insult I received when I opened it... It tries to pimp Gmail and Google search to me. I know I can remove it but I don't want to use anything connected to Google so uninstalled.

Yeah and the non WP ui sucks too

Keeps crashing on mu lumia 720 cyan updated

First install would only crash and not open. After update will only crash and not open. Lumia 920 8.1

Same thing happened with me

I have seen the update in the morning.

Opera was /is never my favourite. So not interested in updating it by the end of this month

Still crashes on Lumia 920 cyan and updarte 1 on dev prev.

Crashing everytime it's opened.

Wowww!!! Opera team. Doesn't mean tht the app is in Beta, u shld take lightly the app u gv users to try on. The first impression n experience are the most important thing. Pls fix! Force close everytime i open the app. Lumia 925 Cyan update 1 Developers previee

Same problem in my Nokia Lumia 620 windows phone 8.1 developers for preview

Please fix problem quickly. When I open opera mini then open any site the opera mini is automatically closed in my Nokia Lumia 620

Have to rewrite something...

It won't even open for me...... Uninstalling.........smh

After the update atleast I can use the app. It crashes sometimes. Before the update after opening it would crash.

Does opera:config work for you?

This must be the worst BETA launch in windows phone history :P private BETA next time ?

When I open the app the loading wheel starts to spin and then after a few seconds it goes back to the starting screen.. I'm using IE and UC as my browser.. Im using 1320

Crash on open for my 1020....

So opera came to windows phone just to crash on everyone when opening :D

Well since you put it like that... Burn the Trojan horse! Bloody buggy browser lol.

It's not working when i received new update today.please do something.

After update it failed to connect internet.... Every time it shows me network error.... Hope opera works on fixing it.....

Samsung Ativ S, DP 8.1.1. When it doesn't fail to open, it brings up a message saying that it fails to detect any kind of connectivity regardless of whether I'm on cell data, my home WiFi, or a proxied work WiFi. Was really hoping to give it a shot for the few websites that don't load nicely in IE 11 Mobile.

Yeah it was pretty buggy when it loaded, now its got the hump and won't load anymore - insta-crash.

The UI is horrible!
Don't they know how the ​​apps for Windows Phone are made?
It looks like a port of a Java version of Opera Mini!

The app launches faster after the update and also crashes faster. Hmmm..

Works perfect for me .. 520

Opens just fine for me, loads up and works.

Oddly enough still works perfectly fine for me O.o

Instantly closing...opps!!!

All i see is an ugly and outdated iOS 6 styled spinner and header then it crashes. Not a good start :(

That's what it has been doing after the last spate of re-installs... Not surprised the rating now sits at 2.6. Soon it would probably end up at 1, it could have gone lower if negative reviews were possible.

This is a alpha release / nightly build (and a buggy one too) not a beta. Still crashes after the update. Prior to that it worked for awhile and had some rendering issues, some options caused it to crash, loading websites = random crash. Had to find a silly work around to get bing set as default search engine. Re-install caused the app to revert to google whereas before it worked.. The list is endless. It looks like they got rid of all the wp testers and using us as guinea pigs lol.

I get that an alpa/beta app is unstable, but it won't even start up. That's kinda poor. Didn't they even test it on a real phone?

Crashing a lot ..plzzz fix it ASAP

Installed, crashed 3 times, uninstalled. Thank you for your attention. This is my feedback. Thank God we have UC :)

Are you having the same problem with me? I cant get in the app at all, it just stays on the loading screen like a pic and never progresses!

No, on my Lumia 925 it launches for 2-3 seconds with loading icon in left upper corner and then exits. No start-up screen, no text, just white tab.

Im having this issue on my 520, i really think there is something wrong with the app.... I hope this gets sorted out, i really want to use this browser but i cant!

Good luck! ;) I think I'll stay with UC Browser.

Can't use it at all. Keep crashing

Still crashing :( . The wheel spins for sometime then it crashes back to the app list.

I like the looks and speed of Opera but there's some bugs to work out. The screen flickers a lot on my 1520.

I think opera team didn't even tested the app, and they gave it to public beta. They should have tested it privately. Opera saw great number of beta testers so they said Ok give them what they want. They didn't even tested it I guess.

.....and now, I'm getting force close with any site i try to navigate to. Also, a suggestion to the Opera people/devs, maybe an option to have the websites render as a full site as opposed to mobile sites and also at a screen specific magnification. I have a 1520 and any site I open in Opera, I have to pinch to zoom. Don't have to with IE or UC.

Uc and ie both suck down the battery, at least in a day of use before the update I felt the battery was less consumed, but post update its not starting

Im having a serious problem with this app, i dont know if anyone else has this. When i launch the app, it stays on the loading screen without the bar progressing, stays like its a pic and it doesnt forward me in the app. Am i the only one having this problem? I waited for over 3 minutes yet it didnt get me in the app! And i deleted and reinstalled three times, and i was among the ones that signed up! What to do??? Please someone help! :/

I think how bad this app is just shows how hard it is to make a third party browser for windows phone. What's the point in having a browser if you can't click a link and open it in that browser? Posted via the Windows Phone Central App for Android

I thought windows phone central app was exclusive to windows phone !

Reinstalled it for like zillion times . Every time crashes on loading screen. Good job opera. IMO

Hope they are working to resolve the issue

Work great in my Lumia 520

Wait for it. It will crash after use of 1 hour.

Lumia 1020 8.1 dev on Black. Crashes instantly on startup.

Crashes after entering website address .. Lumia 1520

Sadly Opera have made a dogs dinner of this release, the app is pretty terrible. I did a video overview here http://irelandstechnologyblog.com/home/opera-mini-lands-windows-phone-beta/

I installed it as late as today, September 10, and it does NOT work. It is not possible to start it or log in on my Lumia 820.

It crashed for me twice on my 1520 with 8.1 GDR1, then decided to work. The funny thing is that it worked after I submitted a bad review. Irony? Either way, I decided to tap on it a few times when the busy indicator icon was spinning, then it worked. Who knows...

keep crashing :/ even after update
LUMIA 1020 cyan

Crashing problem started..

Crashes every time when opening making it a useless app. (lumia 925
with latest firmware)

Was working great first time installed it. Suddenly started to crash repeatedly Lumia 620 wp8.1 dp black.

Opera is far better on android. I'm staying with IE11.

How can they release an app that crashes when you open it..

I couldn't believe the comments, so I downloaded Opera. It will not open. I have the 1520, with preview 8.1 update 1.

Opera crashes like hell in my phone

crashing when update this beta

Crashes after imputing web address lumia925

Still crashes and hope they listen to it plea for a more modern look.

Does not work with my Lumia 820 it crashes

The browser has three UI from windows mobile 6.0 . Didn't they know that the os has changed?

When I first got it worked well I then uninstalled it and reinstalled it kept force closing L 925 WP 8.1 Black

I think It's the first app in windows phone history thats crashing on start up but still people are downloading it, uninstalling it, and again reinstalling it. Wow. Lol.

Not recommend to download this update. Getting crashed & returns back to home screen - Lumia 720

Rubbish....keeps on crashing everytime...doesn't even opens up

Can't even try it. It crashes before I can even open a web page.

Still crashing Funny enough, I received the email saying I was selected to test the product.... go figure. Anyways, I hope they fix the bug soon enough.

Please, I found a work around the app crashing at start up...just immediately u lunch the app, hibernate to the start screen to bypass the start crash issue...if u have done so, leave it for 15sec and then go back to the app by long pressing the back key and tapping on it. That worked for me

That's crazy. Im not going to work around an app that wont even launch. If I can't start the thing, why would the experience be better if I could get it to start??

Its crashing as soon it opens....

after the update it become worse ....

Crashes even before it starts..

You would think they would check the apps stability before beta release.

Yes, it's crash all the time.
I look forward for the public release, nice work opera team! ☺

Can't even failed to open it,,, last version was good than it,,,

How do I give feedback when the browser no longer open? L625.
Changing the messed up what was working, it seems ope took a branch from MS!

Crashes on every startup for me

It looks EXACTLY the same as the Android version, but doesn't function the same...

My 1st experience.. Opened and Crashed :P And I Trashed :P

keeps crashing on loading any webpage after the update.... 8.1 preview for developer

Still crashing on opening page on my Lumia 1020 8.1 update 1 / cyan

I just got my beta download email yesterday, installed the app but it crashes immediately on my Icon. I left a review but it has not been posted.

I prefer UC Browser over Opera Browser. It's crashing on my phone.

It still keeps Crashing on loading screen

Crashes every time I launch it on my 925

I thought finally I will be able to use facebook mobile site but opera mini gives stone age version of mobile facebook. I cannot understand why facebook doea not render properly in ie11....now even in surfy its same all the images are cut half in newsfeed in potrait mode.

Again updated on 11 sep 14.

Again updated on 11 sep 14

Not 100% sure bt i think its stable.
Needs a lot of improvement in terms of UI,smooth scrolling is a lil bit laggy.And the top and bottom bars and buttons are too thick and big,The navi bars of win 8.1 does nt have any features to be hidden and this opera makes the screen full of bars making the display to be used only in 3 inches out of 4.5 in lumia 630.
Come on opera think about this.

I take my words back
Its not working CRASHING and CONNECTION problems are still there.

Connection problem is :
"OOPS Failed to parse client request. Transcoder: a10-01-02 Client: Opera Mini/7.6.8/hifi/elm"

failed when installing..
620

The newest upgrade 09.02 doesn't open at all. I'm using L925 8.1+Cyan+1.

It doesn't open at all... Lumia 1520

Fucking crash all time no one website open not even google. Lumia 625 I think not working on 512 mb ram device

Connection problem says :
Failed to parse client request. Transcoder: a10-01-02 Client: Opera Mini/7.6.8/hifi/elm

Ok... updated the app today 11/9/14. Its working.... smooth. I wish the team cld add function like pop up enable/blocker into this app. UC Browser able to open webpage with popup page specially with self-signed crtificate.

Works fine after update L1020 with Cyan WP8.1 update 1

Still no fix. Crashing on startup :(

still need feedback? 1. allow my lumia 521 the option to select speed dal for the start screen instead of skipping to last page opened 2. allow abiility to sync settings with desktop. This might address point #1