Own a piece of Windows Phone history that almost was - the Sony Ericsson Julie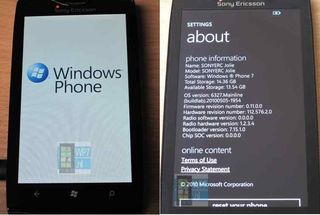 One of the things that initially attracted me to Windows Phone was how it seemed like a balance between the iOS and Android approach to smartphones. You have a consistent user experience across devices (iOS), while still having a wide variety of handsets to choose from (Android). And it's been wonderful. We've had a variety of OEMs over the years too, companies like Samsung and HTC have been there from the beginning and others like LG and Dell came and went. Nokia came about midway through and bet the entire company on the platform.
However, Sony Ericsson is one company that has been absent the entire time, but it almost wasn't that way.
At Mobile World Congress 2010 they were announced as a hardware launch partner, but between then and the October launch nothing materialized. Sure we saw a prototype from time to time they were working on, but nothing for consumers to buy. It's been an elusive handset since then though, it only surfaces every blue moon in forums or tips. You could potentially own one though.
Surfing on over to eBay Netherlands you can bid and potentially own that very prototype. The Sony Ericcson Julie has been teasing us for over two and a half years. The eBay listing provides the following specs: 8MP camera, GSM Triband, unlocked, a version of Windows Phone with a May 2012 build date, 16GB of storage, and a slide out QWERTY keyboard. If you're feeling adventurous and want to potentially own a piece of Windows Phone history that almost was, head on over to eBay and place a bid down. These days, you're less and less likely to see a Windows Phone device from Sony, but it's an interesting idea and they have been making some good hardware lately.
While it would lack official support from Sony or Microsoft, this could be an interesting little device to play around with. Anybody interested in it?
Source: eBay Nl
Get the Windows Central Newsletter
All the latest news, reviews, and guides for Windows and Xbox diehards.