Oxford Advanced Learner's Dictionary for Windows Phone now available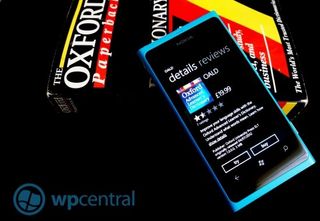 For those that are looking to advance their skills in English, Oxford has recently launched their best seller for Windows Phone. The Oxford Advanced Learner's Dictionary app contains a full A-Z dictionary and samples of British and North American speakers to help tailor your desired skill set. We certainly love to see more official apps filling in those blanks, and this looks like a good one.
A word of note here to those with razor thin amounts of space on their handsets, this app is going to require a 450MB download after you grab the initial app.
Here are some of the key features: -
Listen to real British and American voices pronounce words, with no Internet access required
Access spoken example sentence audio online, or download all 116,000 example sentences to listen offline (approximately 430MB each for British and American sentences)
184,500 words, phrases and meanings explained clearly
198,500 example sentences
57,000 synonyms, opposites and related words - find words with similar or opposite meanings in the integrated Thesaurus
Learn words in their natural context with over 83,000 collocations (words that go together) included
Use Full Dictionary Search to find your word in any phrase or example sentence in the dictionary
Study usage notes, verb forms, and word origins
All the dictionary text is live- tap to instantly look up any word
Bookmark your Favourite entries to easily find them again
450MB download required after app install
We were able to grab the 450MB download and install it pretty quick on our broadband but suspect that others might have to wait some time. Whilst not an exhaustive look, the Oxford Advanced Learner's Dictionary does seem pretty neat, adhering to Windows Phone's UI. Most of the space is likely taken up with the extensive speech samples and considering just how useful that is, well worth the memory hit.
There is a trial version so we'd highly recommend checking it out before committing to buy. The app weighs in at UK 19.99 or $26.99 US. We'd be interested to hear what you think of the app in the comments bellow.
Marketplace Link | Here
Thanks, himanshu, for the tip!
Looks nice! I'll be sure to check out the trial later. Hopefully there'll be a Cambridge Dictionary app in the future as I personally prefer it, but at least the site runs fine on mobile too.

Yeah I will test out the trial later also. I wil just have to justify the price with the boss (aka the wife) before I think about purcahsing it. :)

Question for WP users - Is there a stock dictionary app (i.e. a basic version, no particular brand) preloaded on WP devices?



use the dictionary.com app... there is preloaded app... but there is always bing search...

Probably the best argument for adding an mSD slot to Windows Phones ever!
Gonna have to wait for WP8 to have the space for this puppy.

I had bought it 3 days after the release date. It's one of most important apps for me.
This app is great. The biggest disadvantage is: its page scrolling is a bit slow.

I have Bing built right into my Lumia 900 no need to pay $

OALD is the dictionary you can trust. The pronunciation is really good . But the price is the big gap. It's quite expensive.

Does anybody know what exactly requirements the app has? I tried to install it on my HTC 8S, but failed. Though I see the screenshot of the app on lumia 800 which, i thought, isn't that powerful in comparison to my device.

Oxford is expanding its popularity thanks to being one of the application in Windows Phone. The big boys of Oxford is recognizing that inorder to survive, they should go with the flow. - Rich Von Alvensleben

I had it installed on my lumia 720 but when i reset the phone and updated AMBER on it , It got deleted how to get it back without expensing any sum?
Windows Central Newsletter
Thank you for signing up to Windows Central. You will receive a verification email shortly.
There was a problem. Please refresh the page and try again.