Panasonic to launch FZ-E1 with Windows Embedded 8.1 Handheld in August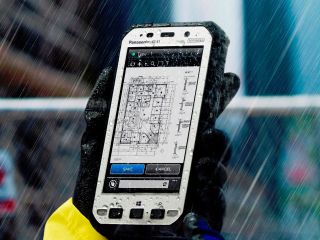 Panasonic has announced it will begin to launch the Toughpad FZ-E1 in the US in August. It's a 5-inch device that uses Windows Embedded 8.1 Handheld, a enterprise version of the consumer-based Windows Phone 8.1.
The FZ-E1, which was first announced in February, is the latest in Panasonic's Toughpad lineup of mobile devices that have been designed to withstand a ton of abuse. The company claims that the FZ-E1 can survive a drop from 10 feet on concrete and stay submerged in 5 feet of water for 30 minutes. It can also operate in an extreme range of temperatures, from -4 to 140 degrees F.
Inside, the FZ-E1 has a quad-core Qualcomm Snapdragon 800 with a clock speed of 2.3 GHz, along with 2GB of RAM and 32GB of storage. There'e also a rear 8MP camera and a 1.3 MP front facing camera. The display has a resolution of 1280x720 and the battery capacity is 6,200 mAh that can last up to 14 hours. The device has dual SIM slots and supports up to 4G LTE for wireless carriers.
Again, the Panasonic FZ-E1 is not made for the casual smartphone owner but for businesses that need to purchase devices that can last a long time and used in a ton of different and extreme environments. The company will sell a WiFi-only version of the FZ-E1 in August for the price of $1,899, followed by the WiFi-cellular version in October for $1,999.
Source: Panasonic (opens in new tab)
Get the Windows Central Newsletter
All the latest news, reviews, and guides for Windows and Xbox diehards.
Wow...pricy. But glad to have them onboard.

Definitly, but where is the consumer version of "The device has dual SIM slots and supports up to 4G LTE for wireless carriers." That combination in a WP device is wanted by many consumers. Glad to know it is now possible, at least towards the end of the year.

"the battery capacity is 6,200 mAh that can last up to 14 hours"
um... days?

HAHA I read that and i was like... my 920 as 2,000mAh and last longer than 14 hours... WTF?

probably 14 hours non stop operation.
(like screen on, apps working computing terminal stuff)

That's it. This device is meant for those of us who know how to put a real mobile device through the wringer.

He did mention that 14 hours of continuous cellular data usage guys

It uses more power than a regular smartphone because of the force field and lasers. Duh.

The extra generator, fridge, and tent packed in it also take a little more power too

Awh I thought for a second that it's windows... Derp

I initially thought it was going to basically say the Windows OS in a phone, impractical, but its still where my mind went.

Whats the difference between wp 8.1 and windows embedded 8.1

It's an enterprise version of wp8.1

They uses it in warehouses and so on.

The great thing about letters is when put together, they form word. And when words are put together they form a sentence. Put sentences together will create a paragraph. Somewhere in there explains that. Posted via Windows Phone Central App

Yeah dumbass i read its an enterprise ediition....but what are the features that aren't in wp 8.1 that makes it an enterprise edition.Microsoft should stop home, enterprise etc. and make it one.

Not dumb enough to understand their this thing called a link that goes into depth about the OS. It helps. It was explained in WPCentral February article that's linked. Dumbass. Windows Embedded 8 Handheld allows businesses and developers to create specific applications for enterprises. Devices running Windows Embedded 8 Handheld, like the Panasonic FZ-E1, can easily be outfitted with extra peripherals like barcode scanners and credit card readers. Developers can then create line-of-business applications aimed directly at Windows Embedded 8 Handheld devices. So imagine checking out at a store, a sales associate could use the FZ-E1 outfitted with a credit card reader and barcode scanner to complete the transaction. Posted via Windows Phone Central App

There is no need for that sort of attitude is there he was only asking a question?

Maybe. But I get annoyed at things like this when the info is right there if people actually took the time to see. When editors take the time to write these article and hyperlink information that goes in depth there's always this one comment that either people don't read or care to click. Posted via Windows Phone Central App

I didn't know dumb ass was part of the question...

This is the kind of thing that you see workers scanning shelves at WalMart, stocking them and so on, they could run Embedded on those guns. Also used in warehouses, logistics. So don't think business as in guys wearing suits using a phone, think more like industrial settings, workers using devices for inventory management, etc, among many other uses.

Yes, as a former Walmart associate, I can tell you that the 2 handheld scanning devices used by the company are based upon Windows Embedded, albeit old versions. The one with the handle that is used for inventory, label printing, etc is known as a Telxon/Gemini & runs some ancient version. The only glimpse you ever get of Windows is when it's starting up. It has a desktop, Internet Explorer & Windows Media Player icons are visible, but inaccessible. The other one that looks like a fat cell phone is known as a PUT/Palm & is used by Customer Service Managers & Site to Store associates. It has a slightly newer Windows Embedded OS (looks a lot like Windows Mobile 5), but still obsolete. Walmart is in need of a technology upgrade.

somehow windows embedded 8.1 makes me happy :3

A phone that'll last. That battery sounds awesome... Slap a 41mp pureview sensor on it!! Medical scanner, civil engineering tool, videographer tool etc. Could be a dream!!!!

You forgot toilet paper dispenser

I was postulating high end Enterprise uses for that kind of hardware but thanks for the input lol

What about the mini gun and grenade launcher.

I want that battery in my phone.

So, you get this phone and you become McGycer, Chuck Norris, Indiana Jones and Rambo at the same time.

The battery capacity is mind blowing

I love the idea of this phone. It would be awesome for ppl like me in the military, although my 1020 has been pretty awesome I still get sketched out that ill break it somehow

2 grand is way too much for any smartphone regardless of its durability

Nope. If I still worked in the factory I used to work IT in, I'd be getting the plant manager's approval for at least five of these.

Lucky you... Realistically B15 android phone by CAT is a better cheaper choice for businesses. Don't get me wrong I'm a windows guy through and through that's why I got a 1020 but $2000 is too damn high especially on mostly outdated tech.. That's just my 2cents

lol. If this were $1400 less, I'd totally get it as my day to day phone. People will ask my why I have such an industrial phone and I'll gladly proclaimed my phone will eff theirs up

I was liking this until I saw the price. Not because I have an interest or need in buying one. Because anything to get WP in more areas is good. I fear the price will be prohibitive for most potential enterprise buyers.

Nope. Spent that much and more on similar devices running Windows Mobile.

I still see the old Windows Mobile rugged devices around occasionally - glad to see a more modern replacement running Windows coming.

I can think up all kinds of uses for this in the factory setting that I used to be an IT guy in. Especially if the camera works well as a barcode scanner, rapidly.

Pricy, heavy, and battery boom ox but havvong least backup, strange! It will be surprise to see Panasonic to introduce mid range and low range phones in the market.

I guess it's true then: the pocket pc is still around (but not as it once was). Embedded devices running Windows that lack phone hardware may have lost their appeal with (most of) consumers, but they are still alive and well in the enterprise. I, myself, still find uses for my Dell Axim X50 running Windows Mobile today even though Windows Phone has matured to the point of being almost up to par with where Windows Mobile ended (but there are still some things that Windows Mobile does better than Windows Phone does).

What things does Windows Mobile do better than Windows Phone?

"Battery Capacity is 6200mAh"
God Damn !!!!!!!!!

not bad price, panasonic are known for making tough devices, it will be used by industries with extreme temperatures and need a phone pretty tough,I remember when i used to work with some tough notebooks in beverage manufacturing company when we had to check out monitor tank pressure,fluids,among other things with quite extreme temperatures, laptops costs around $3000US and up but well worth it.

This is actually really great news; i recall hearing about it in Feb and am glad that a launch date is set. In enterprise/warehouse/retail/etc, these types fo mobile computers are very popular for inventory, management and other functions. Windows Mobile 6.5 and others dominated the market for years but MS has not released a new OS in years so developers have started to move to Android. MS needs to make a strong statement with the new embedded version of WP8.1 to ensure they win over developers and devices like this continue to be made with Windows on them.

This phone better be on Verizon for me

I work in public safety (fire) and we tested this unit. Its a beast. It never broke (and we break everything) the battery lasts about 3 days with heavy use.

I understand that but some people don't think to read or put The context & content with the pictures & only realise when things get pointed out without sounding nasty that attitude can knock someone's confidence in asking or communicating with people this site WPC is good the editors are top class & so are the members but people need to ask questions, please don't take this the wrong way because it isn't meant that way

I want a dual-SIM phone that supports 3G and 4G frequencies for North American roaming (i.e. 700MHz, the cellular band, the PCS band, AWS, and BRS). There's no dual-sim Lumia 630 that counts. The launch markets of the Yezz Billy and the Blue Duo don't sound promising. Is this going to be my only option? Is this even going to be an option? I wasn't planning on dropping two grand on a dual-SIM handset.

That battery :)
That price :(

Maybe Panasonic will allow Windows phone as on OS in its business now. They still think its Windows Mobile.

Great Device from Panasonic Powered by Windows Phone 8.1 GREAT!