Panasonic's Toughbook CF-33 is the most ridiculous (and rugged) tablet of MWC 2017
By Derek Kessler published
Panasonic's Toughbook line has a reputation for ruggedness, and the new CF-33 2-in-1 tablet is absurd in all the best ways.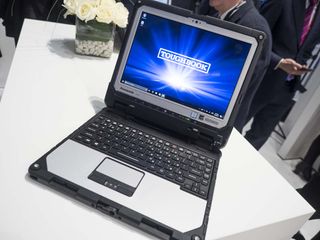 Is your Windows 10 tablet guaranteed to survive a fall from more than a meter up? Does it have twin hot-swappable batteries? Or a 12-inch 1200nit QHD display? How about an Ethernet port?
I didn't think so. The Panasonic Toughbook CF-33 has all of that and more.
I'll be honest: This is not a 2-in-1 tablet for everybody, most people, or even more than a select market that needs a fully ruggedized PC. Panasonic's Toughbook line has always been beastly and expensive, and the CF-33 is no exception. It is built to take the abuse of life out in the field that your typical Windows 10 portable, even the most solidly-built laptops, just can't take. Panasonic's been making Toughbooks for more than a decade, and the CF-33 is the natural evolution of the brand.
Let's talk about the Toughbook CF-33 like it's a typical Windows 10 tablet for a bit. It's running Windows 10 (or Windows 7 if you choose the corporate downgrade option so it will work with ancient corporate apps) on top of a seventh-generation Intel Core vPro i5-7300U processor with up to 16GB of RAM and up to a 512GB solid state drive (SSD). The 10-point multitouch LCD display measures 12-inches diagonally with a crisp 2160 x 1440 resolution on a comfortable 3:2 aspect ratio. The screen is eye-poppingly bright at 1,200nits, making it a breeze to use in even direct sunlight.
That's where the similarities to typical tablets end. The Panasonic Toughbook CF-33 is no ordinary Windows tablet. It is a rugged tablet, and that's clear from the first glance. There's thinness here, as a thin tablet is one without room to secure and cushion the internal components. The frame around the bezel is thick rubber and easily gripped; despite the tablet's 3.37 lbs. in weight, it is surprisingly easy to hold. The thickness allows for several business-centric features, including a bevy of ports — with Ethernet! and VGA! — and a little Windows Ink-compatible stylus that docks into the side.
You can even customize the Toughbook CF-33 tablet with additional input options, including a smart card reader or serial port.
Category
Panasonic Toughbook CF-33
Processor
Seventh-gen Intel Core vPro i5-7300U
(downgradable to Windows 7 and a sixth-gen Intel CPU)
RAM
Up to 16GB
Storage
Up to 512GB SSD
Display
12-inch 2160 x 1440 LCD (3:2 aspect ratio)
1,200nit brightness
10-point multitouch and digitizer pen
Cameras
2MP front-facing and 8MP rear-facing
Wireless
Wi-Fi 802.11ac, Bluetooth 4.2, LTE, U-Blox NEO-M8 precise GPS
Ports
Tablet: USB 3.0, HDMI, Ethernet, microSD, VGA
Tablet (optional): USB 2.0, serial, smart card, contactless smart card, barcode reader, fingerprint reader
Keyboard: 2x USB 3.0, USB 2.0, Ethernet, serial, HDMI, SD, VGA
Battery
Dual hot-swappable removable internal cells
Weight
Tablet only: 3.37 lbs (1.527 kg)
With keyboard: 6.09 lbs (2.761 kg)
As if the tablet isn't thick enough, you can also dock it into the equally thick keyboard base, turning the CF-33 into what is in 2017 a hilariously thick laptop. The keyboard base brings three more USB ports. a serial port, and duplicates of the Ethernet, VGA, and HDMI ports. Yeah, a serial port. This thing's made for plugging into old-school equipment. Every one of these ports is hidden under a stiff rubber flap along the bezel, and each flap has a sliding lock to secure it closed, so it's nigh impossible for them to accidentally open.
The backside of the tablet is split into two metal plates — the bottom one unlatches and flips open to reveal a pair of removable batteries. You can pop them out one at a time to hot swap and have a full charge without having to shutdown and restart the PC. The two batteries can run for 10 hours, and Panasonic plans to offer extended batteries that can last up to 20 hours.
While the CF-33 looks tough, it also walks the walk. The whole thing is IP55 certified, which means it should be protected against particulate infiltration and water splashing (though not immersion). However, that doesn't rate the hardware's durability — the Toughbook CF-33 can take a beating. Panasonic says it should survive a drop from 1.2 meters with ease, and the magnesium-and-rubber body is designed to handle the abuse that is routinely dealt in the field and in factories.
In addition to the keyboard dock, the Toughbook CF-33 will work with Panasonic's desktop dock replicator (the docking port is duplicated on the bottom of the keyboard) that includes a four-bay battery charger, as well as vehicle docks with antenna passthrough.
As you might expect, this kind of durability comes at a price, and it's a high one. The tablet alone runs for $3,499, and it's another $600 for the keyboard dock. It's expected to be released in May. Yes, it's absurdly expensive. But the Toughbook CF-33 can take the kind of abuse that few other laptops can. For people how genuinely need it, it'll pay for itself several times over, versus buying tablet after tablet to replace the ones that break in the field.
Derek Kessler is Special Projects Manager for Mobile Nations. He's been writing about tech since 2009, has far more phones than is considered humane, still carries a torch for Palm, and got a Tesla because it was the biggest gadget he could find. You can follow him on Twitter at @derekakessler.
Dunno why Panasonic keeps launching such funny tablets !

Clearly they are making money making them. They've been doing it for over ten years. I've seen paramedics and miners using them. Pretty sure they also use them in the military for piloting drones and things.

Which brings us to the question : Why no offerings for the regular user ? Sony and Samsung both have offered high end Windows tablets. Not Panasonic !

It's the market-segment they've decided to position themselves in and have dominated. I used to work for one of their competitors, before they went out of business.

I'm not sure what to say if you can't see the use cases for such a device.

You are not clumsy or have to work in extreme conditions.

They can also handle continuous operation in extreme heat and cold. I save lots of money buying cheap tablets and putting thick cases on them for use in landscape maintenance, but they are only used intermittently during the heat of the day. For continuous use outside in the Las Vegas area, we would need something like this also. Although, we don't have the type of funding needed.

i want to buy one.... just to destroy it

Pack a lunch, and take a nap first.

Well, law enforcement around the country use Panasonic Toughbooks. My agency purchased tablets, not too long ago. If this was out then, it would have been a better investment. Not to mention, these are much thinner and lighter than the ones we use. So, there is a market for such a device.

We recently replaced all of the Panasonic Toughbooks in our squad cars with Dell semi-rugged laptops. There was a lot of pushback initially (from a few officers) that we were moving away from the Toughbooks. However, after getting everything in place and working with the Dell's and having had them installed now for ~6 months, we haven't heard any complaints. We believe most of the complaints were driven by internal politics and/or brand recognition more than any factual basis and the results would appear to back that up. The Dells are nicer machines and better to work on from our experience. Our department has always hated working on Panasonic Toughbooks. For systems that stay mounted inside of vehicles, the Dell semi-ruggeds have been great so far. We have also used some of the Dell rugged tablets in our EMS department and those have also been stellar. They replaced Getac rugged tablets which worked decently for a while but started to have issues and were not reliable

The Army likes them as I have seen and used personally. If a big corporation keeps making something, there is obviously a market for them.

There is a pretty big market for stuff like this. Used by paramedics, firefighters etc.

I just inherited an old HP laptop that's about the size of this. Nowhere near as rugged though.

ah yes the HP Elitebook series from 2003-2014 were extremely sturdy and rugged

Loved the video! Good job Derek. :)

This is actually a pretty good device for me to use with my lighting stuff, as my SP3 can get knocked around occasionally.

I really like this a lot. I'm sick of companies constantly streamlining their products and making it more expensive. My HP Laptop from 2012 has more features than the ones of today. Therefore I like seeing Panasonic doing this. However I wish it was more affordable, but this is a computer that can be used in more enterprise-like situations.

Keeping in mind prices of some other devices, like refreshed Surface Book and Studio, this isn't expensive at all.

I would spend three grand on a rugged dell.
Windows Central Newsletter
Get the best of Windows Central in in your inbox, every day!
Thank you for signing up to Windows Central. You will receive a verification email shortly.
There was a problem. Please refresh the page and try again.