The Panasonic Toughpad FZ-E1 is the toughest Windows Phone you'll ever (not) see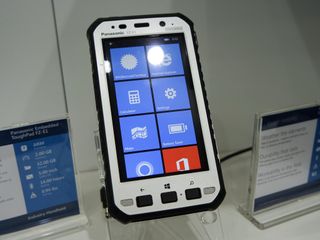 Part of the fun of events like Mobile World Congress is not only the new devices, but getting to see ones you'd never normally come across in every day life. The Panasonic Toughpad FZ-E1 is one such device that we saw while hanging out with Microsoft's OEM partners division in Barcelona. You won't see many around, but it's the toughest Windows Phone there is.
Windows and Windows Phone goes beyond just the consumer devices we cover daily in these parts. Niche devices such as this are constructed to cater to a specific target market. This one, for example, beyond just being ridiculously tough has a barcode scanner embedded in the top of the casing. Custom apps are being built to interface with hardware such as this, and it's pretty cool to see Windows Phone being used in this way.
We'll likely never see one, it's not something you're going to just go out and buy, but that it exists is still a great thing for the product ecosystem. We've got a few pictures of it for you below, including a couple of side-by-sides with the Lumia 830, just to illustrate how massive the FZ-E1 really is.
Richard Devine is an Editor at Windows Central. A former Project Manager and long-term tech addict, he joined Mobile Nations in 2011 and has been found on Android Central and iMore as well as Windows Central. Currently you'll find him covering all manner of PC hardware and gaming, and you can follow him on Twitter and Instagram.
Wow! A Lot of wp these day

You just noticed...just playing, at least its a recognized brand....instead that Blu Ballz phone.

Seems for enterprise use only. It'd be good if they try implement it in stores like WalMart, Target and Cosco

Yes, Walmart's current comparable device is a Motorola & runs an old version of Windows Mobile. They are known internally as 'palms' or 'PUTs' (Pick Up Today). They are used primarily by customer service managers & interface with the registers. Electronics associates also use them for Site to Store orders. They are the same form factor, but are much thicker & heavier than this Panasonic (I assume). As a former employee who had to use them, they are absolutely horrible & are in desperate need of an upgrade. They give Windows a bad name, but luckily most employees don't realize that they're actually using Windows.

Yea, I can tell you from experience that those handhels are terrible. They are super slow and bulky and just in general take forever to get anything done.

I work as a courier for a local hospital and we use the motorolas. Wouldn't mind getting one of these bad boys to use instead though!

It's for enterprise use only, I get it.
But man, that thing is a brick!! Actually, it's a good weapon to bleed someone's head.

That's because it's so tough, it has massive batterylife and it even allows to change the battery while the phone is turned on.

I've seen similar PocketPC devices at access gates in a mining company where rugged devices are a must.

Seems we need to do some weightlifting!

Seems you are not in the thread.

Could actually be great for the commercial market. Not talked about a lot but definitely still something that might help more businesses get on board with the windows ecosystem.

I saw something like this used in an Emergency Room recently. Was probably WM or Win Embedded though.

I wish the big orange box picked this up. Instead they switched from a windows tough phone to an android based one.

This device is sooo thick! Looking at the toughness I guess I can use it as a hammer :P Wait, are those air vents at the bottom between the two screws?!

Gold connector pins, used for docking, charging or interfacing with a custom piece of hardware

i thoguht this came out like 2 years ago?

Same, we definitely heard of something very similar, if not the same, before.

Announced in 2014, shipping now though

What is this shit use for? Any unique features??

Construction, engineers, military, etc. people with hard jobs.

Are you saying your job is cake....no, its not. Swinging a hammer can be done by a monkey. I see my mom do it everyday.

Sometimes, you outta see her swing from the rafters...impressive...with a hammer, no less.

Then this phone is for your hard mom. Remember those "monkeys" are the reason a rafter isn't crushing you and your vaseline coated keyboard.

Are you talking to me? Are you talking to ME!? They call me...Mr. PIG!!!

Mr. Pig, please don't make fun of my petroleum covered keyboard...monkeys worked hard to get at that oil....using a device like the one in this article.
..
At least you have a sense of humor! The keyboard thing was funny, btw.

I see what you did there. ; ) Posted via my HTC One (M7)

mechanics and those working in mines as well

This phone is probably like the old Nokias. Thats why rhe military will use this phone. It the screen of this phone would be shot with an assault rifle, it wont break

Open up your mind. Industrial use, military and the list goes on.

If only some of these people could open their minds, recognize sarcasm, etc....hopeless.

I have an old windows mobile one now that my company uses. Which looks alot like this one, just older. I wish we could replace them with this one.

Show this article to whomever handles upgrades. Bonus points of you also present a savings report!

Apart from complimenting the windows 8.1 toughpads, is there any reason why this comes loaded with windows phone, instead of android? I mean, Android has everything.

You, my friend, just opened a can of woop ass on yourself.

These devices will be used to run custom applications written by enterprise customers. Enterprise customers have very little interest in deploying android for a number of reasons... - Security concerns. - Completely different development tools, frameworks, philosophy, and APIs compared to their Windows based desktop development efforts. - No clear path to upgrade their legacy mobile apps (many of which are running on WinCE devices) to Android which forces a complete re-write of their applications. - Lack of enterprise tools to manage and deploy the Android devices.

they are replacing the warehouse scanner guns that ran windows mobile 6 embedded

There were a lot of point of sale/stocktake units based on WinCE, good to see someone taking a chance on the OS again. I could see this device being very handy when working in the field, eg drilling platforms, mine sites and so forth.

Have anyone seen a video of this device ? The challenges that it went through ? Other than those flying rocks being dropped on it , special screen glass I guess its 1010 water and dust proof , its went through paint This is a nuclear weapon

Hahaha
I'd think North Korea would love to have some :/

Nah.. It's no match to the legendary, Nokia 3310 :p

Nokia 3310 won't survive 20% of the test this Nuclear device went through

Good phone to break someone's head!!

Dat thickness...!!!! Sent from Microsoft Band

That's a self-defense weapon.

that sort of reminds me of the modded lumias they use in the microsoft stores


After seeing the video
Im quite sure the Jordanian army need just 10 of these and ISIS is a done deal. Lol

So what version of windows is that running?

8.1 or higher, because I see Cortana.

PHYSICAL FRONT BUTTONS!!
Never seen before, that's what I want, yet not heavier or thicker than my 1020, sigh... Caps, are allowed for positive emotion, i hope

They had to make it that thick to come close to the legacy of the 3310. Nokia could produce similar results with half the thickness.

I am in the process of getting one of these. I work in Petro Chemical/Hazardous Locations all day and this is the only thing (except for my Toughbook Convertible Laptop/Tablet) that can handle the abuse it can encounter. As soon as I get it, I will post some videos.

Wow that's great to hear. Do keep us posted. :)

Is this WP or WinCE with a WP skin?

That's some impressive shit!

I used to work in a factory where I wrote a Windows Mobile application for use on a device with a scanner. Gave it to forklift drivers to scan crates as they removed them from trailers. This device would be better than the one I had at the time. I also wrote for another device that had both barcode and RFID scanners. That was cool, and something like this with RFID would be good in that setting as well.

I worked at ConEd here in NYC so I always worked with the toughbooks.

Don't judge it, real phones have curves =]

Finally ... potential new market for Windows Phone. With the bar code scanner, my guess on this giant baby is suitable as part of POS system ... which Android and Apple are quite commonly used ...

To the people confused: This is neither new, nor a WP handset. This phone was announced by Panasonic last year and runs W8EH.

it's a awesome piece of brick..... Even the tiles on it looks like brick :p

The 830 looks like a baby

At first glance I thought it would have a 10000 mAh battery or something XD
But is actually just a very, VERY durable phone.

Reminds me of a Nokia 3110 =_=

And this is how you loose money

Shut up and take my money!

If the bezel was a bit smaller, I'd pick one up.

I've actually built a few custom applications for this exact device. I had fun playing with the device while I was developing and testing. I took it hiking in the mountains with me and actually throw the device around like a ball. It took it all like a champ with not even a scratch. The internal heater was cool in the alpine wilderness.

They're going to give these to the troops. Launching drone apps from a bunker is digital badassness the likes of which we've never seen. MS loves the troops!

Looking at the thickness, it's 100% official that Jony Ive did NOT design this...

I work in the industry that distributes these; i have tried it out and it's quite nice. comparable to other devices in the same category but with an updated OS - the software for units like this are old because they all had to run on Win Mobile. We are all hoping that new units like this can help bridge the gap to new software / hardware options.

My next Flagship? Myahaha

The black physical buttons are the reason I love this piece of brick!

That would be perfect for construction people and whoever work in harsh environments.

One thing for sure, we will never get a big head about what a great thing Windows Phone is with the number of "reality checks" we get here.

There must be something unique with it apart from being big and tough.

Holy shit... That's big...

I've worked with one of these before. Technically, it's not Windows Phone, it's Windows Embedded 8.1 Handheld. At first glance, you won't notice a difference, but when you dive in, you'll find that there's more going on than your typical Windows Phone device. If I recall correctly, the device runs around $2000 USD depending on the configuration.

Care to explain the differences? Curious. Can it run WP8 apps or does it have to be made special for WEH

Man!!..that L830 looks like a small kid beside that toughpad..

They had the tablet version of this on the new episode of Top Gear last night!

Ooh, really? Must have missed it.

Now that is a proper anti-mugging device lol.

Great for industrial applications and law enforcement.

It maybe tough but it sure is ugly.

Almost as thick as my nuts.

This seems to be similar to the cell phone I used in WWII while we were on leave in Russia and wanted to call home. Except those were only running Windows 3.1, of course.

Seems Brother of NOKIA 3310

I'm workin as a rapper. I really need this for my hard job. Cause I always want to throw something at my gfs head when she is shouting while I'm writing my rhymes

Awesome. More enterprise adoption. The train is starting to chug down the tracks.

Got one of these on my desk now. As people have mentioned, it is Windows Embedded 8.1 Handheld, although totally looks like Windows Phone 8.1 for the most part. It does the more tiles (narrow) and swipe down for notification/actions, etc. What gave it away (apart from settings->about) was the 'additional options' in settings: 'minimum limit brightness on/off', plus 'heater off/auto'! for cold warehouses, etc. I guess (-20C up to 60C)
Windows Central Newsletter
Get the best of Windows Central in in your inbox, every day!
Thank you for signing up to Windows Central. You will receive a verification email shortly.
There was a problem. Please refresh the page and try again.