Bouncing your way to victory with Papa Pear Saga for Windows 10 PC and Mobile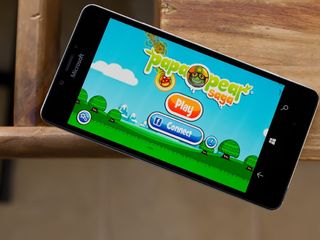 Papa Pear Saga is a relatively new gaming title that is from the developers behind Candy Crush Saga. The casually paced game is available for both Windows 10 PC and Mobile.
The gaming concept reminded me of a Pachinko game where you bounce a metal ball around a series of pegs to score points. With Papa Pear Saga, instead of bouncing metal balls around an obstacle course of pegs and platforms you are bouncing Papa Pear.
Each gaming level has set goals to meet and a limited number of shots (or pear drops), such as score 1,600 points in 10 shots. Papa Pear Saga is a free game and a fun way to waste a little time.
The primary menu for Papa Pear Saga has options to jump into gameplay, log into the game with your Facebook account and access the game's settings. Settings for Papa Pear Sage cover sound/music levels, notification options, a help section, an option to create a screen name and another link to log into a Facebook account.
While you have the choice to log into your Facebook account, it is not required to play Papa Pear Saga. Logging into Facebook will allow you to share your scores on Facebook, allow your Facebook friends to send you gaming lives and most importantly allow your gaming progress to sync between devices.
Gameplay with Papa Pear Saga is mapped out across multiple levels of play. The number of gaming levels appears to be endless and I lost count at 150 with plenty more levels to go beyond that point.
Each level will have an established goal, such as scoring a number of points, knocking all the fruit off the platforms, etc. You have a limited number of shots per level to reach that goal and if you fail, you lose a gaming life. Gaming lives are replenished over time or you can replenish them through in-app purchase.
The mechanics of Papa Pear Saga is not very complicated. A kettle is positioned at the top center of the gaming screen where you shoot your pear from. Slide your finger around the screen to aim your shot and when your aim is to your liking, tap the screen to release the pear.
Below the kettle is a series of fruity pegs, platforms and other obstacles you can bounce your pear off of. At the bottom of the gaming screen is a collection of buckets to collect your pears with each bucket awarding you points. Bouncing off the various obstacles will also earn you points.
Papa Pear Saga does have a small collection of power-ups that become available during gameplay that includes a Double Pin the will double the number of pears in play and a Grande Pin that will increase the pear's size. You also have scoring multipliers available to give your score a boost and segments of platforms can be removed with multiple hits from your pears (opens up better shots).
The pace of play is casual with no game timers and the only limit is the number of pears you have to shoot. You can have up to three pears bouncing around the screen at once and there is a meter on the left side of the screen to chart your progress towards the gaming level objective. Once you reach that goal, any un-used pears will yield you bonus points.
Overall Impression
Papa Pear Saga is a fun, free gaming title that is available for both Windows 10 PC and Mobile. Graphics are bright and colorful and gameplay does have a decent amount of challenge. While a lot of gameplay is dependent on your pear bouncing the right way (luck) you do have to rely on your skills to shoot the pear into the right area of the peg field to improve your chances of things bouncing your way.
While I found Papa Pear Saga an enjoyable game, I'm not sure it can hold up to marathon gaming sessions. If you have short spurts of time (waiting in carpool line, waiting for a table at a restaurant, stuck in the doctor's office waiting room, etc.) to kill, Papa Pear Saga is a great option to consider.
Download Papa Pear Saga for Windows 10 PC and Mobile (opens in new tab)
George is the Reviews Editor at Windows Central, concentrating on Windows 10 PC and Mobile apps. He's been a supporter of the platform since the days of Windows CE and uses his current Windows 10 Mobile phone daily to keep up with life and enjoy a game during down time.
If you are waiting in a restaurant....PLEASE don't be that socially dysfunctional sort that needs to play games to pass a little time!
Look around....there's far more interesting thing to see in the real world

Papa Pear disagrees with you. Posted from my Lumia 950XL

Only if you pay for the drinks

It's sad how many people today, adults even, bury themselves in their phones in public like an 8 year old with a Gameboy.

All my friends have Facebook accounts expect me,and I think it's really annoying when we go out for coffee or to eat something in a restaurant to ask the WiFi password and be so focused on this.And the funny it's that they call me that I'm not too much social cause I don't have a Facebook or any social media account...Really guys wake up... Posted from my phone
Keep Calm Because P.A.O.K. You Are

I can play this game without Facebook Account??? Posted from my phone
Keep Calm Because P.A.O.K. You Are

I hope one day I will come out of all this nonsense ☺

W 10 mobile release announces today or not?

Does the world really need yet another game with the word "saga" in the title when it's not even an adventure game?

What if it were Super Mario Saga?

Mario and Luigi: Superstar Saga was fun, but my point is that the definition of "saga" is adventure. None of the King games (as far as I know) have real adventure.

Unfortunately download link takes you to the Microsoft Edge first and not to store. Hope it will work other way. Posted From Lumia 638 Windows 10

The games is not available for devices with 512 RAM. Very, very bad.

Does it support 512 mb ram?
Windows Central Newsletter
Get the best of Windows Central in in your inbox, every day!
Thank you for signing up to Windows Central. You will receive a verification email shortly.
There was a problem. Please refresh the page and try again.