PayPal disappears from Windows Phone 8 Store, but available for 7.x hardware?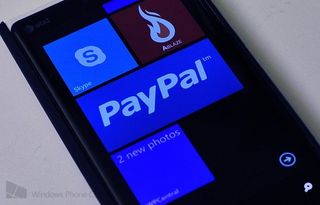 We're used to witnessing apps being pulled from the Windows Phone Store with little reason provided or announcement published prior to such actions taking place. Now PayPal has joined the list with its recently updated solution now MIA. We've confirmed issues regarding crashes, but now one can add to the list the inability to download the app on Windows Phone hardware.
The recent update bumped compatibility to cover Windows Phone 8 with new functionality and features, including instant resume. We're not entirely certain as to why the app has been removed from view (still listed if using direct store link) but we expect to see an update in the works to address the issues present.
An odd, yet interesting note is the PayPal app is still available on Windows Phone 7.x devices. It seems only the version for Windows Phone 8 is affected. Have you experienced issues using the app? Try download the app from the Store (if not owned already) and let us know how it goes.
Windows Central Newsletter
Get the best of Windows Central in in your inbox, every day!
Rich Edmonds was formerly a Senior Editor of PC hardware at Windows Central, covering everything related to PC components and NAS. He's been involved in technology for more than a decade and knows a thing or two about the magic inside a PC chassis. You can follow him on Twitter at @RichEdmonds.
Very odd hopefully its just being moved for a quick bug fix

I'm getting tired of this dam thing with apps on winfows phone besides we don't have that many so few I can name like 20 I would like to have ,I'm the biggest WP fan but I feel they are killing my passion for it , and that being said this Lumia 920 maybe be the last windows phone I own sad very sad to say .

Wp8 development uses far more resources then wp7 development i bother for the wp8 in the future. And 7.8 will also need the wp8 sdk which need a mass on resources. Microsoft is shooting in its own legs with that.

Men real talk man how can we support the whole point of phones are apps ,apps we don't have I'm tired don't get me wrong to me Lumia 920 is the best phone hardware wise buy windows phone 8 is just killing it with all this apps missing.

Dude! Punctuation!! What the hell are you writing?

I was going to say the same, what the heck did he just said ?!

You either gay or bisexual , cuz a real man doesn't pay attention to other men writing lol, sorry had to talk to u like that ,but is the truth.

Gay and bisexual men are 'real men' too.

And punctuation done proper applies to more then a gender or specific sexuality

What are you babbling on about? I don't come onto Windows Phone Central to read these type of comments. Take your closed-minded attitude, be a 'real man' and grow up. This is the 21st century, not the 12th.

"the whole point of phones are apps" ignoring the terrible punctuation, surely you're misguided, I'm sure Mr A G Bell didn't invent the phone for apps! ;-)

I agree, but I guess this is the cost of being a marketshare lightweight. The priorities of most mobile developers are on iOS and Android, what they do for Windows Phone is secondary. That said, I think Microsoft should consider steering Windows Phone towards a different marketing push than iOS and Android, making people appreciate Windows Phone for what it delivers as opposed to comparing it to others on a constant-basis. Stuff like personalization and integration are great steps, and I think can go a long way in getting new smartphone users (and most normal users) to buy-in.

Ok iOS and especially android have apps pulled all the time, they come back, as will the WP8 apps. Android is even worse with fragmentation and even iOS have a bit of it too. You can buy an Android device and a year from now, a 2 new iterations of the OS will have rolled out, and you'll be lucky to be able to upgrade. Meanwhile apps are developed for the new SDKs that you won't even see, because the Play Store only shows apps compatible with your device. Microsoft isn't invulnerable to thus effect, nor are they responsible for lack of debugging, testing and crashes of poorly made software. Their responsible for not allowing malicious software being able to damage your device or hijack your data, and so far so good. But it was the app developers that have failed to make a compatible app, and its compounded with hardware variations, one thing iOS suffers from less. Keep the faith, the OS is still growing and will continue to improve.

Who cares what you think. Than go back to boring iphone and laggy android.

May be they found a bug and preferred to temporary disable downloads till a fixed release will be published...

Takes a long time to long in. Anyone else experience this?

It logs me in and the app immediately closes. The next time I open it, it tells me to log in again and the cycle continues. Hopefully they fix this soon.

Hopefully they will add wallet integration

You can already add Paypal to Wallet...? Unless you mean something in-app specific? Can you clarify?

There's already wallet integration with PayPal.

I don't know if this is related. But I tried to purchase a game yesterday on my wp8 and it had some kind or error. I never got that before. Wouldn't let me buy it. Got it to work with my credit card though. Odd. Not technically the PayPal app. It I'd through wallet

God i hate this. BRING BACK WHATSAPP ALLREADY!

Whatsapp exists. But not available for some devices, I guess.
http://www.wpcentral.com/whatsapp-once-again-available-windows-phone-mar...

Thinking it's money changing hands via the app i can understand it being suddenly pulled. Though announcement after being pulled would be still nice.

It kept on crashing on me when logging in.

I just tried to login 3 times. It crashes right after showing me transactions for about 2 seconds.

Its gone because there's a bug that the app crashes.

Curious, I had previously installed it... Now when I open it, it closes immediately...

Turn off location services for the app. I would crash every time I went in to the app but once I did this it stopped crashing.

I had this for my lumia 800 and never had a problem. Since getting this for my 920 it takes several attempts to log in and sometimes simply refuses to log me in despite trying with pin or password. Hopefully they will fix this with an update.

This app is unavailable for your device (920). All dandy on my 900 though. Thankfully the web browser is much better on the 920 so it's not too big of a deal. Yes, it sucks but the early days of Windows Phone 7 were much tougher.

Well, where people have rated the app they have complained about crashing, and stability issues on WP8 hardware.

I think the issue is some apps are a bit unstable on WP8, and users flood the reviews with 1 star reviews and serious whining, and that's bad for developers. I think it's best to pull them out from WP8 store until fixed.

Yeah the bigest problems are this kind of rating with one star or 1 star and no comment. It ruins the developers place in the marketplace.

That said, it is also bad for the platform that so many buggy apps are released... Polish them before release and the problem disappears for the developer AND user.

So much for all WP7 apps working on WP8.... lol.

This was a false promise...so many apps I miss from wp7.

Yep, there's loads of bugs with WP8 that cause WP7 apps to go screwy. Several other changes to the way things used to work in WP7 that mean developers have to re-write large parts of code for WP8. Things certainly do not "just work" as promised.

This seems to happen a lot with buggy apps and/or right before an app update gets published.

The good news is that it's a high profile app, so I'm sure there will be an update sooner than later.

Still able to install, but I have a 7.5 device.

Instant Resume will not work for me with this app... Not sure if I'm just using it wrong lol

Had the app before..deleted by mistake..now can't download any more..message says my phone isn't compatible with my phone..something not right

Can't get the app. Says not available. Is it unavailable in Australia or is it just me, coz my phone is up to date.

Mine crashes on my 920. Maybe they are fixing it.

Read this and tried using it since it updated on my phone the other day. It crashed after password submit and kept crashing. It worked before the update. So I uninstalled and will wait for a fix

Next time you guys write an article like thus you should glance at the app reviews first. Lots of people, myself included, were having the app crash upon login in WP8 devices. Plus somebody on the reviews, assume it was a PayPal rep, said it was being looked into.

It crashes constantly after logging in. Lumia 920

PayPal found via direct store link, but says: Not available, because of area/operator/version/...

apps just keep disappearing from wp8 store. how come something like this rarely happens on other OS. is it a money thing ? or not too many buyers ? it shud be money thing because nokia sales went over by 300%.

Having problem's with app after signing in.
it asks to use your location I click allow it starts to open then returns back to start screen tried several times still the same thing. Oh well they'll push out an update if it gets returned to the store.
I'll leave it installed for now.

Still kinda happy my AT&T upgrade isn't due till January. WP8 without PayPal would be nearly useless to me during the holidays. Along with Amazon and eBay its one of my most used Apps for the next few weeks. Looks like Apple isn't the only company that could use a better Software development strategy.

Can someone tell me when app will be available in Australia?

app started crashing today...uninstalled and tried to reinstall, only to realize it was gone. What the hell?

This app is not available in INDIA? There is no option to download it in my window phone store. I need it please help me.
Windows Central Newsletter
Thank you for signing up to Windows Central. You will receive a verification email shortly.
There was a problem. Please refresh the page and try again.