People Search for Windows Phone updated plus goes on sale this Monday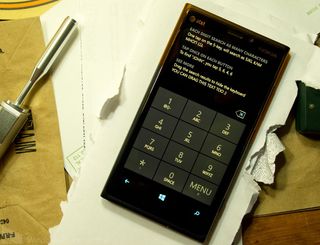 People Search is a Windows Phone contact search app that is based off of the T9 system instead of a full-QWERTY keyboard meaning you can easily use it one handed. What's more it's full of features such as customizations, how much information it should search through (e.g. just names or phone numbers, email, etc.) and the ability to send contacts via email, SMS, copy-to-clipboard or create a QR tag with the contact information.
An update has just been released over at the Windows Phone Store taking the app to version 2.0 that adds a new metro-friendly keyboard, and speed dialing to the mix. The update still has People Search written for Windows Phone 7.5 but has some minor enhancements to take advantage of the faster Windows Phone 8 devices.
Along with a few minor tweaks and performance adjustments, key features of the People Search version 2.0 update include:
A high contrast keyboard mode that makes the keyboard easier to see, and fits Metro UI even better.
Speed dialing and Press-and-hold favorites; Put favorites to the dial keys 2,3,4,5,6,7,8,9 and 0, so you can call/text them with press'n'hold of a single button.
Three new custom-icon options (nine in total now).
Dial pad use accent color as background on keypress (so the app blends even more into your chosen theme).
Added a 'Got it, don't show this anymore'-checkbox to the infotext that is shown in last used (so the app looks nicer when you have gotten the message.
Backup/restore now also covers speed dial and last used (this data is of course stored privately and is not shared or used in any way, other than making it easier for you to restore on a new phone).
Tip about tap-number-to-clear++ is not shown if user taps once on it (then I assume you 'got it').
Tuned the start-up animation so the LOADING-text is not shown on extremely fast devices. Windows Phone 8 devices are so fast that the loading-animation just blinked.
A bugfix for issue that occurred when one-or-more contacts had a empty Display Name.
As an added bonus, Gydar Industries will be offering People Search and their Norwegian travel app Trine i Farta (opens in new tab) (regularly $1.99) for free all day Monday (December 17th).
If you are looking for an alternative means of searching and calling contacts, People Search is worth a try. There is a trial version available with the full price running $.99. You can find People Search here at the (opens in new tab) Windows Phone Store.
Keep in mind that the update was just released to the Windows Phone Store and may take a little while to show up and get pushed out.
Windows Central Newsletter
Get the best of Windows Central in your inbox, every day!
George is the Reviews Editor at Windows Central, concentrating on Windows 10 PC and Mobile apps. He's been a supporter of the platform since the days of Windows CE and uses his current Windows 10 Mobile phone daily to keep up with life and enjoy a game during down time.
Nice spelling mistake lol

Love my job, since I've been bringing in $5600… I sit at home, music playing while I work in front of my new iMac that I got now that I'm making it online(Click on menu Home) https://goo.gl/6fKqC

I am a Nokia Lumia 920 God!

Does say that's Norwegian. No clue what i means though.

You may have been trying to come off as funny, but you came off as retarded instead.

Hey, I think he/she's funny

+1 for the retard comment

No permission to download???

Had the same problem... searched for it manually in marketplace and then download worked fine!

The link to People Search is wrong in the article. It points to the closed BETA-version, which will only work for people who where in the BETA. Until this is fixed in the article, you can search for "people search" in Marketplace to find the correct app. /THE DEVELOPER

Here is the correct link to the People Search app in Marketplace
http://www.windowsphone.com/s?appid=9d8b1804-9492-451c-b0d4-df3732a18457

That appears to be a link to the trial version. Is that correct? Is there a full version?

That is the full version, but when I set the price to 0, it can take up to 24 hours before it is visible as 0 in all markets. Often it helps to go into the application page in Marketplace, then go back, and the try to open the app page again. Else you can just install the trial, and update to full for free later today/tomorrow when it is visible as free in your region too. Trial is full-featured, it just has an message at start up after 24 hours. UPDATE: I just tried to uninstall People Search on my own phone, and then tried the link myself, and for me it appeared as an free app. So you might just try the "go in, go back, go in again"-trick, or try again later. I will anyway not be able to set up the price again for at least 24 more hours...and then the price-rise will also be delayed, so you should have plenty of time to get the free version :)

Guess I'm just snake bit on this post... Link is corrected. Had the wrong page open when I created it.

I used to use ppl search but now Rapdialer seems even better after the newest update.
I dunno if People search revolutionized too though.. might try it out

BTW, since price changes in Marketplace can take 24 hours to be visible world wide I changed the price to 0 some hours ago.
When I check in Marketplace I see it as free, for others the price change might not be visible yet.
You will in other words mosy likely see the app as free before monday.

Does anybody know if WP8 will allow these apps (People Search, RapDialer, etc.) more access to things like call history and not requiring a confirmation to dial? I haven't looked at the new API's extensively, but I was wondering if the addition of SIP/VoIP dialers might allow an app to more directly accomplish this goal but perhaps not.

I've always been curious why Microsoft didn't just add "Smart Dial" into the OS, considering it existed in the old WM days and is so popular, but I'm always glad that developers have filled the gap as best they can given the OS API limits.

I will dig a lot more into WP8-API's over Christmas, but so far it seems to me that those limitations are still in WP8.

I expected Microsoft to add "Smart Dial" into WP8, can't see any good reason to drop this, since for Microsoft it would be the easiest thing to add to the stock dialer. I actually planned my app to just be an temporary thing until WP8 was out.
Unfortunately it still is a need for these apps in Marketplace.

/THE DEVELOPER

What's that 920 color? Gold? damn thats cool!

I was wondering that too gold does look good how do you get it.

Reminds me of RapDialer which I use occasionally.

Is there a way to filter contact lists?

ade333, since the app can show the adresses of your contacts on a map, and also have a "navigate to"-functionality for all adresses on your contacts.

Actually my app would be marked as "requires location" if it just shows a pin on a map. So even an app that does not use the GPS can have this requirement. If the app just shows a "here is the location of place X" on a map-control.

Actually I would be more concerned with such apps stealing my contact info, and sharing it with SPAM-companies so forth. That is actually the only thing I personally might worry about if I installed a dialer app.

Just to make clear, my app (People Search / Finn Folk) does NOT do anything like that, if that was not obvious :)

ade333, since you have changed your question here, my previous answer looks a bit strange (the one about usage location services)...but I'll leave it anyway, since others might have same question.

Not sure what you mean by "Is there a way to filter contact lists"? Could you explain a little what you mean here?

Sorry about the question switch. I didnt see your answer and figured it out myself so I pulled it out.
Anyway, about filtering contact lists. 2 things.
1)It would be awesome if there was an option along the lines of "only show results for people with phone numbers"
2) Short of #1 it would ge great if I could choose to only allow contacts from my "Hotmail" account to show up when I search so that all the contacts from my junk (Gmail) account don't show up when I'm searching/filtering. It's particularly bad with gmail because they make it incredibly difficult to delete a contact.

another side note... it looks like someone may be trying to piggy back off your app name. There now appears to be an app called People Search that comes up in the Store. The difference being that in your app the word search has a lower case "s" and theirs has a capital "S".