Peggle 2 – Hands on with the new 'Duels mode' on the Xbox One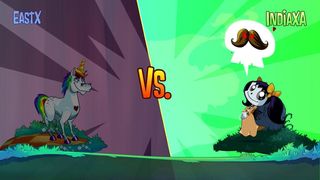 Peggle 2, PopCap's long-anticipated follow-up to their casual hit Peggle, launched as a timed Xbox One exclusive back in December. As I mentioned in our review, the multiplayer features weren't quite ready at that time. The online Peg Party mode simply didn't work for me and many other players, nor was the promised local multiplayer mode available. Still a great game, but players definitely missed the multiplayer.
This week, Peggle 2 finally got its multiplayer features via title update. Not only does the 4-player Peg Party actually work now, but the new 2-player Duels mode can be played locally or online! Is multiplayer the grape jelly that Peggle 2's peanut butter sandwich needed in order to be delicious? Check out our impressions, screenshots, and hands-on gameplay video after the break!
Duels Mode
The Duels mode is new to Peggle 2, but it has previously appeared in mobile versions of the original Peggle – which sadly never made its way to Windows Phone. After entering the multiplayer menu, players can choose from Local Duel and both private and public online Duels. When playing locally, you'll need two controllers and a second Xbox Live profile (which doesn't have to be Gold).
Each player chooses her character from the game's selection of five Peggle Masters, though you may also opt for a random character. The host can select the level and opt to adjust a few options, such as how many green pegs appear in the level, the length of the shot timer, and set the number of rounds (turns) for the match. Then the duel begins!
In Duels mode, both players take turns on the same game board. Your goal is to outscore the other player, so you really have to make each turn count. However many green pegs the host selected, only one of them appears at a time. Hitting a green peg in order to activate your character's power can mean the difference between winning and losing, so be sure to go after them whenever they appear.
Duels mode suits Peggle 2 very well. Even when it's not your turn, watching the other player's shot (and hoping she misses) proves quite entertaining.
Peg Party
This 4-player mode (which first appeared in the original Peggle on Xbox 360) is only available online. Select Smart Match and Peg Party, then sit back or play a little single-player while the matchmaking does its magic. Shortly thereafter, you'll be notified that your online game is ready to begin.
In Peg Party, all four players get their own boards. Each player gets one shot per round, with the goal of outscoring the competition. You can see tiny versions of the other players' boards off to the side, or zoom in on them after completing your turn.
The game declares a winner for each round, creating a highly competitive atmosphere as the match nears its conclusion. Exclusive artwork of the lead Peggle Master appears between rounds as well, which should please fans of the game's beautiful character designs. After the predetermined number of rounds wraps up, only on Peggle Master will be crowned the victor. Everyone can then choose to stay in the host's lobby and play another game with the group if they like.
Almost perfect
The multiplayer update makes Peggle 2 better than ever. Even after you've completed the game's 60 levels, mastered each level's challenges, and unlocked all of the character outfits, you can still come back for Peggle fun with friends.
The update does not add new Achievements – not a big surprise since it's a free update. But it doesn't address Peggle 2's two chief weaknesses, either. The game still lacks leaderboards, severely impacting its single-player replay value. And "Color Blind Mode" (a seemingly simple addition) remains MIA as well. Hopefully PopCap will address those issues in a future update.
If you're still rocking an Xbox 360 and haven't moved on to the Xbox One yet, don't despair. Electronic Arts recently announced that Peggle 2 will be coming to Xbox 360 (complete with Duels mode) on May 7!
Windows Central Newsletter
Get the best of Windows Central in in your inbox, every day!
Paul Acevedo is the Games Editor at Windows Central. A lifelong gamer, he has written about videogames for over 15 years and reviewed over 350 games for our site. Follow him on Twitter @PaulRAcevedo. Don't hate. Appreciate!
Sweet! One of my favorite casual games

Was hoping for split screen local...or did I just read too quickly and miss it?

That would've been cool too; there's certainly room on the screen for it. But it's also fun as-is.

Yeah, I was hoping for that too. But, sounds like this game is amazing despite that. I'll be picking it up once I chip away at my backlog a bit. Leaderboards absolutely need to be added, though. Kind of bizarre that they aren't yet. It's too bad Peggle 1 never made it to WP. Would've lived earning some achievements in that game on my Lumia.

Im really hoping they add some more charters, even if it's paid dlc. I love peggle.

So weird, friend of mine and I have been playing it like crazy, multiplayer worked fine for us.

Why don't they bring it mobile?

I was always wondering why don't they have a Mobile game?

It's a timed exclusive for Xbox One (and now 360). A mobile version will surely follow later this year.

Thanks for the response.. I am sure it would be as addictive as FLAPPY BIRD LOL

Ouch... No leaderboards still, or split screen. They add them and I am on this. Kudos to them for making an update that adds stuff though. Loving the new Xbox update though, although the recent friends list is rather slow to update.

Each player chooses her character was that a typo i just saw there

No, I just used the feminine pronoun instead of masculine. More inclusive and adds variety to the text.

Why can't this be available on WP8 or W8.1?!?!

Peggle is amazing. Cant wait!!!!

This is fantastic! I love Peggle and my kids do too. I will be playing this as soon as possible now that I know it has an update. Yesssssss.
I am sure they will develop dlc and I hope it is robust. The characters are fun and more of them would be great.

its fun, but needs some tweeks: randomize who shoots first in duel, set a "# of games" instead of getting booted to the lobby every time, and keep score of # of matches won by each player
Windows Central Newsletter
Thank you for signing up to Windows Central. You will receive a verification email shortly.
There was a problem. Please refresh the page and try again.