Penguin Panic and Click Deluxe 2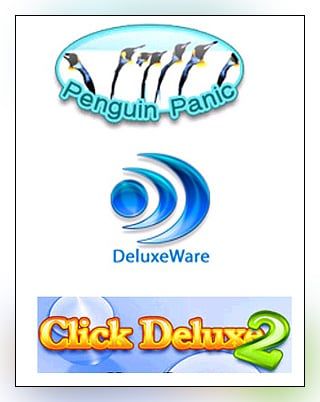 Looking for a simple, time consuming, addictive game for your Windows Mobile phone? Something that's not to hard for the kids but challenging enough so you don't loose interest? Deluxeware may have something right up your alley. Penguin Panic and Click Deluxe 2 are two relatively new releases from the software developer that may help you pass the time. Both games are puzzle oriented and are designed for Windows Mobile Professional. Trial Versions are available for both as well. In testing these two gaming applications out on an AT&T Fuze, they yielded mixed reactions. Read on after the break to see how these two games measure up.
Penguin Panic
Penguin Panic($14.95) is a tetris styled game where you match up shapes to build a solid row or column across a field of ice. Once you complete the row, it dissolves and you move on to the next row or column. Just like Tetris, you can rotate the shaped pieces to better fit the puzzle. The game comes with four, multi-level game modes; Classic, Relaxed, Story and Panic.
Classic Mode has you completing rows as pieces are generated at the bottom of the screen. There are four "ponds" at the bottom of the screen that hold the game pieces and as the timer winds down, a new piece is generated. If you run out of "ponds" for game pieces to be generated or run out of places to put game pieces, the games over. Relaxed Mode eliminates the timer and lets you place the game pieces at your leisure. Story and Panic modes add penguins to the mix. You have to complete rows or columns to rescue the penguins from the ice. Panic mode is simply a faster paced version of the Story mode.
I can remember playing Tetris for hours and Penguin Panic shares the addictive quality the original Tetris had. Through the gaming concept of eliminating columns as well as rows and having penguins to rescue, Penguin Panic adds a new twist to an old game. Game play was easy but challenging enough to keep you interested.
For bragging rights, high scores are not only recorded on your Windows Mobile device but you can also upload them to an Internet Scoreboard. Penguin Panic is a fun game that can easily help you pass the time, wind down from a long day or keep the kids entertained while you're stuck in traffic.
Swipe to scroll horizontally
Ratings (out of 5)Ease of Use: 5/5Graphics: 4/5Addictiveness: 4.5/5Entertainment: 4.5/5Overall: 4.25/5
Click Deluxe
Click Deluxe 2($14.95) reminded me a lot of Bubble Breaker but with a little more "pop" to it. The goal to Click Deluxe 2 is to burst the balls by clicking on groups of two or more like-colored balls until there are no more balls. You have five game modes; Classic, Advanced, Timed, Madness and Infinity which may be the only thing from keeping the game from quickly becoming stale.
Classic Mode is simply where you try to burst all the balls. Advanced Mode throws in a few "special" balls that explode, question mark balls that disappear; collapsing the column or arrow balls that eliminate the entire row or column when included in a string. Infinity and Madness Modes have the balls replenish themselves at a certain point and Timed Mode is where you race a clock. As with Penguin Panic, high scores are not only stored with your phone but also can be uploaded to Deluxeware's Internet Scoreboard.
Click Deluxe has an Astraware feel to it but lacks the addictive quality the Pop Game giant can generate. It's a fun game but it needs a little more of a challenge to it to become addictive. The Classic/Advanced Modes are the best in that you have that goal to clear the screen and you have to pay attention to your moves or you'll run out of options. The Timed Mode is challenging but does get old and the Infinity/Madness Modes lack an intangible quality that keeps you focused. While the game modes keep you interested for a while, there's nothing that dramatically sets this game apart from Bubble Breaker.
Swipe to scroll horizontally
Ratings (out of 5)Ease of Use: 5/5Graphics: 4/5Addictiveness: 3/5Entertainment: 3/5Overall: 3/5
Get the Windows Central Newsletter
All the latest news, reviews, and guides for Windows and Xbox diehards.
George is the Reviews Editor at Windows Central, concentrating on Windows 10 PC and Mobile apps. He's been a supporter of the platform since the days of Windows CE and uses his current Windows 10 Mobile phone daily to keep up with life and enjoy a game during down time.
one day i went shopping outside ?and in an links of london store?I found some kinds of links of london i love most?they are: Links of london charms online Links of london charms online Links of london charms online Links of london charms online Links of london charms online Links of london charms online Links of london charms online Links of london charms online Links of london charms online Links of london charms online Links of london charms stores Links of london charms stores Links of london charms stores Links of london charms stores Links of london charms stores Links of london charms stores Links of london charms stores Links of london charms stores Links of london charms stores Links of london charms stores