Perfect Tube YouTube client is now available as a universal Windows 10 app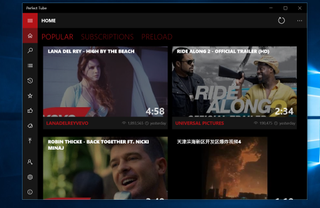 In July, developer Perfect Thumb released Perfect Tube, a Windows Phone-exclusive third-party YouTube app that we rated highly in our recent review. Now Perfect Tube has been released to the Windows Store as well as an universal Windows 10 app.
Aside from that, the app appears to have the same features as the Windows Phone version. Here's a recap:
Unique video player with easy gestures.
Watch mini video while browse others.
Switch video quality 240p, 360p, 480p, 720p, 1080p with full screen mode of landscape and portrait video.
Browse most popular videos, channels or search for what you want.
Sign in your YouTube account and manage your favorites, subscriptions, playlists, history, liked videos, watch later and more.
View and post comments, browse related videos and more.
Watch your uploaded videos.
Upload your new videos.
Subscribe to YouTube channels (with browse channels function)
Support tiles.
Open YouTube links (video, channel, playlist) directly in app.
Superfast and logical interface!
Let us know what you think about Perfect Tube for Windows 10 in the comments!
Download Perfect Tube for Windows 10 in the Windows Store (opens in new tab) (Free)
Windows Central Newsletter
Get the best of Windows Central in in your inbox, every day!
They are better when they bring Apps to platforms they may have not had, otherwise. Not to hate, or say we don't need variety, but we have a handful of pretty good YouTube Apps. Had this been an official YouTube App, I'd be praising Universal Apps too. Posted via the Windows Central App for Android

I like to download every new universal apps even if I don't use them, so I can support the devs... Sometimes I end up using and loving those apps.

Yeah, I've been using Metrotube for 2 years now, and I think i might use the new Perfect tube for a while to see if its better than Metrotube.

Someone should make a universal app for that :P

Metrotube is not working on my windows 10 PC. I've got 3 YouTube apps on my PC and metro is the only one I can't use. I'll give perfect a try this weekend, but it's gotta be good to get me away from tubecast.

I thought everyone uses tubecats! isnt that the best.

I prefer TubeCast for PC without touchscreen... MyTube is better in anything with touch screen. PerfectTube is great too, but MyTube runs smoother than any (literally, ANY) other YouTube app.

Perfect tube is better than mytube. Mytube is confusing to use

Confusing as what, Windows 8.1? (which is not) You must have a hard time swiping from one screen to another!

wow have you noticed , you can swype from both edge of screen in perfect tube - i mean perfect tubecast pro and perfect tube : great work ( Universal 10

I love perfect tube on windows phone 8.1. Installing now on my pc *-*

Mmmm features look like a subset of tubecast. A comparison review of all these apps would be nice, this looks more like advertising....

Yeah agreed. I'd love to see a comparison of the two. I use Tubecast primariily, because I love the interface and the ability to stream to my PS4. I also have MyTube as a back-up since it has a bit more functionality, so I keep it around for some deeper account management stuff. I'd like to see what PerfectTube really brings to the table.

Yes a comparison of the 5 best apps would be great. While reporting headlines like "unique YouTube player" is not very useful :D . It would have been great if it came out a year ago as it seems by its features.

Tubecast, how to search playlist, or how to change search result display from tile to details list?

im not using a windows app for youtube on desktop yet but since i have tubecast on phone i will propably use that on desktop but will give a try to perfect tube

Perfect Tube vs. the Best rated MetroTube (that I use almost every day).... GO !

I'm wondering the same. Love me some MetroTube. 3 years strong, except on the PC where it stopped working months ago.

Metrotube can be installed to SD card. Perfect tube goes with phone theme colors

Already installed it on my lumia 1520 and laptop because its the new age of windows universal apps , waiting for twitter

This guy the client of PERFECT is working so hard for windows platform hope everyone will like all of their apps

very soon i wont need Microsoft Edge. just a couple more sites.

This is better than Metrotube. DANKA!

Im lovin this app now. Great UI.

Still needs a light theme

Yep. I didn't read that on the article so I assumed it didn't. Now I'd like video previews to be clearer, because with light theme they have a white translucent layer on top

Tubecast works best for me. I can also cast videos to chromecast.

Give us 1440p, 60fps and full resolution uploads and I'll get excited about a YouTube App. Posted via the Windows Central App for Android

This is the way to do an app for windows

Is there any app that plays the video and download the video also save the downloaded content outside the app in phone or sd card for future use ??

wow it looks like a great app. at least it supports streaming to devices and the interface is nice and clean. the title bar gets gray when no active but at least it's not bad like Readit. it doesn't look bad as gray but since the theme is black, I hope they fix that. It seems to be the Windows 10 app to go anyway, since it's the only one that supports streaming to devices, I hope all apps support this soon. I remember I had to do this registry hack for my tv to be recognized for the charms bar, but on Windows 10 not need for that which is great. I don't use youtube much but when it's needed ithis seems like nice app to me.

Tested this on my phone a week or so ago, and it was an instant-uninstall, due to no background playback - which I use all the time with Tubecast. Other than that, really fast and nice UI! If they add some more features like Tubecast has, I may be sold.

Such a great app, no more opening youtube on the browser for desktop. Keep the universal apps coming devs :)

So as a universal app, once you download it on your tablet and when you use your phone, does your phone automatically download the same app? Or will give you notification? Or does your phone get a separate folder in Store->Download on universal app that has been downloaded on your other devices? Does it work another way around like if you download it first on your phone?

Waiting for PERFECT BOOK (FACEBOOK) L.O.L.....

Looks nice and clean but the controls at the top are a fail. A universal app doesn't mean it has to have a shitty UI.

Close to perfect. Would be nice if it fades out the mouse cursor when going full screen.

It faded out in the latest version :)

why not? do you give it a try?
Windows Central Newsletter
Thank you for signing up to Windows Central. You will receive a verification email shortly.
There was a problem. Please refresh the page and try again.