Catch up on the forecast with Perfect Weather Universal for Windows 10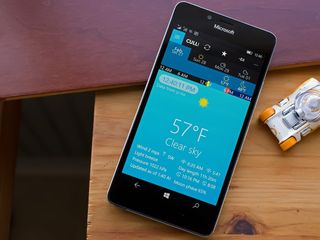 Perfect Thumb is known for developing simple but useful apps for Windows 10 PC and Mobile. Perfect Weather Universal is one of their latest offerings that follows suit with the other Perfect Thumb apps nicely. It delivers your current weather conditions and extended forecast in a simple, eye-catching package.
The app relies on gesture controls for convenient one-handed use and has Live Tile support. Perfect Weather Universal is lacking in weather maps or radar features, but if you are looking for a sharp weather app that covers the basic weather information nicely, you will want to give Perfect Weather Universal a try.
At launch, once you give Perfect Weather Universal permission to access your Windows 10 location services it will begin tracking your weather information based on your current location. The layout of the weather screen for Perfect Weather varies slightly between the Windows 10 PC and Mobile versions. There is a menu button in the upper left corner where you can add locations and change the app's theme (more on this in a second).
Next to the menu button you will find options to refresh the weather information, tag a location as a favorite (thus automatically adding it to your locations list) and pin your current or displayed location to your Start Screen.
Just below the menu options, you will find a slider bar to view the nine-day extended forecast by date and just below that slider bar is an hour timeline that will display your hour-by-hour forecast. The heart of the app is the weather information that takes up the lower two-thirds of the screen.
Here you will find your current temperature, a brief description of the weather, and a host of weather data that includes:
Wind speed and direction
Sunrise/Sunset times
Length of day
Barometric pressure
Moonrise/Moonset times
Moon Phase
You can slide your finger across the weather data display to check out the hour-to-hour forecast throughout the nine-day extended forecast. Perfect Weather has support for multiple Live Tiles that will display your current conditions and a three-day extended forecast.
Now to the app's themes. Perfect Weather Universal has a host of background themes; the free version has access to the first two themes. Unlocking the remaining themes and any additional themes that will be added to the app is accomplished through an in-app purchase of $1.99 to upgrade to the premium version of the app.
The themes add a bit of pop to Perfect Weather Universal's appearance with beach scenes, night scenes and even Super Mario making an appearance. We've even dropped the hint to the developer that a Star Wars theme would be grand and hopefully we will see that (and more) added to the mix with future updates.
Perfect Weather Universal does lack a proper settings menu. By default weather information is displayed in the metric format and to switch to the imperial format just tap the temperature display. The Windows 10 app also lacks weather radar, maps and severe weather alerts. While Perfect Weather Universal isn't as feature rich as other Windows 10 weather apps, it does a great job of delivering the basics.
The only nit I have with Perfect Weather Universal (and it is minor) is that with the Windows 10 Mobile version of the app your location is dramatically abbreviated on the main window due to the limited real estate on your Windows Phone display. I would have preferred to have seen the refresh, favorite and pin options collapse with the Mobile version to give room for the full location name.
Regardless, overall Perfect Weather Universal is an eye appealing and informative weather app that is available for both Windows 10 PC and Mobile. The base app is free with the option of upgrading to the premium version for $1.99 that unlocks all your themes and any future themes that become available.
Download Perfect Weather Universal for Windows 10 PC and Mobile (opens in new tab)
George is the Reviews Editor at Windows Central, concentrating on Windows 10 PC and Mobile apps. He's been a supporter of the platform since the days of Windows CE and uses his current Windows 10 Mobile phone daily to keep up with life and enjoy a game during down time.
Good and nice app. Hey Perfect Thumb, if you reading this comment please respond my email that I sent it a couple of days!

finally! a weather app that sets temperature to metric by default :) Posted via Universal Windows App on W10

Perfect thumb makes apps that really work.

Really? I think it looks bloody awful. Layout is poor and it just looks bland. I wouldn't want it even as a free app.

I would download this on my phone and recommend it once it has radar and weather maps, weather forecast videos (from accuweather or other news site). By the way, Accuweather updated their WP8 app and removed the videos and radar map features - So I uninstalled it :( Posted via Universal Windows App on W10

Way better than other 3rd party weather apps..

got this last week and loving it, its become my main go to weather app

Hi Silentghost1979
Can you help me with my problem

I like how different the app is compared to most other weather apps, however; for me the primary function is horribly inaccurate. Sometimes the temperature will be off by as much as 15 degrees.

Yeah, not a fan of the source for weather, but devs are often constrained with free sources (and cheap or free app) versus pay sources, which then ups the cost of the app. But I have the same issue with some inaccuracies too.

The app does not even have the always detect my location option plus not having some regions in suggestions.

I bought everything... for 0,00€, that's pretty cool :p

Upgraded to the premium for free

- No 24 hour clock
- No wind speed etc in metric
- Live tile could be better. Medium tile shows the info a tad bit to far up the left hand corner, and why not display the next days with a flip tile? Other that that, it's good looking.

have you messaged the developer as well? Posted via Universal Windows App on W10

The UI look's to childish!

When will MS celebrate Holi, the festival of colours.

Ask the developer if this can be fixed in an upcoming update as I believe religious calendar is not integrated in this weather app at all Posted via Universal Windows App on W10

Love these devs. I still hope they get around to coming up with a universal ebook reader Windows 10.

I'm usualy a huge fan of Perfect Thumb apps, but not feeling this one. I don't think it's as visually appealing as their others, it just seems cluttered. And operation isn't that smooth yet. When I scroll accross the screen to check the hourly forecast, it jumps a lot. Plus, when it found my location it has the town right, but has me in a different state.

Outstanding work, no doubt about it. But I wish it had more features instead of more looks :)

Just downloaded this! App is dope ***** on the Microsoft one

Design looks very bad and no lock screen support I don't bother with it. Why is it we have like 5000 weather apps and only one that I can think of (Amazing Weather HD) shows the weather on the lock screen and it looks great? Is that hard to code that functionality into your app???

Heck Accuweather had a really nice app in WP8 and then when they updated it for Windows 10, they (Accuweather) made the app worse and removed most of the functionality. Their app looks way better on Apple iOS Posted via Universal Windows App on W10

Well, try Weather To-Go ... Has lock screen support.

Tried it. Still prefer Blue Skies & 4castr

4castr isnt in the store? / not UWP Vieather is my current favourite.

Yeah, just mobile for now. Hope we'll see UWP soon.

App can't be installed. Posted from Windows Central for Windows 10

Restart your device and be sure that updates are being installed on your computer Posted via Universal Windows App on W10

I really love the design!
But it's not accurate at all here in France. I hope it will get better!

I'm still rocking with Amazing Weather HD hope they make a universal app

Fails to load for me. Upon installation and then opening the application there is a loading animation that "loads" forever. Lumia 950 (AT&T) WM10 TP (latest)

There has to be a way around the cut off wording in so many apps. For example, on the live tile in the screenshots above, "Overton Man..." just looks so sloppy.

Would love to see Appy Weather get updated to Windows 10 with lots of new features. That app used to be the talk of this site when it came to weather.

Appy Weather is still my favorite weather app, and I've tried plenty of other weather apps. Absolutely love the design, options, and accuracy of the live tile. The only thing I wish it had was built-in radar It works well on Windows 10 Mobile. Use it on my 950XL. I saw on Twitter that Appy's developer has started development of Appy Weather 2, though no timetable on it's release.

Cool concept. But painfully slow to launch app on my 1020. over 10 seconds. I'm still happy with MSN Weather.

Hi Everyone
Can anybody help me with my problem

I am having problems with my Apps on my Mobile Phone can anyone help me

Hi Everyone
I am New here
Can anyone help me with my problem

Can Someone help me with my problem
Can Someone write back to me
Windows Central Newsletter
Get the best of Windows Central in in your inbox, every day!
Thank you for signing up to Windows Central. You will receive a verification email shortly.
There was a problem. Please refresh the page and try again.