Phanteks P400 review: An exquisite (and affordable) PC case with tempered glass
The P400 Tempered Glass is a version of the P400 PC case by Phanteks that sports a large glass side panel. It's affordable, stunning, and functional.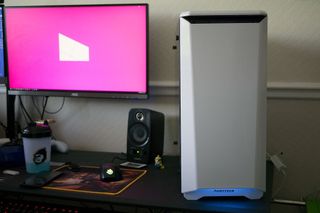 Coming in at just $90, the P400 Tempered Glass by Phanteks is an affordable but premium case for stunning PC builds. Tempered glass is becoming more common in cases as companies look to differentiate their options from the competition, and glass allows builders to showcase internals clearer than traditional plastic panels. The P400 actually comes in at $10 less than the Tempered Glass edition but sacrifices the glass for a side panel with a smaller plastic window.
How's the case in general? And is the Tempered Glass version worth the full $90? Let's find out.
Hey, good lookin'
The first thing that will catch your eye is the design. After unboxing the case, it's required to take a moment to step back and just take in the overall look and build. It's difficult to believe this case costs less than $90, which is excellent news for those looking to build showcase PCs that effectively hide the price tag. Taking this case to a LAN event will turn some heads for all the right reasons.
On the front, we have a metal front panel that can be easily removed to gain access to fan mounts and two dust filters. What surprised me is the design of the connectors that hold the panel in place. These hooks make it far easier to detach and reattach the panel compared to other cases.
The right panel is completely clean, just your usual sheet of metal that screws on the rear. The glass panel on the left is a full window without any metal bezels, so Phanteks has made it so the tempered glass is screwed on the side, as opposed to the rear as normal. For the top, we have the usual array of I/O ports, including two USB 3.0 connections, as well as dedicated jacks for headphones and a microphone. A central power button is joined by three buttons hidden under the ridge — reset, fan speed, and LED control.
We reviewed the white version of the P400 Tempered Glass, but this case is also available in black, gray, black and white, and black and red. Pricing may vary, depending on which option you opt for. What's great about tempered glass is how not only does the material look vastly improved compared to plastic, but there are also other benefits like enhanced sound insulation (ideal for noisy GPU fans), and durability — just remember to pay careful attention when removing or attaching the panel so you don't scratch it.
Image 1 of 2
Phanteks has clearly gone down the route of less is more when it comes to internals and clutter. There are no drive bays visible, same with the PSU, and both are contained within a shroud, which is commonplace in more expensive PC cases. This makes it easy to plan out more interesting builds with even full-sized ATX motherboards and look at the installation of water-cooling loop radiators.
The LED lighting on the front hooks up to Phantek's own management circuitry that can be added to and controlled by motherboard utilities (think ASUS Strix). There's a nice glow underneath the front panel, which lights up the Phanteks logo. Hitting the LED switch on the front will cycle through ten colors, while holding it down will disable the lighting altogether. The power button light is also hooked up to this system, making it possible to have all lighting on the case controlled by software.
A strong foundation
A case isn't all about good looks, however. Luckily, Phanteks paid extra attention to throwing in a number of components and hooking everything up. Dimensions come in at 210 mm x 465 mm x 470 mm, so it's not massive but large enough to house many components. From the get-go, we have a total of four expansion slots to play with, two for 3.5-inch drivers, and two for 2.5-inch drivers. The former two can also be used to house a further two solid state drives (SSDs). If more than two 3.5-inch mechanical drives need to be installed, it's possible to add a mounting kit to unlock four more
That's the storage, but one needs the power to provide juice to everything, and this is where a full-sized PSU comes into play, which (as covered already) sits comfortably beneath the lower shroud. This also allows for massive, power-hungry GPUs to be installed, and in SLI or CrossFire configuration if required. Throw in a powerful CPU and we now have quite the heat generator. Thankfully, there are a number of cooling options available with the P400.
As for the case quality, Phanteks used premium materials to put everything together, and there's little in the way of flex. Sharp edging has been rounded. As an added bonus, there are a number of extras included for good measures, such as excellent cable management, rubber grommets, and full support for RGB lighting.
And when it's time to show all of this off to the outside world, the P400 is lightweight, even when fully packed with gear. Before installing internals, the case itself only weighs 7 kg (15.4 lbs).
Purchasing the Tempered Glass edition of the P400 also lands the owner with a bundled magnetic LED strip. This can be hooked up to the lighting controller inside the case, which can then be controlled by the switch on the front of the motherboard. Again, this is yet another handy addition that adds value to the case as a whole. Should you wish to add some lighting to your PC build, there's essentially everything you require to get started.
Installation
We encountered no issues with the installation of a full-sized ATX motherboard, GTX 1070 (Zotac AMP! Extreme) and a total of five Corsair AF fans. We opted for a Cooler Master Evo cooler for the Intel CPU to see just how much clearing was left between the top of the fan tower and the glass panel but were not disappointed. Cable management was a breeze, utilizing the built-in velcro straps on the rear of the motherboard tray. It's a shame that one has to route GRPU power cabling through the rubber grommets, which can make things a little difficult to adequately tidy up. But overall it wasn't a problem.
Having the SSD bays located alongside the right panel behind the motherboard is a solid design choice to help keep everything in the main bay area looking clean. As noted already, you're going to hit some hurdles when it comes to water-cooling. All-in-one solutions shouldn't be much of an issue, but attempting to install a custom loop in the P400 is going to be a challenge. The top fan mounts will not be able to house a radiator, which only leaves the front panel that could intrude on precious space required for a reservoir and pump.
Cabling for the front I/O had more than enough length, and hooking everything up to the onboard lighting controller was easy. It's a mid-tower PC case with ample space inside for everything that should fit inside such a form factor.
Wrapping up
Overall, this case is a solid investment. Phanteks has shown that just because savings can be had on a case, it doesn't mean basic features should be skipped. For $90, it's possible to pick up a PC case with a tempered glass window panel, excellent cable management for powerful builds, and full support for advanced RGB lighting featured in more expensive motherboards.
It's difficult to pick faults once everything has been put together and even more of a challenge to locate a case that offers better value.
Pros
Solid construction.
Stunning design.
Excellent value.
Tempered glass.
Cons
Limited space for water-cooling.
Cost-savings include lack of a manual.
Get the Windows Central Newsletter
All the latest news, reviews, and guides for Windows and Xbox diehards.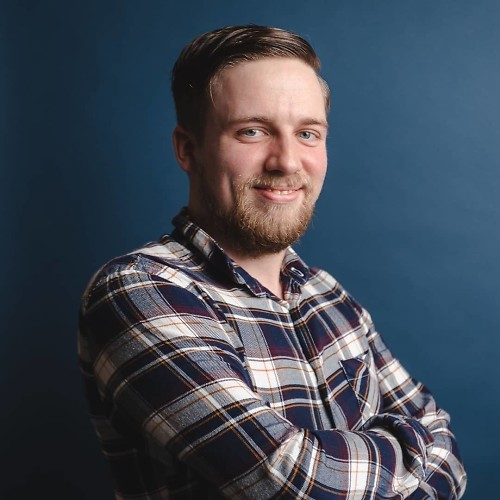 Rich Edmonds was formerly a Senior Editor of PC hardware at Windows Central, covering everything related to PC components and NAS. He's been involved in technology for more than a decade and knows a thing or two about the magic inside a PC chassis. You can follow him on Twitter at @RichEdmonds.