Phil, Rene, Dan, and Mark talk mobile together at CES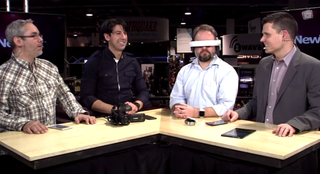 It wouldn't be CES without a gathering of mobile editors talking about the show, and we got it live for all to see. Watch as Phil of Android Central, Rene of iMore, Dan of Windows Central, and Mark of Laptopmag and Tom's Guide get together for a few minutes and talk about everything that has been seen and done here in Las Vegas. The general theme this year seems to be interoperability and the increasingly vague "Internet of Things" but with all of that noise comes a strong signal for things to come. It's becoming way less about which single device is best, and way more about which combination of platform and experience gets you what you need.
Windows Central Newsletter
Get the best of Windows Central in your inbox, every day!
Russell is a tech nerd who chases the best of everything, from phones to game consoles to laptops and everything glowing or beeping. He's the Managing Editor of gaming content for Mobile Nations and can be found contributing to all of the Mobile Nations sites. Reach out on Twitter!
Seems late
I already tipped you guys about this..
Wpcentral is soo late ;)

Oh get off your high horse, how can they be late when Daniel is participating?

Now you are living in stone age,it's Windows Central bro!

I agree, they got to speed up the process of bringing news to us:)

Dream Team, thank you very much for your work. You are my daily source of news about my favorite ecosystem :)

Dem bois rightcheh ain't talkin bout nuttin❗

Thank you guys for the hard work and amazing ces coverage :).

Dan: It reaches a point where you can't even tell the difference. VESA: 'Uhd' think so. But if you say otherwise, you might be 'qhd' to get 'suhd'. xD

This was a good talk / recap of CES. Thanks guys!

I like the bendable LG phone.