Philippines-based Cherry Mobile reveals new Windows Phones and Windows 8.1 tablets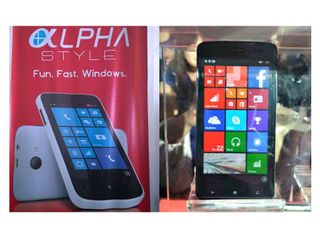 Cherry Mobile, a smartphone and tablet OEM based in the Philippines, has just announced their first Windows Phone smartphones along with their debut Windows 8.1 tablets.
The Cherry Mobile Alpha Style is a 4-inch device with a Qualcomm Snapdragon 200 1.2GHz quad-core processor, 512 MB of RAM and 4 GB of storage, along with a 5 megapixel rear camera. The Cherry Mobile Alpha Luxe is a 5 inch smartphone with the same processor as the Alpha Style, 1 GB of RAM and 8 GB of storage, along with an eight megapixel rear camera. The Alpha Style is due out later this month for 2,999 Peso (about $69) while the Alpha Luxe will be priced at 4,999 Peso (about $114)
The 8-inch Alpha Play tablet, using Windows 8.1, has a 1.33 Ghz quad-core Intel processor, 1 GB of RAM and 16 GB of storage. It will sell for 7,999 Peso (about $182). The 10.1 inch Alpha Morph tablet uses Windows 8.1 and has the same processor as the Alpha Play. It has 2 GB of RAM and 32 GB of storage and will sell for 11,999 Peso (about $274) Both tablets will go on sale later this month and both will come with Office 365 pre-installed along with 1 TB of free OneDrive cloud storage for two years. It looks like the Alpha Morph also supports an optional keyboard.
What do you think of Cherry Mobile entering the Windows Phone and Windows 8.1 ecosystem? Thanks to Jason for the tip!
Source: YugaTech
Windows Central Newsletter
Get the best of Windows Central in in your inbox, every day!
It's nice to have more opportunities of different hardware design

Cherry Mobile is just importing phones from India, they are only rebranding it.

It has the right capacitive buttons at least! =P

Although the black one looks like the buttons are too close to the bottom edge for comfort, ease of use, and accidental clicks.


It does matter.. It's still more devices from more channels, being sold at more places... That's what matters❗❗❗❗❗

yes I agree..for the normal user..who is probably not aware of OS..will still buy it if they atleast heard the brand their local market.

More the merrier. This is how Android started dominating, and its a great opportunity for companies like Blu or Yazz. I bought the Blu Jr as a backup phone yesterday, because its way better than the 520 at the same price. I would have never thought I'd buy a Blu phone, but there you go.

I'm glad they're in the Windows world. Nice entry line for their market

Wow. MS guys have been REALLY busy wooing all kinds of local/regional OEMs on board. Fantastic. Even if most of them don't sell huge numbers, all of them will sell some, and those things do add up. Hopefully this will then wake up more and more local developers too.

I agree. Those local developers and OEMS pushed the carriers to have Android devices. Its what made them grow so fast. Hopefully this can be repeated with Windows Phone although I doubt to the degree that it happened with android since when they did it, there wasn't any real competition.

They've loosened a lot of restrictions so more OEMs can just throw Windows on devices much easier.

Yes I know but that alone did not make this flood of devices happen.

Where is a big Skype update, where is VLC player?

Vlc is still being tested. The developer told me arm compiler is creating a problem. And don't know about Skype. That team q least bothered for WP. Joe belfiore should take action against them but he has Xbox things to get improved.

Not the place to ask this stuff go to the forums or something

Any new Windows phone is a good thing.

Finally! MyPhone please! WPC App for Android- Lenovo IdeaTab A3000

MyPhone will probably release Windows Phone since Cherry Mobile have no Competition at this price range.

Reminds me of my wireless charger

Do the smartphones have flash and front camera?

Flash yes, ffc, don't know

Both have front-facing cameras, which is a serious blow to the Lumia 530 and 630.

Windows 8.1 is proliferating!

All these new OEMs and New Phones & Tablets mean one word "Market Share"....ok so two words.

Haha good one!! Its more like "one thing"

They are not the one who created it, Cherry Mobile is just importing phones from India and China. They are just rebranding it.

Still, a cool company name I must say.

Their after sales support is the worst.

yes it is. thats why, im just gonna see it later, and not gonna buy it. :-)

What's the point of posting the same thing over and over?

there other local phone brands in the Philippines. Such as

MyPhone, Cloud Phone, SKK, Arc Mobile. but they still market android phones.

WOW..i really hope this is the start of the huge adoption of Windows phones here in the Philippines. MyPhone come on step up your game.

This is a huge deal for me and my family.

I lost count of local WP devices

Awesome!!
What's the cheapest Windows Phone on record? This one's $69

"Fun, Fast, Windows" - This is AWESOME punch line, I love it :) And stop complaining about specs, It's a WINDOWS Phone, period! :)

I'll be saving up my Pesos...

Sooooo many new phones! Posted via the Windows Phone Central App for Android

I hope u make a switch soon.

I've been trying to keep track (even of the ones that WPCentral hasn't covered) and I *think* that's 21 OEMs, 15 devices on sale, and 19 more by the end of the month.

Cherry Mobile is a brand well-known to Filipinos. If they will make a windows phone, I guess the population of WP users will increase in here.

exactly. Cherry Mobile has grown from a fledgling brand to a recognized country-wide smartphone for the masses. And that tag line. Fun. Fast. Windows. How come they were able to think of that and not the big ones haha oh well. Hope the $69 will sell like hotcakes.

Todays clash of new phones is about cherries and apples. Its truly a healthy competition.

I see what you did there brotha..lol..

What about Blackberries? Oh, Blackberry is Dead

I see a trend of the same specs for the 4 inch device and 5 inch devices regardless of what company makes the phone. It seems to be a reference design for the specs, even down to the camera resolutions. The more the merrier and if this is what it takes to get Windows Phone (Windows for Tablets and Phones) in to the hands of consumers and it can still provide a smooth user experience, then so be it. Windows Phone's marketshare will increase and developers look at marketshare first and not device brand/specifications when they consider supporting a platform.

I'm going to buy one just to show my support and to hope that they well release more windows phone

Last time I checked, a Nokia Lumia 530 costs 4990 PHP, ~116 USD. A Lumia 630, 7990 PHP, ~183 USD. Which is significantly more than what Cherry Mobile is charging for THEIR WP offerings with identical-to-better specs. Props to them for undercutting Nokia in the budget WP game.

If you have used a cherry mobile device before you will painfully understand why.

What's the problem with them? Hardware or software? Or both?

Well the hardware is pretty much what you get for the price. As I see their support with updates with their androids sucks. As we know low end hardware with Android is laggy. But I guess this will be a different case with WP updates.

I figured. Still, with WP to save yourself from the horrible Android skin they probably put on it, and the developer preview to get updates, this phone could be a huge hit with their customers (more so WP than the developer preview, though). I wish Microsoft could just push OS updates to these phones that operate outside of the carrier system.

Cherry Mobile's phones are mostly stock Android though.

ZYeah..STUCK ANDROID..IT IS BETTER TO BE A WINDOWSPHONE. CO'Z I'M using CM ALPHA LUXE. And I'm so impressed with this smartphone compared to their Android Phones. Stuck. Hang. Android

not that sure about software, it's still from MS, right? what I'm sure about is the hardware, specifically the plastic and camera, considering it's price, but still, all Cherry Mobile I've used has a worse camera.

It's camera is getting better compared to their past released phones.

I'm from the Philippines and surprised to read this news. Cherry Mobile Philippines is quite popular here because of its low-cost Android devices. They also got well-known artists/actors that helps them with promotion. I'm curious to see who'll be promoting this device for Windows Phone. Nokia Philippines previously tapped multimedia star Kris Aquino to help them sell the Lumia 800, it didn't work well though.

Kim Chui is their endorser for Cherry Mobile Alpha Line.

It's pretty amazing how many companies are making Windows phones since Microsoft dropped the licensing fees... Hopefully we'll see some more users by Christmas. Go WP!

Just a question. Where can I contact wpcentral? I have contacted on fb, no answer, contacted by email no answer. Really disappointing, this is an awesome website for Windows phone and I can not share info, suggestions, feedback etc. :\

tips@wpcentral.com Also, there's the "Tip Us" button that's available on the Android app, the Windows app, and the website too.

If I message them there they will see it and respond?

it's not necessary that they respond but when they do take notice of your tips, they give you the credit... unless you also tipped the same new that gazillion others have tipped so you get the general "thanks for the tip everyone."

Why do you want to contact them? Is it for a tip or for feedback?

A lot actually! :) Tip, feedback, game review suggestions, questions etc

For tips and review suggestions, you should use the "tip us" button. For feedback, there's a forum for it.

I just hope Cherry Mobile atleast creates the mobile phones with better quality so consumers here in the Philippines can truly get a good Windows Phone experience. To others, CM does not have a good reputation in creating their android mobile phones. With the monicker "You get what you pay for" statement. Honestly, I could not comment on that since I am not a CM user. And yes, It is widely known that CM is not the maker of their phones. Just rebranded stuff from other countries. Still, good to see further adaption of WP. Hope it all goes well!

Im glad Windows Phone has come to Cherry Mobile, it will push WinPhone adoption here at Philippines :)

Thnks ....hppy to se more OEM.....so much windows phone day by day increasing....apps are also developing
..Go WP....no lagdroid only windows

Windows mobile and affordability just keep going hand in glove and it's making buying a smart phone incredibly easy. Glad to have more options. Expand windows expand!

Great Specs! Wish to have a Great performance Windows Phone from CM

ohhhh boy...... cherry mobile has a reputation of not having a very good build quality and its batteries are very bad. i know this cause am from this place. but.. its a good thing that people here can buy this for a very cheap price. NOTE that majority of the people has a below minimum wages. 6,000 pesos ( $140) per month.

Cherry Mobile build quality are terribly cheap! And bad. At least that's what I found out when I had one of their phones some years ago (this was before they began to make Android phones). I don't know now though. Still, I'm never going back there.

Nice to see more OEMs launching new handsets. Plenty already came up these last couple of days.

I have bad eperience with this handset provider. Last January 2011, I brought a Cherry Mobile Eclipse Windows Mobile 6.5. A tiny bit of water droped on that phone and the phone stops working! WTF! I just brought it and within that week the customer service representative told me that they are not eigble to replace it. They had a very bad customer service ever! And even they do release this series of phones, I will never ever going to buy one.

Flooding the market with low end devices will probably drive up windows phone.....but boy here comes the fragmentation train.

Cherry mobile is good. Phone made of cherries. So yummy.

Cherry Mobile is quite popular here in the Philippines especially among the masses. They usually offer very affordable phones and tablets. As such they had grown tremendously in a very short time. Of course the quality of their devices is another story. But at that price point you can never really complain. This is good news for us WP users here in the Philippines as this will further increase the WP exposure hence will probably grow in market share. A growth in market share will open the floodgate for more apps and will solidify WP as the dark horse in this highly competitive smartphone race.

That is the coolest thing I've ever heard, now Windows tablets and phones will be affordable to plenty of Filipinos. I just hope cherry mobile can maintain Windows standards.

I hope this is dual SIM as most Filipinos use 2 Sims and does WP come with 8.1?

Yes, and yes. Dual sim, Windows Phone 8.1

Nice! What about the battery, is it removable and does it have an SD card slot?

Yes it has a removable battery with a capacity of 1500mah, and yes there is an sd card slot

That's good to hear, I hope the battery lasts the entire day though

Finally! A windows phone from the local brand in the Philippines! And its a good price points! Cool!

AY PUUUUUCHA.. there better be a SARAO app for Jeepny's lol

Lol, hahaha, with easy payments like the buses in SG

Here in the Philippines, cherry mobile is one of the leading affordable phone for Android. I hope it could do well for windows phone

Excellent news. If I am not wrong this is the third OEM this month to announce WP 8.1 devices.

I am more than willing to try this one! I was really surprised with Cherry Mobile making Windows phones. Haven't really tried their Androids, don't have any plans anyways, but this one? Hell yeah!

Finally!! Next is myphone! :)

Does Cherry mobile migrate to WP? Would it be great, Perhaps the developers release features same in other countries.
Such as city lens, direct tv, and Cortana.

i believe the morph is a 10" laptop

I'm positive WP8 will run faster and more smoothly on these low cost devices than Android!

I sure hope so, I would love for Windows to overtake Android.

People here from Philippines (or at least the ones I know) really wanted to try window phone but they are holding back because of its price. But now hell yeah haha! Many folks can afford it now.

Wow its getting lower in price

Now the Luxe is more like it! Reasonable set of features, nice screen size, at a killer amazing price! The 4" $115 models everyone is putting out is already overplayed!

Nice! The more OEMs the better! :)

Kind of blows, could have been better.

How can it be better? Both wps are quad core with 5mp cameras and flash, both have front cameras. They have removable batteries and an SD card slot. The 4" is php3k and the 5" is 5k. For most Filipinos, they covered the basic desirable features at a low cost. The tabs are also cheap for fully fledged PCs. The 10" comes with a flip case keyboard and both have 3.0 USB port, hdmi port, and an SD card slot.

+Philippines. Awesome. ;)

I dunno if this was already pointed out, but if you look at it more closely, the Alpha Style seems to be a rebranded BLU Win JR. The Alpha Luxe might also be a rebranded BLU Win HD.

I don't like cherry mobile phone because of its android OS. That would change now...Glad to know more and more OEMs are joining the WP OS family. Sad to say, there are no windows phone TV commercials here in the Philippines. Microsoft, please...

..i always thought that Cherry Mobile focuses on android platform, but i'm wrong... ..good to see that local OEMs here in the Philippines are considering WP8, although I am getting the L1520 in few days...lol!

WHATT???? im gonna check it out later! i ddnt expect Cherry Mobile to have it, and its very cheap huh. especially the tablet with Office 365.

I'm pretty sure unlike Android at these specs, Windows Phone Alpha Style even at P2,999 and the Windows 8.1 Alpha Play at P7,999.00 won't suck on performance!

hooray for more channels of distribution!

This is the only time I got interested on Cherry Mobile, but that Alpha looks quite thick.

Here is an unboxing: http://m.youtube.com/watch?v=PFKYXbZk-Qk. This phone seems to have a VGA FFC. Pretty neat for such a low price.

I was thinking of saving and waiting for the 730LTE or the 830 but I think they can wait. I'm buying the Alpha Lux the moment it is released. :) Also, it seems like I'll buy the 10inch tablet as my first Windows 8.1 tablet. :) exciting times for me.

Go for it zeddy! Gives us a review after!

Actually Cherry Mobile had Windows Mobile 6.5 before they made Android phones. It's good to see that they're back in manufacturing WIndows Phones again :D.

Looking forward to other OEMs though

Are those unit availble na sa mga cherry mobile kiosk. Cnt wait to have kht yung alpha style lang

Cherry Mobile sells Windows Phone! Lets wait for MyPhone jump to Windows Phone. Then we'll see who sells better and MORE affordable. Cherry Mobile and MyPhone are known for affordable yet (somewhat) quality Android phones.

This should be a sign that philippines should have xbox music service and cortana

I just got my alpha style the other day all features seems to be working my only gripe is the camera no autofocus and photos taken are blurry especially in dim conditions but what can you expect from a 3k peso phone. I wonder when it will get the windows phone 8.1 update1?

I think they already have the update 1. I'm a Cherry Mobile Style User and it works pretty well for me... my phone could last almost 3 days standby time... it's always depends on how you used it though but for me this one is good for me. :) I will do my update later after work and see the cool stuff of the new update. :D

the biggest difference between android and windows. is that window phone is far faster than android. although android has a lot of application, more popular. but let's go to the process. Windows is fast phase phone i've ever use. And beside unlike android a lot of laggy interms of their phasing. so for me i'd pick windows over android. good to hear that about cherry mobile windows.

I just had this Windows * Alpha Luxe * phone recently, and its working pretty well and perfect.
All is well. :):-D
Kudos to Cherry Mobile.
Windows Central Newsletter
Thank you for signing up to Windows Central. You will receive a verification email shortly.
There was a problem. Please refresh the page and try again.