Pic Lock Ultimate for Windows Phone 8, keeping secret photos secret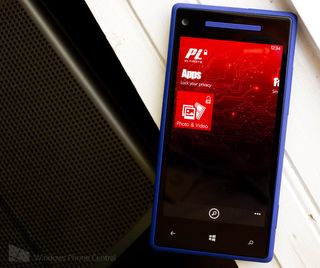 Pic Lock Ultimate is a feature rich photography app for your Windows Phone 8 device that keeps your photos and videos secure from prying eyes.
Pic Lock Ultimate uses a four digit or alphanumeric passcodes, has an anti-intruder system, and a panic warp system to quickly exit the app. Pic Lock is one of the more creative photo/video vaults we've seen but has a few issues that really needs to be ironed out before Pic Lock Ultimate can shine.
When you first launch Pic Lock Ultimate you have to set your passcode (default setting is for a four digit passcode) and a reminder. From there you have an Apps, Favorites and Quick Add page. The Apps page is where you create folders and import images from your camera roll, the Favorites is where you can pull up photos based on keyword tags that you can add to your images.
The security system for Pic Lock Ultimate is rather interesting. Obviously your images and videos are secure by passcode but you also have a surveillance/anti-intruder system that can be turned on in the settings that will activate your front facing camera when access is attempted. If the wrong passcode is entered, a picture will be taken of your intruder. If the wrong passcode is entered three times, the video kicks in. You can review your intruder footage from Pic Lock Ultimate's settings to see who's been messing with your Windows Phone.
The ultimate intruder protection comes with the Self-Destruction setting. If active and there are five incorrect passcode entries, all data in the Pic Lock app will be deleted.
There is one additional security oriented feature that is on the neat side. The Panic Warp System will allow you to shake, flip or set you Windows Phone face down to send your phone to either the Windows Phone Store or Internet Explorer. So if your browsing through your photos and sense someone is looking over your shoulder, just shake your phone to pull up the Store.
While the security aspects of Pic Lock Ultimate stand out, the app isn't too shy on features for managing your photos. You can create folders, share images, and the app also has Skydrive support.
Pic Lock Ultimate is a feature rich photography app but two issues are present that really holds this app back. First, there isn't a trial version available. This turns a lot of Windows Phone users away who want to see what an app or game can do before purchasing.
The other issue is that in testing out Pic Lock Ultimate I was not able to import photos from my Pictures Hub. I could create a folder, give it a custom color highlight, and could see the various folders in my Pictures Hub. On the Nokia Lumia 920, when I opened any of the folder all I would get was a blank screen. On the HTC 8x, I could import images from the Saved Pictures folder but the Camera Roll delivered the same blank screen.
I was able to add new photos to Pic Lock Ultimate by using the camera app but importing was not possible. There isn't an option to share the photos to Pic Lock from within the Pictures Hub either. Hopefully this bug will be addressed quickly because Pic Lock Ultimate makes a very nice first impression.
We'll reach out to the developer and monitor things and we'll keep you updated on any fixes pushed out. In the meantime, if you want to give Pic Lock Ultimate a try, it's currently running $.99 and you can find it here (opens in new tab) in the Windows Phone Store.
George is the Reviews Editor at Windows Central, concentrating on Windows 10 PC and Mobile apps. He's been a supporter of the platform since the days of Windows CE and uses his current Windows 10 Mobile phone daily to keep up with life and enjoy a game during down time.
Cool an app to hide nudes

Exactly! I've been waiting for something like this....

Suicide Girls come to me!

Hmmm this privacy is what "Kids Corner" was made for, or at least what I use it for.. I mean with it no one can access my pictures, phone, email.. That's why I call it guest mode..

True but I wish I could have a password for regular phone use and not kidz corner. It makes no sense that the password you use goes to both.

Kid's corner can access camera roll and saved pictures in order to customize the kid's corner lock screen. I haven't found any way to turn that off.

lol ok then why can I go into kids corner right now, open the customize tile, enter 'choose picture', and see 4 albums: camera roll, saved pictures, backgrounds, and screenshots, and see all the pictures in those albums?

It definitely can on my lumia 920.

now, he could mean that "it can't be turned off"
i don't have wp8 yet so i have no idea

You're right, and I never thought about this.. So, kids can see all my private pictures!! Something needs to be done this.

Buying it when it's fixed.

Heard back from the developer. They are aware of the bug preventing images from being imported and are working diligently to get a fix into play. Once we hear or see the update, we'll pass it along.

thanks..! i currently use Photo Lock so i want to see this updated version to compare which is better, if only when I import photos it would also automatically delete them from the pictures hub, then ill definitely buy it!

I have lots of photos of unicorns I need to hide away from peeps!
Kids corner is busted and I never have a password on my phone

I know some people that really needs this :)

I've been using Get Them All which should be pretty obvious why. ;) It's an app that doesn't draw any attention. If Only I could lock it though. :p I will try Pick Lock though sounds interesting.

This could be a great app I'm gonna give it a spin

Does this work to hide videos too?

Photo lock can hide videos, unfortunately videos can't be imported from pictures hub. But I think it's a limitation in WP API. Only thing missing from photo lock, really...

It does work with videos.

I've been waiting for this app. i just bought it, and have successfully imported some private pics. But I can't see any way to import private videos. Is it possible?
Windows Central Newsletter
Get the best of Windows Central in in your inbox, every day!
Thank you for signing up to Windows Central. You will receive a verification email shortly.
There was a problem. Please refresh the page and try again.