Pic Stitch, a photo collage creator for Windows Phone 8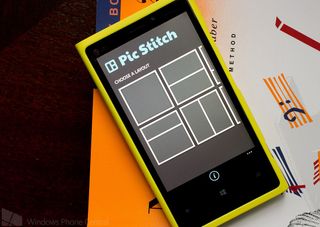 Pic Stitch is a relatively new Windows Phone collage builder with a built in photo editor. It's a fairly simple app that has a nice selection of collage templates that can be customized along with a photo editor powered by Aviary (much like you see in Instagraph and other Windows Phone photography apps).
Pic Stitch is a decent photo app for Windows Phone 8 with the only real downside being that it lacks a trial version.
Walking you through the creative process for Pic Stitch, you have 32 different layouts to choose your picture frame from. Once chosen, you can populate each section of the frame with existing photos from your Pictures Hub or new photos captured by your Windows Phone camera.
Your frames can be customized by the tools that line the bottom of the screen. They include:
Aspect Ratio
Applying a colored pattern
Determining the width of the frames border
Round the corners of the frame sections
Choose a solid color for the frame.
To populate the frames section, just double tap the section where you can either import an existing photo or take a new one. Whichever choice you choose, once you find a photo the photo editor will launch to allow you to fine tune the photo before including it in the collage.
Photo editing tools include your basic editing tools such as cropping, orientation, brightness, contrast, saturation and sharpness. You also have the following creative tools.
Enhancements to exposure
Ten effects filters (vivid, indiglow, aqua, etc.)
Stickers
Free draw tool
Adding text
Fix redeye
Whitening tool
Blemish tool
Once you are through with the editing, save the image and it's inserted in the collage template. You can tap/hold the image to frame it to your liking and once you complete the full collage just tap the export button at the bottom of the screen to save or share the image.
Sharing an image covers a wide gambit and includes Facebook, Twitter, email, messaging, Instagraph, and any other sharing method supported by Windows Phone.
With the aspect ratio set to 1x1, images are saved at a resolution of 1936x1936 at 96dpi. Not ideal for printing but plenty for email/web sharing.
Pic Stitch is not a Lens app (can't launch it from your camera) but does include lockscreen support. From the three-dot menu you can view your picture history (any collage created). The lockscreen image is updated periodically from this history (I think). All of which brings us to two shortfalls with Pic Stitch.
First, there's not a help section to explain things beyond an early screen that tells you to tap on the section to import a photo. You do have a pop-up window when you first launch Pic Stitch that gives you the option to use Pic Stitch with your lockscreen and that it may update the background image periodically. But there really needs to be a reference section to further explain some of the ins and outs of the app.
Second, while there is lockscreen support it isn't very impressive. The Pic Stitch image takes up only about a quarter of the lockscreen. It would have been far better for the full collage to be used as the lockscreen image than a thumbnail version.
Third, bump the resolution a bit. While most of the collages created from Pic Stitch will only be shared electronically, some may actually want to print a few out for framing.
Even with a little room for improvement, Pic Stitch isn't a shabby photography app. The ability to customize the collage frame and edit photos prior to using them, along with all the sharing options being under one roof makes Pic Stitch stand out.
The one thing that may turn some away from Pic Stitch is the lack of a trial version. The full app is only $1.49 but it's always a bonus to have a trial version to let Windows Phone users try before buying. A trial could have been as simple as being able to build collages but not being able to save them. Anything to give us a feel for things. I don't think you'll be disappointed in Pic Stitch but not everyone has the same tastes or needs with their photo apps.
All in all, I liked Pic Stitch and if you want to take the plunge you can find it here (opens in new tab) in the Windows Phone Store. Again, it's running $1.49 and is only available for Windows Phone 8 devices.
Windows Central Newsletter
Get the best of Windows Central in your inbox, every day!
George is the Reviews Editor at Windows Central, concentrating on Windows 10 PC and Mobile apps. He's been a supporter of the platform since the days of Windows CE and uses his current Windows 10 Mobile phone daily to keep up with life and enjoy a game during down time.
Artile does the exact same thing 10 times better even though I guess most people use Phototastic.

No it is not don't spread lies

Have you tried Acolart? Lilleverden. It's free!!! http://www.wpcentral.com/acolart-windows-phone-photo-application

Where can i find this Artile?
Ive searched the market store on wp8 but no matching results

http://www.windowsphone.com/s?appid=2293677d-03d9-440e-9fcd-44fc12f0c8d8

Wow. Didn't know about Artile. Purchased.

Thank you for Artile. Just purchased and I have to say it's absolutely awesome!

Thanks for mentioning Artile, just downloaded the trial, seems very good and I prefer it over Phototastic!

Have you tried Acolart? Tahiti. It's free!!! http://www.wpcentral.com/acolart-windows-phone-photo-application

This might be a very good app, but with other apps out there that are free and offer similar functionality, how can the dev not offer a trial version? Beats me.

What's even worse is the fact that this app is actually FREE on iOS. I for one rather support Artile or even Phototastic or similar apps, than giving this dude my money.

When are we going to stop with photo / chat apps gezus :| we need new browsers or data monitors or games or new update news , 3 weeks now all photo, camera, instfans killl meeeee :'(

Us needing those apps doesn't necessarily mean that photo / chat apps have to stop. And thanks for speaking on behalf of everybody.

People still complain about IE? When will they learn..

I'm windows phone fan boy but I don't make up things like u IE is superfast but with the lack of important features like adding favorites as many as you want or only having 8 tabs which I need more kinda kills the enjoyment -_-

+1 Especially the data monitoring point. C'mon EE, where is my f****** Data Sense. You have had long enough. On this point, can anyone on Verizon provide feedback on the apps functionality. Thanks.

Are there any rumours of it being in works for EE? I doubt we are getting data sense. It's not available for any UK networks, right?

It isn't currently available for the uk networks but EE was rumoured to have started work on it though this might have changed as they are making a myEE app for WP and its supposed to be similar to DSense in a monitoring sense. Data compression i am not too sure about.

not worth the money. The quality of the pic is very bad.

I wonder if the guys at WPC aren't paid to only review certain Apps and report about certain countries...I'm having a feeling they are.

Oh come on! Obviously they're not. Pic Stitch is one of the most popular apps on iOS, that's why is kind of a big deal it came to WP, regardless of the app itself, or the alternatives there are on WP already.

I myself dont see why it is that popular.

I wouldn't say they're paid but they do seem to favour some apps/devs a bit too much. For instance most people prefer WPGram as an Instagram viewer but only Metrogram get mentioned here. Pic Stitch isn't the best at what it does either but gets under the spotlight because it has a name. That's why it's good to read the comments :)

It's more of what the reader above mentioned. PicStitch is a very popular app on iOS and then went to Android because of demand as well, so think as a windows phone central blogger, you want the OS to gain marketshare and mindshare right? well you write about certain apps that get's the readers attention, you write about apps that new windows phone users can read about and say oh wow they have PicStitch on the store? oh im familiar with that, great I already have one less app to worry about... feels me playa? or so that's my thought any who :P

Artile! It's like you are avoiding mentioning it... Wtf.

Have you tried Acolart? tone84. It's free!!! http://www.wpcentral.com/acolart-windows-phone-photo-application

Why is the frame on that yellow Lumia so wide?

Probably a yellow case around a black Lumia

It's just a Nokia gel case.

How come the all the popular iPhone apps that are free, we have to pay money????

It's not free on iphone, it has iaps while here you get the full product.
Now, Phototastic in my opinion is a better app, but calling the free juvenile stunt or asking for WP to resort to iphones's and droid scam of pseudo free app is doing a disservice to our platform, it is better to avoid iaps.

Looks good! Might try this out.

Why do devs continue to use Aviary? Is it free for them to hook into because it's really not that good.

Have you tried Acolart? cannon. It's free!!! http://www.wpcentral.com/acolart-windows-phone-photo-application

Somehow bought this app, don't remember doing it. Resolution is so low on the pictures they look pixelated. Dev should be embarrassed to have this in the store. Want my money back.

Have you tried Acolart?. It's free!!! http://www.wpcentral.com/acolart-windows-phone-photo-application