PicsArt for Windows Phone snags new interface, tools, and effects in latest update [Update]
Original story: Photo editing app PicsArt has received a pretty hefty update on Windows Phone today, bringing an all-new interface along with several new features.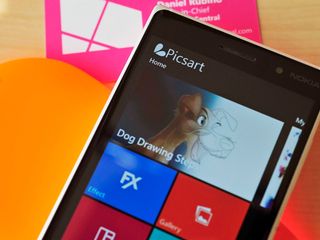 Update 2: The PicsArt app is now back in the Windows Phone Store.
Update: The app has been pulled from the store as it apparently is crashing when users try to open it. We will update this post when it goes live again
Along with the refreshed interface, PicsArt users can now import images from Instagram and touch up their images with a number of new tools and effects.
Here's the breakdown of what's new in PicsArt for Windows Phone:
New Interface -Import Instagram
Import PicsArt #FREETOEDIT pics
Curves Tool
Enhance
Motion Tool
New Effects
Effect Draw,
Mask Draw
Repost
Landscape orientation
As you can see from the screenshots above, the new interface looks quite a bit cleaner than before. The refreshed UI features a new white icon for the ever-present logo in the upper-left corner and uniform tiles for accessing different features of the app.
Overall, this looks to be a pretty nice update to one of our favorite photo editing apps on Windows Phone. If you'd like to snag the update for yourself, you can hit up the store link below to get started. There's no word if the Windows 8.1 app will get the same treatment, though we will keep an eye out in case it does.
Download PicsArt for Windows Phone (Free)
Thanks, Yahia, for the tip!
Dan Thorp-Lancaster is the former Editor-in-Chief of Windows Central. He began working with Windows Central, Android Central, and iMore as a news writer in 2014 and is obsessed with tech of all sorts. You can follow Dan on Twitter @DthorpL and Instagram @heyitsdtl.
At lastttt !!!!!!! Wohhhooooooo :D reinstalled the latest version that was just uploaded again by the dev its still doesnt work loll wtf :P

thank goodness.. now my app crashes everytime I open it .... good job guys

Need a fix for it Asap..!!

Yeah. I thought I was going to give this app a shot. Aaaaand disappoint! As previously stated, it crashes upon app launch.

Have you tried to reinstall the thingy?

so you finally motioned that it's crashing huh?... you suck

Dang, you guys are a tough croud.
This app is a really editor, with more functionality than most in its class. They have one issue during a rather large update, and folks are sharpening their knives for the kill. How about we give 'em time to identify and fix this? Not like the inability to use this will cause Armageddon or anything. Its just a FREE app, after all.

+630 and +830 updated again and again crashing

These photo apps (this, Fotor, etc.) are nice and all (and getting better) but they honestly still all pale in comparison to VSCO

True. I wonder why VSCO is so stubborn.

PicsArt is the best editor on Windows, and the one I used most on android too. The HDr effect is amazing.

Fantasia painter is the best for me ;)

For me too!
Fantasia > Fhotoroom > PicsArt

I don't like that app. I find my self editing much more in my Lumia than in my Android. Mostly creative studio is my go to app. But others (fotor, camtool, fontcandy, momento+, etc) have a lot of awesome features.

I mailed vsco and they said they are still looking opportunities into the platform.. :(

Same here, crashes at start. Lumia 930

Crashes at start too +635

Crashing here too... Lumia 930

Crashing on my Lumia 830 too.

I thought I was the only one... +920

Not work for lumia 520 :( :(

Not working on 1520 window 10

AT&T Nokia Lumia 1520 it crash at start

After the update it keeps crashing on startup on my HTC One M8.

The app crash right after i try to open it on my 1520 !!! Ok i guess there is a crash problem lol

Basing on the comments, I'm skipping this update.

Crashes immediately after starting. Lumia 925.

Based off of these comments it might be helpful to update the article for those who don't bother to read the comment section.

I stopped using this app for the poor quality of the exported pictures. I'm gonna give it another go.

At least it's not just me crashing.

Crashed on my 1020. Download froze midway. App won't open now.

Can you blur pictures? Like any part of the image you want, not just the full image? Struggling to find an app with that feature.

If you have a Lumia device, try creative studio. It can blur any part of the you want ;)

Crashed on Lumia 625, can't launch the app

Pics art crashes after the update.... I have a Lumia 1520

DO NOT UPDATE!!! The app won't even open now. Lumia 730.

Yes, the app doesn't open at all after the update.

The snapdeal app also got updated today and its also crashing at startup

Not running in my Lumia +720

Crashes at start in Lumia 720

This update not working it keeps crashing after update in my 630 can't even open the app

I'm wondering how Dan is able to confirm the changes or just by reading the change log?

It is not opening in my L1520, force closes at start :(

When universal? #windows10

lol... Doesn't even download.... "tumse na Ho paiyega" :p

I reinstall the app, but can't help...

App crashes on my 930, but works fine on my 830 running windows 10 TP. ... Oh wait, yea it crashes in win10TP right after you upload a pic from your gallery

...I am really getting bored with having a windows phone. It it ain't working it isn't existing. And if it exists AND works it gets shut down and your account (snap chat) gets banned. Just so much hassle all the time! I'm serious thinking about trading my 930 for a android device. So sad.

Crashes every time on 730

Cannot open for 512mb devices

MTN Lumia 930
App CRASHES

where's the update....in the store it shows last updated as 07/08/2014.

Works great on Lumia 1020... until you dont start the app :))) carshes onthe begining!

Crash in Lumia 830 and 520

Force close after update -____-

Crashing immediately after launch

Crashes as soon as it's launched. Something's off here...

work fine with me.. Lumia 640xl

Crash at launch Lumia 730

Crash crash crash... Now can't use it. This is called update????

crash crash crash crash crash crash crash

Crash when I open it .NL 830

May b because of W10 technical preview

Now this is removed from store.i can't download now

App removed frm store!! Bull****

This means that a fix for the app is on its way..!! :)

Yes! App removed from store!

My app is not updating. Asking this app is not for your device. :/ is or for 512 mb ram or not? Or they have pulled there updates. Anyone having this problem?

This app removed from store right now :'(

The app is no longer available for my device

Crashes Crashes Crashes +730

THIS APPLICATION IS NOT WORKING ON MY LUMIA 630 DS

It's removed from the store.

Download stuck halfway..... Not available any more !!!

They obviously pulled it soon as they realised it wasn't working properly. Of course, instead of using what brains they have, all the comments here are just 'doh, it crashing, oh ma gaw!'. Just wait for a fix.

And they have pulled the app from the store. Nice!