Pictures Lab update for Windows Phone 8: We take a sneak peek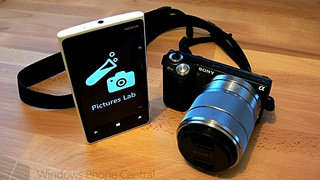 One of the first and the best photo editing apps for Windows Phone, Pictures Lab, is getting ready to be updated to version 5.0 to better support the latest version of the mobile operating system.
The developers have been consistent in delivering updates since its release and with the latest incarnation we grab some performance improvements and support for all the Windows Phone 8 screen resolutions. Read on past the break for more details on this impending update!
For those not familiar with Pictures Lab, the app is designed to allow for quick, on the go editing of your snaps. Many difference effects can be applied to the image; there are 30 pre-set effects which you can simply swipe through along with the ability to add borders. If you're looking for a solid photo manipulation app then you should check out this one.
Verion number, General Settings & Sharing Options..
Here is a list of the changes for upcoming version 5.0
Update to Windows Phone 8 with much improved performance and support for all 3 screen resolutions.
Lens, Rich Media (post edit) and Edit Pictures Hub integration.
Support for huge images and also low memory devices.
New Winter border / frame.
Many UI improvements.
Countless bug fixes and tweaks.
Fixed translation issues.
We're pleased to see this continued support from the developer to include new features for Windows Phone 8. Due to the CPU intensive nature of image processing the biggest change many users who from Windows Phone 7 will notice is that of speed. Things fly along nicely and the effects don't take too long to apply in full compared to their single core counterparts. Elsewhere in the app there a a number of welcome UI tweaks and changes.
The all important Effects, Borders and Cropping Controls..
Many of the effects have a number of settings and adjustments as you'd expect and you have the option to apply more than one if you so wish. On the whole its pretty easy to pick up and get some good effects applied quickly, once done you can of course share it out with your ever present social networks.
The version I am using is said to be close to final so we don't expect much to change beyond what we see now. The update will be free for existing customers but otherwise the app costs US $2.99 or UK £2.29 to purchase. There is of course a trial available for those that wish to evaluate the software.
As soon as the app update hits the Store sometime next week we'll do a follow up post to let you all know, so keep an eye out for that, there may be a nice surprise involved.
Are you a user of Pictures Lab? Have any good tricks or tips to share? Do let us know in the comments below.
Download the app here or scan the QR code below
Windows Central Newsletter
Get the best of Windows Central in your inbox, every day!
Are pictures edited with pictures lab saved at full resolution like those from Creative Studio? Also, how do you think it compares to Creative Studio?

You can specify the compression and quality in the App settings. Compared to Creative Studio, this one is akin to "Photoshop" and Creative Studio like "Paint. This is complexity wise, of course.

Does that mean you can specify no compression to keep at full resolution?

You can compress an image without affecting its resolution. The resulting file will be smaller when the compression is increased. Compression is done at the expense of detail (quality) in the image.

So many photo editing apps... I just want someone to point me to the one that does the best job

Fantasia painter. Like Photoshop for your phone. Quick editing basically any app you like.

They all do a great job. The problem is, what type of editing would you be looking for? For example, "Fhotoroom" is now free and has lots of options. So much actually, that at one point I thought the social Integration was its main emphasis, and editing an after thought. Then you have Picture Labs, which is another great alternative, where editing is its main point (IMO).
Creative studio is what pictures labs is without the tons of filters and alot simpler. Its made for users who just need to add a quick edit. Launch the other Photo apps and it takes longer than Creative Studio plus the edit of a photo.

No support for Htc Phone 8s?

With creative studio being free is this worth the price?