Pledge $400 for the NuAns NEO, receive a case and cover along with the phone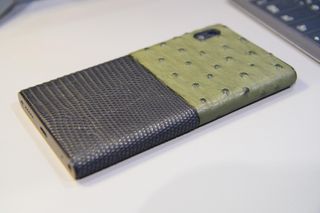 The highly customizable NuAns NEO is on Kickstarter, where it has received pledges worth $125,000 toward a total of $750,000 with 20 days to go. The phone offers a unique design that can be customized through interchangeable covers, with a total of 64 options available. The makers of the phone have introduced a new tier that allows you to pick up the handset as well as a TWOTONE cover and a FLIP case for $400.
From Kickstarter:
The phone offers Windows 10 Mobile with Continuum support, and is powered by a Snapdragon 617 SoC. There's a 5-inch 720p screen at the front, and under the hood you'll find 2GB of RAM, 16GB storage, microSD slot, 13MP camera at the back, 5MP front shooter, NFC, USB-C, LTE (Bands 1/2/3/4/5/7/12/17/20) and a 3350mAh battery.
The phone can still be bought using the early bird tier for $270, which nets you a cover or case as well. You can then buy an additional cover for $30, bringing the total to $300. The deal is limited, so if you're interested, best act now.
Windows Central Newsletter
Get the best of Windows Central in your inbox, every day!
Harish Jonnalagadda is a Senior Editor overseeing Asia for Android Central, Windows Central's sister site. When not reviewing phones, he's testing PC hardware, including video cards, motherboards, gaming accessories, and keyboards.
Ehhhhh... ill take my chances holding out for oneplus and xiaomi windows 10 roms

+1 I'd love to tinker with the possibility of a dual boot on my one+. Great devices and bloody hard to brick ;-)

Would absolutely love to see that happen

They're goal is $750,000?!? Yikes. If this Kickstarter project is the only way NuAns comes to the US, you can kiss that dream goodbye. Completely unrealistic funding goal.

And this is not even a new company. They have a name and money already!

750k isn't really that much. Maybe enough to make 5,000 phones? And that's not considering backer rewards, marketing, legal arrangements etc etc etc etc etc...

That's around 2000 phones. You expect someone to invest if he can't sell 2000 phones?

It's a startup with a proven product (in Japan). The cost of getting certified in the various markets is huge. They need a subsidy on that and proof that the target markets will welcome the device.

My understanding of Kickstarter is that if it doesn't hit the target, Nuans get nothing and pledges are refunded. It's looking unlikely that it will get funded. Surprised they didn't go for Indigogo, they have listed a product that is already available and Indigogo allows people to collect pledged money even if they miss the target. On top of that, Harish, I don't think it's wise to start the last paragraph with "The phone can be still bought" - it reinforces the incorrect perception that Kickstarter is a store and that you're buying a product with guarantees of receiving it or getting a refund, rather than making a donation with a perk in exchange it it works out - even for a company already shipping the item advertised, it's still possible that you won't get it if they run out of money. It's not common here but there are plenty of tech sites that post about a new gadget, only for it to be a kickstarter or indigogo listing which makes it possible that you can donate your money and get nothing for your money at the end of it.

Thanks Windows Central for keeping people reminded about this Kickstarter programme.
Kickstarter is not my method of choice to get a phone though.

No Pokemon, no new Windows

There's more to life than having your time dictated to by fictional characters. There have been reports of muggings in UK because those who just have to spend their time searching for a digital character, have their fashion devices on show.

Geez that's idk what to say. Posted via the Windows Central App for Android (V10 or Nexus 5X)

I installed Pokemon go on my Android phone.. Caught two, now I am bored of it... Posted via the Windows Central App for Android.. But waiting for the HP Elite so I can get rid of this junkie Galaxy S5...

As much as we dislike this, it is the truth. I've seen more than one person ditch their Windows Phone lately purely because they want to play what their friends are playing. This one app is slashing the Windows Phone marketshare.

You folks realize that back at MWC NuAns said they'd do a global version if they got an order for 5000 phones... at $300 each that's 1.5million. This goal is half that, and the number of devices is paltry when you consider how many ten or hundreds of thousands of units most devices are made in. I love this design and am hoping against hope that somehow a global variant gets made.

well have you paid for a unit via Kickstarter?

I was in like Flynn. I checked every day for the last week of June waiting for this to launch, and ended up desperately searching for a cell signal strong enough to get through the process while I was out in the boonies camping. ​#givemeaneo

Maybe its down to economics of scale? As you say hundreds of thousands of units. IPhone at £600 x hundreds of thousands means huge profits, and thus investment in more units. As most devices are just rehashes of the previous generation, the mark up and potential profits far outstrip these kind of production runs.

No way this reaches it's goal, which is a shame cause I really like the design. (Also I'd back but I'm on Verzion.)

Hp soon in the same place.

HP also into a Kickstarter???

Why not. Its the main market place for Windows phones.

It isn't for you btw. It's for enterprises that have shown interest in this phone. Go to your mama now.

Not enough interest to actually support it though apparently.

I'm in for mine. The price for a Continuum phone is great.

I'm tempted, the design is great and reminiscent of the old Nokia Lumias that won me to the platform, but I just can't afford to put down that amount of cash for what would be more of a collectible for me. W10M is also terminal so I'm not inclined to invest in another handset, once my 950XL contract is up its likely I'll have to change OS. Edit: looks like the downvotes are out in force for a marginally critical comment.

What do u mean by "terminal"?

As in dead or terminated.

Their kickstarter page is beautiful

275$ for a Continuum phone is awesome.

Never thought of it that way, that is a nice plus. Hopefully the performance keeps up though, it's not exactly /amazing/ on a 950. Totally usable though.

This kickstarter have been ruined by Pokémon GO. backers numbers down one by one.. so sad.

wow are playing games on a smart phone that big a deal. i donot play games on a smart phone becuse to me their screen is too damn small. 8 inch tablet screen is the smallest screen i want to play anygame on

While you don't, others do and I think those others outnumber those who don't.. In the consumer sector anyways

I think we have entered in a Pokémon crisis. Microsoft needs to act quickly. Or else their focus on business will be the only one.

MS executives are busy playing Pokemon Go. First things first.

US Windows smart phone fans want a windows 10 mobile smart phone with "continuum that wont cost a person an Arm and a leg. folks the Nuans-"Neo" Windows 10 mobile smart phone with "continuum" will cost hundreds of Dollars less than it's competitors. that alone makes it worth looking into.

Then why is this Kickstarter struggling so hard? Obviously people are not looking for a Windows phone. Posted via the Windows Central App for Android

Maybe we have entered in a Pokémon Go crisis, I am not interested on the game so far, but this will be a killing feature that will maybe kill the platform for its consumer market. If there is one app that Microsoft should pay the developer this one is that app.
I will continue using Windows because I use it for business, but if Pokémon comes to the Windows Store maybe the sales will increase as fast as the game increased.

The pledged total is actually lower than it was when I checked a little bit ago.

Its not lower, just retrenching.

If I didn't already have a Lumia 950 XL, bought a 950 for my girlfriend and have a 640 updated to Windows 10 Mobile for her daughter, I would consider this. However, I just can't justify it when we all have phones and MS says Mobile isn't the focus this year (yet again).