Why you should forget about Windows Media Center and use Plex
Plex is your new best friend for streaming all media.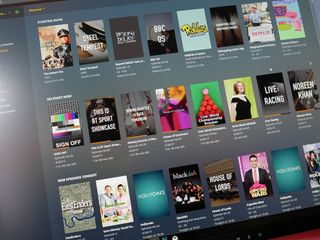 Plex is a media streaming and consumption platform, consisting of clients, media servers and backend support for metadata, and much more. You can think of Plex as a way to not only catalog all your movies, music, podcasts, and more, but also a gateway to live content and DVR. With the closure of Windows Media Center, Plex can be considered as the perfect replacement.
It was confirmed in 2015 that development of Windows Media Center (WMC) was shelved and the software would not be bundled with Windows 10. Users of WMC have had to analyze the competition and see if any alternatives can replace Microsoft's offering.
We can confirm that due to decreased usage, Windows Media Center will not be part of Windows 10.We can confirm that due to decreased usage, Windows Media Center will not be part of Windows 10.— Gabriel Aul (@GabeAul) May 4, 2015May 4, 2015
We've covered Plex extensively, but what does it actually offer for WMC users?
Plex loves media
DVR was an important feature of Windows Media Center, which essentially turned your Windows PC into a TV tuner. This allowed you to ignore the requirements of a set-top box, enjoy all your favorite TV shows via WMC and even record them. Plex too comes rocking support for DVR (opens in new tab), and you can do all this and more.
It's even possible to use the Xbox One TV Tuner (opens in new tab) in select countries and have channels added to Plex.
But it's not just live services Plex can tackle, it's also seriously good at cataloging everything. And I mean everything. Have a messy music library that has never been sorted by WMC, iTunes or other media app? No problem. Add it as a library in Plex and let the software do the rest. Once everything is on the Plex server, it's available to all connected devices, be it a phone, tablet or TV.
And if your collections are beyond saving, Plex can even attempt to fix metadata mismatches, identifying artists, albums and songs. The software is also competing against Spotify in a way as with your own music collection, it's possible to have it all synchronized to a smartphone, enabled for offline use and you're good to go on that flight.
It's also incredibly easy to get started. We've got an entire guide dedicated to setting up Plex, which is a great place to start.
Plex Pass for even more
For as little as $5 per month (there's a one-time lifetime purchase option for $150), Plex offers a premium subscription, which unlocks the following:
Early access to new Plex features.
Access to preview release versions of the Plex Media Server and other apps before they're released generally.
The latest Plex apps for Android and Roku are yours free.
Premium features like Plex Sync, Cloud Sync, and Camera Upload.
Access to dedicated Plex Pass forums where you can ask the Plex Ninjas questions as well as vote up new feature requests.
A way to show your direct support for Plex.
Perks are usually worth it alone, allowing you to take advantage of deals scored by Plex's partners. For instance, WesternDigital can be found to offer discounts on NAS hard drives — perfect for Plex Pass owners who need to build a NAS.
How to pick the right NAS for Plex
Clients can be downloaded for free. You can also download and run the Plex server without charge too. Plex Pass is only there if you want more advanced features, making it a great way to test everything out before diving into the deep end. As for us here at Windows Central, we're big fans of Plex and can easily recommend it for those coming from Windows Media Center.
$4.99 at Plex (opens in new tab)
Windows Central Newsletter
Get the best of Windows Central in your inbox, every day!
Rich Edmonds was formerly a Senior Editor of PC hardware at Windows Central, covering everything related to PC components and NAS. He's been involved in technology for more than a decade and knows a thing or two about the magic inside a PC chassis. You can follow him on Twitter at @RichEdmonds.
I tried Plex a while back and found it a confusing, irritating mess and nigh on impossible to set up. I do miss WMC. I use HD Homerun for DVR now - cheaper than a plex pass but a lot more limited than plex is, allegedly.

You're reading this article but found PLEX difficult to setup? *mindblown

Same here, it was a real pain to leave WMC. I got fed up with Plex and eventually switched to Emby. More clear and better TV/DVR support. Also, it integrates perfectly with Kodi.

I have to agree, which is a shame. Limited support from devs. Limited streaming capability. It doesn't like streaming certain files (mp4 or mp3 are "fairly" reliable). I have a 70mb/s connection and plex makes it feel like dial up. That spinning disk is infuriating. It's okay if you want to watch stuff on a pc but streaming to anything barely complicated messes it all up. The interface was okay 10 years ago. Limited setting options and using it with alexa is a nasty joke. Don't pay for it either, it has nothing useful to offer over free.

I need to figure out how to have it just work in my house using my home nas. I get inconsistent issues when using the app on my FireTv, roku, xbox one.

I really HATE the way Plex organizes everything. I just want folders the way WMC does it and until then I will keep using WMC.

There is a setting in several of the Plex apps for "folder" view. Which displays everything in a file tree the way they are saved on their drives

I use Kodi's file manager under the settings to browse movie folders on an external USB HD streamed by a DLNA server in my router. Plex is just too complicated.

The only thing I would like to see the Plex DVR feature do that media center does is allow you to start watching a recorded show before it is completed recording. Otherwise I love everything about plex and the plex pass. I find it very easy to setup and maintain. I have the plex media server installed on a windows 10 box with a dual tv tuner card and it works great.

I was able to do that for the football game I was watching this weekend. I had it recording and when I went to the Plex app (on an Xbox One), and found the game, it asked me if I wanted to play live or from the beginning. I played from the beginning while it was still recording. Plex has a ways to go on DVR but this seems to work for me. I really wish there was a guide in the apps instead of just tiles.

I'd love to hear how you are using plex with windows 10. I love plex, I've just had one issue that I can't seem to get fixed since I had to move to windows 10. I have an HDHomeRun that worked great when plex was set up on windows 7. But my motherboard died and when I replaced it, I had to move to windows 10, the was no support (nor drivers) for win 7. So anyway, I got everything installed and plex crashes every time I go to watch live tv, I have to restart the app on my server. It works fine with my media files though. I've looked all around and can't seem to find a solution that works for me from forums where people had a similar issue. Any help on if you had that problem or what settings you're using for your tuners or what tuners you're using would be helpful.

I was in the same boat. MCE IMO still can't be beat with DRM channel support which to my knowledge can't be done with Plex or any other solution out there now. I have tried Plex and don't like the live TV and DVR interface and guide. Check out Emby. It's similar to Plex but the live TV guide and DVR is much better IMO. I recently switched to Emby and it works on basically everything and has a decent guide and DVR.

100% this. I'm a heavy Plex Premium user in my home, but WMC cannot truly be replaced by something that doesn't handle copy-once recordings, full stop. Also not being able to watch in-progress recordings is frustrating. Plex is fantastic for lots of things, but it doesn't handle the most crucial feature of WMC on any real capacity, so I don't consider it a replacement.

No. Plex is a Media Server. It streams the content you already have in digital format, but, with the exception of recorded tv, does not have any tools to rip/create content. I use Exact Audio Copy (EAC) to rip cds, then MusicBrains Picard to tag the music before adding the files to my Plex Library. Plex is amazing at matching metadata to movies and TV shows (assuming you follow the naming format), but it is pretty weak still at matching music. If you are just looking for a music library manager, Plex is WAY overkill. Plex is more like having a personal Netflix/Spotify.

Yeah I'll just keep running WMC instead. Plex and others still don't have every feature like other commenters have pointed out.

Emby is a far better alternative to Plex.. works directly with WMC, is feature packed with tons of support,plugins,etc

Thanks for the tip. I'll give Emby a try.

wmc could have been the goto OS for SmartTV's but then
Microsoft happened

I switched over from WMC to Plex earlier this year, and while I don't regret the decision, I've found that the DVR experience is far less polished. It's true that Plex has many features that WMC never had, but it's far more prone to mysterious recording failures. I've seen instances where the recording fails to start, starts but fails to complete (just keeps saying "recording" until you reboot the server,) and instances where it records a show then deletes it immediately. On top of that, there are two huge annoyances in the way that Plex handles the deletion of media that the developers don't seem to be interested in changing. 1. Every other DVR solution I've ever used has, by default, deleted the oldest recordings when starting a new recording that the storage drive wouldn't have enough space to complete. When the target storage drive for Plex DVR fills up it simply fails to record. 2. Plex handles DVR media in the same way it handles media obtained by other sources (DVD rips, for example.) So, if you were a big Murphy Brown fan, and you had spent the time to rip all 10 seasons of it and add it to Plex, if you had then started DVRing the 11th season that's currently airing and set the rule: "keep the latest 3 episodes," it would delete all of your DVD rips, save the 3 most recent episodes. I wouldn't normally set these kinda of deletion rules except it's the only way to keep the drive from filling up without manually deleting.

I installed Plex on a couple of my computers, but it generated so much metadata and was slow to update that I got rid of it. I just want to watch the movies I have downloaded in their folders. To my great relief I discovered Universal Media Server. It's simple, fast, lightweight, and does exactly what I need without the overhead. But, what I really like about UMS over Plex and WMC is it quickly and consistently connects with my WDTV Live Hub, and with my smart phones running a DLNA client. When I get on my treadmill, I expect to watch a movie without fumbling or worrying about how to connect. It just works.

Nothing will ever be as good as Media Center in my opinion. It was easy to use, easy to navigate and just WORKED

media centre was awful, my movie collection didnt even have proper thumbnails,, something many many other alternatives got right and have done for years. media centre was a mess visually. It could have been great but microsft never fully finishes with polish.

I've experienced constant video stutter in playing general, nothing special 1080p MP4 files on Plex. Their support is effectively non-existent and no one in their forums has actually worked out how to fix this when you see it. You're forced to muck around with a bunch of poorly explained options in hopes of landing on the right combination of settings to actually fix the issue. The app is beautifully designed and easy to use, but when basic functionality won't work, it's not something I would recommend.

plex app is no longer in windows store so buying a surface tablet or any windows product is no longer an option if you want plex. i never thought the abandonment feeling of windows mobile would reach its windows 10 desktop but with microsft not proactivly taliking about the issue looks like plex has gone. whats next netflix app? And still no first party editing tiles option either lol. its no wonder plex is gone, looks like microsft is still lazy missing such basic tfeatures that should be baked into windows 10. fancy a start screen of shortcuts hum defeats the purpose of haveing a atractive start menu.