Plex app for Xbox One coming tomorrow, comment and win a lifetime premium membership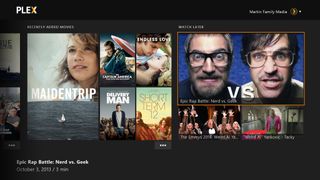 Ready for the official Plex app on Xbox One? Good, because it comes out tomorrow. Those with a Plex Pass premium subscription will be able to download and use Plex on their Xbox One. Not up to date with Plex? It's a super snazzy set of software that allows you to stream your photos, music and videos from your home computer to nearly any screen.
To celebrate the launch of Plex on Xbox One, Plex has given us a free lifetime Plex Pass premium subscription to give to one of you. Read on to enter.
Plex works when you install the Plex Media Server at home. You can install it on your PC, Mac or Linux computer or nearly any NAS (network-attached storage) device. Once installed, let the Plex Media Server know where you store your photos, music and video. From there Plex makes your content available on Windows Phone, Windows, Xbox One and nearly any other device through official apps for Plex.
The Xbox One app launching tomorrow will just stream video content. For the initial release, the team at Plex wanted to give the Xbox One app a killer video experience. Don't worry though, a future release will introduce photo and music support. Plex is debuting a new interface on the Xbox One app to make your video media shine. Those on with the Xbox 360 can also look forward to a Plex app coming out in the next few weeks.
Look forward to the following features with Plex on Xbox One:
Beautiful New Design
Your Plex Media Server makes your media library look beautiful by automatically collecting and displaying artwork, content ratings, plot summaries, and more for your media. Now, Plex for Xbox provides a new experience in your living room with a bold presentation that feels right at home on Xbox.
Media Discovery
Plex for Xbox introduces new media discovery capabilities to the Plex experience. Plex users will now be presented with customized categories of content based on viewing habits. These customized categories will make it easy to discover new content, enjoy similar content (for example, based on genre or cast) and rediscover content that has not been viewed for a while.
Plex for Xbox also includes fan favorites like On Deck, which keeps track of shows you're currently watching, allows you to easily continue watching where you left off, and automatically suggests next episodes.
Voice & Gesture Control
Plex for Xbox, combined with Kinect, supports voice and gesture control, allowing users to navigate their Plex media library, view content, and control playback without picking up an Xbox controller.
Leave a comment and win a lifetime Plex Pass premium subscription
We'll have a hands-on with the Plex app on Xbox One app when it launches tomorrow. But for now you're probably going to want to win that lifetime Plex Pass premium subscription. We'll tell you how in just a second.
As we said, you'll need to be a Plex Pass premium subscription member to use the Xbox One app when it launches tomorrow. Well, what do you get with that Plex Pass?
Camera upload: Wirelessly sync your phone or tablet photos automatically
Plex sync: Bring your media with you on your Android, iOS, Windows 8.1 or Windows phone 8 device and enjoy it offline
Cloud sync: Sync content from your Plex Media Server to supported cloud storage providers and enjoy it anywhere you have an internet connection
Trailers & Extras: Automatically gather high-quality movie trailers, interviews and extras for the movies in your library
Free Apps: Access to free apps on devices like the Roku
Multi-user control: See what your friends are streaming from your collection. Everyone gets their own view into your library
Plans for Plex Pass start can be yours for either $4.99 per month or a yearly price of $39.99. The package you're going to win is the lifetime membership, which normally goes for $149.99.
To win a lifetime Plex Pass membership all you need to do is just leave a comment on this post. In your comment, you should tell us why you NEED to be a Plex Pass premium member for life. The more creative, the better! We'll pick our favorite when the app goes live tomorrow.
Looking forward to Plex on Xbox One?
Get the Windows Central Newsletter
All the latest news, reviews, and guides for Windows and Xbox diehards.