Popular mobile game Head Soccer now on Windows Phone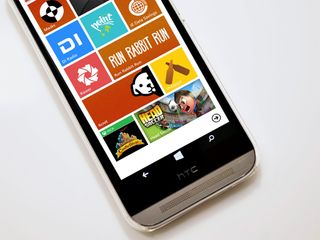 Head Soccer is a very popular mobile soccer (ahem, football) game on Android and iOS. And it's now available for Windows Phone! The game sneaked into the Windows Phone Store earlier this month, but flew under our radar. Read on for the trailer of this fan favorite game with 512 MB support!
Here's a list of all the features you'll find in this first release of Head Soccer on Windows Phone:
Various 47 Avatars & Unique Special Shot !!
5 Game mode (Arcade, Tournament, Survival, League, Head Cup)
Bluetooth Multi Play Mode(Play with your friends near!!)
Physics based gameplay (Box2d)
Leaderboards
Submit Facebook
Head Soccer is available for free on Windows Phone and works on 512 MB devices! Let us know what you think of this game.
Via: WinPhans
Thanks for the tip Usama J!
Windows Central Newsletter
Get the best of Windows Central in in your inbox, every day!
Finally, I've been waiting for it for too long

Looks cool... and weird
Pong meets street fighter?

I've been waiting for this forever

Yes! You use the correct version of the English language. I'm almost ready to forgive the 'addicting' article!

There's no universally correct version of English.

Or any language if you clutch straws

I was only teasing, but I am a Brit, so... Brit English is the right version!

Well, I'll allow it this time. :P

Unlike the author of this app whose English usage is atrocious.

Wow, all my friends are playing this...

Thanks for the tip credit once again! :)

Once again :p how do they give you tip credit and what u can do with them ? , sorry but curiosity xD

Another game not available here in Brazil... :/

Well, Change your Region to USA then download it and then set it back to Brazil. I'm from Chile and I do it that way whenever anything is not available on my Region.

I'm from Portugal and my region is set to USA full time. No problems with that, you should do the same.

Exactly, I'm from Malaysia and I set my region to USA literally since day one. I don't see a problem at all.

Love this 6cret tile haha

Finally , after posting hunders of times on their Facebook page

I literally was just about to tip you guys about this

Wedges the 512 banner!? :P

Give the heads long wooden pointed dowels and helmets and call it Head Jousting. I'd be in for some of that fun.

I think that its a stupid game .. Well it may be good for kids but as a grown up guy, No.

Not football. That's kickball. ::hauling ass out of post::

That's right, after a comment like that, you had better just KEEP RUNNING! http://jarviscity.com/wp-content/uploads/2014/02/50-First-Dates-Baseball-Bat-Scene.jpg

Hey, I'll download this to my Surface 2!! ...oh, it's not available for that. Imagine that.

Really fun and addictive game but looks a bit grainy on the 1520.

Do I have to play it online?

Does it have multiplayer ?? Can't find it

Always fantastic hearing popular games migrating to Windows Phone! I'm wondering Sam, if you've heard anything at all about baseball and football games soon to come to WP? It's desperately needed to help attract US market. Thank you in advance for any answers. :)

Company of tanks is also a great game! Fans of WoT would love it, its online only.

Reminds me of the Inazuma Eleven anime series..

Now what is really needed is clash of clans Posted via the WPC App for Android!

aoe just arrived er don't need clans. even the aoe domination is coming in December.

I didn't know about this game before this article. I installed to be played by my kid, and I'm very happy they ported it to windows phone, they still need to optimized for higher resolutions, in Lumia 1520 it looks kind of pixeled. But nice effort, they need to continue the good job.

Can someone tell gameloft to reduce price for real football

I download it because I got thumbs up from a friend, huge game, thought it was gonna be a let down, but guess what? It's funny, addictive and I fancy it a lot now! My only problem is understanding how those upgrades work

No multiplayer. Fuck this shit.

How to play multiplayer..????
Windows Central Newsletter
Thank you for signing up to Windows Central. You will receive a verification email shortly.
There was a problem. Please refresh the page and try again.