Popular social network VKontakte releases official client for Windows 8.1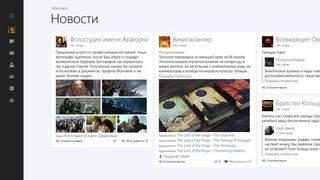 If you reside in a Russian speaking country, be it Ukraine, Belorussia or Russia itself, VKontakte (or simply VK - vk.com) is quite the important service. Think of it as a localised Facebook. The service had an app available for Windows 8, but this wasn't a fully featured solution and consumers were missing out on a full Modern UI experience. That's set to change with a brand-spanking new app released for Windows 8.1.
To throw some numbers into the picture, over 220 million people have registered profiles and the website itself ranks in second just behind Yandex - the Russian search engine. That's quite the size. So what's the Windows 8.1 app all about and should you download it if you use the social network? The short answer to both questions would be: it's VKontakte in a Modern UI package and yes, you should definitely check this solution out.
Just like some other branded apps available on Windows 8 or Windows Phone, VKontakte has implemented its own design and layout, offering those who login to their accounts an intuitive way to get to the content they seek. Whether you're after the messenger, or simply wish to see what friends have published to the network, it's easy to do in this simply gorgeous UI.
VKontakte was how The Fellowship kept in touch after Mordor
Since we're talking about Windows 8.1, you've got the multiple-sized Live Tiles available (yes, including the massive ones). There's also 50/50 split screen support, in case you're required to be productive while talking to contacts and browsing around. The VKontakte app for Windows 8.1 is a worthy companion to what we already have on Windows Phone 8.
If you use VKontakte and have tried out the messenger app previously, we strongly urge you to download this new release and see what you think. You can download VKontakte (opens in new tab) from the Windows Store for free.
Rich Edmonds is Senior Editor of PC hardware at Windows Central, covering everything related to PC components and NAS. He's been involved in technology for more than a decade and knows a thing or two about the magic inside a PC chassis. You can follow him over on Twitter at @RichEdmonds.
I wouldn't call it slow. VK is bigger than Facebook in Russian speaking countries. I prefer it over Facebook for numerous reasons, including free music. A welcome addition to Windows. So if anything, this is huge news for Windows 8.1 users.

And of course this site caters to the Russian speaking community, what with all the Russian on the site.

Pretty sure this site caters to people from all over the world when it comes to Windows Phone and Microsoft's other ventures.

Caters to people all over the world......that can read english. I think you're missing the point.

I didn't realize that once you learned Russian the English part of your brain shuts down. Cold War science is fun.


Nice try. Most Russians learn Russian first buddy. It's typical Western ignorance that just assumes they'll learn English too.

Its western ignorance to assume the internet is catering solely to you.

That entire sentence makes no sense. Maybe you should read that out loud and figure out what your really want to say.

Its fine if you can't figure out what I meant, I know its hard to read back a few comments in our conversation to get context. Every other English speaking person figured it out though I'm sure, along with some of the Russian visitors too probably.

At least someone can read sarcasm I even added a winky face to make it easier

Ok it's been 7 hours and still no new posts, so yeah... Slow day

That place is a collection of repost after repost. No original content. It used to be better than Facebook.

I think you simply don't have a normal friends and publics, which post good and useful things.

It's a social network, like Facebook. Why do either need "original content" at all? I go to other websites for funny stuff, and Facebook to keep in touch with friends & family.

"but captain, where can we find the nuclear wessels?"

Not fair wish I was Russian or at the very least Ukrainian

just use it in the browser. i have an account there too :)

From what I've heard that place is the stuff the American Motion Picture Association's nightmares are made of lol
I wouldn't be surprised if the App would end up removed.

No. Just because something isn't relevant to you doesn't mean it's unimportant. VK is a massive site and it's good to see an official app coming to the platform.

"In Russia, social network updates you!"

Kool, I use it rather than Facebook. :)

Okay let just get this out the way. When are we getting BBM? Microsoft pull out the checkbook because now that Instagram is outta the way this will be the next plague. My Facebook has exploded with PIN #'s and I'm getting ask if I have BBM. Why do we have to keep going through this?

Latest reports is that BlackBerry is working on it at the moment (they had a few problems with the Android version. I wouldn't be surprised if the original plan was to announce BBM at Nokia World too). Let us just be patient. It will come. And unlike Instagram, it should take less time ;)

official vk app for windows phone is such great app, way way better than any facebook app i ever saw... the support that vk is giving to wp community (windows phone and windows 8) is really great.

Finally Amber in Mexico!!! =°)°

Russian women are gorgeous so I'm in there

Love it when people say blanket statements like that. Makes absolutely no sense.

Belarus, not Belorussia please!
Windows Central Newsletter
Get the best of Windows Central in in your inbox, every day!
Thank you for signing up to Windows Central. You will receive a verification email shortly.
There was a problem. Please refresh the page and try again.