Popular zombie card game Shelter gets updated and goes free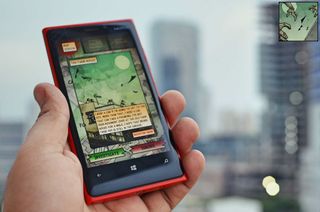 Shelter is a popular zombie game that has elements of a collectible card game as well as a castle defense game. In the game, you need to work your way through the city, battling zombies, in an effort to be reunited with the woman you love. As you go along, your card deck grows and the challenges increase.
Shelter is not your typical zombie game, and the combat is more strategy oriented than action packed. You are defending against the zombie onslaught through a card game and not running around shooting them. Unlike most card games though, the game offers deep and challenging gameplay that gets very addictive.
The game offers more than 100 game cards and is quite easy to learn, but definitely hard to master. The graphics are inspired by graphic novels and hand-drawn comics and with the haunting background score, they have an engaging appeal.
The latest update bumps the game to v1.2.23.0 and apart from bug fixes and minor changes, introduces difficulty ratings and reward icons to location cards to make collecting easier. The game also offers multiple player decks and an updated deck builder now.
Shelter is a surprisingly entertaining game, and the story and characters are very compelling. The game usually goes for $1.99, but as part of a myAppFree promotion, it is available for free till tomorrow (12 noon on May 12; UTC+1 London time).
You can download the game for Windows Phone 7.x and Windows Phone 8 devices from the Windows Phone Store. Give it a whirl, and let us know how you like it.
Windows Central Newsletter
Get the best of Windows Central in your inbox, every day!
Sweet! Card games are often surprisingly fun.

dry day for wp central...no news or article:):)

It's mothers day. Let them enjoy their families.

Actually.. Its Sunday.. Even dan and his team are humans..

No offense but it has been free from the past 20 hours. It's been yet another slow news day :( But I understand,you editors also have lives to live and enjoy :) (y)

Happy mothers day to all beautiful, lovely mothers :)

I never had a good mother. I always had (have) a perfect one. Happy mothers day.

Wish the zombie game in question was played vs zombies 2

Anyone following the yo mama quotes from Windows phone Facebook page? Some are quite funny..

Yup me,saw that "Yo mama so smart,even Cortana..." one? :P :D

Do u think we will get plants v zombies2 on wp??

Sundays are always dry on WP central

Would you prefer they not post anything?

Not available here in the Brazilian WP Store. Developers, I can help with it.

Good card game, not the best zombie game, though...

I love this game, I was hesitant to buy It when It was released last year, but It turned out Immediately after the first battle that It worth every cent I spent!

I picked this up when it was free last year. It's a good game - I finished it way too quickly though. There was no real reason to keep playing afterwards, so I uninstalled it. I might give it another whirl to check out the new features.

Not available in Malaysia WPStore. Can't try it out.