Preview of Nokia Maps 3.0 on Windows Phone 8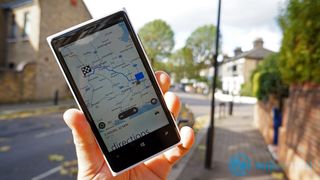 It's no secret that we're fans of mapping applications and with Windows Phone 7 we had a very capable built in mapping app created by Microsoft themselves that used the Bing mapping at the backend. Since then Microsoft have switched Bing to use Nokia's mapping platform on the web and now with the latest version of Windows Phone.
With Windows Phone 8 we see a marked upgrade to the baked-in capabilities of maps, as Nokia have embedded their "where" platform right into the heart of the OS. Nokia have just updated their Nokia Maps app to 3.0 and with it we start to see some of the big improvements that these underlying changes to the OS will bring. We think you're going to like it.
With Windows Phone 8 all apps will now be able to take advantage of the underlying improvements to mapping platform so offline mapping and turn by turn will be available to all. We have seen how well Nokia's mapping apps perform on Windows Phone 7 with products like Nokia Drive so we know they can bring the goods to the table. It's of no surprise to see that the company are already hard at work to make sure their location apps have some of the best experiences available in the marketplace.
Nokia Maps 3.0 offers true offline use so that you won't be caught out while navigating in poor signal areas and the first truly discoverable mobile implementation of venue maps . You'll also get vastly improved directions while navigating on foot.
There is still more to come with Nokia Maps, pedestrian navigation will get spoken turn-by-turn events in a future update and we know Nokia are keen to keep these things fresh. Following is how things are looking as the app reached its 3.0 milestone..
About, Settings and What's New..
Pedestrian Walking Maps
When selecting a pedestrian route in the new version of Nokia Maps the view changes to show you which way to turn at each corner. Also at the bottom of you get the option to slide through each part of the route by swiping left and right as desired. In testing the map swang around and moved fluidly throughout this process and kept pace with my movements well even in an urban setting.
The coming version will feature voice guidance which should mean we can finally put the phone in the pocket and just listen to the prompts. For now the map experience in this mode is much improved and points the way to how this should be done.
Pedestrian Turn by turn view
Venue Maps
This is a feature many have been excited about for some time, Nokia have been busy amassing detailed internal maps of key public locations. These venue maps were available in Bing Maps through the web interface but have so far been absent from Windows Phone (in an intuitive and fully fleshed out way) until now. Initial reaction to this is Nokia have done a really good job of the user experience around this potentially complex feature. The improved underlying performance of the platform has allowed them to provide a new visualisation layer to help make this visually more comprehendible.
When using the maps, you'll see that certain buildings like a shopping mall will have a blue icon near or even on top of it, if you press this it highlights the venue and shows more information about the inside layout. If the building has public spaces on multiple levels then you'll be presented with a sliding selector to choose different floors, it all works rather well.
When you have selected the venue, the bottom section of the screen shows you a peek at what lays inside, for instance you can select 'directory' and it will list every business in the mall or if you slide over to facilities then it will list key points of interest such as ATMs and such. If you want more information on a shop that's inside a mall then you can retrieve that by clicking on its name in the map and it will bring up the address and other details.
I found the experience to be very intuitive and didn't have any problems figuring out the entire feature, this is a really good implementation of this new level of mapping. I look forward to seeing how this feature gets developed and tuned over time, the continual adding of venue data will be key to ensuring the utility of such a feature. It must be pervasive and not the exception to the rule to be able to see the venue maps for public space, as long as Nokia can continue to add new venues this shouldn't be an issue.
Want to know where to go inside the building? Nokia can help with that!
Map options in Nokia Drive 3.0
Integrated Transit Directions
One notable improvement many have sought is the integration of public transit directions in the mapping experience. That's here too and works in just the way you would expect although it's not quite as fully featured as Nokia's dedicated Nokia Transport App. With Nokia's Transport app it presents multiple routes depending on when you leave and includes bus routes.
In my testing I wasn't able to bring up any routing options for a bus but that may not be conclusive as to the possibility it exists. In my testing only underground lines and metropolitan surface lines presented themselves as routing possibilities. I will check with Nokia and update when I get feedback.
Public Transport is now an option along with walking and driving routes...
Downloadable Maps
This is something of a back-end feature now in Windows Phone 8 but it's good to see how this works. I live in the UK so added the entire map for our little island, it took up 280MB of storage. You get to add as many maps as you please and drill into each region if you only want part of a country if you wish. I looked at the map download for the entire US which came in at a cool 2.5GB.
The new devices will all have more space on them generally so these sizes shouldn't be too much of a concern. It's just good to know that when you need to do some serious mapping you can pack your phone out with everything you need and not worry about getting a mobile signal to use it. Enough memory and you can have all the worlds offline maps on your phone.
In Windows Phone 8, the maps can also be independently updated so Nokia can provide faster updates to mapping data on the phone. This should improve the experience greatly while providing that all-important accuracy.
Download, update and stay current with your map data okay?
Refreshed platform brings new experiences
The mapping experience in Windows Phone 7 with the native mapping app was good. The problem with it was that it was locked into the OS and so could only be changed when the whole OS was updated. Thankfully we're moving away from this way of doing things with Maps and even the phone itself can be updated on fly without the need for carrier intervention or major OS upgrades to change certain core experiences.
Mapping on smartphones has become incredibly popular, we saw with the issues that Apple had when it launched its mapping product how much people rely on this feature. The outrage that followed the mapping snafu did real damage to the normally Teflon-coated fruit themed company. With maps we see a huge opportunity for Windows Phone 8 and Nokia to really lead in this area, we hope to see them fully promote this advantage.
In using maps for this short amount of time, it's hard not to be impressed with the speed and fluidity of the user interface. Where there are 3d elements to the maps you'll see those move around at nice high frame rates. That isn't to say there are never slowdowns, the maps occasionally doesn't update fluidly but this is likely a sign of the platforms relative newness. With more updates in the pipeline including the turn by turn pedestrian guidance things are looking good indeed for maps on Windows Phone 8.
We'd like to hear what you think of these improvements, if you have any questions send them along and I'll do my best to answer them. We know that folks from Nokia do read these comments as much as we do and they do often wade in to provide some answers where they can.
Get the Windows Central Newsletter
All the latest news, reviews, and guides for Windows and Xbox diehards.