Nokia Destination Maps - 4000 Venues but when can we view them on Windows Phone?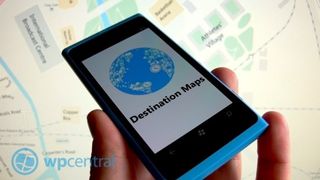 Nokia have just announced an update on how they are progressing with their Destination Maps product. The aim with the initiative is to provide an additional layer of mapping data where it makes sense. In this case Nokia are essentially aiming for Shopping Malls, Airports and other large scale public spaces. The rate at which they are adding these internal spaces is impressive, now boasting 4605 venues in 38 countries.
Olympics site venue maps now available
It is no secret that I'm a fan of mapping and recently attended an excellent conference hosted by Ordnance Survey on the future of location. One of the best things about having a smartphone in my mind is having access to super accurate mapping. What we are seeing with the addition of indoor spaces is perhaps the start of a wider initiative to bring accurate mapping internally. The possibilities are very exciting as this video shows.
Future looking easier to buy brollies
Internal location based services aren't going to be available for a good while to come as that will require those areas to be fitted with equipment for it to work. In the meantime, the Destination Maps should help satisfy a need to know more about an indoor space.
Now you can find the 99p Store even faster!!
Nokia and Microsoft are now fully partnered on maps. Destination Maps are integrated into Bing via their Venue Maps addition. I urge you to head on over to Bing and take a look for yourself. If you are heading to London over the summer for the Olympics then they have the whole site available to view in detail there.
Whilst I applaud Nokia and Bing maps for their advancements in mapping I have to say I am rather confused as to why Bing maps on Windows Phone hasn't been updated to reflect all the good changes that the web product has, Streetside has been there for a long time but that still doesn't exist on the phone. The post does say Nokia Maps will be updated soon with these internal structures but does not specify if they mean the mobile apps or on the web. Let's hope that Nokia will at least endeavour to get these features to Windows Phone via its own maps offering soon. I for one would find them very handy.
I know there are lots of additional mapping technologies I want integrated into my phone. What mapping features would you like to see going forward?
Nokia Conversations
It looks as though WP gets everything last wp8 should make everything even we hope

Not everything, but a lot. Any iOS power user is totally dependent on the wealth of apps available for the iOS platform. Buddy of mine is a FourSquare SuperUser and just generally a mobile enthusiast and he is using his phone for all kinds of stuff, all the time - uploading pictures using path or instagram; checking in to places using FourSquare, or discussing FourSquare venue edits, or even doing the edits right on his phone; using something like FitBits to track his exercise/steps; staying on top of Twitter; listening to content on an app like Stitcher Radio; using Waze to navigate and to share speed traps/traffic snarls/obstructions. And he's doing all of those things all at the same time and has to stay on top of notifications related to each app.

Are those the type of people that MSFT is trying to attract? I don't know, but I do know that there are a lot of iOS users out there that fit my buddy's profile. Totally social, sharing lots of stuff from lots of apps almost simultaneously. Someone like that would feel absolutely imprisoned by Windows Phone, not only because of the lack of similar apps in some cases but also because of the restrictions on multi-tasking and background processes.

In Windows Phone 8, hopefully we'll see that apps ARE everything and that the platform will be able not just to atract, but also to retain former iOS/Android users who are used to a rich, social app experience that just isn't available on Windows Phone right now.

I rather they work all the bugs out of it first, then release it just to say we got it first on wp

Thank you Robert for the great post. I'm Pino from Nokia and I can confirm that we are aiming to bring destination maps anytime soon to both our mobile apps and to maps.nokia.com.
Let me also quickly remind you that Nokia location business extends beyond Nokia to embrace other screens (think for instance the in-dash car navigation). This is why sometimes there is a small delay between content collection and actual availibility on Nokia smartphones.

Hi there, nice info but can you say when or if we will see Nokia Drive and Maps in one application like on Symbian? Seems all this functionality would be best to have in one overall mapping solution on WP devices. Thanks.

I really want this to happen. The only thing I truly hate about my phone is the non-integration if Nokia Drive with Maps.

Hi guys,
even on Symbian Nokia Maps and Nokia Drive are separate applications. You can install them at the same time because they belong to a package we call Nokia Maps Suite, but they are completely independent from each other.
We moved away from a monolithic app a while ago for two reasons: semplicity and speed.
Semplicity because we don't want you to navigate through millions of menus, options and steps just to... drive home. It should be easy as tapping on one icon.
Speed because by keeping apps separate we can update them much more faster, as you can see it's happinging right now.
The same approach is valid for Nokia Lumia too. However, I agree with you that at the moment we are lacking some basic communication between those apps on Nokia Lumia. We are working on it for future releases.

Pino, thanks, get in touch via my google+ account. Cheers Rob

Just added you to my circles ;-)
Although I use Twitter much more than Google+: you can find me as @haikus

Hey Pino, not sure, if you are the real Pino. ;)
Since Pino I know uses Pino somewhere in his user name for sites like this, like you recently commented at engadget. :)



LOL yes I'm the real Pino ;-) haikus is my usual nick like on Twitter or so. Apparently wpcentral is only showing my nick instead of my real name. But it's me anyway.
Btw, great stuff from you on Engadget! I couldn't say it better!

Great stuff, but I'd love to see maps working fully offline (by selecting areas + details of information aka zoom depth)
kml route import would be great, too :)
By adding these options there really would be no reason to use other map services, right now though I still need alternatives.

By kml support, do you mean where you could plan your route on a PC using the browser and then send it to your phone? Cause that would be awesome to have that integrated.

Exactly. For hiking / biking / whatever a must have.

Good idea about KML! Let me inform the team about it.
Offline support for Nokia Maps is probably the top requested feature everywhere ;-) It's coming in future releases. As you know we had to prioritize the offline support on Nokia Drive over Nokia Maps, but we are definitively committed to the offline experience more than ever and more than our competitors: http://conversations.nokia.com/location/?page_id=85086

The above KML feature request is a subset of a larger feature set I had pointed out before few weeks, if you remember. (like motionxgps on iphone-Remember?) If Nokia can get those kind of features in your maps on your Nokia phones, faster and better than Google or Apple can do it, I can guarantee that will attract lot of users from other platforms.
That will be an all in one integration of maps+fitness+travel. Possibilities are infinite and if that can come to phones like Lumia 600, you hit the nail in the coffin for some GPS companies like Garmin,TomTom.



I would like to be able to plan a journey in advance, Nokia maps does not allow me to check distances from one place to another,only from my location to another . Why is this or am I missing. Something

Most of our users prefer to quickly enter a destination and plan a route "from here to there".
But we might introduce a journey planner as you are asking for in a future release.

This is a great news. But - I am from Czech Republic and I live in Prague, if you compare Bing Maps and Nokia Maps you can clearly see that bing Maps does not provide informations about hotels, restaurants and other POI so I cannot use Local Scout feature on my WP7. However, Nokia Maps has at least some POI for Prague and other cities, so I would prefer Microsoft to work harder to enable this awsome Local Scout feature or add a native support for FourSquare.

Ahoj, this is Pino from Nokia.
Don't get me wrong, but if Nokia Maps is offering you the best mapping experience on Nokia Lumia with tons of POI, etc. why don't you just stick with it instead of Bing Maps?

Nokia Maps is soooo much better than Bing Maps, like since I traded my Omnia for a Lumia I sold my TomTom device, which I couldn't when I just had Bing.
Windows Central Newsletter
Thank you for signing up to Windows Central. You will receive a verification email shortly.
There was a problem. Please refresh the page and try again.