Prognoza, an attractive and simple Windows Phone 8 weather app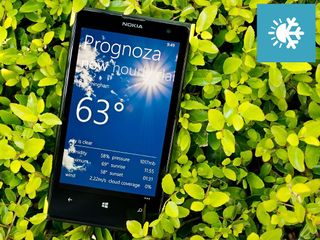 Prognoza is an attractive Windows Phone 8 weather app that delivers the basic forecast information to your phone. The app recently won the Windows Phone Challenge in Bosnia/Herzegovina this year and while we have plenty of weather apps in the Windows Phone Store, Prognoza does have a certain level of eye-appeal.
If you're looking for a basic weather app for your Windows Phone, Prognoza is worth a look.
App Layout
Prognoza generates forecast information based on your Windows Phone location. You can override this by entering a specific city you need the forecast information from. The main pages for Prognoza include:
Now page that outlines your current weather information that includes temperature, humidity, barometric pressure, wind and sunrise/sunset times.
Hourly page that will break down your forecast in three-hour increments.
Daily page that includes a general forecast for the next seven days.
At the bottom of the page, up under the three-dot menu, you will find three control buttons that will establish your forecast based on your current location, refresh the forecast pages and allow you to enter in a specific location for your weather information.
You will also find links to Prognoza's settings and information pages. Settings are rather healthy with Prognoza and include:
Design: These options cover how you want Prognoza presented and include themes, icon options, units of temperature and whether or not you want to hide the application bar.
Live Tile: Here is where you can choose how you would like your Live Tile to be presented.
Lockscreen: Prognoza includes support to display your weather forecast and background image on your Windows Phone Lockscreen.
Notifications: Prognoza also includes Toast Notification support to alert you on a wide range of weather conditions including storms, fog, snow, and rain.
Other: This settings page contains options to turn on or off your Location Services, Background Agent, Developer Notes and Background Task Notifications.
The two themes included with Prognoza includes a Real Theme that will present a background image representative of the current weather conditions or a Modern Theme that has a Modern UI feel about it. Icon options include an alternative (realistic) icon or you can go with the Modern UI styled icons.
Prognoza's Live Tile will display the current conditions on the front and a four-day forecast is on the backside. Live Tiles for Prognoza can be transparent.
Overall Impression
Prognoza is a nice looking weather app for Windows Phone 8. The Real Theme background images are nice and while opting for the Modern Theme will remove a lot of the app's vibrance, it's not too shabby either.
While Prognoza lacks weather radar it does a nice job as is. There is room for improvement though. I would have liked to have seen multiple city support in some shape, form or fashion. While you can enter a specific location to be forecasted, once you return to using location services for your forecast Prognoza forgets that city. In the least, you should have a "My Locations" page to make it easier to bounce between locations.
I did find a few stability issues in using Prognoza. It was nothing that will cause you to run screaming from the room but noticeable. There were times forecasts refused to load or the app crashed.
While Prognoza could stand for a little fine-tuning and may not have all the bells and whistles other weather apps have, it is an attractive weather app for Windows Phone 8. And before we begin to see "not another weather app" type comments, we agree that there are plenty of weather apps in the Windows Phone Store. Plenty of quality weather apps that are brought to our attention that we think are worth sharing. Plus, having a choice is not always a bad thing.
Prognoza is a free app that is available for Windows Phone 8 devices. The developer does note that with low-memory devices not all of the features are available such as the back Live Tile.You can find Prognoza here in the Windows Phone Store.
Get the Windows Central Newsletter
All the latest news, reviews, and guides for Windows and Xbox diehards.
George is the Reviews Editor at Windows Central, concentrating on Windows 10 PC and Mobile apps. He's been a supporter of the platform since the days of Windows CE and uses his current Windows 10 Mobile phone daily to keep up with life and enjoy a game during down time.
If Bing weather could update their live tile correctly I'd use it. But it doesn't for me... I stick with amazing weather hd

Amazing Weather HD is my go to weather app.

Same here. Looks good, behaves good, all in all, great app.

I agree Amazing Weather HD for me as well. An interesting fact is that word "Prognoza" lterary means "Forecast" in Serbia, Croatia, Bosnia and Montenegro. (It's also interesting that same word: "Prognoza" is also used to "forecast or predict with likelyhood" in medicine as well...) Haven't tried the app but it would be cool if rest of the app could be set in the same language... Still it's kinda funny to see app using 2 different languages. "Prognoza" in one language and rest in english... LOL!

"Prognoza" means "Forecast" in Poland as well. :)

In Latvia "forecast" is "prognoze", which is also similar :)

Prognoz = forecast in russia aswell. Anyway, the app is not that good cuz of 512 mb limit. Why other apps got back tile(bing weather for example) and this one is not because of limit by MS? I'll stay with Bing Weather on my 620. It has good tile pics, supports my language and updates tile properly.

If by back tile you mean it flips and shows the next few days, I have that. I also have Lumia 620 (WP8.1)

Because low memory device have less memory for the background task. And this app (Prognoza) is build by only one man, Bing weather has an team of professionals, developers wich work for MS. The second thing is i think they use not the background task to render the images, i think they use Windows Azure Services, and you could look up the prices of Azure services so i can not pay for it to make it work on low memory devices for an free app. And Btw. on 8.1 the limit is raised and it work "nearly" as on 1gb ram devices, so the back of the tiles is also there. And we will all get wp8.1 so if i start to code now to make it work for low memory devices there would come 8.1 so it would be an waste of time, again this is an free app and i left out the back so it can update regularly without problems. The back of the tiles will be available for all devices on 8.1. :)

Hmm, yeah, makes sense. Sorry for me being bit rude about that. I'll give it another try i think. Good luck with that and hope you'll make it run as good as it can on all devices no matter what RAM it has. :)

That app is garbage. Breaks my live tiles every time.

If they put wind speed and direction on the hourly display, then I would use it. Not sure how/why they would omit data such as this on the breakdown.


same here with bing weather ! it works for my area and only thing missing from it is the options for transparent tile for those with WP8.1

Again weather app tired of this...

Agreed. Not sure there is much point covering these any more...

So you then clicked on the article and popped into comments to say this. If the article is not of interest why, just why?

The comments section is there for people to put forth their views. Fuck him, right?

Say that to a lot of men?

Lol! "say that to alot of men"...

Well, this is one of few, that show the wind speed in meters per second (a standart in my country), so all I can say is: "Woo-hoo! A new weather app! :D"

I'm tired of people being tired of things. There is not yet a "perfect"weather app, so keep em coming. Those who don't like it can scroll past without clicking. Simple.

Ridiculous back tile limitation for 512 MB ram devices, advanced weather hd has a back tile on my 512 MB ram phone, so why does this one have a problem ? P.s. I like this app, and its much smalles in size than advanced weather, i might even switch.. (i dont have much space free on my phone)

Hi, i'm the dev of this app and all what i can say about the limit is blame Microsoft, not the devs. The background agents in WP8.0 have this low limit on low memory devices, that is not my fault. People must consider that this can happen when they buy such devices, and me as a ndev do everything to get the most out of this devices too. I tested it days upon days for this devices and couldnt find an better way. The problem is in the background agent and making those live tile pictures, this uses a lot of RAM and 4 pictures the background agent must render + an Lock Screen so the limit on low memory devices constrained me. So i left the back of the tiles out and the lock screen too for low memory devices. This is an better way than to submit an app that only works on 1GB RAM devices and on 512MB the users would have an broken app. no automatic updates, nothing. I must also say on WP8.1 this limit is raised and the low memory devices have all abilities like the ones with 1GB RAM or more :) and WP8.1 is around the corner so its not a big pain to wait (or update via preview for developers program).

i can say about the limit is blame Microsoft, not the devs

Yup. Another case of MSFT limiting developers.

Actually, advanced weather handles a back tile pretty well for me and updates regularly too. I dont blame the dev, but i gave him a suggestion how to get it to work a little below in the comments. I infact like the app.
P.s. Dont blame MS too, its these kind of limits which make the OS non-laggy and non-hanging like lagdroid.

the OS doesn't have to be laggy because it can support custom launchers. no such correlation exists. if your launcher is laggy, give it a bad review. darwinism at work. to fear choice is to fear success. just as you can have a bad launcher, you could have awesome ones.

Hey glad to see a dev talking about the app he made. I have 2 questions if you don`t mind answering: Is it possible to add the battery percentage to live tile in WP8.1 to show in real time or at least 1 min update? Can the weather be refreshed every 30 min, because off all the apps i have tried on WP none of them have this option, like the Android ones.
Thank you!

Hi, Basically the phone battery percentage can be added but the app is just made for one purpose. For battery percentage there are a lot of apps in the store, sorry. And about the update. Yes the app gets updated every time the background agent triggers. This depends on more factors like, internet connection, battery level and so on. If your phone is low on battery then the background agent can not execute, same is with no internet connection. But beside that the app updates approximately every 30mins. But this time varies and depends on the other apps the user has on the phone. This time can be down to 15min bit also every 40min.

10x for the answers, the thing is that there is no battery app to show real time percentage because of the limitations, and i wanted to know if i can have that on wp8.1 because i do not like the ideea that percentage is hidden under the action center. PS: Excellent app i really lile it :)

Hello dev. I liked this app a lot, but a few things stopped me from switching.
A) can you instead make it keep just 2 images instead of 4 for low memory devices on the live tile, then do a check whether the lock screen is enabled or not, and if it is not enabled, then you can allow a back tile ? I'm asking as i use advanced weather hd and it displays and updates the live tile nicely with a back tile. I dont use lock screen by weather apps. Please can you try this ? (maybe keep it optional)
B) the headers, now, hourly, daily, they don't get highlighted properly, sometimes I'm in daily and instead, hourly is highlighted and so on.
C) can you provide a better weather source which gives hourly instead of 3-hourly forecast ?
D) can you provide 'last updated' info on the tile (optional) like advanced weather does ? I really have to have this thing as i dont have a proper internet.
E) not a big deal, but can you put a more colourful/flowing colour kind of splash screen ?
Thanks in advance, please reply whether these are possible or not.

For the live tiles i tried out to make 4 pics just for the live tiles, this uses to much memory and it is not possible with my approach to make it, and i can not constrain low memory device not to use the lock screen. because they can g oto settings > lock screen and use my app i can not constrain this. and even if i could then again this devices have not engough RAM to render al the pictures. i dont know how amazing weather does this, maybe they are renedered outside the app via Microsoft Azure but this service is paid and i have not the money to invest in an free app (at this time). The headers yes they sometimes hang on changind rappidly from "now" to "hourly" when the app downloads data that is because the list of hours is so long i will look to fix that soon. and the last updated info is already on the live tile?! or do you mean when the data on the server is updated? For the time of the server updated my source gives no info about that, sorry. But i know that they update their data every 10 minutes or so. or even faster on some locations, this depends on the source where they get their data from.

Thanks for replying !
I didn't ask you to constraint lock screen, i asked you to do a check when the live tile is set, so that if lock screen is disabled, then back tile should be enabled. But anyway, you may be right about azure, and i dont blame you, you seem to have struggled a lot with this issue, i understand you've put in a lot of work :) so it's okay :) I'll give it a shot then ! ;) (thanks for being here and interacting)
And sorry, i hadn't noticed the last updated info, yes it is there. I dont need to know the server updating time, so leave it :)
If you could try a fix for headers, that would be great ! :)
Lastly, great work ! :) hope to see more apps from you soon ! :) good luck :)
P.s. Please read my next comment too, and answer it please !

I finally unpinned advanced weather hd and put this instead :)
One last list of things:
A) i noticed that the temperature shown is 28 degrees here in Punjab, India in my city, which is big enough. But the max and min temperature shown is ALSO 28 degrees !! Fix it please !
B) the time, please write a few line of code to adjust the times zone for the sunrise and sunset. Its not much, just a few lines of code. You can ask the user to provide his timezone on first launch.
C) fix the headers please, somehow. I know you're doing your best, but still try to fix them soon, they're very annoying.
Other than that, BEAUTIFUL app ! :)

yes with the timezone i must see with i can make. i can use the location based data but i nevver tesed it out in another timezones, and yes its is easy just an conversion to the timezone of the user. I am ware of it now and i will look into it. and the max and min temperatures on the now tab are just for now (the period within the next hours) that is not for the whole day.

Oh dont use the location for timezone, i keep location off for weather as it takes battery. Give us an option to choose the timezone (if we disable location)
And please allow whole day max and min please !
And last, the live tile, there's a lot of space to the right of 'prognoza', can you display the daily max and min temperature there ? Maybe make the prognoza font a little smaller and display the daily max and min there ? It would remove the need of a back tile for me. I just needed backtile for daily max and min temperature.

The timezone offset bug is fixed you all will see an update soon in the store :)

And just for an info location does not take much battery. Not if its coded right.

replacing amazing time with this app, run smooth on my lumia 720, if you are considering to add the option to choose your own image on the lock screen would be great :)

Thats an good idea :) i will this out how this looks...

Hoping to see the max min on the tile soon. And please please please keep it max min of the day, not the next few hours. That information is totally useless, its always the same temperature as current temperature, even though temperature here ranges from 25-43 degrees.

Hello, dinchy. Is there something wrong with the app after the last update? Can't install it nor uninstall it from apps list. Thx

Are you maybe on wp8.1? Wich device you have? Apps generally have nothing with the system to do, so you can uninstall all aps installed from the store. In wp8.1 me and some other devs have found an bug wich is only related to 8.1 after the update the app tile is reverted back to the stock one. Right now there is no sollution for apps that have rendered tiles that get reverted back.
But this bug has nothing to do with the abilityof deleting or installing the app, you should be able to uninstall it and install also. The last update has just an minor bug fix for sunrise/sunset times.

Yes I am on WP 8.1 dp. Lumia 920. I installed the app after I read about it on wpcentral. It was working ok until the update. I tried to update and there was an error saying that there's a problem with the installation. I thought it was something wrong with the update and waited 2 days for the fix. Tonight, after the problem was still present I thought maybe I should uninstall it and install it again fresh. Now the app is present in the apps list but grayed out with the message "attention needed" below the name of the app. There's no option to uninstall after long press on the app name. In the store I keep retrying to update (download) but every time I get an error. Never had a similar problem with an app before. It's bugging me and I appreciate your help. Congrats, btw, for developing such a nice app, from a countryman ;)

I had the same big with other apps as well, the store says "attention needed" and it refuses to download. This happened to facebook beta, and now to my app. I think this is an store bug. It has it downloaded but can not install, i really dont know the reason why. Have you tried to soft reset your phone? Or delete the cache from IE. When the live tiles is grayed out this basically means the apps is in installation. That happened to me with some apps after i installed 8.1. They where all grayed out before the installation. I suggest really only to look if something with the store is not alright.

I have uninstalled the app now and installed it normally. I dont know what can cause this...

I managed to cancel the download from the store (long press on the app trying to install but giving error - it downloads but when it starts to install it says there's a problem with the installation). Now I don't have it listed and grayed out in Applications list and that is ok. The only problem is that I am not able to install it again. It's ok, I'll just keep checking and trying the next days. I'll keep in touch. Thanks for your help.

Ok, please contact me fron within the app if this keeps during the next days so i contact the store team that they prove this...

Just so you can sleep peacefully :) I turned the phone on and off and tried again... And it worked and installed successfully. Good luck and keep up the good work.

Thank you for reaching out to me again :) i like when my apps users are satisfied :)

Prognoza, does that mean something? Just wondering.

it means "Forecast" in Bosnian and few other European languages (eg. Polish, Croatian..)

It means "forecast". At least in Polish.

As others have pointed it out, it means "forecast" in many slavic languages. But outside of weather terms it means "prognosis"; prognoza and prognosis are the same word :)

Couple of days ago, the dev of this app posted on reddit about this app. He said this app won him a challenge or something..couldn't remember.

guys you "honestly" have to stop the weather app thing. there are so many talented devs out there making other things. maybe give them a chance.

I still haven't found a perfect one yet so the more the merrier

make one. given WP central likes to promote this category of application you'll probably get featured.

Out of all comments I couldn't agree more with this one! Until I find the perfect one just bring them on!

Skip reading about them then. Tip about apps that you'd like featured. Simple.

Finding interesting apps to bring to people's attention is their job, not mine.

Another fuxking weather shit

Hi WP Central, i'm the dev of this app and i must say thank you because this is an honor for me. I am just an little developer and never expected this. :) thank you again!

Good work! The large tile doesn't seem to switch to transparent thou.

hmmm really strange, it should if you exit the app with the back button. So as an confirm. Because it renders the live tiles again on the main page.

Large tile is transparent for me. The back side at least.

There are two settings in the app settings under "live tile", the front and the back tile. so if someone just want the back tile to be transparent an leave the front picture or vice versa. Or even both sides transparent or not.

Bravo, cestitam, tako se to radi, samo tako dalje :D. Inace je super aplikacija, rado cu ju upotrebljavat :).
Pozdrav :). Just replying in the devs' native language ;).
Great app though, will love using it :).

Hvala mnogo :) / thanks a lot.

Hey hats off to you for the app..really liked it..just wanted a feature that for users on WP8.1 the app should give notifications about the weather say every hour or so..i really need it..and the app needs some performance improvements as it lags a bit on my L520(WP8.1)..i hope it will be fixed soon..
You can contact me for more feedback..thanks for the app..

Please fix the date/time problems. On my L925 on WP8.1 the times are nowhere close to my local (sunset 3:xx AM) and the daily list starts with yesterday. I would like to use this app since I prefer sunrise and sunset easy to see but its useless if I have to mentally apply some correction factor. Edit: also noticed the min and max temps are also wack. Shows minimum 50f and max 58f when Bing shows 57f min and 79f max which is typical for the date.

The temperatures are something i can not change :( i get them from the source and i can not manipulate them...

The timezone offset bug is fixed you all will see an update soon in the store :)

I can understand how you'd be feeling ! ;) great work btw ! :) and great UI and images.
I hope I'd get such an 'honour' too when i start developing apps in a while hopefully.

Nice app. We'll wait for the update with time zone correction. Can you add also UV info? For me is only sunny so hourly humidity and UV are the most crucial.

Unfortunately the source has no UV data in the weather data. :(

You guys are mean but I just stick to Bing weather. I don't really care foe the weather. I dress according to what ever season it is. Hot or cold

Can someone please tell me, when is the release of the official version of WP8.1

At the end of May probably.


Why is it that every review of weather apps always focuses solely on its attractiveness? The most important aspect is its accuracy which, frankly, is usually pretty low. Personally, I settled on WeatherBug for several reasons but mostly because, at least in my general part of the world, it is more accurate than any other weather app I tried. In short, an app's ease of use and attractiveness are important but please try to give at least equal time to its accuracy.

Because the accuracy is something the dev can not change with his skills?! So its not fair to judge on that what the dev can not change. I dont complain either about my facebook friends in the reviews of the facebook app... So accuracy is relative, it can change from day to day.

Directly change? No, of course not. But the developer does have choices of which source(s) the app uses for its information. Some of those are better than others. That may be as much subjective as objective but perhaps not. I have not done any in-depth analysis and comparisons of the sources.

I have tested my app against the weather data from accuweather, because here in Europe most people use accuweather and say its accurate. The devs have the choise, thats right. But some of the sources out there are limited or even paid. So this i use it limited to 30.000/minute updates where others have an daily limit under 30.000 updates. With updates i mean getting data from the server. And for an free app its hard to choose an paid or constrained source that is not globally accepted or good.

the problem is a lot of these apps are just front faces for weatherunderground which is not usually that great. I prefer accuweather and weather.com for accuracy. bing is fine. however you make a great point: all these weather app reviews are nothing but excercises in a service visualization with little differentiation on what actually matters: being right about the freaking weather.

Exactly right! I am certainly not picking on this or any other weather app in particular. But there are certain features that I would look for in a review. For example, support in the US for NWS alerts is critical for me. It was the major reason I switched from Bing to WeatherBug. I consider the alerts as part of an app's accuracy and will not consider any app that doesn't support them..

Yes thats right, i wanted also to build some alerts from the meteoalarm.eu source wich is the biggest source for europe and warning like storms, rain and so on. But there is then an problem US users would not get any data so localizing such functions are nearly impossible on todays app reach. Over 130 countries. So i go with functions for the main userbase, wich was till today in Europe. And i have tested some other sources to for the weather data but openweathermap suited me the most. It has all the data i need and exactly how i need it. And i often say weather is unpredictable so no source in this world is "right". For some users one is right for others not. So i can not stretch myself. The same is with me and Bing, sometimes it shows way of my app and my app is then right in this situations but i dont blame Bing weather for this. The dev can not change anything on that.
Like the devs of the facebook app they can not change what's on your feed. And users can not blame facebook if some of our friends post thing that we dont like... The same is with weather apps, we display just the data we get. We are not the source.

I don't think anybody is focusing on your particular implementation as much as on the focus WP central has over weather apps, which is mostly UI and tile design rather, than bringing up other things into the picture which add value. You do as you have to. The point being the weather app has been done to death and innovation has stopped. It is all just UI choices which will invetiably iterate endlessly. You probably can't do anything about it unless you start your own weather provider to trully innovate...which is why weather apps, like RSS readers are basically the Taco-Bell of apps. Take the same 5 ingredients and re-hash them in different ways. It's a really though category to get into so kudos for trying.

I think everyone should use info from their local metrology institute. How does accuweather now better than national institute, who has measuring stations all over one country with radars and shit

That is the best way, but this way apps would never get globally useable. No dev in this world can code for all local institutes for weather. But accuweather, yahoo's weather, wunderground, openweathermaps and other are good, i dont say perfect because there is no perfect weather prediction. But for the purpose of apps they are good. And all this services measure their data like an local national station on airports, and other places that have sensors for this. Some of the sources even work with the local stations for their data.

Hey developer, make a simple digital clock tile that works.

"The developer does note that with low-memory devices not all of the features are available such as the back Live Tile." Well...... that's kinda frustrating

With 8.1 this limit is raised and the app has all the abilities like other devices.

Would use it but too difficult to mentally adjust time. Sunrise tofay is not at 1:32 PM and sunset is not 3:15 AM where I live. And daily starts with Tuesday, March 6th (yesterday). So I can't figure out what's going on. I guess the time of day could be using some other time zone, but I'm pretty sure it isn't Tuesday anywhere at the moment.

Hi, This with the time is because the time is from an server, not directly from the app. And if the user selects an city that is in another time zone then it shows you the time for sunrise/sunrise for your current location. Example: Thw users is in New York and enters an city like San Francisco, the time for sunset/sunrise are "moved" to the tine of "new york" where the phone location is. Thats helpful for people that want to know what the current conditions are in an city they will travel to. And if you enter an,city where it is night right now you will see an appropriate "night" picture because there its night. But the sunrise/sunset times are converted to the current location but for the entered city so basically you will see the times of sunrise/sunset at your location for this city. At your location it is this time for that city. And the day needs some hours after midnight to convert to "today" thats the sources fault...

How irrelevant. But if you REALLY think that users want to see the time of some undocumented server for their local weather, you are quite hopeless. I will say it again. IT IS NOT SHOWING THE SUNRISE/SET TIMES WHERE THE PHONE IS. The NOW view shows the date time of some unknown location half way around the world, as well as the wrong temperature range for the day. The Hourly view shows the right times and temperatures (completely outside the temperature range from the NOW view). Obviously such a glaring mistake could not get thru even the laxest of testing if it happened to everyone. So excuse me for trying to let you know you have a problem with the app that is most certainly happening to some of your customers so you might fix it before further embarrasment.

I know what you mean. And its not an undocumented server, its the server of openweathermap.org. and if my source gets wrong data i can try to contact them. I have not said that its right what the server/source shows. and i can nothing change anything there, i can only compain by the source. The second thing about the hourly forecast is that it is an separate updated data list which can change less frequent then the now tab, thats up to the source. And i can even change the time to be more "location based" but the users would have to use location based data so i know in with timezone they are. and i must contact the source to look wich time they have and send the data out. becaus on my location it shows the right time. I tested it here month with an user base based in Europe so i could not have known. But i will try to fix that, if i can fix it.

Get the times in UTC and use a separate web service to get the timezone offset from UTC, for the particular coordinates, thereby calculating local time for the location. That's what I do with my weather app, Weather To-Go = accurate sun rise, sun set, and local times.

Yes, i must fix this. I have tested the app of course with 20 beta testers every time and a lots of users in Europe but never look close on the clock in the emulator (wich is redmond US timezone), i can go your way or just make an valueconverter that adds or subtracts hours of the "wrong" time based on the timezone the user is. The only thing is if the source changes that to the right time it will be offset again :P but i will try to fix this as soon as possible.

Oh sorry i have missread "background task notifications" this is an toggle for the message that pops out if you shut off the background task for Prognoza. This is an automated message wich says "the app will not be updated..." And so on. But its showed every time, on every launch so i give users the choice turn this notification off.

Hey there, fellow Bosnian :) You did a great job with the app, I especially like the options you provided to change live tile, background services etc. I'm wandering what does Background Task Notifications mean and what does it do if turned on? I gave the app five stars :) Regards.

Thanks. The notifications means when you select lets say "rain". Every time the app switches to rain conditions it will give you an toast about it. Some users wanted this feature and dont have to look at the app constantly and in 8.1 you will also have the condition showed. And lets say your phone is in the pocket or on the desk and outside the weather condition changed and you have not realized it the app sends you one toast where the current condition is displayed.

Oh sorry i have missread "background task notifications" this is an toggle for the message that pops out if you shut off the background task for Prognoza. This is an automated message wich says "the app will not be updated..." And so on. But its showed every time, on every launch so i give users the choice turn this notification off.

app layout looks similar to bing weather

Bing weather was an idea as i started the app, an Bing weather for me has the best layout. Not too busy and informative.

Try Blue Skies! Haven't liked an app so much in a while.

true :), my problem you haven't differentiate your app layout from others good luck

Love the name. Thanks George.

Will check this out, but I HIGHLY recommend:
Blue Skies!
Downloaded it the other day after getting tired of the non-transparent Bing weather tile. Super simple layout with all important info shown and a really cool weather prediction engine, check it out!

"Windows phone, the official mobile OS to check the weather and some others stuff sometimes..." To be honest, this is depressing. Is weather the only concern of Windows phone developers? Around the same state of its life, Android started to get official apps and really original ones. Some of them were weather related. Not all of them.

There is no shortage of weather apps on windows phone. And all of them are spectacular.

Another copy of BING Weather app!!!

nope.didn´t find washington...

With location services i am sure it must find it, because the location of the app is the same as the location in HERE maps wich are accurate. And the location name is also from the HERE location services. If you enter the city name by hand try it this way "city name, state) that should work. But i always say that its the best experience with location data.

Nope. Sticking with Bing weather.

Is sample code to create a weather app included with the latest version of Visual Studio?

You could give it a try... http://code.msdn.microsoft.com/wpapps/Weather-Forecast-Sample-586ef733 But this sample lacks live tiles, lock screen, location services, notifications and so on. ;)

The app is really beautiful and well done. However, it does not seem very accurate and I know I can not blame the developer for it. Anyway, I will continue with Blue Skies, which fits more what I want. Simple, accurate and fast.

I for one am glad WPC covers these apps, even if there are a lot of competitors. Congratulations to the dev for also answering on this thread :-) Having the ability to save multiple cities with location off is important to me. I'll be keeping an eye on this app to see if that option is added.

"favorites" section is in the works, i can not promisse when but it will be done. :)

I prefer regenthet.in, a beautiful weather application!

Prognoza is a nice app, but they put the App Name where the city name should go. Its to distracting and a huge waste of space.

The Windows Phone design principles say the app name goes on top, because there are city names like 30 letters and on this three pivot layout it would go out and users would not see the full name of the city. I considered this but its not WP.

It would be awesome if you could include Cortana support :D Pozdrav

Maybe in one of the future updates, i must first see that Cortana comes out of "US" only so that all users can use it around the globe. Lijep pozdrav :)

Bing weather was hectic for me. While it was mostly accurate in Tokyo, once I moved to a different prefecture it couldn't even find my location for some reason (side note: Nokia here maps are basically useless in Japan), so I went back to amazing weather HD.
Prognoza is a really nice app, especially considering it's for free, but would love it more if they got rid of the huge "prognoza" text within the app. Takes upp valuable space, and if they insist on branding their own app, they could go about it in a more subtle way, IMHO.

The name will be smaller in the next versions so it shows more of the background picture :) i look what i can do.

Thank you for taking the time to read and answer our feedback! :)

The weather on my lock screen (from lockmix) and on the Timeme tile is more than enough for my needs.

Too much of weather app :/

Checkout thsi new ap for windows guys :) Unique and addictive :)
http://www.windowsphone.com/en-in/store/app/mr-escape-escape-if-you-can/...

Weather forecasting is hit and miss here in the UK. The app is besides the point. Unpredictable climate cannot be guaranteed 12hours in advance let alone days.

Totaly wrong weather data... Only visualy look good but for weather data is beter to use Amazing Weather HD, Bing Weather or Weather (The Weather Channel)

The weather data is the sources fault, and right now switching my source would be fatal, and close to impossible without changing 70% of the code. And btw. Bing, amazing weahter hd, and accuweather can also be wrong, i have tested it against all of them and my app has the same level of accuracy like the others. Maybe today it shows wrong but tomorrow it is right, when Bing and the others are wrong. The users choose wich one suits the most for their locations and thats good to have choices. :)

Anyone else remember Weather+/4castr? It was a Big Deal for a while, but since then nothing--not even a small update.