The Proline SP4 is the first Windows Phone made for South Africa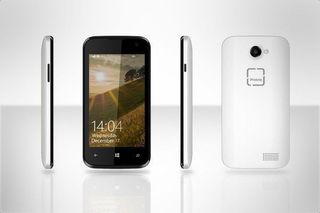 South Africa-based distributor Pinnacle Africa has announced the first Windows Phone made for consumers in that country, the Proline SP4. It will go on sale January 30 for the price of R999.00 (about $87).
As you might expect from its price, the Proline SP4 is on the low end of the hardware line, with a 4-inch 480 x 800 screen, a Cortex-A7 Quad Core processor, just 512MB of RAM and 4GB of onboard storage. It has a 1,950 mAh battery, a 5MP rear camera and a 0.3MP front facing camera. The phone does support dual SIMs.
The Proline SP4 does come with three different interchangeable covers (white, orange and green). The press release adds, "Pinnacle even offers a customisation service for companies wanting to deploy unique colours, logos and applications on their phones."
Source: Pinnacle Africa; Via: WMPU
Windows Central Newsletter
Get the best of Windows Central in your inbox, every day!
Anyone else notice how similar this looks to the Blu Win JR?

I just remembered Nokia Lumia 510!

There is only so much you can do with a rectangular slab.

Front side looks like Lumia 510

SD card support? Cus 4 GB wont be enough to then maybe.

Is that a Nokia Lumia 510 running WP 8.1..?
EDIT:This device doesn't follows Microsoft's norms of having the Volume buttons above the Power buttons..Or am I wrong here..?

Afaik the Prestigio Multiphone 8500 does not, too. They probably scraped it together with the camera button requirement.

That was never a requirement. Volume is on the left side, power on right. Just like my old Samsung.

MS never had a requirement for the placement of those buttons. That's up to the OEM. HTC often had the power/lock button on the top of the phone.

What about India? When it'll come here?

Buy one from Microsoft's 53x Series and there are many..Stop whinin..

I guess it was sarcasm bro...

He didn't put the 'S' under the hut like this-> '/s\' How am I supposed to know that then..?

Just two words "common sense"

Well there are a lotta whiners around bro and you need to put /s\ to save yourself from bashing..So....

Well Felix :O Proline SmartPhone4 .. could be worse

Station Park 4! ... Park station, via Noord street.

Budget phone stroooonk /s\

I saw/s\ wt u did there -_-

How about this?? -> ( . )( . )

Those who though it was a pair of eyes, there is something wrong with them ;)

Ha! Too right, it's clearly a dead heat in a zeppelin race!

I like it. Never heard that one before.

But aren't they supposed to be closed..?

For a moment I got excited I thought it was surface pro 4 or something

Yeah, me too. I'd be really disappointed if they were the Surface Pro 4 specs. :D

Customization is nice for a corporation - they can brand a whole set of phones with the company logo.

One things for sure, since Microsoft is pushing OEMs and itself to build more low spec devices, the upcoming Windows 10 might be optimized to run even better on low end hardware than the current 8.1.1 is

That would be very nice, some of my devices look like they're thinking a lot harder than necessary... =P

Yeah, but the latest Denim update did some magic for low memory devices. My 520 has been performing better than stock Cyan. Hopefully WP10 takes it to the next level

Stock Cyan..? When did the 520's start coming out from the factories with the Cyan pre-installed..?

Well here in the US they do, at least mine from AT&T did

This is awesome news!!! Showing the popularity and growth of windows phone here in South Africa :-D

Didn't the Edcon Group (Edgars, cna, jet cellular release a phone for R900 last month?
http://www.htxt.co.za/2014/12/03/edcon-launches-dual-sim-verssed-w1-wind...

I think Lumia is quite popular in SA. I see quite a few people sporting Lumias these days in corporate environment (especially in CPT).

Yay! Local Windows Phones :) I would like to get my hands on one to see the quality... I just bought a Proline 8-inch tablet for R1999 ($174) - the Proline W835G. It is pretty good and has quite a decent screen. If they are keeping that quality, it will be a good phone. Once it hits the shelves, the discounts will knock off a few hundred as well. It will also be cheaper here as we won't have to import.

Why bother converting to dollar

I assume so that the other people not living in SA can have a better understanding of our local pricing.

Another bargain basement basic Windows phone. It's a race to the bottom but we want premium phones please...

If I read the article correctly, this device wasn't made by Nokia or Microsoft Mobile, but by a local manufacturer that wanted to create "the first Windows Phone made for users in that country." It looks to be a solid offering. And, I'm sorry, but your cries for a flagship device, especially before Windows 10, are falling on deaf ears. I doubt many people, if anyone in South Africa, care for a flagship device or any device that would be out of reach for them price-wise.

Get your facts straight mate flagship phones are the best selling phones in South Africa after Blackberry lost its vibe two years ago

Maybe "best selling" is a tad exaggerating but if flagships didn't sell I doubt we'd have the Galaxy flagships shoved down our throats every year for two months after the launch.

From a South African site
http://1drv.ms/1xto0s9

I had read the article correctly, I didn't imply this was anything other than what it is, another basic phone to add to the long list of other basic phones (many of which are available in South Africa). This phone fits into an already crowded marketplace of cheap Windows phones

Mercdroid, have you even been to South Africa? There are plenty of us wanting a new L930 replacement. I've a 920 and don't see the benefit of 'upgrading' to the 930.

No, I've never been to South Africa. I'd love to go, but I've never been. But, thanks for asking. As for your current conquest for the mythical Windows Phone flagship that has yet to rear its ugly head, I have this to say: No amount of whining will make it come any sooner. I agree, that the 930 isn't much of an upgrade for 920 users; but, again, until there's concrete evidence of a flagship coming, no one know when the next high-end device will land. Now, my comment may have been a tad bit ignorant. But, you can't honestly say that you're spoeaking for the majority of the citizens in South Africa, can you? For a manufacturer to release a device like this, they had to have done research that shows that there is, at least, a niche of users that want this kind of device due to affordability, etc. You can't honestly say that this device has NO market in South Africa, simply because you don't fancy it. We're all still waiting to see what Microsoft's next flagship device is, if there even will be any. Let's stop attacking every other device that is released, simply because it doesn't pass our muster. That's all I'm saying. On a final note, if you want widespread adoption for the Windows Phone platform, then this is the way to do it. This OEM should be championed by the people here for trying to strengthen the Windows Phone platform.

Mercroid - what makes you believe that people in South Africa don't want a flagship? Also, if you'd read my comment properly, you'd have understood my point: 1 - It's another bargain phone (fact), and (2) I want a premium phone (fact). Why did you feel the need to speak on behalf of the population of South Africa and be deliberately arrogant and argumentative?

This is so cheap. It should be around P800 in my country. Might get this to test out W10

I must get it as ma back up for my lumia 1320

Correction: This is the second one for South Africa. First was Edcon Verssed W1

Then it must be the third... Because there was that other one back in the WP7.5 days that was exclusive to SA.. I can't remember who made it.

Best way and unique way to advertise Windows Phones is to show it on locked screen with beautiful background photo, without the live tiles.

Wrong! Microsoft needs to get rid of the black grid lines first, and make it possible to have the background picture show in it full glory.

Cortex A7 processor❓❓❓❓❓❓❓
............
No Qualcomm processor❓

A good question and definitely a blog specialized on WP should catch things like this.

Qualcomm is the company, A7 is the processor core type. Example: Pentium is to Intel

A7 is ARM property licensed to many companies other than Qualcomm. Only Intel makes Pentium. Though the link made it clear that this phone uses Snapdragon. Why not just state Snapdragon version in these blog posts, it is more relevant info.

I know all that, you block heads lol... It's just that I've never seen Qualcomm not mentioned on a WP device...

That's really cool. I'd like to try one out, I think it'll do better against the HTC 8s.

Woop, south Africa doing it up! Does it have expandable memory? Not sure about the 512ram though, 1gb would've been better.

I thought it's the Surface Phone 4 surfacing.

The more the merrier. Get the critical mass first, as these users buy their next phone it will likely be an upgraded windows phone. But catching them now at the low end is the way to get the critical mass for more flagships and app devs coming aboard

No new high end phones means that the people who can afford to buy apps, accessories, newer phones more often, etc jump to another OS. That can only be a bad thing for WP.

Nice.They should get a big name to endorse this. Oscar Pistorius would be perfect

Sure fire way to make sure no one buys your product. Lol

Do you not see the news? The guy murdered a woman, and a fine, but probably nagging one. Which "prick" would buy a phone endorsed by a "pussywaster" like this "Pistolius" guy?

Nou kort ons net fone met beter specs.

Wat noem julle "specs" in Afrikaans? Iemand het vir my gesê dat Afrikaans alle teknologiese woorde het maar ek glo dit nie. (forgive the grammar, derde taal)

Hör bitte auf Afrikaans zu sprechen. Na Amelika (Nigerian igbotic accent) we dey na, wir müssen "Amerikaans" sprechen. Heil /s\!

With those specs and a 1950mA battery, you probably only have to charge it once, ever

It looks like a cross between the S4 Mini and the 520.

That's a beautiful phone.

Other model based on Archos 40 Cesium.

"Cheap" phone should not mean "do it as cr@py as possible". If morons-manufacturers will behave like that, forget about any progress or IoT! Specifically, here we see no NFC - why?? Is it so "expensive" feature? Or it's something "luxury" for R1000 phone?? Don't think so. Same with RAM - goddamn $2 for additional 512MB - what's the point?? I _GIVE_ you these $2, just don't make sh!t-brick out of _potentially_ good stuff. Modern smartphones are too expensive for such low functionality they have! "Angry birds" for $1000? Sorry, f*** yourself! Hot price for any top device is $400 max. Especially when you have to buy some additional _useful_ software for it.