As promised, Navitel comes to Windows Phone 8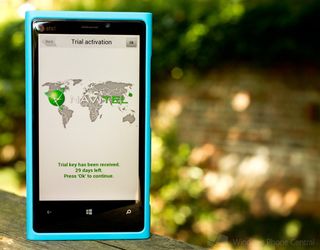 It was just last month when Navitel released a mapping app for Windows Phone 7.x devices with promises to release a Windows Phone 8 version in the near future. Today Navitel held true to their word and released the Windows Phone 8 version of their app. In a manner of speaking that is.
Now before you get excited, the release is very limited in what maps are available and it's only a thirty day trial. After the thirty days you'll have to pony up and pay as much as 50 Euros for Navitel's service.
The good news is that Navitel has a decent amount of features and maps are downloaded for off-line use. The bad news is that there are no maps for the United States, Canada, the United Kingdom, Germany, France, Italy, Spain, Australia and other major locations.
What is available for download are maps of Albania, Argentina, Belarus, Belize, Bosnia and Herzegovina, Bulgaria, Denmark, Costa Rica, Croatia, Czech Republic, Estonia, Finland, Greece, Guatemala, Hungary, Honduras, Kazakhstan, Kyrgyz Republic, Lithuania, Latvia, Macedonia, Mexico, Montenegro, Moldova, New Caledonia, Nicaragua, Norway, Panama, Poland, Romania, Russia, Salvador, Serbia, Slovakia, Sweden, Turkey, Ukraine, Uzbekistan, Venezuela. Pricing for each varies after the thirty day period expires.
Key features for the Navitel app include:
Instant routing
Extensive POI database
Free services such as Navitel Friends, Navitel Traffic, Navitel Events, Navitel Weather, and Navitel SMS
Notification system of places with high attention (speedcams, dangerous roads, radars, etc.)
Customizable route variables (shortest, avoid ferries, route for car/motorcycle/pedestrian)
Navitel reminds me of some of the early Windows Phone navigation apps that were strong on navigation and not so strong on user interface. On the plus side, Navitel takes advantage of off-line maps to lessen the odds of getting lost if you lose your data connection. Just not sure if turn by turn directions are data dependent.
If you feel like giving Navitel a test drive on your Windows Phone 8 device, you can find the thirty-day trial version here in the (opens in new tab) Windows Phone Store. Pricing for the available maps can be found here at Navitel's website.
via: wp7forum.ru
George is the Reviews Editor at Windows Central, concentrating on Windows 10 PC and Mobile apps. He's been a supporter of the platform since the days of Windows CE and uses his current Windows 10 Mobile phone daily to keep up with life and enjoy a game during down time.
You could say it's US-less.

Now that deserves a standing ovation for originality.. +10

Well played sir...well played.

More like its useless to 75% of the world's population.

Who needs it? Here Drive + is great, free, and it's still only in beta!

Actually no it's not. Here Drive+ is shit compared to Google Navigation. I'm spoiled. I like to get the traffic, the directions, the alternate routes (if the freeway is jammed) you know.. what regular Navigation apps are supposed to do.
Here Drive+ is shit.
MapQuest just released their app, they did on accident what Nokia tried to do on purpose. Sad but true. Uninstalled Here Drive+

Wrong. Google maps has never been that good. Not in Arizona, not in New Jersey, not in Tennessee and definitely not here in Nevada. California is probably the worse in navigation of all. Not once have I had navigation problems with Here maps and I'm one that travels often. Google maps isn't the worst but better? Never.

Wrong. I live I Southern California. The most congested place on Earth next to New York. Torrance, Newport Beach, Long Beach, Venice, Laguna Hills, Beverly Hills, and Hollywood all work like a champ. Not sure its your phone or the network or both.

Never had a problem in any of those places with Here and AT&T. Don't spend any time in Beverly Hills, full disclosure.

actually google maps is very good in New Jersey

Drive+ is still a beta. Traffic updates are coming.
Works great for me... and its free... and maps are downloadable, meaning its data free too.
I'll stick with Drive.

Well then pay up and get Navigon

Really? who would I pay? they're all free in America. they charge you in Russia for free software?

Here maps doesn't work so well in Atlanta. After I left Six Flags I used (tried) it to go to White Water. Once I started a route it keep changing and sending me in different directions. My son had to use his G3 to get us there. Once I got there I then tried Here again to go to a hotel. It couldn't get me there either. I will say Here did work good when I went to see Steel Panther in Myrtle Beach.

On 475? Pretty much a straight shot but yeah, I hate it when GPS knows less than I do. I had google maps accept it knew the route, start me on the road to get there then just give up at a gas station. Then when I tried to restart the search, it had NO info. Thank god for paper maps.

Maps has been getting me and my wife around China swimmingly. It even has bus route numbers, which is surprising, considering how chaotic transit can be. The only problem is when there is a construction project that has altered a line, but it has made this trip much better than the last!

I've had lots of issues with Here and I don't see how it STILL being in beta is a good thing... Been that way for a long time now

STILL is a good thing when you want your customers to have a free valuable app to use while they perfect the finished version. I have had TomTom and Garmin and neither have measured up to here drive+beta.

So how long is too long for you?

Ah, I remember when patience was a virtue.

I guess I should have read everyone's comments on here before I downloaded this waste of an app. No US maps.... Wow. Pretty much worthless for north America.

You mean here drive+ is The Shit, dont you? Its free and has everything, I bet you never played around with it or here maps, btw here maps has traffic better than google in my area(Vancouver)

I love this site and app but that has to be the most useless report ever. Not only can the US not use it nut most of the major countries in the world!

I agree Nokia drive could do with some features like traffic alerts and also some speed guidance, such as being able to select 60mph on a 70mph motorway etc, i find the arrival time on Nokia drive only achievable if you go a little faster than the speed limit on fast roads, and you get no jams or slowdowns. If you do the speed limit everywhere, you're always later than the eta because its too precise, and thus reliant on everything going well and you never having to slow/stop at lights and junctions etc... Its just not very "real world". Also, no custom poi's is a pain. I have a dynavin android unit in my car now, so have copilot professional running on it, and its far better than Nokia drive because you have control over speeds and pois etc, plus if you tether from your phone, you have all the live traffic updates and rerouting etc, which can be a godsend. Its not perfect either though. Google maps is a load of carp as its reliant on an active data connection at all times. The reason they wont let you download the maps for offline usage, is because they make their money from it by advertising poi's etc...

"Also, no custom poi's is a pain"

I've only used Drive on my 808 (Symbian), so things might be a bit different on the WP8 version, but in Maps I can create custom favorites by long-pressing on the relevant location and saving it under Favorites. In Drive, choose destination and look under Favorites. Voila!

Whats the purpose of this app. You can download maps for off line use on nokias as is.

I'm glad to see that there is development outside the US :D

Try the wisepilot app, very good GPS!
Windows Central Newsletter
Get the best of Windows Central in in your inbox, every day!
Thank you for signing up to Windows Central. You will receive a verification email shortly.
There was a problem. Please refresh the page and try again.