ProShot receives a considerable update, adds a new filter editor, Nokia Lumia 1020 support and more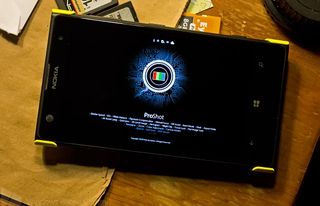 ProShot is a feature rich camera app for Windows Phone 8 that provides users with a significant amount of control over their Windows Phone camera. The app was updated today to version 3.0 and delivers a decent amount of new features and the customary user interface tweaks and bug fixes.
The stand out feature with the version 3.0 update is a real time filter editor that is a new in-app purchase ($.99). The filter editor makes available a handful of preset effects filters as well as an editor that you can use to create your own filters.
ProShot comes preloaded with a Black & White and Vintage (which is new) filter. The add-on filter editor will add Moment, Pop, Lavender, Summer, HDR Lite and Sin City filters (note: the Sin City filter is broken with a fix in the works). Custom filters are created by adjusting the RGB values, contrast, brightness, saturation and vignette levels. Filters are live so you will see the effect in your viewfinder.
Additional features in tow with the version 3.0 update include:
Faster image processing (estimated at 400% faster)
New Shadow Recovery feature to get more dynamic range from your images
Ability to save and export original images has been added
New shortcut pointer added to access settings faster
On-screen contrast, saturation, and filter indicators have been added
Nokia Lumia 1020 support added.
ProShot now offers resolution options up to 12MP for Nokia Lumia 1020 owners. The 12MP image is saved to your Picture Hub's Camera Roll album. The larger, 34MP or 38MP image (depending on the aspect ratio) is saved to ProShot's local storage with the option to export the larger image to the Saved Pictures album in your Pictures Hub. You will not be able to open the larger image in Nokia Camera but you will be able to export the image to your PC for editing.
We've always been impressed with ProShot and you have to admire the way the Windows Phone photography app has grown and evolved with each update. ProShot is available for Windows Phone 8 and there is a trial version available.
The full version will run you $1.99 with the new filter editor costing $.99 via in-app purchase (trial also available). You can find ProShot here in the (opens in new tab) Windows Phone Store.
Thanks, David, for the tip!
George is the Reviews Editor at Windows Central, concentrating on Windows 10 PC and Mobile apps. He's been a supporter of the platform since the days of Windows CE and uses his current Windows 10 Mobile phone daily to keep up with life and enjoy a game during down time.
International Windows Phone Day everyone! Save this date!

The new filter editor is SO sweet! Innovation right there!

Glad to hear you're liking it! :)

Filters must be popular because all the other highest rated camera apps do pretty much *nothing but filters*. I just don't understand it though. Why would you want to corrupt the picture you're taking? I just don't understand the concept or appeal. You can ruin your photo afterwards in any editor- why is ruining the digital "negative" per se so popular?

Some prefer not to use editors and would rather take care of things on the front end. Nothing wrong with it, just a different approach.

But... You're ruining the image with cheap artificial effects. You'll never get the picture back in it's lossless form..... Why?! It's like taking flacs, converting to mp3 with a custom equalizer applied, and deleting the original flac. Disgusting.

Why do you have to rationalize or understand why someone prefers something you don't? Just because it isn't for you, doesn't mean it doesn't make sense for others. Lots of people prefer the effects. Doesn't make them wrong. It just makes their opinion different than yours.

+100 I also can not understand the obsession with filters. But hey, to each his/her own

Two step way to make every ordinary pic look sorta 'art'.

I would agree with you if I'm out on a photo shoot. But when I'm just snapping selfies, or food, or hanging out filters are great, preset filters even better. I'm already going to edit it to add the filter. I'm going to delete the pic after I post it, and my dinner or selfie that night is no Ansel Adams, so why exactly do I need a RAW image file stored on my phone for the future?

All I need is a new cool icon

Definitely on the to-do list, but I wanted to bring awesome features first :)

I would like to have an option to delete photos from the app, sometimes I experiment or touch the screen by mistake and I would like to remove that stuff without searching it into the albums

Sorry just saw that deletion is OS limited

Uh oh. Now the app doesn't work for me at all (928). Update: now it works after a restart

Instagram id-.." anky17cool " ...follow to see amazing clicks from lumia

Seriously, dude? Amazing clicks from Lumia?? I could find nothing but tons of your own selfie, with repetitive expression in almost every picture... Nice try... If you really want to talk about "amazing clicks from Lumia", check "hgerii_" on Instagram. Nope, it is not my own Instagram, but someone I have been following. Now, THIS page is what I call amazing clicks.

This is bug ridden. Using a 1020. Everytime i click something asks to report an error

I'm sorry to hear this! If possible, can you please send me an email desciribing when it happens? There's a link in the About panel to send feedback. It seems like a few users are having the same issue, and I'd like to resolve it as soon as possible. Thank you!

1020 here. Running very well no issues.

I've had issues after upgrading ProShot in the past. They seem to go away after a phone reboot.

I can confirm, I had the same issue but rebooting the phone cleared the problem.

I was using this before then I got tired of it and uninstalled it. Maybe I'll give it another try.

I just want to say this app is literally the only way I can take pictures with the 820's crappy camera. Auto focus never works on the 820 so manual focus + burst is a godsend. By brute force I get at least one good picture! Keep up the good work.

One thing I like about ProShot is that you can adjust the saturation and contrast on the fly.

I take it that this update brings ProShot much closer to OneShot in terms of live filtering then.

I can't wait to give the update a try tomorrow. I liked ProShot, but have been using Nokia Camera.

But can you increase the shutter speed of the 1020. If so what settings.

Try either M, C1, or C2 modes. Those allow you to adjust shutter speeds. It's all set up very similar to a traditional DSLR

Annoying thing about this app is the inability to delete pictures from the app. I shouldn't have to get out of the app just to delete a picture I just took.

That's not the app's or the dev's fault. It is an OS limitation, third party apps can't delete photos from Camera Roll.

This. It really is a shame. I've got ideas on a workaround, but not sure yet if it will work.

Just go to settings ang press the Clear Storage button or uncheck Save Originals. ;)

Can this app be opened by the camera button yet? Pretty much the whole reason why I don't use it

Seriously? Again, not the app's fault. That functionality is half-baked, it's there but such apps can't yet make use of it. I think Nokia's Camera apps are the only ones which do it.

The camera button is EXCLUSIVE to Nokia apps only.

Wow!!! Brilliant...this always was a top notch app. Editable filters are genius. Clearly one of the top camera apps for WP. Keep up the great work!!

I installed it again and it rocks! You can create your own filters. That's way cool! :)

..gives it in the store any other camera app with the possibility to take 12mp/34mp or something else instead the 5mp/34mp photos on the 1020?

Wow, i have to wait that app support 1020 so long.
So it very impressed!

Ignorance and lack of culture can not be hidden behind any filters.

Have bought it, but haven't used it since 1020 and Nokia camera...
Good app though, especially the presets. Guess I'll have to download it again ;)

Nice update.. I use this app alot.if you are into picture taking on your phone this is a must have app.

Hi everyone! ProShot dev here. Here's a little video I put together explainging some of the new features in this update :) (excuse the v2.9 part, the video was made before I packaged everything in to a single v3.0 update). http://www.youtube.com/watch?v=I7zT7spRiJU

Was looking forward to this SO MUCH! ProShot finally has the edge again in imaging innovation :) Error report: the SIN CITY preset filter produced nothing but solid grey color for me (both on manual and auto, Lumia 920, Amber, Update 3)

Riseupgames!!! I bet you get this alot. But very good job men!!!! The new live custom filter is kickass. I surely will buy that. Keep up your fantastic job!

Awesome Update RiseUpGames
Was getting error message, but, shutting down and restarting the app fixed that,
purchased filter set has well. My Favorite Camera App for my 521 just get even better. Thanks

Bought the filters just to support the development of the best photo app.

I did the same. It is important to support the developers. ProShot has seen continual improvement. Well done.

Thanks riseupgames! I also noticed overall improved picture quality. Here's a suggestion though, please add more shutter speed options like nokia procam :D

Also noticed that the app totally restarts after exit unlike before where the app opens with the last mode used. Hope you could bring that feature back! Thanks again riseupgames

Thank you all so much for your kind words!! I've definitely got some great plans for the filter editor moving forward. Quick update: just submitted v3.0.1 for certification. Changelog: fixed Sin City filter fixed bug in intro screen fixed Auto, P, M, C1, C2 bug fixed timelapse issue various other bug fixes
should be available for download in the next few days. I'm really excited to see what kinds of filters you all come up with! Tweet me @RiseUpGames or post em here! http://forums.wpcentral.com/windows-phone-apps/215564-loving-proshot-camera-app.html

the filter editor is awesome, any chance of expanding on that and allowing edits on existing photos? sometimes I wish I have time to fiddle with all the possible filter combinations but I don't and would really like to go back later and check out my options :p
Windows Central Newsletter
Thank you for signing up to Windows Central. You will receive a verification email shortly.
There was a problem. Please refresh the page and try again.