PSA: Nokia Camera app is missing for some Lumia users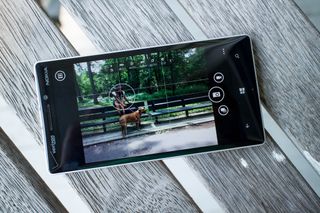 File this story under odd, but the Nokia Camera app is nowhere to be found on the Windows Phone Store. A handful of tips this morning pointed out the missing app to us as users are looking to set up their phones.
Usually, such complaints are trivial, as the app just cannot be found under Search – a standard issue. However, in this case, when using the direct link to the Store, the app is 100% absent suggesting something a little more odd is going on.
Being a Sunday, we are not very confident that Microsoft will respond to inquiries, but, hopefully, the popular app will come back soon. As an alternative, people can download Nokia Camera beta to their phones until the regular version comes back online.
Update: Looks like it is hit and miss for people, depending on the phone's hardware. Our Lumia 530 sees the Nokia Camera just find, while our Lumia 1520 has an 'Item Not Available' message.
Thanks, for the tips, everyone
Windows Central Newsletter
Get the best of Windows Central in your inbox, every day!
Daniel Rubino is the Editor-in-chief of Windows Central, head reviewer, podcast co-host, and analyst. He has been covering Microsoft since 2007 when this site was called WMExperts (and later Windows Phone Central). His interests include Windows, laptops, next-gen computing, and for some reason, watches. Before all this tech stuff, he worked on a Ph.D. in linguistics, watched people sleep (for medical purposes!), and ran the projectors at movie theaters because it was fun.
But isn't this already installed on Lumia phone by default so I am confused about the situation. I didn't even know you could install it via the store.
Edit: Ah but if you need to update it this could be a problem. Makes sense.

It seems like newer high-end phones cannot get Nokia Camera and can get Beta, but older/lower-end phones can get Nokia Camera but not Beta. Weird... :/

As newer phone could get Lumia camera, no it isn't weird at all

I have both, is that a problem? -Lumia925

I think so because I'm not able to get Nokia Camera Beta for L730. I already have Nokia Camera installed but simply tried after reading the article.

Yeaah correct. Same here #NokiaCameraBeta s unsupported on my 730

That's my situation, L1020 AT&T, USA

Not available on my lumia icon, when i look on the store in "my apps" it shows on the Not available for this phone section.. :/ but i have the Nokia camera beta installed xD

The last bit of your statement is wrong, I have lumia 520 and I always run beta version of Nokia camera, I also uninstalled it by accident a few days ago and I was fully able to install it again :)

Try uninstalling and installing it now. :)

Either because of the possible name change to "Lumia Camera" or has it has something to do with the Denim update. My educated guess...

First thing that sprung to mind as well...

Nokia 1020 with Nokia Camera App for sale @ £2000 ;)

Lol. If I chuck in another 1000 will you put flappy bird on it?

Give me talking tom plz will give u another 1000

The direct link took me to Nokia camera app.. Tried just now.

yeah... i have no problem... and im from Finland

Jup, same here, even though I'm not a Lumia user

Well, it's back.. Now, what just happend??..

Seems to be dependent on hardware. Our Lumia 1520 comes up with an 'Item Not Available' although our Lumia 530 is just fine.

That is weird... Why is the beta version not available for 925?

Ooooh...may be lumia camera update for the flagship phones is on the move.. Update: Users with 1520,930 ,830.... Is the app not available even with sysapp pusher or only through search in the store..? Although Camera app is there but Beta app shows its not available to your device...925

Item not available on my 1520 too.

lumia 930... not even on sysapp is available... but beta is...

Nokia Camera Beta is fine for my L1520.

What if Lumia Camera is coming for the 1520?

"This item isn't available in the store" says my 930 while my 520 can find it in the store with ease. :/

I think lumia denim is coming!

I have no problem getting the app by searching...it comes pretty easily

Error 805a0194 Lumia 929 gdr3

item not available on my 930

Just try it and nope it wasn't there

It state that"This item not available in the store"

I have the beta version Installed. I can download the official one but the beta it says is not available for my country, maybe they disabled it outside the US?

Its visible in the store +1320

Not on 1520 its still call Nokia camera and its bug keeps taking pics when you use the hard button

If you hold the camera button down, it's suppose to keep taking shots.

Mines is bug you press it once and it keep taking pics none stop with default cam it don't do that

that sounds like a physical button hardware issue. I don't think MSFT camera supports burst like Nokia Camera. You might try having the button checked. Just an idea.

And you can always disable it from auto starting if that is bothering you. :)

I have access to both nothing is missing on app store

I can see Nokia camera in the UK store fine on my 820 :/

Working fine on the 1020 too, US Store.

I can't see the beta on 820

You can find it in Nokia collection. Links are also working

Dunno... The Nokia camera app does show up when I search for it...

Maybe they are preparing for Lumia camera

Well, I don't know, but this isn't happening with me. I am able to find it on the store.

It seems that it is only unavailable to newer/high spec phones. Not there for me on 1520 in UK.

Not available for me... LUMIA CAMERA YAAAAAAAY* (*that's probably not happening right now)

On the forums everyone is suggesting it comes back as the Lumia Camera app. Seems likely to me, and it could even be a indication for the Lumia Denim firmware rollout since the Lumia Camera app only works in Denim (at least Microsoft said so, I thought).

Maybe Lumia Denim firmware in the offing!
Lumia Camera anyone?
My 930 is waiting anxiously FTW :) Update: Not seeing the Nokia Camera on my L930 but seeing it on my L620 right now

Try the Beta one on your 620.

Can't find beta on my L620 but can find it on my L930. Weird stuff

I found them both with my L620, but the Beta can't be installed on 620.

I think its back now, just tried

Oh and it is maybe tied to regions as I read on the forums that many of the same region can't find it (such as the Dutch people) but some on other regions still can download it...

Just wishful thinking but maybe Denim and Lumia Camera are comming very soon, proberbly an error on the store though

That was my immediate thought. Denim incoming? That would be nice.

It is present in store and i just downloaded it now

Not for specific devices.

Is there any one who want to exchange his 1520 with my 620 for the Nokia camera apps... Lol

Both Nokia camera and Nokia camera beta show up in the store but saying the beta version is not available for my device. Luckily I already have it installed. :)

Nokia camera or Lumia camera?

Lumia Camera is not out yet, so...Nokia Camera.

Not available for me, Lumia Icon running WP8.

Funny thing. Nokia Camera is available for me. But Nokia Camera beta says it's not available.

Same for Lumia 1020. Can get Nokia Camera but not Beta...

Same here for L925 in UK. Camera available, beta unavailable.

Ditto here, 1020 US, I have beta installed but the link says not available to your device

ditto. My L620 can find them both but the Beta one can't be installed.

I am getting Nokia camera but not the beta one

I think its just a temporary issue...for the users who reported...

As per my observation, the app is only seem to be missing for high end devices like 1520/930/830/etc.
Correct me if I'm wrong, anybody?
And if I'm right, it is a sign that high end users might get lucky soon, because denim is very very close. Hallelujah!

Nokia Camera available for Lumia 1020, while Beta is missing... Something strange.

This must be serious, Dan Rubino himself got out of bed to report this!

A aged He only sleeps 4 hours a night according to his Microsoft Band, also my 1520.3 shows beta but not non beta.

Wife's att 1520 16gb same

Still available here in France, on my 620.
It's probably a bug, or it means 'Lumia Camera' isn't far...
And it seems 'Nokia Camera BETA' doesn't show up anymore.

From my 1520.3 the Nokia camera link says the app isn't available but the beta is.

Nokia camera not available for my Lumia 1520.. Does it mean Lumia camera is going to come out anytime?

In my case I can still see the app in the store in both ways. L920 Czech rep CV, 8.1.1

But I don't see the beta version.. LOL

I can see Nokia Camera beta through sysapp only. But application is not active. Lumia 925 CZ and L720 CZ and L720 Germany. location Czech Republic

Found through sysapp pusher. Installing. How does it compare to the camera beta?

I can download the regular app and not the beta on my 1020. US store

Whatsapp is not available in my phone and store!

Not showing in Portugal so it may be just a regional glitch. Also, they could be preparing to soft launch the Lumia Camera. As the app was rebuild, the Nokia Camera one may return to the hands of Nokia.

Can't see it on my 830 with denim

I can see the app in store. Lumia 635 uk

Yep, not available in the store for my 930. Beta is. But I got de Nokia camera allready.

I don't see it using the search. but when I use the direct link then I see it (930)

For me, the live lock screen beta app is missing. (in addition to the Nokia camera app) - lumia 830

I hope the Lumia camera will be much faster.

Not going to be fast for your 920... :(

Microsoft said speed improvements only for 1520, 930, 830. :(

I think I is image quality for those devices.

I hope its faster or as fast as iPhone camera

On Lumia Denim, of course it will.

Not available for my Lumia 720 too..

In case in Searching for it and going to the direct link , i fimd it normally in my lumia 920 middle east. :) BTW what is PSA?

Public Service Announcement

I thought that was Public Sign Alert lol

Or Prostate Specific Antigen.

I think it's the sign of Lumia Denim

Lumia camera update coming soon?

I can see Nokia Camera app

Jeeeeezz... Ain't another 'region only' app by chance ?

But Nokia camera beta is not available

Not available for my Lumia 930 in the UK, either via the direct link or if I search the store. It can only mean that Denim is imminent! Maybe.

Is it happening Lumia camera

It might mean that Lumia Camera is coming? Which means denim update might be on the go

Direct link took me to the app; it's there apparently. Like mentioned here, probably hardware dependent? Oddly enought the direct link to the Nokia Camera BETA app however showed me the app but stated it wasn't avalable?
Using a Lumia 1020 here on cyan and DP (Europe)

Same for my Lumia 1020...

I'm really hoping Microsoft will combine their standard camera app with the Nokia app. They're both decent but it would be great to have just one that took the best of both.

Right same here.. I hate having to use two came apps.

Why do you have to use both? The MS app is there for non Lumia users. Unless they just let OEMs have the better camera. I am not sure I see that happening, for many reasons.

Yeah, considering Lumia Camera specifically interacts with Lumia's unique camera hardware I don't see a merge any time soon.

Nokia camera available but Nokia camera beta shows not available for your phone .... L620 India

Shows on htc 8x even tho it's not compatible

Lumia 720 here...
Somehow I can't find the Nokia Camera App on the store while I can't download the Nokia Camera Beta, saying not available for my device... Could this mean Lumia Camera is coming?

Daniel this happened with me earlier in case of foursquare as well. The problem might be with search algorithm coz app was found in browser.

Just tried it on my 1520 and its not there. The beta app is ok though

its just contrary to what is shown in my 925.. Nokia Camera app - available Nokia Camera Beta app - not available...

Nokia camera is der in my nokia lumia 720 windows store...but Lumia help+tips app is not available in my windows store???y???

1520 here and both apps are available for me

Are you sure it's available in the Store?

Well, when i click on the links in this article...they both popped as being to be downloaded. (unless I did something wrong)

Nokia camera beta isn't available for my 720 8.1.1

Will lumia camera replace the nokia camera for all windows phone 8users???I mean atleast will the brand name change to Lumia camera for other Lumia 8users???

Nokia Camera Beta Isn't available for me though I have it already installed. They might have done some mishap while app rebranding.

Lumia 920 in the US ....if I hadn't have installed Lumia Camera Beta previously, I wouldn't have been able to install it now. Says my device is incompatible

Not availabe for my Lumia 1520..

I can see Nokia Camera, but not the Beta version! Thats odd!

Add the Icon to that list. Just tried following the link in the article and I get an error message also. Luckily I already have it installed. The Beta link works fine. Just testing the waters.

Since it only affects the high end Lumia, I guess Denim is about to rollout with Lumia Camera instead, but still that would be weird

Can find the Nokia camera app but the beta app is not available on my 925 even though I already have the beta app on my 925 :/

Me too . That's extremely weird!

I can't find beta, but I can find the normal one.........

I have a 1020 with Dev Preview on At&t. The direct link for the Beta says that the app is not available for my device but the Nokia Camera link works for me.

Nokia camera beta says item not available on my 520, but the regular cam shows just fine, happily, I can still open both but more so Nokia camera beta because I'm always snapping with it! Sign of an upgrade I hope!!!!

Does anyone on here w/o a Pureview camera have any reason to use the Lumia Camera app (even the beta version) compared to the Microsoft built in app? I am just wondering what benefits I would see if I used the Lumia app. All I know is that it starts slower and 1 sec slower in taking a pic vs the Microsoft built in app starts fast and takes pics faster. h

It allows zoom during video recording.

It has manual focus and exposure time, etc which unavailable on the Microsoft app

No it's not. Not for my 1520

I have both on my Lumia 520 :D

Nokia photo app appears in the store

Maybe Lumia camera is on the way :)

Lumia 930 newest firmware and software in switzerland: Lumia Camera not available, beta available

Lumia camera will be available for Lumia 1020 with new features ???

Some new features. Only 930 and 1520 get 4k video and 8mp screen grabs, new sharper algorithm, along with massive speed increase. 1020 will get a camera app that launches and saves faster.

Source for the second part about the 1020, please. And how come the 1020 not get the new algorithm?

That's the rumor so far. At this point probably only the 930 and 1520 will get algorithm present on the 830. That's not confirmed though. But the 1020 just can't support 4k.

Oh thanks for the information but Lumia 1020 is the best camera phone till, but thn also it will not get 4k recording :-\ odd

4K recording needs a powerful processor. But the chip in the 1020 is not powerful enough to do that.

Yea just 1.5 GHz dual core processor, well any type of new improvement/features we will get ? The Nokia camera app is bit slow, it should be better.

I also have a 1020, but I'm not hoping for a lot, because MS is very unwilling to give Lumia 1020 new features the processor can easily handle, like continuous autofocus, living images, faster startup. So Most likely, we would only find a new/updated camera algorithm... :/

You don't by any chance have a link or source to this information do you? I'm a 1020 user, and it'd be great if the 1020 was actually getting some model-specific improvements with Denim. Nokia Camera's speed isn't entirely unbearable, but I'd welcome a slightly faster launch and shot-to-shot time.

Other apps like 'Camera 1020' capture full-res pictures as fast as Microsoft Camera... So that means MS is just lazy to not optimise Nokia Camera to make it faster.

We cant say anything right now, just hope for the good. Still I love my Lumia 1020 with the nokia camera app, just unbeatable. ;-) cheers :-D

Nokia Camera beta is not available for Nokia Lumia 520 !

F*** this! Just tell me where is thomas nigero! I m gonna kill him!

Weird, I never use the app and when I tried it I had subtle static sound coming from my rear speaker on the phone. Nokia 928

625 shows it on store no problem so maybe denim is coming SOOOOON

Microsoft camera is on the way then..

UK Lumia 1020, comes up first when searching. Presume the only phones affected are those that are getting the new Lumia Camera with Denim (830,930,1520), so maybe this is preparation for the roll-out.

1520 here:
Nokia camera - not available
Nokia camera beta - available and just installed it

How Microsoft knows my size , and will they send the Denim by FedEx?

Triangulation using your pocket as the reference point, distance to your ear and when holding it in front of you

My lumia 525 sees the nokia camera just fine while my lumia 830 has an "item not available" message

Just search on my Lumia 630 and it was there solid. No Problem here though as it was preinstalled on my Lumia.

How about the beta version?

My 1520 shows the app no problem here

My 1020 has it installed and can find it in the store.

For my 1520 it says "Not available in the store" and closing. Not even showing the app in the store (I tried to access from latest downloads).

I think they are updating it to "Lumia Camera" as it's unavailable on my Lumia 830 and 1520!

Maybe they're getting ready for the rich camera app.

I've didn't find it in the store with my Lumia 1520 . I think it is updating. but it has been installed since a while on my phone.the problem that It will be a problem for who will reset his\her phone

Lumia 1020 User here, running 8.1 with Cyan. I could install the Nokia Camera app a couple days ago, but when I open the Lumia Camera Beta, it says my 1020 is not compatible (WTF?) I had the same version installed last week, did a hard reset, now I cant download it anymore. No idea whats going on.

I'd say denim will be out tomorrow

Hope denim is out tomorrow and it's not glitch on their servers

Surely its getting renamed to Lumia Camera

After having searched for app several times without luck. WC's link finnaly brought me to its page. Still no luck as it was not available for me on my Icon. So, i decided to try with Windows Central app on my phone. And.... there it was! Downloaded and installed on my Icon now. give it a try. update: im seeing no difference between Nokia camera beta and Nokia camera. Even has the same version number. sigh...

I cannot download Nokia Camera Beta but can see and download Nokia Camera...

Nokia Camera is there in the store, installed, but beta is not available. Lumia 635 Malaysia here.

I was having problems with my Nokia Camera Beta the other night. My photos were coming out very pixelated and Lumia Creative Studio wasn't allowing me to save them. I wonder if this is related... (Lumia 1020, 8.1 DP)

Its available for me. 730

I have a 1520 and it's not showing...

It's available for me. Danish CV white 920, latest DP, am in Hungary, location is set to US.

Available for my Lumia 930. Thanks.

Maybe it's because it's called Lumia Camera now. I haven't update my Nokia apps because of the name change, so I never got the "Lumia Camera" update. If it's still called Nokia Camera/Nokia Camera Beta, let me know.

L925 on T-Mobile not seeing Nokia Camera either. I already have the Beta installed. Maybe it will be resolved tomorrow by releasing "Lumia Camera"????

Hopefully Microsoft camera and Nokia camera are merged.

Very weird...just showed up as available!!!

And now the Beta is unavailable

It's available in the store for my 1520 but I get an error when trying to download it. :(

Beta app not available on my 920 in Australia, the standard app is though... Curious!

somebody have tried to get the xap file and install via SD card or internal memory?

Lumia 920 CV France, WP8.1 Cyan (no DP) Nokia Camera still available, Nokia Camera Beta not available ... for my phone


Nokia 1020, germany, unlocked. I can find it in store, no problem here. Anyways, camera beta says: Not available for my phone. Which is quite wierd.

''GoodBye Nokia Camera'' ''Welcome Lumia Camera'' ''Coming very soon''

In my case nokia camera beta is not available for my device but the regular version is available.

Odd I can download camera but not beta.

Not there for me...1520 RM-937

I see it on my 1020 in canada

I've been having issues with the Nokia camera app, too much exposure on the Lumia 1520, the beta works a lot better

After I take a picture on the beta and click on the camera roll icon it takes fooooorrreeevvvverr to review the pictures. Same for you?

It shows not available on my 720.

I have both the Nokia Camera and Nokia Camera Beta apps in my 1520 and 925 so all is good with me. ​

Maybe they are making it faster to check the camera roll after a picture and wait forever

With a 'Tap screen to take pictures and videos' option like the built-in application.

Most likely this is a precursor to the rebrand to Lumia Camera. That's the only explanation I can think of.

Maybe they have considerd seeding the Denim update after all. In case you didn't note it , the 'Transfer my Data' and 'Photobeamer' apps were just updated.

I can see the Nokia Camera, but the Nokia camera beta reads:- App not available..

Hi, Nokia Camera will be available soon again, sorry for the inconvenience. Br, David

Nokia camera not available-Cameroon Douala

Nokia camera not available-Cameroon Douala Lumia 1020

Nokia Lumia 920 - Nokia Camera available, searching for beta I can only find Instagram BETA :-)

we need timelapse mode pls

Music sense not available too and more apps

I have an 830 and my camera is not working none of the apps I've downloaded seem to work.

Today I opened my Nokia Lumia Icon to take a photo and found the camera missing. It was just plain weird—a black hole where the app used to be. So I searched and found this article. Even though it seems to have been going on for a half year, it JUST NOW happened to me! Thanks for the article.