PSA: Windows Phone Store down for some [Update: It's back]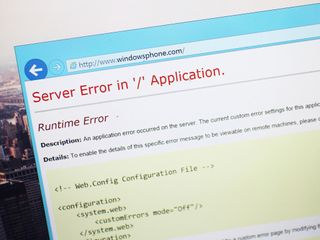 Update: It appears that the Windows Phone Store is back in business. Download on.
Having trouble accessing the Windows Phone Store? You're not alone. About 3:10 PM PST is when we first started getting errors connecting to the Windows Phone Store. Since then tips are coming in from others that they're unable to access or update apps in the Windows Phone Store.
Having trouble connecting? Let us know which region you're in. We'll let you know when the Windows Phone Store is back up and running.
Thanks for the tips everyone!
Windows Central Newsletter
Get the best of Windows Central in in your inbox, every day!
Yep. Can't connect. Washington state

Came here to say this... :-(

Up and running here in France.

Works as it should in Springfield MA on AT&T.

I was having issues here in Alabama. Finally got through(just a few seconds ago) to update to the Windows Central app! Great app by the way.

I do have a problem with the store ( Jordan - Amman )

والله هلا وغلا اول عربي بعلق ههه واردني كمان ! هلا وغلا

That's easy for you to say...

Hhhhhhhhhhhhhhhhhhhh Tafila does not count right?

Me neither... I can't upload my apps or acces to an App información, my region is México

Gold here: Miami, FL AT&T

Still having problems NYC

working properly here
US region

Is it maybe a carrier issue? Who are the folks using that it does not work? Just curious.

Ontario, Canada. Had the change over app update for Windows Central, and an update for 6sec. No problems downloading and installing those updates approximately an hour ago.

To Colombia, SA ii is down too....

Web page is down, but access using the Phone is up...Downloding and installing Windows Central app its OK!!!

Correction. Store on phone works. Website ( windowsphone.com ) does not.

Having problems here. São Paulo, Brasil

Check out IsItDownRightNow.com I'm guessing its almost everywhere, its down for me. Edit: Arizona but the store on the phone works.

Cant connect from Bangladesh..

Same here.. I thought it was a bug in my recently updated ATIV S..lol

Yup. Can't access it in Portugal on the 1020. But I just updated Age of Empires on the 930... Weird.

There was a small outage but ok now. Downloading now the update for AOE Castle Siege. Hungary

I need update Lumia Deinm my phone Nokia 1520 :(

I used to live in Vienna. Totally off topic I know, but I don't come across Austrians that often anymore :)

God I hope not, I love that city.

the city it self isn't down, only the windows phone store was :)
but now it is up again for me

Not able to connect: Texas, USA

NY was down but now back up.

Mine is working just fine and I am in the UK.

Works for me, Washington state.

Georgia is working fine.. Well, not the state, the store in that region :)

Hahaha.. No error handler..

Working just fine! Portugal, EU

Got a c101a006 error when trying to install the St George app on my dad's Lumia 920. Australia. Is this related to the store downtime?

In Portugal it works fine now, but i had trouble to acess the store last hour.

Russia, Northwestern FD, up and running again!

Must be getting ready for new phone orders......wait that's a different company.

Was down for a bit here in Miami, FL but its back up again

Yakutsk, Sakha republic. It's working!

I am in Sri Lanka and WP store is still not working.

Philippines. Can't download anything

Can access the store via phone in New Zealand. But had two app updates available, the new Windows Central app rebranding & 6sec. The Windows Central update downloaded & installed fine, but 6sec fails each time with an error message.

I'm still getting this wack "Inquiring minds might find this error code helpful: 805a8011" message so I can't do anything.

The Czech Republic. It is back on.

Hi all, I have just noticed when checking "Activity" on my xbox.com account is empty. The same with my sons' accounts. One of them cannot cannot even play Xbox Live games on his phone but he can go through the store and install all the apps and games, xbox live games included. The game section in his phone says "Log in or register your XBOX account". Of course, he has got his one for years. Until yesterday before the store update everything had been OK. Any clue?

Join World Largest wp group

store has problems way too often

Hooray! WP store is back at work!

Cant access store.... Help!! For over 3 days!! :-(... India

Still cant open store in India 805a8011 )-;
Windows Central Newsletter
Thank you for signing up to Windows Central. You will receive a verification email shortly.
There was a problem. Please refresh the page and try again.