Puzzle Craft updated, now works on budget Windows Phone 8 hardware with 512MB RAM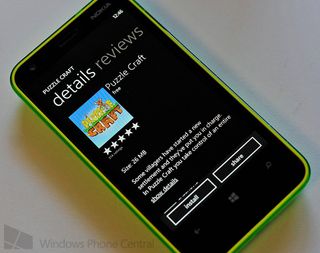 The popular game Puzzle Craft has been updated to include support for low-end hardware. Windows Phone 8 devices that sport 512MB RAM will now be able to run the title, which was released for the mobile platform just days ago. This is superb news for those who don't own an expensive Windows Phone and wish to enjoy the addictive experience (see above for app with option to install on Lumia 620).
What's also interesting is Puzzle Craft is a free city sim (with no adverts) that came to Windows 8 and Windows Phone before Android, which we're feeling rather smug about. It's not the first time Microsoft's platform has managed to bag an app or game before competing platforms, but it's good to see content coming to Windows Phone before rival stores.
You can download Puzzle Craft from the Windows Phone store for free (as well as the Windows 8 version).
Rich Edmonds is a word conjurer at Windows Central, covering everything related to Windows, gaming, and hardware. He's been involved in technology for more than a decade and knows a thing or two about the magic inside a device chassis. You can follow him over on Twitter at @RichEdmonds.
now's your turn, gameloft....

This game is really well done. Should be an Xbox WP title!

Agree, love this game, love seeing the different people you have hired walk about town, really well done. Glad those with 512 Mb can enjoy now.

I say that all the time that alot of these games should be xbox but due to ms not updating the allowed xbox developer list (in months to a year).


Also gameloft first has to fix the 2 bugged achievements in spidermand and the 2 in dark knight (which knowing gameloft history will never happen)

@Terrin I agree. I am still waiting for gameloft support to fix my account issues so I can do online multiplayer. They make great games but support is just sad

I have been enjoying playing this game on my Surface.

wish you could link the two games together, but love it anyway.

Why is this game free though? No ads even. Hmmm...I am down to just 400 MB memory on my 820. That other storage update cannot come soon enough to download more games.

there is in app purchase for coins.

I don't mind paying a high price tag for games but coin for cash games are just annoying. So not getting this game then. Thanks for helping me out :)

I am playing this game like a nerd since its release and I never even came close to buying coins. You can really play it without spending a cent. Just give it a try.

I have beaten the game and not once have I spent money. So don't let the rest of those type games turn you off this one is worth the play.

@Jonathan - the game sounds alright then? Cool. Will give it a go on my desktop where HDD space isn't an issue :)

I got to level 25 (basicly as high as you need to be) and put down a castle (end end game building) without purchasing a single coin.

Seems a little faster on my 8X now.

Please Puzzle Craft's devs, make this game available here in Brazil!! You can use PEGI or ESRB to publish in here.

I wish they would expand past the castle more content please this game is awesome!

Dafuq? How did u guys already beat the game? I am playing it like mad and am still collecting cows lol!

hire the workers for the right positions. Also don't be afraid to spend the ingame coin you get from taxes/market building. Also remember that collecting 10 cows/apples/diamonds/gold at one time (ie in one trace of the finger) gets you a coin spawned in that I believe is worth 200 coin.

Also, fertilizers are your best friend. Winter season tends to have more trees, use fertilizers to change them trees into wheat, which makes bread, which you can take into the mine.

This game is awesome :) Been playing since day one. Perfect time killer

This game is ace. Got the castle yesterday after about 3 days of crazy playing. Once you get a good cycle going you can easily generate tons of 'gold' no need to pay a cent. I got tens of thousand of gold selling my materials I don't need. Have all buildings and people maxed, lol just now farming gold and mats for future updates. A whole lot of fun though!highly recommended

Hellllooo!!! (Like when you hire someone new)

For me, this is one of the best games on cellphone platform. Well done.

This will definitely be the game I miss most when leaving WP.

''Your phone doesn't meet the minimum requirements needed to run this app.''
hmm...how to install this game on my lumia 620,i tried manual to download and over wifi but i can't ... i read here the game is updated and it should run on my lumia 620 but always i get this message that my phone doesn't support this game
can somebody help me ?
thanks
Windows Central Newsletter
Get the best of Windows Central in in your inbox, every day!
Thank you for signing up to Windows Central. You will receive a verification email shortly.
There was a problem. Please refresh the page and try again.