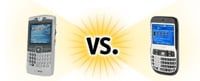 C|Net Asia pits the now-venerable (my, how quickly phones become "venerable" these days) against newcomer DoPod C720W/HTC Excalibur/T-Mobile Dash (my, how quickly I get tired of HTC allowing their devices to get 300 different names). Both are WM5 Smartphone Edition QWERTY slabs, both are thin and pretty good looking. I think they're right to give the Dash the win, though - I likes me my WiFi on my devices.
Read: Prizefight: Dopod C720W vs. Moto Q - Product Review - CNET Asia
Windows Central Newsletter
Get the best of Windows Central in your inbox, every day!