Q4 results: Microsoft heading in the right direction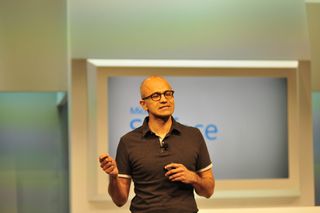 Microsoft reported fiscal Q4 earnings results yesterday. You can read the WPCentral recap of the numbers here. Overall the financial performance was decent, and Wall Street still seems to appreciate the work that Microsoft CEO Satya Nadella is doing to restructure the company for a successful future in cloud and mobile computing.
I've often talked about Microsoft as a turnaround story, and before I dive into my thoughts on the quarter (and the company) let me just explain this a bit. Microsoft is undergoing significant change. They are moving from a desktop-oriented OS and software company to a mobile and cloud computing company that mostly serves enterprise customers with productivity solutions. Some folks do not like the use of the word "turnaround" to describe what's happening, but I think it is appropriate nevertheless. Usually a turnaround is attempted once it is clearly that the business is failing. Microsoft has been very successful and isn't failing. However, it is also obvious that if they stayed on the old path much longer they would fail. So whether you prefer to call it a "massive change in direction" (or anything else) instead of "turnaround," be my guest. I am not going to argue about a label.
Microsoft posted $23.4 billion in revenue for the quarter. Because of the Nokia integration about two months of Nokia revenues are lumped in here, or $2 billion. If we adjust for this Microsoft still posted 10% year over year revenue growth, which is quite strong.
Earnings per share (EPS) were $0.55, but the Nokia business hurt them by $0.08 in the quarter meaning that core Microsoft earnings were actually $0.63 per share. Analysts were expecting $0.60, and having been an analyst for a long time I guess most analysts did not incorporate an estimated loss from Nokia in these numbers, so I think we can reasonably say that Microsoft posted stronger than expected earnings.
In keeping with the major shift away from desktop and towards cloud/mobile, Microsoft was very keen to share the 147% year over year growth they posted in "commercial cloud," which is mostly Azure and Office 365. They said revenue is now at a run rate of over $4.4 billion which means quarterly revenue was about $1.1 billion or almost 5% of the entire company's revenue. Considering the growth rate and the size of this revenue base as of today, I think it holds a lot of promise for Microsoft in the coming years. We are entering a world of software as a service (SaaS) and I think customers are becoming quite accepting of the idea they'll pay a recurring revenue for productivity software such as Office 365. In the long run, this SaaS works out better for Microsoft, and while customers spend more money they never have to worry about software installation or maintenance.
The Server and Cloud division, which houses the above-referenced "commercial cloud" stuff posted a total of $13.5 billion in revenue, or 58% of Microsoft's total. That is up 11% year over year.
Looking at the phone business, they sold 5.8 million Lumia phones in the quarter but remember this only accounts for a partial quarter under Microsoft's ownership. We can estimate that year over year Lumia growth was probably closer to 20% instead of the decline that the unadjusted numbers suggest. Microsoft was very clear that the Lumia growth is coming from the Lumia 52x/62x series phones, and I am happy to see they've finally embraced (successfully) the low end of the market. There is a lot of volume to capture here, and Microsoft is making steady progress. That said when an entire operating system has less than 10 million smartphones sold per quarter it is not making the kind of progress required to get anywhere close to narrowing the gap between the top two players (Apple and Google) and #3 (Microsoft ).
The 30 million non-Lumia phones sold in the quarter also remind us why the acquired Nokia division is taking the brunt of the job cuts recently announced. Yes it is unfortunate, but it is also very clear (when running a business) that feature phones have no place inside of Microsoft. As a reminder, when Microsoft cuts 18,000 jobs in the next few quarters about 5,500 (a minority of the total) are core Microsoft folks. Also keep in mind that in any given year Microsoft probably sees about 8,000 people resign, so they should be able to accomplish much of the non-Nokia cuts via normal attrition.
All things considered it looks to me like Microsoft is on pretty solid ground. They are making smart choices by consolidating teams to avoid duplication (OneDrive vs. OnDrive for Business, Skype vs. Lync, Exchange vs. Outlook). They expect operating costs to fall in 2015 despite seeing revenue rise. They are the clear leader in office productivity software, and they are using this position successfully to monetize the growth of other mobile platforms which mean they do not need to win the mobile OS war.
Financially, the stock trades at about $45 and analysts figure they'll report $3.15 in EPS next year. That puts the stock at a forward price to earnings multiple of 14, which also happens to be right in line with Apple. This is not an expensive stock, nor does it grab me as particularly risky.
For those of you who spend time looking at tech stocks what's your take? Leaving you own personal views of the products aside, which stock would you rather own at a 14 P/E multiple? Microsoft or Apple? Microsoft already has the enterprise penetration that Apple is after. However, Apple has the kind of mobile market share that Microsoft would love.
(Chris Umiastowski is a contributing financial writer to the Mobile Nations network. You can see the rest of his posts here at AndroidCentral, iMore and CrackBerry.)
Windows Central Newsletter
Get the best of Windows Central in your inbox, every day!
And we can also hope Microsoft will speed up the updates along with growth.

Isn't this actually Ballmer's last "report card", it really doesn't have anything to do with Nadella. Let's not give credit where it hasn't been earned yet. Edit - wasn't saying you were giving him credit, the author is who I meant. Sorry.

Revenue numbers, possibly. Stock prices? The sentiment is clearly with Nadella. The stock has ticked up sharply since his arrival. Excecs I talk to believe MS are turning it around and are more attractive and talk more posetively about MS. (These people have no idea how strong MS are in Cloud, with 365 and Azure) I know how great Azure and 365 are, MS are in great shape for the coming revolution. This move to the cloud is like the shift away from Mid Sized systems and the death of Unix, AS400, DEC. Its obvious, and its coming for most of us. (IT Deparments vary from how switched onto this they are) Apple have lost their lustre in terms of development. But people will still buy iPads and iPhones for status, and the hardware. Particularly in the US, where status and brand mean so much. EU is more pragmatic and the East is weird :/ I love everything I hear from Nadella, really giving the company back the nerds and away from spreadsheets and sales people. Let the business run on good ideas and innovative product and the sales will come. As a consumer with no MS stock I just love them making good products. I love my Xbox (360 and One) I love my Windows Phone more than any phone I've had. And I love Azure and 365. (And who doesn't love SQL Server, Exchange, Windows Server) I even love WIndows 8, yeah I'm the one :)

Well said. I've put all my weight behind Windows and will be developing exclusively for the platform. I really love the things Nadella has been doing. Looking forward to Threshold, which I believe will true make Windows what it should have been years ago.

I think, painful as the decisions may be, msft are heading in the right direction and getting focused. And cleaning up Ballmer's messier decisions.

These are Ballmer's numbers, I believe. Nadella's will be seen on the next report.

Your spot on! I don't know why people continually ignore the fact the Ballmer orchestrated the purchase of Nokia devices/services division and I'm sure these job cuts were a part of his ONE MICROSOFT vision as well as departmental unification as he also spoke of streamlining processes speed delivery of updates, hardward, etc, yet members of the media continually ignore these facts. He was also behind OFFICE for ipad and android. So again, the only this we're really seeing that Satya deserves credit for is AZURE and he revenue generated by it. SP3 is all Ballmer as well. It's funny to see how people blatantly ignore true facts when you can go back and listen to some of Ballmers presentations when windows 8, surface, and hybrid PC's were being brought to market by Microsoft, intel, and partners.

Exactly. People tend to refer to Ballmer as the great delay of Microsoft, but in fact is quite the opposite. Under Ballmer's command Microsoft made a gigantic step forward in the OS division, with Windows 7, reformulated the entire Windows development with gradually better versions of .NET and Visual Studio, transformed SQL Server in one of the best database available - just to mention a few. Yes, he was late on the mobile race, but eventually got there with Windows Phone. Now Nadella is going to enjoy this fertility and, I believe, will make room for more improvements.

Microsoft certainly wasn't standing still during Ballmer's tenure. They've made great strides in many areas, but Microsoft has also fallen behind in areas where they were ahead, thanks to Ballmer. Ballmer isn't responsible for Xbox or Surface or Windows or any product, directly. However, he was responsible for the strategic direction of the company, which he screwed up. Once upon a time, Microsoft created the tablet PC, and they led the smartphone pack. Ballmer couldn't see where the industry was going and he brushed it aside until Microsoft was usurped by competition. Unlike Steve Jobs, the majority of CEOs aren't directly involved with product development. These revenue figures are because of the great engineers that Microsoft has. Nadella has shown greater haste and has made changes with greater impact in the past 6 with regard to product development and organizational strategy than Ballmer has done in the past 6 years.

Sorry but this is still Ballmer's. Nutella is a nut job!

Remember, stock performance is an indicator of future possibilities that investors have for a company. The increase in stock performance since Nadella took the helm shows that people are excited about the possibilities he brings to the company. Saying that, we have to give some kudos to some of Balmer's exit decisions. It is a combination. Balmer had obviously run his course, and more than likely much of his last decisions were the results of a lot of back and forth between him and the likes of Nadella. But good decsions they were. However, not so good to inspire the last 6 months of returns scene in MS. Most of that is the hope for the future that Nadella brings to investors.

I know that Microsoft's future is bright. Lately I've seen videos how cloud would operate everything even in gaming no matter what platform you're using. And now I know that they are doing the right approach to develop for their cloud ☁.

Ha! Given the networks speed here the world still isn't ready for the cloud!

Microsoft is heading in the right direction financially, but not product-wise according to recent news.

I think they're just concentrating on their core products, trying to become leaner and less distracted. I mean, is Microsoft really an entertainment production company? I don't know, but Nadella doesn't think so.

It's not about what they are but what they could be. Nadella is so risk averse and, I believe, is making these moves to "juice" the stock. Microsoft was expanding yet focusing their efforts at the same time under Ballmer's One Microsoft. The way Nadella has been leading Stack Ranking is looking to make a comeback :(

No, Microsoft isn't an entertainment production company and I don't mind the shutdown of the Xbox Entertainment Studios but I think Xbox Music and Video are essential to the Windows/Xbox ecosystem.

I agree with him there, especiall since you can partner up with companies to bring content to your devices.

They are trying to become what's IBM is now at days with those cuts off. With google and apple slow gaining space more and more MSFT should expand more by making alliances not picking a fight in all areas.When you sell an ecosystem (Win8 Xbox and WP) you don't simply torn it apart by selling/clossing Music and video. He can't shrink Microsoft forever to gain speed.

This will benefit in the long run. But they should also know their competitors very well.

Seems to me the lessons of Nokia/Blackberry have not been learnt here. Its going to be about ecosystems in the future, not concentrating on one area, like phones or enterprise, imho.

+1, the ecosystem is the only way to look in users in the long term

That's why MS is focusing a unified experience on windows phone, Windows and Xbox

No Xbox Music or Video on all three, that's certainly unified :D

Here's a twit from Joe Belfiore about Xbox Music and Video, and it's not going anywhere. http://wmpoweruser.com/joe-belfiore-microsoft-has-no-plans-to-drop-xbox-...

Ha, take this you optimistic bitches.

Product wise the company is heading in the wrong direction. Can't recommend buying any of their current products.

I hope 81 isn't the year you were born, because then I couldn't listen to anything you said... *sniff* =[

Seems like things really started picking up before Ballmer left and now falling apart with Nadella.

Really! You mean all the wonderful business decisions for the Xbox one?

MSFT over AAPL, People are starting to recognize and understand the new windows and tablets with the "clicky-thing" on TV. Apple, while very successful, isn't showing them anything new.

Big companies tend to move slowly. Satya has just made a big company smaller, so are they now likely to move faster in the future? Only time can tell.

Smaller? MS still has over 100k employees total after the layoffs. That's no small company. Posted via Windows Phone Central App

Microsoft is very very big company in the market. Biggest in IT sector.

Depends how it is counted. MS is biggest in PCs, but if counted all, phones, servers, etc., etc. MS have only 14% share. And this is said by MS itself. Posted via Windows Phone Central App

Google is also really really really big, isn't it?

I understand the cuts and reorganization from a business point of view, but does all of this mean Microsoft is steering more towards enterprise? They seem to be interested in cutting the media services, like Nokia mix radio and Xbox music/video, which I think would hurt the consumer end. Will they only push the low end Lumias since they're selling o.k., but not the high end? I've been a loyal WP supporter since WP7, I hope they don't forget their loyal base, as there are alot of us!

I don't get the "heading toward a company serving enterprise customers with productivity solutions" part. They sound like they're becoming IBM. What about Win 8.1, WP 8.1, universal apps, Xbox etc. That's not in that sector.

"I think customers are becoming quite accepting of the idea they'll pay a recurring revenue for productivity software such as Office 365." Are they? I know of no private customer who wants to pay yearly for Office when they can just buy the normal version and have it last for years. For enterprise, Office 365 makes a lot of sense. For the private consumer, it doesn't. I love Microsoft Word but I'll be quite blunt: I'll NEVER pay yearly for it. I only expect to upgrade from Office 2013 in 2023, but whenever I do upgrade, if all I have offered is the Office 365 type of offering, I WILL ditch Office for other productivity tools. And like me, I'm sure many other private users will do the same.

Office 365 is doing very well. Apple charges for OS updates. Proof is in the numbers, not necessarily personal preference.

"Apple charges for OS updates." Could you possibly have been referencing iWork updates?

I don't dispute it's doing well. I just don't think it's the type of product consumers will mass adopt. Enterprises, yes. Private consumers, don't think so.

I know a lot of private consumers who love Office 365. 1) they don't have to find several hundred $$$ for multiple licenses to accommodate everyone in the house (especially relevant since activation procedures were added to prevent piracy); and 2) they don't have to worry about getting bug fixes and security updates and added features. When you get Office for Mom, Dad, the teenager, and the college student + Mom's tablet for one annual price of $100? Compare that to the $200 they're shelling out each month for cell service + the $150 per month for cable TV... No brainer. New perk added: 1 TB of OneDrive space per user. That means 5 TB of storage to backup all the pictures, the tax files, etc. AND 60 Skype world minutes every month. Those features alone are things that families may have subscribed to elsewhere, so the Office 365 subscription eliminates that expense. At the end of the day, they may end up paying more for SaaS, they don't have a big out-of-pocket expense up front. It's the same reasoning behind the success of cell phone contracts with subsidies.

I have always paid to upgrade my MS OSes...

Everyone I know disagrees with you on this. We are very happy with the Office 365 subscription model. But, of course, no one is twisting your arm. You can continue to operate the old way.

Me and the rest of the World I guess.

I completely agree. I, and everyone I know, will not pay a monthly subscription for software. We all will keep using Office 2013 until it is no longer compatible with Windows!

Bully for you! For my £12 a month business expense, I'm quite happy with my forever upgradeable office suite, 1tb business storage & hosted exchange email.

I still have Office 2007 and it works perfectly fine. xD

Funny, because they're paying companies like microsoft and Adobe very well. When the desktop finally disappears, people using legacy software will be the ones left behind with outdated systems and software as well. Companies who choose to ride their legacy software as long as possible will be left out in the cold....Haven't you heard, mobil is the "NEXT BIG THING", that why Microsoft is stressing DUAL USE and promoting hybrids. They will catch on, it will just take time.

I sub to Office 365 for the Mobile versions and the Multi license I use it over the number of Computer's I have. I know I might not be the norm but it's a good investment for me and the way I use it.

Of course some people do find use in Office 356. I don't say every non-enterprise consumer won't need Office 365. But looking at the bigger picture of private consumers, those who need Office 365 are a minority. Think about who uses normal Office. The average Joe. Students. Kids. People not-connected in anyway with the tech industry. Old people. None of these kinds of people have use or need for 5 licenses, 1TB of OneDrive etc. That's the problem I see with this SaaS applied to Office. There are a ton of alternatives already. Some of them are even free. If Microsoft goes ahead in trying to charge monthly for the average Joe to use Office, the average Joe will simply not use it and just use something else. I think it would be wiser to keep a version of Office in the normal PAYG model. For example, an "Office Basic" based on the current Office Home & Student. That one would serve the average consumer who doesn't need all the bells and whistles of Office 365. Then move Office Home & Business and Professional into the SaaS model.

If your purchase a G3 365 license, you get online access, sharepoint, lync, and the ability to install a hard copy of office on 5 computers tied to your account.

Did you read what I wrote? The point is: the average user DOESN'T NEED Access, sharepoint, lync etc.


You're right, DJCBS, there are people who have no need for Office at all. For them, there is a FREE service called Office Online. They don't have to install anything. The kids can build their powerpoints for a school presentation, Mom can compose that letter and work up a spreadsheet (they have great Excel templates in the Online version). I think Microsoft is smart to provide a FREE service for the occasional, basic feature user. It would be a waste of money for them to pony up even the meager sum of $140 for the Home & Student edition.

Seriously dude? 20 per computer, per year for the Enterprise suite of software. Plus 1 TB of OneDrive storage. Those panties must be bunched, rustled, and torn. Get with the program..

1 - I don't need 5 susbscriptions as I don't use 5 personal computers. No normal person uses 5 computers and the average family doesn't even have 5 members. 2 - Normal users don't need Enterprise suites. 3 - Even less 1TB of OneDrive storage. Normal people make rational decisions upon the products they buy. They don't waste money on something they don't need just because someone on the internet thinks they should. Get with the real world.

O and here i though you wanted to have a discussion about software. If you'd like to engage a discussion about the semantics of "normal", I'm happy to oblige. Just know it's a losing argument. BTW, no email client even comes close to approaching what Outlook in single-line mode offers. It makes managing your emails tremendously easier.

Normal person = average private user. And you know that pretty well. It's not about what kind of software they offer. It's what kind of software people WANT and NEED. There's no point in puting stuff like Lync, Access etc on Office packages and make people pay for them when they DON'T need them.

Yeh buy only the the thing you need, what you need word+excel+PowerPoint get from office site for one pc for lifetime at most cheapest rate from office.com

Well you can always wait for Nokia Office :D :P

That's your opinion, but the majority of consumers feel differently than you.....the numbers don't lie. You're the minority in the case...Sorry.

You really need to learn how to read numbers, kid. The fact that there was an increase in number of Office 365 users doesn't mean they're not still a minority within the total amount of Office users. Also, that amount of new users may have picked Office 365 for lack of options. Don't forget that Office for Apple's mobile products is the Office 365. If those users could buy the normal version of Office, they probably would instead of the yearly subscription to 365. At any rate, those users aren't Windows users. And the majority of people (and enterprises) uses office on their PCs and Windows laptops. So no, sorry to disappoint you, but I'm most definitely not in the minority.

Exactly, I totally don't see myself joining this subscription model. The normal Office is still the way to go for me.

How about a relatively predictable release cycle for phones? 920 was released in late fall, 1020 released mid summer, Icon released late winter, 930 spring.....wtf? Normalize the releases please like every other major manufacturer. I'd love to see flagships in the fall for Xmas season with cheapies in the spring. Low cost handsets are so cheap anymore that they are almost disposable (530 for example) so time of year for their release is immaterial.

These are Nokia wrinkles......Microsoft is still ironing them out at the moment....it will improve.

Whether I buy Microsoft or Apple would depend on my goals. If I only intended to hold onto the shares for a short while, say two years or less, I would probably buy Apple. In addition to the EPS, I feel as though the price of their shares is liable to increase faster than Microsoft's. That said, for a longer term investment, I would buy Microsoft. Apple's fortunes are more closely aligned with the consumer market than Microsoft's. This indicates a higher risk to me as consumer tastes are more subject to change than are those of business; where Microsoft makes the majority of its money. Therefore, over time, I think that Microsoft's main revenue streams are less prone to adverse fluctuations, making them a safer long-term investment.

I understand, but if Apple doesn't hit it big with the next big thing, as you an see, ipad sales are down andeventually their cell phone will slow as well. Not because the product hasn't improved, but because what they have works and meet their needs so their rotation cycles slows impacting Apple sales. I'm sure ipods arent' selling as well as they were in the glory days as cell phones are truly the first real hybrids because there used as phones and music players these days. If Apple doesn't trim the fat, they'll be wasting money on dying products (ipods) as think they're becoming liabilities instead of assets. Sooner or later, the ipad/air may end up hurting mac sales with everything becoming so mobile especially if they implement the surface like keyboard they filed a patent for about 1.5 years ago and software as a service becomes more common place; Why carry two devices when you can carry one? And if you believe Apple won't move into the 10-10.1" space with their ipad then you're crazy.......Look at what they're doing with the iphone with upcoming release of the iphone 6. If they wait too long, they might miss the boat and only the money they have in bank will keep them afloat.

I with all of that, I just think it will take a while for their sales to drop in any meaningful way. If that Jimmy Kimmel video from yesterday is any indication (re: the Casio watch), there are just too many people out there who blindly buy Apple products without giving it a second thought. I think that'll take a while to change. I get what you're saying about declining Mac sales, and the iPad's effect on that, but the iPhone is their bread and butter, and I don't see that going anywhere.

Not after the music and video decision!!!

To quote what user procen said near the top of the thread... Here's a twit from Joe Belfiore about Xbox Music and Video, and it's not going anywhere. http://wmpoweruser.com/joe-belfiore-microsoft-has-no-plans-to-drop-xbox-...

Nice change of pace Umiastowski However... "...which stock would you rather own at a 14 P/E multiple?..." Thanks for reminding me how even a super dumb-downed financial analysis still manages to incorporate terms whose meanings I couldn't begin to infer upon.

PE= Price per earnings Not the only factor to pickup stocks and Apple one is lower than MS one...

Will the next move be to do mobile phones altogether? Doesn't seem like they care about them having made such a complete mess of the release of the 930 and not having a single half decent phone announced. Dropping xbox music and movies is another suggestion they don't care for phones anymore. Would this Neanderthal that is running the company now have done the Nokia deal in the first place? He seems to want to wind MS back fifteen years to when it was a boring PC centric company. Microsoft have failed to exploit the Xbox element of the phones from the go and it seems they've dropped it entirely now. Will Xbox the console go as well? Entertainment was the big selling point of it after all so now they're doing away with that, it now just looks inferior to the PS4. Is the next move to drop Windows Phone in favour of producing hardware for Android or drop it entirely? Doesn't seem like there is a very positive future for any MS division bar PC under this new guy.

Microsoft's future in enterprise and back-end services is bright, and their future earnings can increase many times over this past report. Microsoft's future in consumer facing products on the other hand---namely Windows Phone, Xbox, Surface, and even their relatively new retail stores----looks extremely sketchy and uncertain. Thus far, Nadella has proven to be a cost cutting hatchet man type of executive, with a background from the cloud computing side. I suspect he won't have the stomach for another few quarters of low selling Windows Phones and Surface devices. Without any big flagship devices on the horizon for phones, the best Microsoft can hope for in the near term is to maintain that 3% global share, and not slide backwards. Gaining share looks pretty much out the window.........pun intended.

So forget the consumer side and just go enterprise. Apple have just partnered with IBM for enterprise and with Google, Amazon and Blackberry competing in this area, as well as others, MS will be successful? The future is ecosystems imho, as companies like Nokia/Blackberry have demonstrated.

Nadella said during the earnings call "we won't be building hardware for the sake of building hardware." He's not a hatchet man and I believe they will grow and maintain the hardware product line for the sake of having control end-to-end over the ecosystem. If they kill WP, they're in trouble in the cloud/mobile model. Google certainly won't play with them and Apple would love to replace every windows device with piece of the Apple universe, speaking only Apple-ease. One thing is certain, hardware has a much smaller profit margin. With software, after your break-even point, every unit sold is 100% profit. Not so with hardware. The manufacturing expenses are never-ending. If any product is redundant in light of Microsoft's OEM distribution channel, it's the Surface. And yet, it's the Surface that is creating the most positive buzz. The WP is in a transitional stage as it becomes a wholly Microsoft device running Windows. Nokia's handset division was focused on selling hardware, regardless of what OS was loaded on it. They had no problem selling products that competed with their Lumia product line. The only way to stop them was to buy them. Nadella is not a cost-cutting hatchet man. He's a man who sees no reason to maintain a division that just wants to sell hardware.

Hi Chris, There's an error in the post. I think this should be "OneDrive vs. OneDrive for Business" instead of OneDrive vs. OnDrive for Business.

If you're not willing to argue about a label, then why label? Microsoft was never failing. I don't have their quarterly figures memorized for the past several years, but I'm willing to bet the organization would still be viable and profitable for years to come if it stayed the course as opposed to evolving with the market

Happy to hear it. Go Microsoft.

My personal take: make me sick even looking at this guy. I watch msft since 80s, I have never been this much disgusted. Bring Elop on and send this guy home, then you have me on, and believe a lot others.

How is it other companies are reporting 2014 Q2 results and MS is just getting around to 2013 Q4?

Different year ends. Other companies are probably on the calendar year, with fiscal year end falling on December 31, which means Q2 ended on June 30th and they are reporting it now. Microsoft has a June 30th year end, which means they are reporting Q4 right now and July falls into Q1 of the following year. Both are pretty common.

I wonder what else Satya "The Butcher" Nadella will cut.

Good one....the Butcher....I call him NAD-ZILLA!

Microsoft Mobile if they don't manage to turn a profit soon.

8.1 beta pretty much ruined my phone.....my battery is always dead, phone gets really hot. Screen freezes all the time, and drops calls like crazy....i don't think they are heading in the right direction....and for those you who will write me about it being a beta verison....forget u its been beta forever and ios and android had these features already.....

MSFT should focused on what they do best, that is enterprise, gaming,mobile... They should eliminate Xbox music and all that..keep it simple update quickly they should see market share rise.. I don't know why they kept waiting for apple and Samsung to release products before msft/nokia produce one.. Oh well good luck...

How does the focus on "productivity" assist with mobile phone fun and entertainment? That's where the new direction seems to be a step away from what drives most mobile phone sales.

Not with the shit I continue to hear about Xbox music and video bring eliminated.

After recent news, rumors and these kinds of analysis, I don't know what is Microsoft's stance on windows phone and co any more. Too enterprise-centric for my liking.

When Nadella first started his rant about Mobile first cloud first, I thought he was talking about mobiles as in focusing on mobile(phone/tablet) hardware and software. Now it seems he was going on about mobile services/cloud services as a platform to enterprise. Essentially dropping the "devices and services" moniker meant dropping the "devices" from their company motto only. Sadly, the fun in Windows phone probably died with Nokia's acquisition.

gandhi, all but lip service. yet to see what plans you have in store for msft. still hopeful for WP though. woohoo!

Yeah still don't get it Xbox music/Xbox video ain't going anywhere Microsoft said so themselves there's always going to be hater but to outright take stuff out of context and use it as fact and pretend that you have any idea what Microsoft is doing nadella knows what he is doing so dont act like you have the kind of degrees this guy does and think you know better then nadella does change scares people and the fact is Microsoft is making alot off money they ain't failing never was never will the fact of the mater is Microsoft is not like blackberry they ain't close to financial ruin they don't have to win the cell phone wars all they need to do is stay in their place keep there foot in the door sooner or later that door will start to open more and more. Fact of the matter is that without Microsoft Nokia would have completely gone bankrupt there would be no Nokia anymore so this Long dreamed of Nokia made android the djcps keeps pushing done everyone's throat wouldn't even be a distant possibility nor would apple probably exist you see in 95 apple brought back jobs apple was 2 weeks away from bankruptcy Microsoft invested alot of money don't really remember. The exact amount but it it was for Microsoft's money and jobs brilliance apple would have died everybody forgets just how many companies Microsoft saved when they really should have killed them think about it how it would of changed if Microsoft would have bought all of apple and not just invested in it there be know iPhone no iPod or iPad or if Microsoft gobbled up google when they were still in its early years think about it haters

I am quite satisfied with Win 8 and Xbox One. Well Scratch that, I want my XBox one to play Digital Music through the USB via external hardisk.
The PlayTo feature seems impractical as I still need to open 2 machines to listen to Digital Music.

They just need to put more apps in to the store and fix little main things with WP 8.1 and they with be doing much much better.

Microsoft hasn't ever been a consumer-focused company. Period. Back when they first licensed DOS to IBM, only businesses were buying PCs. When Windows was introduced, home computers were still rare. As LANs began replacing sneaker-net in the late 80s and early 90s in small and mid-size businesses, the market leader in network OSs was Novell Netware. Enter Windows Server. With a GUI interface that was similar to the desktop version, and the advent of workgroups on peer-to-peer networks, even a company with 4 or 5 employees could share files. THAT server division, and everything that has come under that umbrella, provides nearly half of Microsoft's revenue. Add the licenses for Office that businesses buy, and the Windows embedded products that go into cars, manufacturing equipment, etc., and you can see why approximately 2/3 of Microsoft's revenue comes from businesses, not consumers. The remaining 1/3 is the most expensive for Microsoft to maintain. Why? Because hardware is the cost that keeps on costing even after the product is ready to market. Should we jump ship because consumers aren't the most important thing in the Microsphere? Sure. Apple will gladly take us on. But with their own emphasis on hardware sales, Apple has taken proprietary hardware connections and protocols and have made them mantras. If you buy into the Mac OS and hardware, you have to be prepared to go all in, at a premium price.