Qualcomm targets entry-level segment with LTE-enabled Snapdragon 210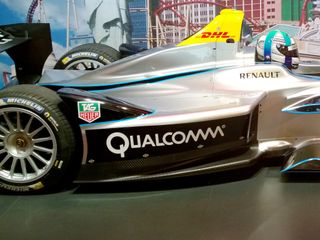 While Qualcomm has focused its attention on the mid-tier and the high-end segments, MediaTek has managed to grab a significant chunk of the market share in the entry-level market. With the introduction of the LTE-enabled Snapdragon 210, Qualcomm is looking to remedy that and take the fight to MediaTek in the budget smartphone segment.
The highlight of the Snapdragon 210 is LTE Category 4 connectivity, along with dual-LTE connectivity for dual-SIM handsets. The SoC features a quad CPU along with an Adreno 304 GPU, and supports 720p displays along with 1080p playback and hardware HEVC (High Efficiency Video Coding). The chip also supports up to 8 MP imaging sensors with Zero Shutter Lag, HDR, autofocus, auto white balance and auto exposure. Another feature on the Snapdragon 210 is Qualcomm's Quick Charge 2.0 technology, through which you can charge your battery 75 percent faster.
According to IDC, 40 percent of smartphones in China in Q3 2014 featured a MediaTek SoC, versus 27 for Qualcomm, with a majority of devices priced at under $200. A similar scenario is begin played out in India, with most handsets from local vendors like Micromax, Karbonn and Lava featuring MediaTek's range of affordable SoCs. With LTE networks set to go mainstream starting later this year, the Snapdragon 210 will be a viable option for handset vendors, with Qualcomm targeting sub-$100 devices with the SoC.
The most affordable LTE-enabled WP handset to date is the Snapdragon 400 toting Lumia 635, and with the launch of the Snapdragon 210, the stage is set for even more affordable WP handsets with LTE connectivity, especially in emerging markets like India and China. Expect to see smartphones carrying the SoC sometime in the first half of 2015.
Windows Central Newsletter
Get the best of Windows Central in your inbox, every day!
Harish Jonnalagadda is a Senior Editor overseeing Asia for Android Central, Windows Central's sister site. When not reviewing phones, he's testing PC hardware, including video cards, motherboards, gaming accessories, and keyboards.
Good news for low end phones.

More lumias..... 430 330 230 ....

anything lower in specs than a 5xx series would be a brick.

No, brick is not that fashionable it would be a polycarbonate 1:1 replica with a sticker screen often used in phone shops in the place of working windows phones.

Lumia 535. No 4xx ....1xx.

OMG !! Was only mentioning the price drops :O

Incoming Lumia 535 with lte using this.

How low can you go? How low can you go? [cue the music]

Talk a lot of shit but yet you don't know

It's a song dude, chill
http://m.youtube.com/watch?v=ox-lfowevqA

Sllliiiide to the left, Sliiiide to the right.

Haaaaaannndssss uuupppppp

Opera mini updated! Just removes browser from name. Sorry for off topic comment

Thanks will check it out!

thanks mate.. wouldnt know what to do with my life without knowing this really important information

Can you view youtube videos?

I cant open opera mini at all in my 820

I can open browser but not able to view any videos from youtube.. :/

It's called mini for a reason. It never did this since the beginning!

Every time I see a completely off topic, random post in the comments section of an article here, it's someone from India doing it. Is it a cultural thing? I don't get it.

You can say it's some sort of cultural thing in whole South Asia

You sure about that? I'm from Pakistan and I don't do that.

WP should support mediatek soc's too instead of qualcomm only, that would help to increase market share, looking at mediatek's numbers.

You mean the chipset that rebooting the phone by sending a simple "=" text message?

No 64bit for 210? Good one for budget windows phones though.

Why should it support 64 bits?

The 410, 610, and 810 are all 64 bit, the "10" suffix usually designating a 64 bit processor unlike the 400, 600, and 800 being 32 bit processors.

Is Mediatek that good? Does anyone know of any benchmark comparison between the highest offering of Mediatek against Qualcomm?

MediaTek is known for offering great value for money. Micromax is using Qualcomm in its WP handsets, but for Android it uses octa-core MediaTek CPUs, like the Canvas Nitro, which has the MT6595 (octa-core and LTE). As for benchmarks, the MT6595 is right alongside the S800 on AnTuTu's charts

I can see a Lumia 535 coming out, not sure about 4xx or 3xx series phones though. The other OEMs (e.g. XOLO, Prestigio, etc) could definitely introduce LTE on sub-$150 phones now.

I think the 530 is a low as msft should go. That device would benefit from this. The midrange should at least be packing a 6xx processor, so the gpus are comparable to the current lumia gpus. At least.

I don't think 6xx exists anymore.. At least not 600, don't remember if there was 610?

Yes, I believe it's the Qualcomm 610 and 615 - I think one or both are 64 bit processors... Good for midrange bang for buck!

210 410 610/615 808/810 Is the current line-up http://o.aolcdn.com/hss/storage/midas/6449e81f0a4e5f939e3826b28c5c40d9/2...

Nice if it comes in low cost phone, especially for windows phone.....as wp desperately needs some evolution in features and hardware.

A return of ffc and the hardware camera button thanks to cheaper SoC's one would hope

The first OEM to build a dual sim with lte, fm radio, sd card, camera with flash minus Bing button I will get the phone. On condition that it supports 3G @ 850, 900 & 2100 MHz.

You will never get any WP phone without Bing button. It's MS WP requirement.

I'll never buy a WP without Bing button. The moment they remove it will be the day I go back to Android, or maybe get my first iPhone ever.

Whatever happened to that Qualcomm 'liquid' that was 'leaked' from some ad service thing that stated snapdragon 805, 3gb ram and 5.2" display? Think ppl were saying 1820 at the time. Maybe the abandoned McLaren? 930 for other carriers in U.S.... 935, 930.3 etc. Mr Rubino have you heard anything about this since start of 2014? Anything about a 930 for U.S carriers? Qualcomm liquid.... Seems ...

test comment - nothing to do here.
*flies away*

Waiting for 1030 with snapdragon 810!

Wer the hell is 3d touch phone???

I'm way more pumped about that Formula E car in the picture then the processor. Who else is with me?!

I was like "which Renault team is silver in F1?" and then realized with those tires it was Formula E. Fun stuff.

LTE in india is still at very early stage only Airtel is providing LTE services at TDD-2300 spectrum and aircel at FDD-2300 spectrum that is very rare in smartphones only HTC One M8 and Iphone 5S and 5C are supported its interesting to see wheather they support this spectrum in India or not

Where aircel provides 4G ?? In Maharashtra they even don't provide 3G -_-

You're getting 2G ,my city don't even have Aircel as sim service provider and i m not even getting 4g of even airtel

Snapdragon 210 only supports 720p displays!! 1080p Playback only! Thats wrong! Look at the official datasheet!!
https://www.qualcomm.com/products/snapdragon/processors/210 Thanks for the correction

I dont understand why Nokia Lumias have weird numbering, but a Nokia Lumia 130 would be cool, or sound cool at least.
+Icon

Wala ... http://www.nokia.com/global/products/phone/130/specifications/

Hopefully MS will release a Lumia 555 and 655 With same screens but include FF camera and flash since this SoC is for sub $100 devices.